Tha Maeklong Railway is a result from merging of two railway lines. In 1901, Tachin Railway Ltd. is founded and received a permission from the monarch to build a railway line from Bangkok to Samut Sakhon called Mahachai Line. This line started operating in 1904. A year later, Maeklong Railway company also open a new railway line called Ban Laem Line. These two line merged together in 1907 and has become the Maeklong Railway Ltd. Original objective of this railway is to transport goods from the fishing port in Samut Sakhon and Samut Songkram to the Bangkok markets.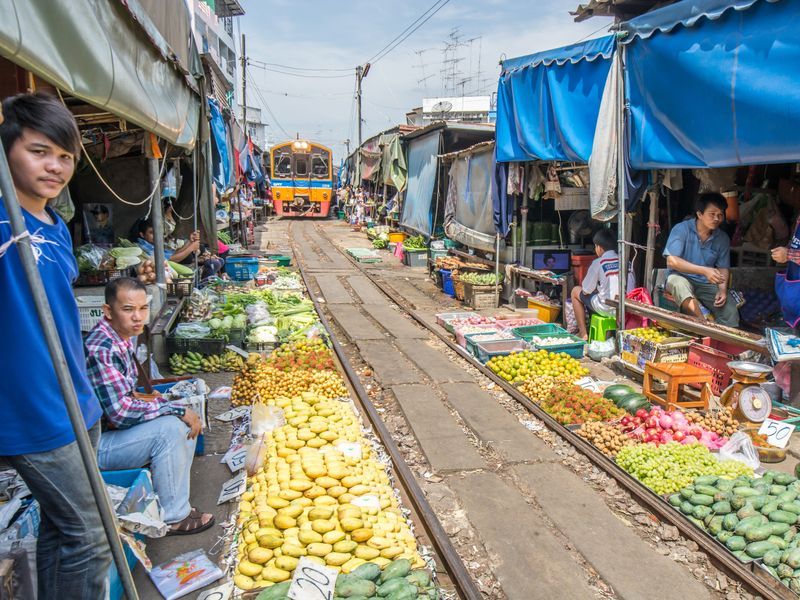 During the World War II in 1942, the railway fell under the Thai military authority and was nationalized by Thai Government in 1946. The State Railway of Thailand (SRT) has run this railway line since 1952 and completely took over into SRT in 1955. Due to the discontinuation of the terminus at Khlong San, Wongwian Yai has become the new terminal station instead.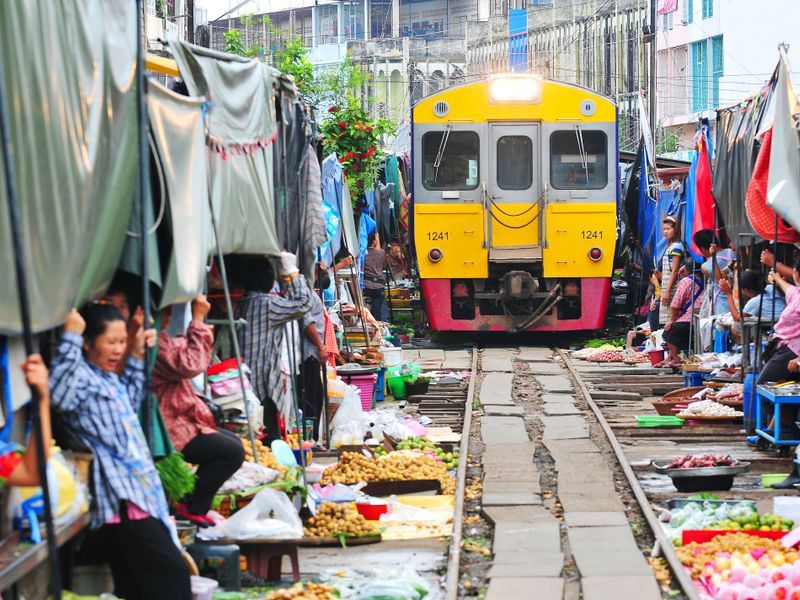 The railway has become famous for the Maeklong Railway Market that situated along the sides of the railway. Maeklong Railway Market also has its nickname called Talat Rom Hup in Thai (Umbrella pulldown market). It is one of the largest fresh seafood markets in Thailand. With its location on theMaeklong Railway's track, when a train is approaching, all shops and sunshades will step back from the rails. After the train has passed, they will move back to the previous spot.
Every day, there is a train that runs pass the Maeklong Railway Market 7 times a day, 4 times in the morning and 3-4 times in the afternoon. The first train comes at 08.40 hrs from Ban Laem Station and leave Maeklong (Samut Songkram) Railway Station at 09.00hrs. The next train arrives at 11.20 hrs from Ban Laem and depart from Maeklong (Samut Songkram) Railway Station at 11.30 hrs. In the afternoon, the train arrives at 14.30 hrs from Ban Laem and departs from Maeklong (Samut Songkram) Railway Station at 15.30 hrs. The next train arrives at 17.40 hrs from Ban Laem and may or may not depart from Maeklong (Samut Songkram) Railway Station. However, it is recommended to check the train schedule before planning your trip to Maeklong as it may be changed.
TakeMeTour's Review
An ordinary market to most Thai, while extraordinary to most foreigners. There isn't much to do but taking photos (for travelers) and shop for seafood (for Thais). The seafoods are offered at cheap price and great quality! Thais stop here to get their ingredients to prepare for either their daily meals or their cook-outs in Hua Hin on their holiday!