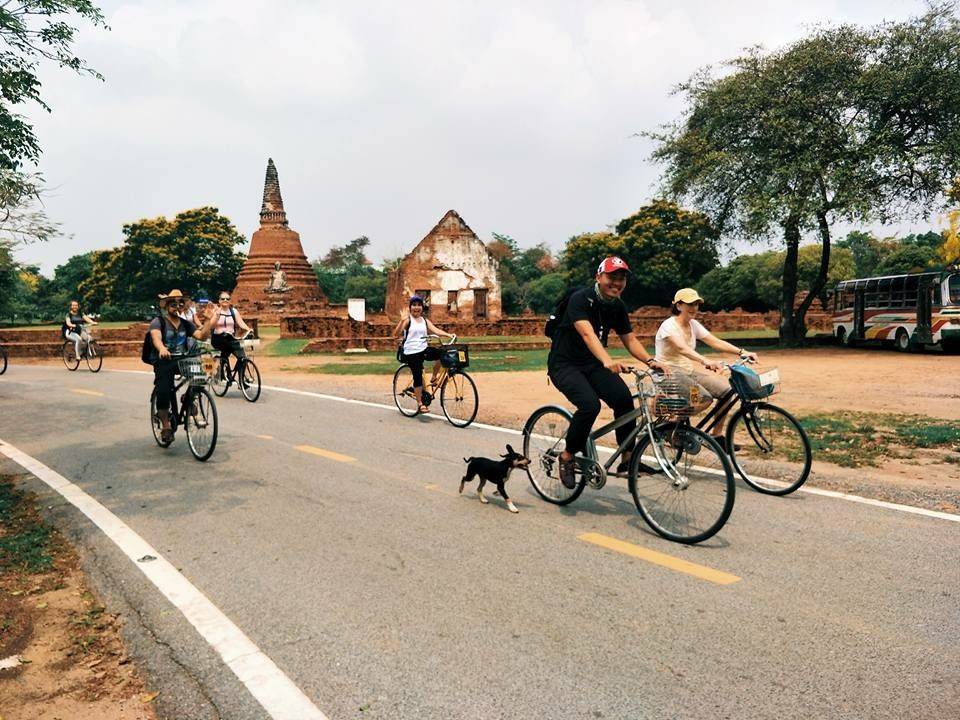 | Trip starts from Bangkok
Bike & Boat Tour: Explore the Charming Ancient City of Ayutthaya!
---
Absorb the local culture while riding a bicycle and boat into Ayutthaya's charming riversides and facades. This peaceful town of historical sites offer experiences just waiting to be discovered! Sounds interesting? Join me!
---
itinerary
07:45
Meet up at our meeting point
- Railway Station (Hua Lamphong Railway Station)
- MRT Station (Hua Lamphong)
08:15
Let's take a local train to Ayutthaya. (Takes about an hour and a half to 2 hours). Mind you, Thai trains are quite slow!
10:00
We should arrive at the Ayutthaya Railway Station. Let's walk a little bit to take a ferry across the river!
11:00
Take a bike ride to explore temples of Ayutthaya. The first temple we'll visit is Wat Lokayasutharam Temple, where the giant reclining Buddha resides. The bike ride to get there would take around half an hour.
12:00
Lunch time! (Local food such as Pad Thai, and Stir-fried chicken with basil) Let's support the local!
12:30
Continue biking to visit Wat Phra Si Sanphet Temple. You'll see ruins of majestic royal palace with 3 restored towers. Next, we'll go to Wat Mahathat temple with more ruins, colorful shrines & a famed Buddha's head surrounded by tree roots.
14:30
Take a boat ride around the historical island to relax your way through some of Ayutthaya's most famous temples. Enjoy the breeze along the river, as you will have a chance to observe the daily lives of the locals around the river!
15:30
Time to go back to take the train back to Bangkok. Let's relax for a bit, and see the sights along the trails!
17:30
Arrive at Bangkok (Hua Lamphong Railway Station)
Time to say good bye! Rest well!
---
Trip Conditions
Physical Strength Required
Vegetarian Food Available
---
Price Conditions
Transportation fares are included.
Admission fees are included.
More details about price conditions
---
FAQs
Why this trip?
Guided bicycle tour of Ayutthaya & surrounding countryside
Thai lunch and bottled water.
Chance to see the UNESCO-listed Ayutthaya Historical Park.
Full day of exploration in the old kingdom of Ayutthaya.
Scenic boat ride through the early riverside
Things to prepare for the trip
Suns protections, a light and comfortable non-revealing clothes.
---
Meeting Points
Railway Station
- Hua Lamphong Railway Station
---
All Countries
All Countries
Austria (1)
Malaysia (1)
Philippines (1)
United Kingdom (2)
Awesome trip in Ratchaburi!
We enjoyed our trip in Ratchaburi with Prayuth. He is an awesome tour guide and shares a lot of information about the placebwe're visiting.
The food we had was so good! The spots we visited are amazing! My most favorite is the pottery workshop were we learned how to create and design small jars. This is a highly recommended tour!

Mervin M.
Philippines
|
September 20, 2018
Relaxed, fun morning.
I was picked up at 6.30am and taken to the floating markets. Once we arrived we got straight onto a boat and we floated down the river. It was very relaxed. Prayuth was very knowledge, we chatted and he told me lots of interesting facts. We then went to a coconut farm which was lovely and ended up at the train market. Prayuth was great, he knew what he was doing and created a lovely relaxed atmosphere. Would definitely use him again.

katherine E.
United Kingdom
|
September 17, 2018
Astonishing experience
We went on a trip together with Tommy and really liked us!
The day prior to the trip he contacted us to confirm again the pickup time. He arrived on time and waited for us. From the first moment onwards he was really friendly and welcoming. We drove with his car (clean and comfy) to Kanchanaburi and visited first the museum and then the cemetery. It was really interesting, especially because we learnt back in school mainly about WWII in Europe. Learning about what happened in Asia, gave us completely new information! After that we drove to the bridge over the river where we could take some pictures. In the meantime, Tommy got the tickets - very organized :)
From there we took the train on the historical railway to a stop with a cave having a buddha inside. He drove his car and met us at the station. We had lunch with an incredible view on the river and took some more pictures.
Not only was the lunch included but Tommy also had water for us during the whole trip.
We drove to Erawan National Park and walked to the waterfall. We could have also take a golf cart but we preferred walking. Tommy told us about the most beautiful levels of the waterfall (as there are 7 in total). We decided to hike up until the last level. Due to humidity it was not always easy, but the feeling afterwards was really rewarding. We highly recommend to wear sneakers that can become a bit muddy and wet. It can be slippery, so don't go only with Flipflops.
After the hike we rewarded ourselves with a swim on level 4 and slided down the rock! It was a lot of fun :) we headed back to Bangkok and felt always safe during the drive. Tommy was also very flexible and extended the stay at the waterfall. We got again some snacks for the way back!
In a nutshell: it was a great experience!
Yvonne K.
Austria
|
August 17, 2018
+ 10 more travelers have enjoyed
the local experience with Prayuth
More Reviews