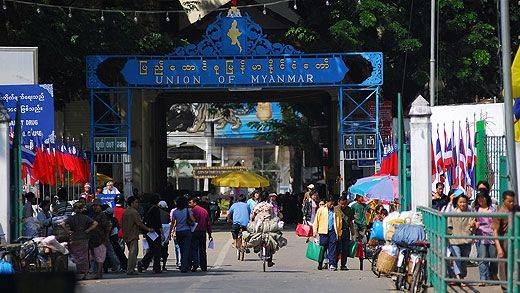 | Trip starts from Chiang Mai
Chiang Rai One Day | Golden triangle | Crossing Myanmar borders
---
Experience the boat trip to view Mae Khong River, visit to Laos market. Then go to Tha Chilek, Myanmar border touching local Burmese life in nearby village and temple. And the last White Temple is one of the most recognizable temples in Thailand
---
itinerary
08:00
Meet up at our meeting point
- Hotel lobby (in Chiang Mai area)
- Airport (Chiang Mai International Airport)
- Bus Terminal (Chiang Mai Provincial Arcade Transport Station)
- Railway Station (Chiang Mai Railway Station)
11:30
Arrive Wat Rong Khun White Temple
12:30
go to The Golden Triangle
13:30
Have lunch
14:30
The Golden Triangle and make a boat trip on the Mekong river visit the Laos island
15:30
go to the border town of Mae Sai and visiting to Myanmar
18:00
go back to Chiangmai hotel
21:45
End of the trip
---
Trip Conditions
Physical Strength Required
---
Price Conditions
Transportation fares are included.
Admission fees are included.
More details about price conditions
---
FAQs
Why this trip?
This trip is the best value for your money and at the same time, you can go to another two countries in one day !
Things to prepare for the trip
sun glass, hat, the road trip snack, passport
---
Meeting Points
Hotel Pickup
- Hotel Pickup in Chiang Mai Area
Airport
- Chiang Mai International Airport
Bus Terminal
- Chiang Mai Provincial Arcade Transport Station
Railway Station
- Chiang Mai Railway Station
---
All Countries
All Countries
Argentina (1)
Australia (1)
Austria (1)
Canada (1)
Germany (1)
Hong Kong (1)
India (1)
Luxembourg (1)
Mexico (1)
Netherlands (1)
Poland (1)
United Kingdom (1)
United States (5)
worthit, amazing, friendly
It was totally worth it! Prig's husband was spontanous and took us on tour even if we just asked for the tour one day before! It was an amazing experience and we hope these lovely couple get the chance to make some other tourists as happy as they made us!
Thank you!
Amy W.
Luxembourg
|
September 20, 2018
Best experience ever
It was one of the best things we did in Thailand, the local exper was very kind and did everything to make the day unforgettable! There was nothing we didn't like! It was awesome!

Andreas V.
Netherlands
|
August 15, 2018
Most memorable Experience!
My partner and I had the best day ever! Prig was unavailable, but right after booking she sent us clear instructions and let us know that her husband would be our guide for the day. Pops was an awesome guide and we were in very good hands. He was very informative, kind, and patient. We never felt rushed through any of the activities and had a blast touring the village, taking care of the elephants, rafting and swimming at the grand canyon. Probably our favourite experience in Thailand! DON'T MISS IT!!
Lily P.
Canada
|
July 23, 2018
+ 23 more travelers have enjoyed
the local experience with Pop
More Reviews