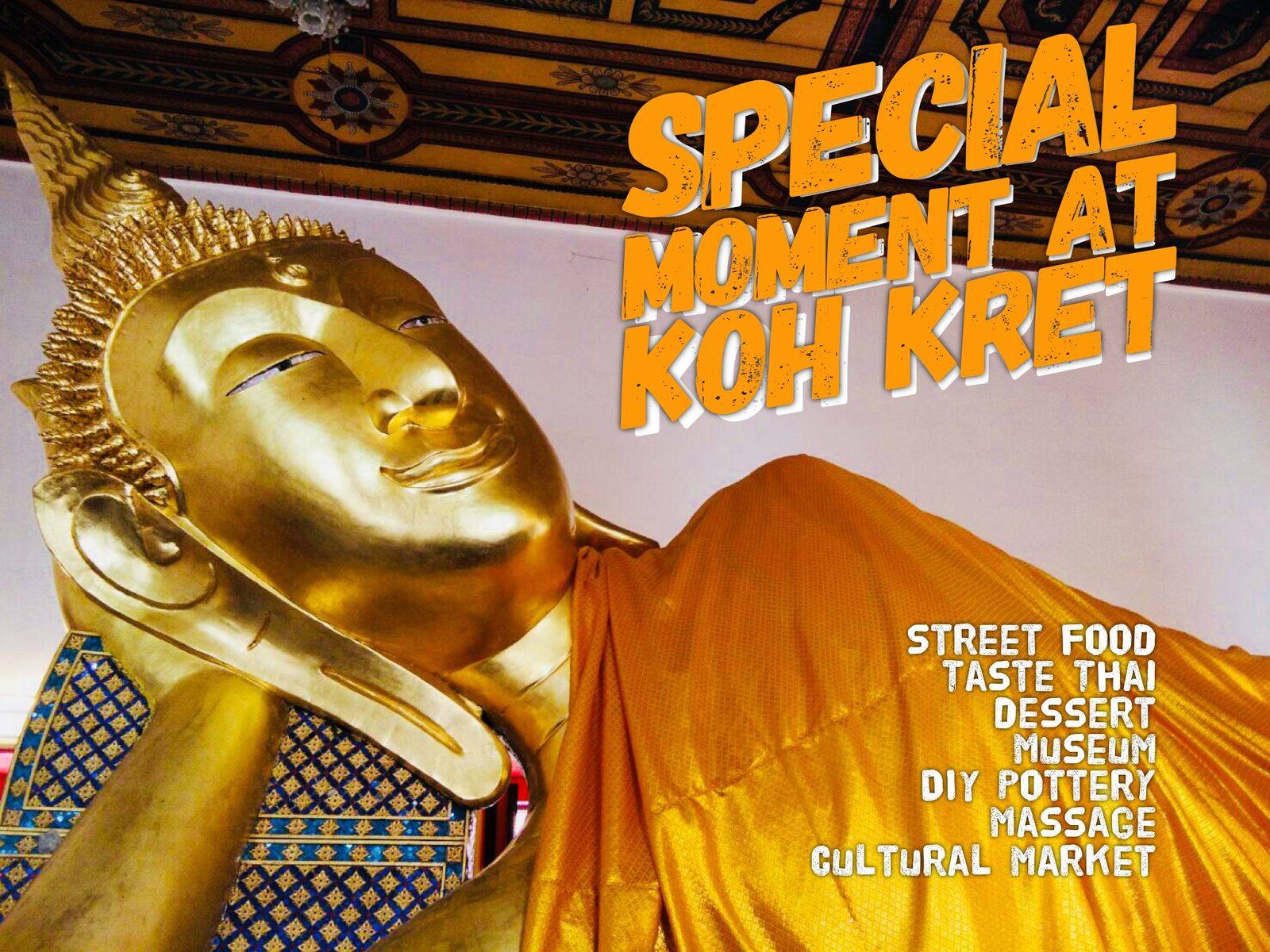 ---
Make your wonderful experience at Koh Kret: The island located in Chao Phraya River. You will taste the Thai desserts & street food, take a museum tour, make your own pottery, Thai massage with a river view and shopping at old Thai Style market
---
itinerary
09:00
Meet up at MRT Station (Nonthaburi Civic Center)
09:30
Arrive at Koh Kret island. Take a tour to the old temples around the island and Thai-Mon cultural museum.
11:00
Travel to Thai-Mon temples. Discover 200 years old Yang tree. Knowing the Thai spirit. Old pagoda.
Taste of Thai Dessert, Street food and Feed the Big fish.
12:00
Have Lunch with Thai food.
13:00
Thai pottery workshop : Molding and carving. Yes ,You can do it yourself. Finish product will send to you when its burnt.
14:00
Thai massage with a Chao Phraya river view.
15:00
Shopping at Old Thai style market.
16:00
Bring you back to MRT station (Nonthaburi Civic Center).
You go back to the hotel with pleasure. :)
---
Trip Conditions
Vegetarian Food Available
---
Price Conditions
Transportation fares are included.
Admission fees are included.
More details about price conditions
---
FAQs
Why this trip?
Booking your special moment at Koh Kret (The island on the Chao Praya river) with me. You will have the new experience with Thai-Mon museum, Taste of Street food and Thai dessert, DIY your pottery workshop, Temple tour, Relax with Thai massage.
Things to prepare for the trip
Your heart ... to bring the special moment back home.
---
Meeting Point
MRT Station
- Nonthaburi Civic Center
---
All Countries
All Countries
Thailand (2)
Jug S.
Thailand
|
August 21, 2018
Authentic Local Trip
This trip was fantastic. The location, the people, the food. Everything was a delight! Sarus, or "Tong", our Local Expert, was very amicable and had an extensive knowledge of Koh Kret and the area, since he is a local through and through. He was very patient when my friend and I arrived quite late, and he even bought us water, and afterwards, some very rare traditional Thai desserts for us to take home, which I think was a nice touch. On the car ride, we talked to him about the history of Koh Kret and how the Mon people came to reside in the island, and it seems to me that he knows the area like the back of his hand. We took the ferry from the mainland to Koh Kret, and upon arriving, the area seems very traditional and the community very tight-knit. Tong had another local, Prang, joining tour. Prang happens to be the wife of a local craftsman. She, along with Tong, were the perfect guides, since they showed us all the important Mon temples and pagodas, and explained every little history. Sometimes it felt like we were in our own private history class, which made the whole experience very authentic and local! Afterwards, we had noodles for lunch, and other iced drinks, and they didn't disappoint, even if they were from modest food stalls right by the river and the temple. The local people there were among the warmest and the friendliest people I've met. After lunch, we went to Prang's house to carve and make some traditional potteries. Prang and her husband happened to be very famous craftsmen, and teachers. They were very patient with us while we were carving, and we could tell that they are very experienced as teachers and craftspeople. We really enjoyed our time there, as Prang and her husband were very accommodating and friendly. I would say that these two are one of the highlights of the trip. They were personal without being intrusive, and we had some very good conversations on a personal level. Afterwards, we ended the trip by going to a Thai massage place. I ended up getting a full body massage for the first time. It was a painful, but nice experience, as my body felt better and somehow lighter after the massage. Lastly, Tong bought some very rare traditional Thai desserts for us to take home, and they were very delicious. We ended the trip with cordial farewells full of smiles back home. Truly a remarkable experience, and I would recommend anyone who is interested in a day trip just outside of Bangkok. However, I recommend those who stay in town to leave at least two hours or more from home, since the meeting point is a little far from downtown, even though the meeting point is accessible by MRT and BTS. The Local Expert could pick up the travelers from MRT Tao Poon station at the nearest. As a whole, very pleasant trip indeed!
Jug S.
Thailand
|
August 21, 2018

Makha V.
Thailand
|
August 21, 2018
Everyone must go
Yesterday, I went on a trip with TakeMeTour to the province of Nonthaburi in an area called Koh Kret. It was a private trip with just me, my friend, and the Local Expert. During the trip, we strolled along the quiet walking path surrounded by the cool shades of trees, learned how to make pottery from the locals, and visited local temples. What touches my heart is the friendliness of the locals. They live in harmony. Everyone recognizes each other. People are self-sustaining, and they live away from the materialistic life. And people there – regardless of status – are truly happy. Every single penny I spent on this trip is distributed to the locals to help develop their career. I gained from this trip more than I spent.

Makha V.
Thailand
|
August 21, 2018
+ 2 more travelers have enjoyed
the local experience with Sarus