Home Cooking Class at Baan Thai
Bangkok
This tour will take you to a beautiful Thai traditional house where local "Mae Baan" (housewives) await to greet you! You will get to experience home cooking of Thai food with a little help of Thai cooks. Don't be shy, just cook and see!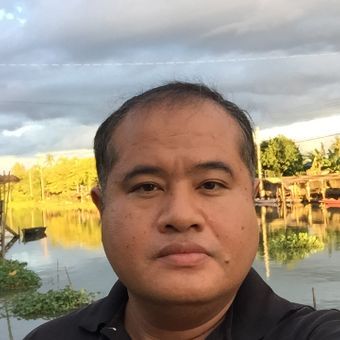 FAQ
You will have a fantastic experience to cook like the way Thai people cooking . Have fun and enjoy your favorite cooking.
Things to prepare for the trip
All the cooking materials is well prepared by the cooking teacher, all you have to do is following step by step. Yes, Well done is all you need.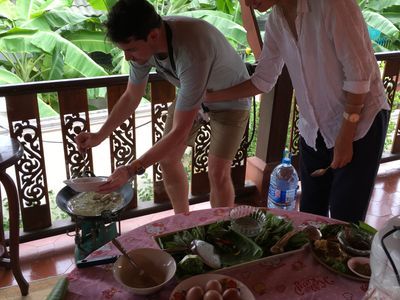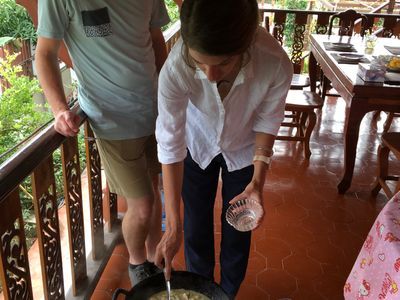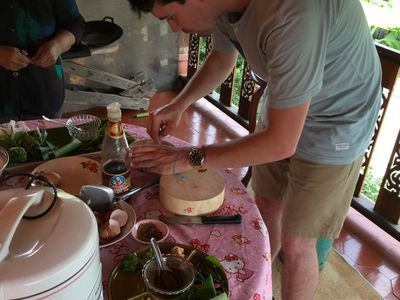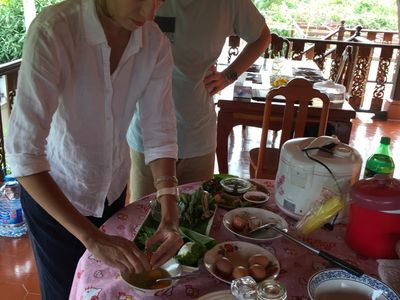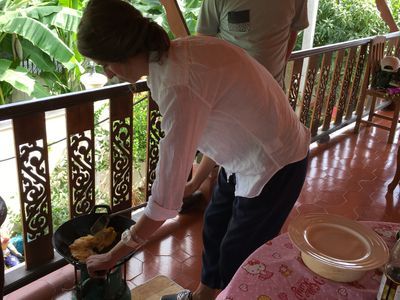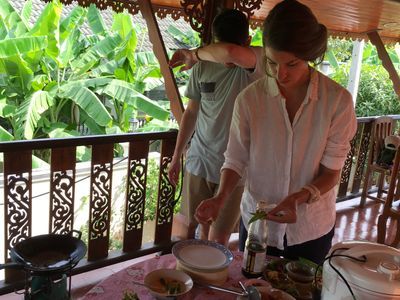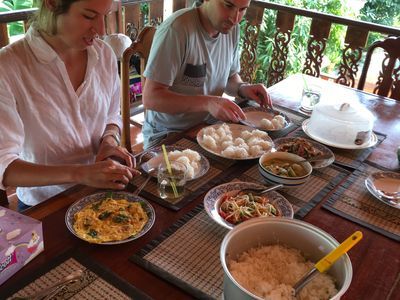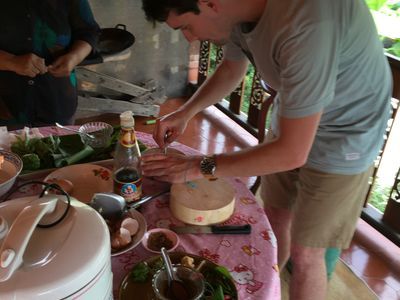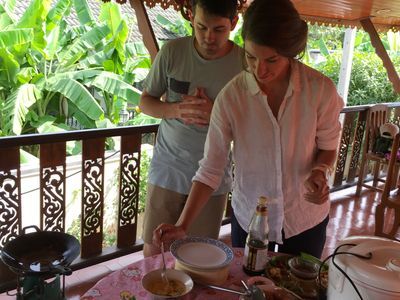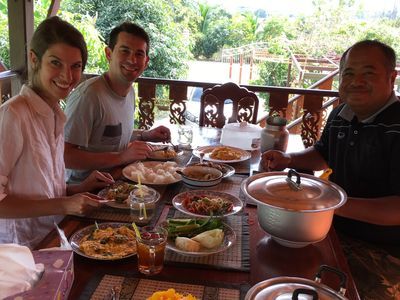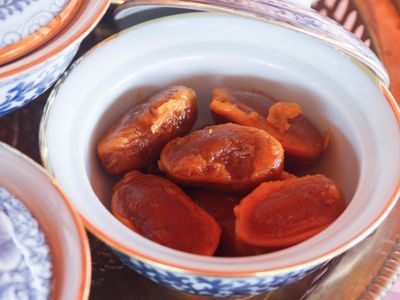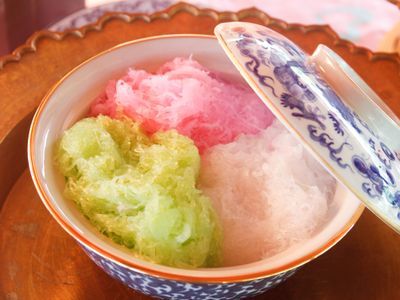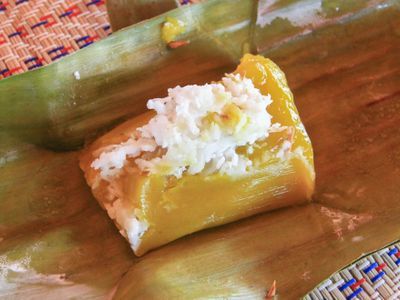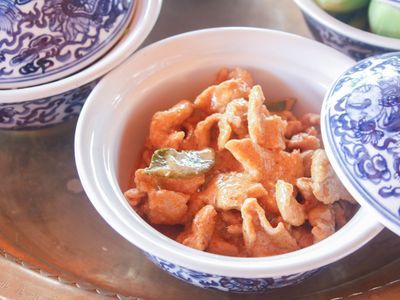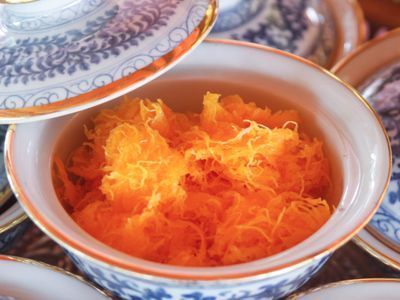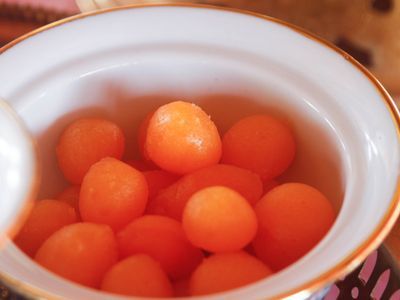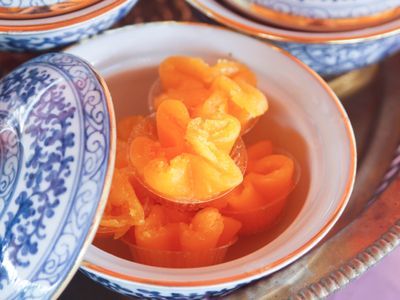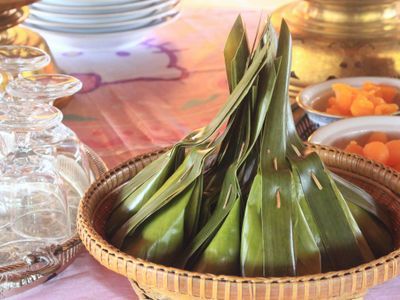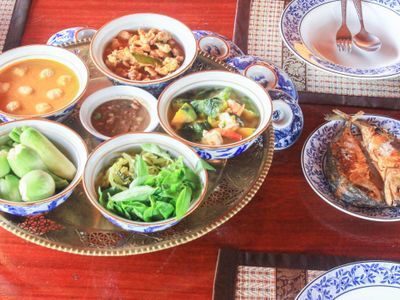 Itinerary
Meet up at our meeting point
- BTS Station (Wutthakat)
Arrive at Baan Thai (the cooking class) you can enjoy learning the way Thai local people prepare for cooking (which have been already made for you) Don't worry about how to cook because there are Thai cookers to guide and teach you.
when you have already made your own dish, your lunch is ready to be served !!!!
Return to the meeting point.
Price condition
Meals are included. (Note that alcohol is excluded)
Transportation fares are included.
Admission fees are included. Anke
Fantastic tour & guide
We had a great day with Sakchai. It was fun, it was yummy (great food stops), we got to see real Thailand and met very nice Thai people. Everywhere the welcome was amazing. Sakchai is a great host, he explained a lot about Thailand & Thai people ... I would surely contact him again. Thank you Sakchai, it was great meeting you !!!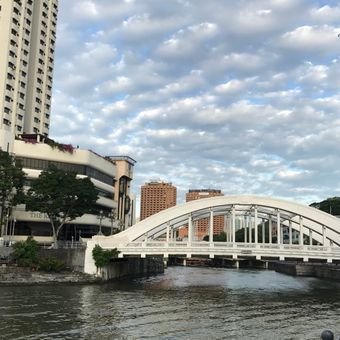 Ahmed
Real Thai Farms on a canal
Sakchai is a wonderfully personable guy who was always eager to let us spend time wherever we wanted to. The tour was a good insight into the sustainable farming effort of Royal Thai institutions.
The trip on the Mahusarat canal was more than worth the journey to get there and then each of the stops was equally exciting. We saw farming of lotus, gac fruit, orchid, pomelo and rice. The use of the various base foods into marketable products by the locals in the area was interesting to note.
We met wonderful people on the way.
All of the people were very hospitable offering us treats along the way.
I would highly recommend this tour to all.
Thank you Sakchai for a wonderful afternoon.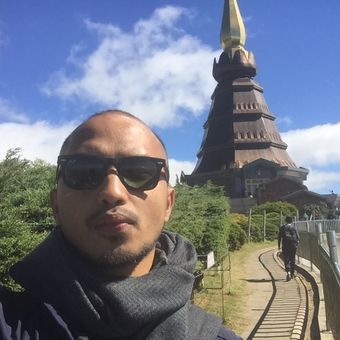 Aizat
Educational & Interesting
Sakchai is very knowledgeable regarding Budha history. The trip was good as the weather were excellent on the day.
I thought the visit to lotus farm and juice tasting farm were good. The tasting of rice cracker was interesting and the visit to
orchird farm were ok(I'm not a flower guy).
Overall I'm satisfied. Oh.His english is good btw. + 13 more travelers have enjoyed the local experience with Sakchai
Load more