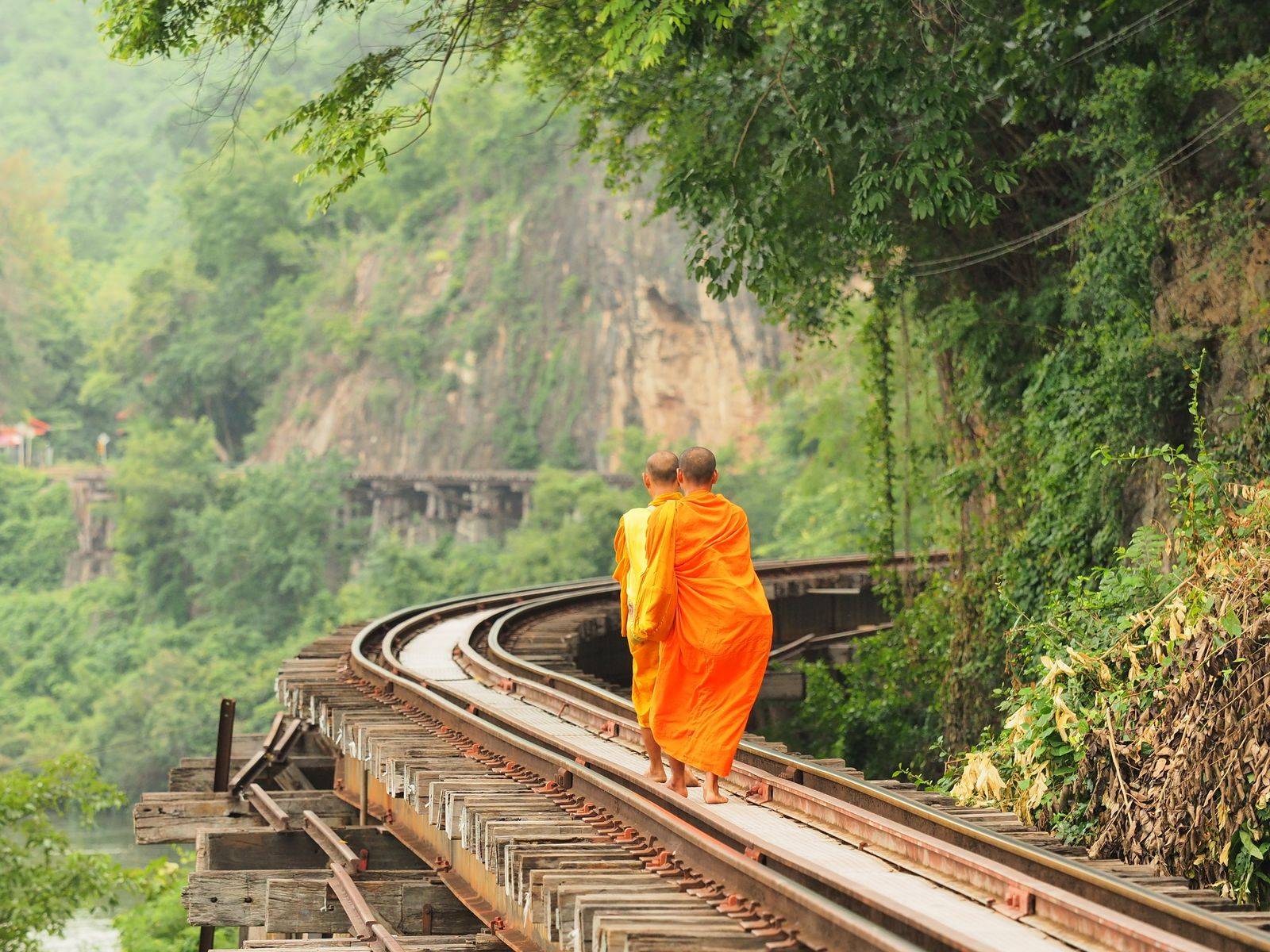 | Trip starts from Bangkok
Explore The 'Deadly' Beautiful Kanchanaburi Historical Railway With a One-Day Tour
---
Escape the hustle and bustle of Bangkok on a full-day tour to the famous Burma Railway, also known as the "Death Railway" and "Burma-Siam Railway."
---
itinerary
07:00
Meet up at hotel lobby (in Bangkok area)
09:00
Visit Kanchanaburi Allied War Cemetary.
09:30
Visit the JEATH War Museum to get an impression about life in Asia during World War II.
10:00
Visit Chinese temple near the bridge over the River Kwai .
10:45
See the historical Bridge over the River Kwai and You can capture some of an impressive collection here.
10:45
Ride the Burma Railway, built by the Empire of Japan to support its forces in World War II. Visit the Tham Krasae Cave. (also known as the "Death Railway" and "Burma-Siam Railway.)
12:15
Lunch (Tham Krasae Station)
13:00
Next, go to the Tham Krasae Cave to see the small statue of a Buddha.
14:00
Go to Wat Tham Sua & Wat Tham Khao Noi.
16:00
Return to Bangkok at the end of a long and fulfilling day for a hotel drop off and the end of your private services. Let you take a rest with relax therapy song while we drive back to BKK and we will send you at your place. Reach your place around 6.00 PM
18:00
Bid farewell!
---
Price Conditions
Transportation fares are included.
Admission fees are included.
More details about price conditions
---
FAQs
How local is it?
Cross the Bridge over the River Kwai on a full-day tour to Kanchanaburi. Ride the Burma Railway, built by the Empire of Japan to support its forces in World War II. Visit the Tham Krasea Buddha Cave, and more.
What makes it unique?
Cross the famous Bridge on the River Kwai
Ride a section of the Burma Railway (Death Railway)
Visit the JEATH War Museum
See the golden Buddha statue in Tham Krasea Cave
Why this trip?
We are happy to conduct a tour that make people happy and enjoy and get the most valuable experiences whatever where we go. All in one trip that will be your good memory. And we also provide drinking water, candy, wifi.
Things to prepare for the trip
open up your heart & open up your eyes.
---
Meeting Point
Hotel Pickup
- Hotel Pickup in Bangkok Area
---
All Countries
All Countries
Australia (8)
Austria (1)
Bulgaria (1)
Canada (2)
Germany (8)
India (2)
Israel (1)
Jordan (1)
Korea (South) (1)
Malaysia (3)
Philippines (5)
Poland (2)
Singapore (6)
Spain (3)
Thailand (1)
United Kingdom (4)
United States (8)
Trip was terrific
Loved the experience, the elephants were amazing so was the Bridge over River Kwai and the golden Buddha in the cave😀 highly recommend this trip and Mr Aritat was a great guide

Susan M.
Australia
|
August 1, 2018
Thank you Susan,
It is a very happy day if you come back again, I hope I will serve you again.
Aritat

Great trip
Wenn enjoyed the trip very much. Aritat ist very friendly, his Car ist very comfortable. We missed nothing. Being together with the elephants was a great experience and very exciting. Thank you very much!
Petra K.
Germany
|
July 24, 2018
I hope you keep this impression and think about it and hope you can come back to us again.
Thank you so much.

Very nice! Awsome
Tour is very nice and mr, Aritat very kind! :)
sunkyung c.
Korea (South)
|
June 25, 2018
You are a good friend, very fun today, I want you to come back again and I will wait for you.
Thank you very much.

+ 116 more travelers have enjoyed
the local experience with Aritat
More Reviews