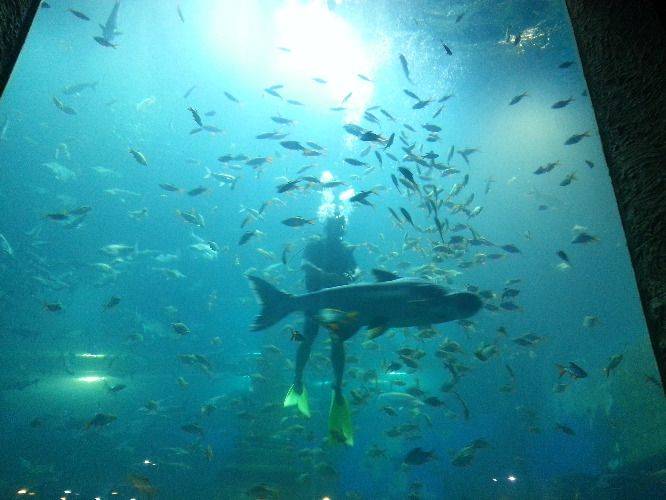 | Trip starts from Udon Thani or Khon Kaen
The Highlights of Nong Khai: A Day Trip You Shouldn't Miss!
---
​Let's visit Nong Khai Aquarium to see​ the aquamarine show! Visit Sala Kaew Ku, see the Mekong River and Ta Sadet Market, where you'll taste local food! See the first Thai–Lao Friendship Bridge, visit Wat Pho Chai, the Royal Temple of the province!
---
itinerary
09:00
Meet up at our meeting point
- Hotel lobby (in Udon Thani area)
- Airport (Khon Kaen Airport)
10:30
Let's visit the Nong Khai Aquarium!

*There is a special show event, which is held every opening day. (Tuesday - Friday at 2 pm., weekends 11 am./ 2 pm)*

(If we start from Khon Kaen, we'll be an hour late)
14:30
Let's go back to downtown Nong Khai, take a look around, and observe the city, the local people, and how they live in this beautiful city! You'll get to see
17:00
The trip ends now, and it's time to drive back to Udon Thani or Khon Kaen! Thank you for joining my trip, and I hope you had fun!
---
Price Conditions
Transportation fares are included.
Admission fees are included.
More details about price conditions
---
FAQs
Why this trip?
Nongkhai is a peaceful city where there are many interesting things to see, also not too far from Udonthani. We can ride motorbike to visit Nong Khai Aquarium. You will see Giant Catfish of Mekong river as highlight
How local is it?
There is Khong river between Laos and Thailand and from Nongkhai city. You can see Khong river and Laos, observe how people from 2 countries living and sharing together, and also taste a famous local food, 'Namneung,' original food from Nongkhai
What makes it unique?
Sala Kaew Ku (Wat Khaek) is the park features a weird and wonderful array of gigantic sculptures ablaze with Hindu-Buddhist imagery only in Nongkhai.

*in summer* A beach in Nongkhai, called 'Pattaya Isan.' is open
Things to prepare for the trip
umbrella , sunglasses , sun block , camera
---
Meeting Points
Hotel Pickups
- Hotel Pickup in Udon Thani Area
- Hotel Pickup in Khon Kaen Area
---
It's cool!
I like it, motorbike and all.

Chick & Chill
Give it a try, Folk

+ 3 more travelers have enjoyed
the local experience with Shinichi