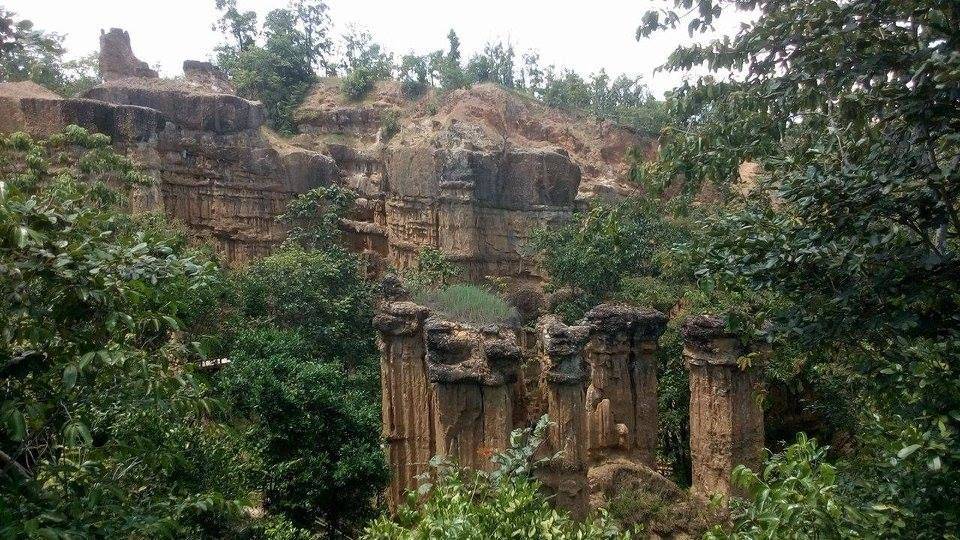 ---
We'll explore the cliffs and canyons of Pha Chor National Park! In the afternoon, we'll continue to have fun and go on an adventure with bamboo rafting. This trip is available for both by car or by motorbike (You can choose one)!
---
itinerary
09:00
Meet up at hotel lobby (in Chiang Mai area)
10:00
We arrive at Pha Chor National Park! Walk and explore the fantastic terrain and the amazing topography of this unique national park!
12:00
Let's take a lunch break! Please note that vegetarian food is available as well as a good "allergy consciousness" for those who require this!
13:00
Let's have fun by going bamboo rafting down the river!
16:00
Time to return you to your hotel! This is where the trip ends! Thanks for joining me!
---
Trip Conditions
Vegetarian Food Available
---
Price Conditions
Transportation fares are included.
Admission fees are included.
More details about price conditions
---
FAQs
Why this trip?
Have fun with Sunshine as she introduces you to some of Chiangmai's adventure experiences and natural wonders. Explore the one-of-a-kind Pha Chor National Park. No visit to Northern Thailand is complete without the afternoon activity - bamboo rafting
Things to prepare for the trip
Good walking shoes, swim suit and towel or change of clothes as desired, sunscreen lotion, sunglasses, insect repellent if desired.
---
Meeting Point
Hotel Pickup
- Hotel Pickup in Chiang Mai Area
---
All Countries
All Countries
Australia (2)
Austria (1)
Canada (5)
France (1)
Germany (4)
Haiti (1)
India (1)
Ireland (1)
Latvia (1)
Netherlands (4)
New Zealand (2)
Poland (1)
Spain (1)
United Kingdom (10)
United States (16)
So much fun!
I booked this trip for me and my friend to explore Sticky Waterfall with a local guide. Our guide was sooooo much fun!! She had us taking so many pictures! She encouraged us to race up and down the falls. She brought us delicious local Thai foods. She spoke wonderful English and of course she spoke Thai. I enjoyed talking to her and learning about Chiang Mai, herself, her family.

Dawnelle W.
United States
|
September 21, 2018
Thank so so much beautiful lady and MJ she so cute and her have a lot energy, i love when i teach her to do something and she never scare and she did it very fast, sometime i feel scare cuz i worry about her lol, you are both very nice person and it's a very cute friends. I hope that in the future, if you come back in Chiang Mai. I will have the opportunity to take you on my tour again.
Thank you again from sunshine heart ;)
Brilliant, committed, fun
Sunshine was a total blast, new the area well and was able to get you to all the best spots. Thank your Soo much Sunshine! ❤️

Anitha J.
India
|
September 14, 2018
Thank a lot beautiful girl ;) im glad i can found you also lol you so funny and lovely, i really like to listen when you talk to me, you share a lot about your experience maybe one day i can do same you too. But one more thing, i want to tell you "Please Don't forget your sunshine :) lol " she will waiting for you here, wait you come back to CM and joint with my tour again.
Thank you again from sunshine heart ;)
A wonderful adventure
The sticky falls were amazing, and Sunshine was a great guide. Thanks to her advice we were able to take advantage of the falls early, and it felt like we had them to ourselves. Sunshine was an amazing tour guide and we had a great day. We would recommend her tour without hesitation.
Ash D.
United Kingdom
|
September 9, 2018
Thank you so much Ash, you are both very nice ;) i like to talk with you and thank a lot for share some idea to me, and I hope that in the future, if you come back in Chiang Mai. I will have the opportunity to take you on my tour again.
Thank you again from sunshine heart ;)
+ 4 more travelers have enjoyed
the local experience with Naphat
More Reviews