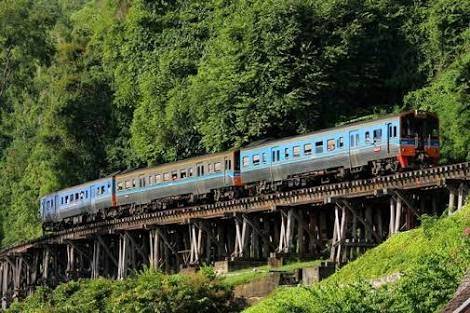 ---
You could pick the place that you want me to show. no.1 The death railway , chilling and enjoy the view at the coffee shop And then visit Sai yok noi waterfall no.2 Huai Mae Khamin waterfall and dam. no.3 Arawan waterfall and Vajiralongkorn Dam
---
itinerary
08:00
Meet up at our meeting point
- Bus Terminal (Kanchanaburi Bus Terminal)
- Hotel lobby (in Kanchanaburi area)
08:30
Stop by River Kwai bridge one of our landmarks in Kanchanaburi
09:15
Travel to Sai Yok about 50 mins from the city to Sai Yok.
11:00
Arrive at Sai Yok Noi waterfall, we will have lunch here, enjoy street food, explore the waterfall.
12:00
Then travel to Tham Krasae cave , the death rail way.
13:45
Arrived at Tham Krasae explore the cave and the death railway.
14:00
Chilling and enjoy the view at the coffee shop 'Rim nam cafe'
14:45
Travel to the city(flexible trip)
15:15
Arrive at the Kanchanaburi bus terminal.
18:00
---
Trip Conditions
Vegetarian Food Available
---
Price Conditions
Transportation fares are included.
Admission fees are included.
More details about price conditions
---
FAQs
Why this trip?
What's the great time to explore Kanchanaburi with the local. I would like to make you guys more options , so I created 3 lines trip
no.1 the death rail way, Thakha sae Cave.
no.2 Huai Mae Khamin waterfall and the Dam
no.3 Erawan waterfall
Things to prepare for the trip
I also offer you lunch and dinner. This is kind of flexible trips and relax ;) I would you guys have a great time. Plsss let me know if you want to know more about Kanchanaburi, My city is have more interesting areas then you know let me show ya.
---
Meeting Points
Hotel Pickup
- Hotel Pickup in Kanchanaburi Area
Bus Terminal
- Kanchanaburi Bus Terminal