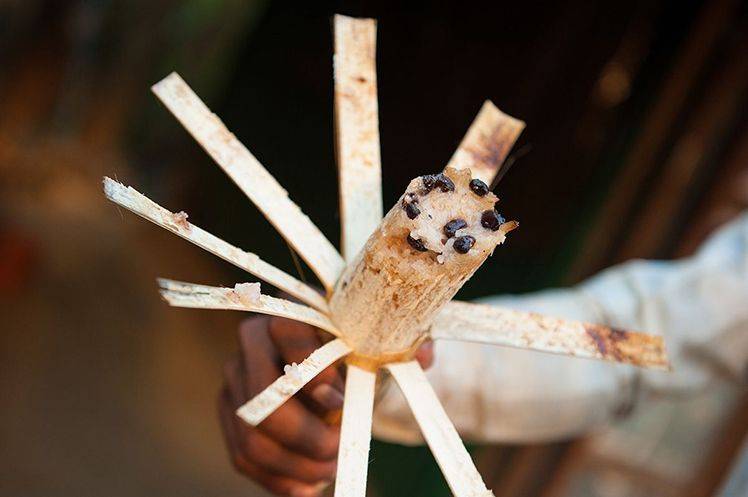 Traditional Livelihoods in Battambang (Half Day: Afternoon)
---
A cycling trip into the idyllic countryside of Battambang. Experience local wisdoms right at local homes and market, including rice paper, dried bananas, rice wine, Khmer noodles, fish paste and bamboo rice cakes.
---
itinerary
13:30
Meet up at our meeting point
14:00
Stop 1: Rice Paper

Donteay village is well known for its unique hand-made products, including its production of rice paper—a fundamental ingredient in Asian cuisine!
15:00
Stop 2: Bananas for Bananas!

We will visit a veteran villager who has been involved in the dried banana trade for over 20 years! Learn more about this local agricultural activity and the ways it has continuously supported many families of the village.
15:30
Stop 3: Rice Wine

On our next stop, we will take you to visit a local producer of rice wine. Learn more about the process involved in this local trade, and sample a taste of the sweet and smooth rice wine!
16:00
Stop 4: Khmer Noodles

We will next take you to observe the making of Khmer noodles using a manual wheat pounder—a tool not often seen in urban areas.
16:30
Stop 5: Fish Paste Market

Up next, we will bike to the fish paste market—the largest market in Battambang. See and learn more about Cambodian fishery and the local livelihood this industry supports.
17:00
Stop 6: Bamboo Rice Cakes

We wind down our tour with a visit to the makers of bamboo rice cakes. Find out more about the processes involved in the making of this special countryside delicacy.
17:30
Return to the hotel
---
Price Conditions
Transportation fares are included.
Admission fees are included.
More details about price conditions
---
FAQs
Why this trip?
To learn all about the cultural traditions and livelihoods of the local people of Battambang on this bicycle tour. This is our most popular half-day tour and is a perfect way to experience Battambang's countryside.
How local is it?
Very local as we cycle from place to place learning about the local community and enjoy the relaxing pace of village life. In the duration of 4 hours, you feel the relaxed village pace.
What makes it unique?
Learn about the practice of local business and agriculture from the making of Khmer noodles, fish paste market, rice wine and bamboo rice cakes.
Things to prepare for the trip
Comfortable cycling shoes, Short and T-shirt, Sunglass, Sunscreen, and camera
Traditional Livelihoods in Battambang (Half Day
Traditional Livelihoods in Battambang (Morning)
Traditional Livelihoods in Battambang (Afternoon)
---