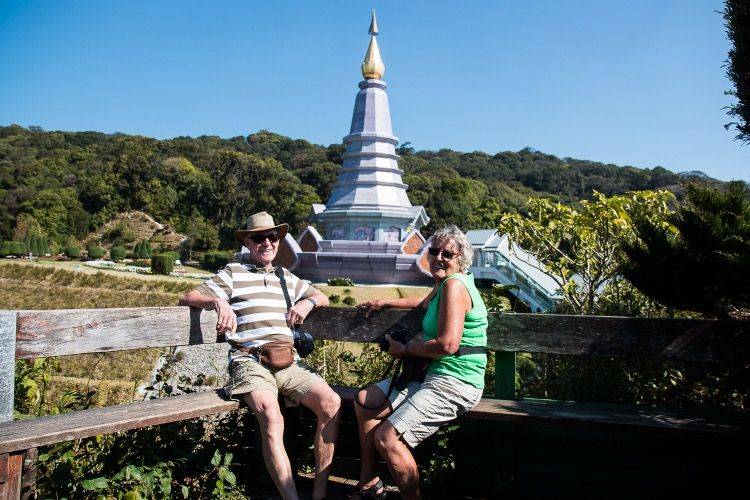 ไทย, English, Deutsch, Nederlands
---
Let's go to Doi Inthanon, which is at 2,565 meters above the sea level! Enjoy the impressive views, and we'll also visit the Pagodas and the colorful gardens! On the way back, we'll visit more waterfalls and the Ban Roi An Phan Yang Museum!!
---
itinerary
07:30
Meet up at hotel lobby (in Chiang Mai area)
09:30
We arrive at Doi Inthanon National Park, where we'll visit the King and Queen Pagoda, and enjoy the gardens and the stunning views! At the pagoda, we'll drink some coffee or tea (your choice!).
12:30
It's time for some local lunch at Doi Inthanon!
13:30
Next, we'll visit 1 or 2 impressive waterfalls in the National Park.
15:30
Arrival at Ban Roi An Phan Yang Museum! In this handicrafts museum, you can enjoy and see the local craftsmanship and you can buy some handmade products. This is also time for a refreshments if needed!.
17:30
The trip ends now when we arrive at your hotel! Thank you for joining my trip and I hope you had fun!
---
Trip Conditions
Vegetarian Food Available
---
Price Conditions
Transportation fares are included.
Admission fees are included.
More details about price conditions
---
FAQs
Why this trip?
A good organised private trip to Doi Inthanon including your private photographer. This is not a rush tour. We spend all the time that you need or want.
What makes it unique?
Private tour with your private photographer, included.
How local is it?
We always look for the local places to visit too. It is for instance much nicer to have a coffee at the local
coffee shop than at Starbucks. Or...what do you think....have lunch at MC Donald's or at a authentic local
place to enjoy real local Thai food.
---
Meeting Point
Hotel Pickup
- Hotel Pickup in Chiang Mai Area
---
All Countries
All Countries
Brazil (1)
South Africa (1)
A pleasant day
We hired "Unique Temple Trip" in Chiang Mai and we do not regret it. Bow and Leo took us to the main temples, among them some less known turisty and some more historical. They have a lot of knowledge and have been able to answer all our questions, as well as being very professional. It was all in a very calm pace, without rushing. We even went to an excellent cafeteria in the morning. Another thing I liked was the flexibility. The options are not closed. You can decide where you want and not want to go. In the afternoon we had the opportunity to get to know the market and China Town as we still had some time before seeing sunset in Doi Sutep. Leo is also a photographer, so you'll still have beautiful photos of your ride. A very pleasant tour. I highly recommend this tour in Chiang Mai. We enjoyed it so much, we also hired a tour with them in Chiang Rai.
RENATA M.
Brazil
|
April 5, 2017
Exceptional!! Profound!! Authentic!!
Nattamon and Leo orchestrated the perfect day for my temple adventure in Chiang Mai! This experience, is an absolute MUST for any traveler that is looking to have a soulful and meaningful spiritual experience. It's more than UNIQUE..
A full day extremely well spent visiting absolutely beautiful temples..trying local food, with a small detour to do some shopping and of course to end a perfect day catching a sunset and listening to monks chanting. My vision for that moment was completely fulfilled.
They took personal interest and care not just on the day of the tour but helped me to get to Chiang Mai too..it felt like connecting with friends I've known for years and not just any other tour guide.
Thank you both for making my 1 day adventure so memorable and I really wish you continued success. Your passion and kindness really made this a remarkable experience for me.
Stay blessed!

Kavashnee N.
South Africa
|
January 8, 2017
+ 3 more travelers have enjoyed
the local experience with Nattamon