The Northeast of Thailand, or Isaan, is a charming yet much underrated gem. Among the even more unexplored provinces is Udon Thani – huge and a mellow mix between rural and urban, with opulent temples and cozy craft beer houses.
Check out these top things to do in Udon Thani, Thailand, and enjoy authentic local experiences before the rest of the world catches on.
1. Pa Phu Kon Temple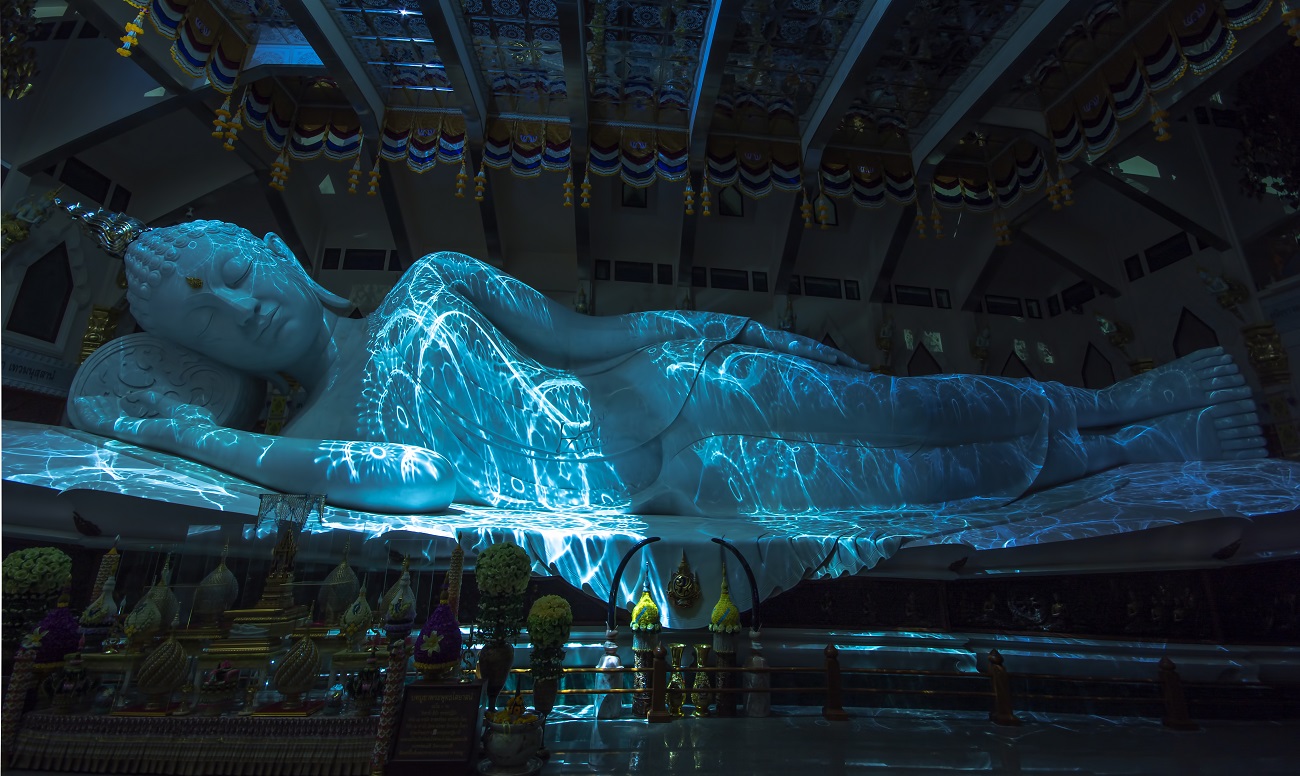 Not all Thai temples are monocolored (gold). Wat Pa Phu Kon's unique opulence stuns even us, the temple-familiar Thais. Here, the 20-metre long Reclining Buddha exudes an otherworldly presence. The blue fluorescent light and ornate pattern are an interplay of light and the temple's multi-layer turquoise roof. Frankly, we think no photo can ever do this unique place justice.

The temple was built as a tribute for the late king Bhumibol's 84th birthday, and a serene place where locals can come for a peaceful break.

Another reason we find the temple worth visiting is that it's located up on a lush and green hill in a National Forest. The vast green extends over 3 provinces (Udon Thani, Loei and Nong Khai), so rewarding fresh breeze and occasional misty mornings alone are enough to lure us up. The place is a 2-hour ride from Udon Thani town and some parts of the road might be a little rough so it is best to get there by a private car.

For more info, visit the temple's website here.

2. UNESCO World Heritage Banchiang Archaeological Site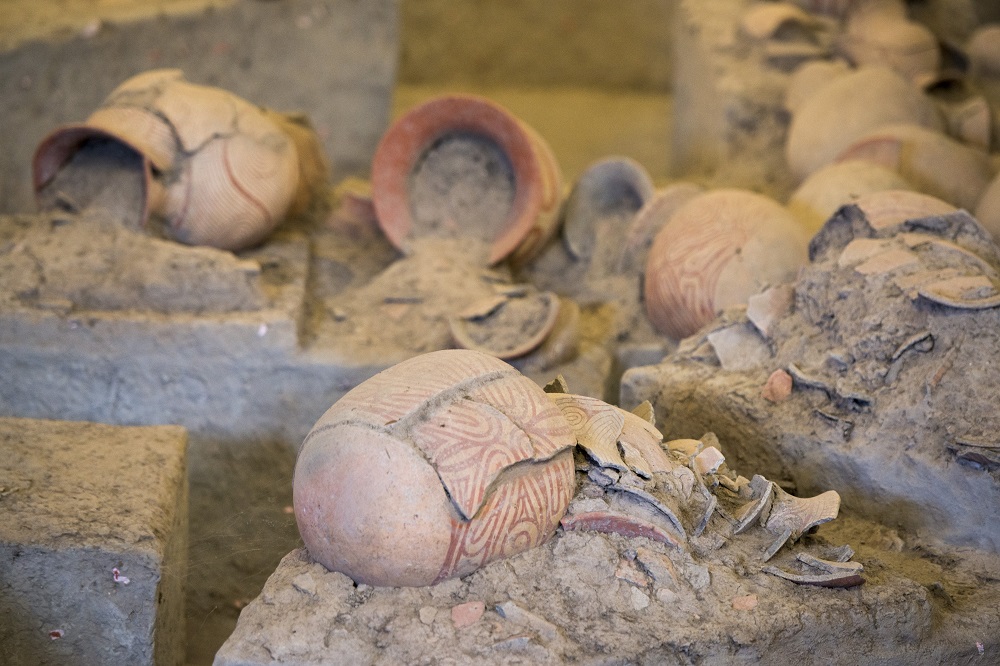 A mere 50 kilometres from Udon Thani City will plunge you back into the Bronze Age. Banchiang Archaeological Site houses ancient potteries, animal bones, more than 100 human skeletons and tools dating back from as far as 5,000 years ago.

These historical gems were discovered by accident by an American in the 60s. A series of diggings found more than 4,000 artifacts in total, and the site was officially made a UNESCO Heritage Site in 1992.
Among the highlights are the tools and unique spiral pattern on potteries which shifted the belief that Thailand only inherited its craftsmanship from India and China. Most importantly, these findings grant a glimpse into our own roots – the  human civilisation during 3,600 BCE to 200 CE.

Like most museums, Banchiang is closed on Monday. For more info, click here.

3. Red Lotus Lake
Despite red being its claim to fame, the lotus lake is actually an infinite shocking pink water against the blue (or golden if you get there very early) sky. This yearly gift from nature welcomes color seekers every cold season (mid December – February). Make sure you get there between 6 – 11 a.m. – when the lotuses are in full bloom.

The Red Lotus Lake is in Nonghan district (around 45 minutes from Udon Thani City), so non-morning people can save up precious sleep time by spending the previous night in Nonghan area. To admire the jaw-dropping beauty, you'll need to take a boat which costs 150 baht per person and lets you stay out for one and a half hour.

4. Pa Dong Rai Temple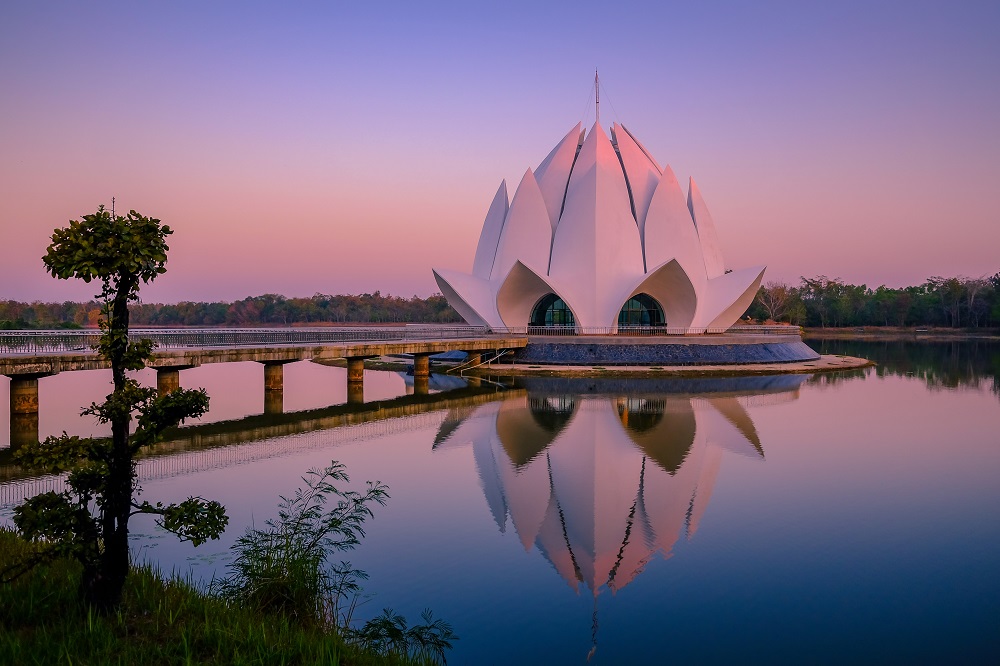 From the lotus lake, take a short ride here it is also in Nong Han District. Pa Dong Rai is not just another typical Thai temple. The white lotus-like main chapel and the fact that it's floating right in the middle of an extensive lake are enough of wow factors for us.

This is also a great sunset spot, or just a place to simply sit down and take a breath after your sightseeing day in Thailand's heat.

5. Nong Prajak Park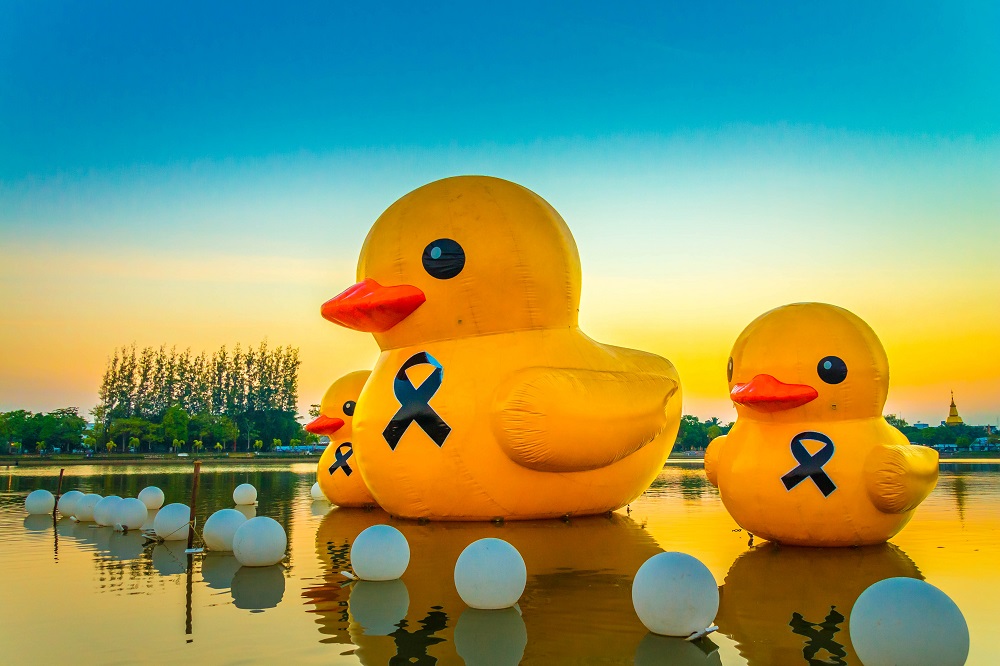 Located in the city center, this public park is a local favorite and thus a great place to sit back, relax and watch how the people of Udon Thani roll. Besides its laid-back vibe, the park is home to the very Instagram-worthy bigger-than-life yellow ducks – very adorable if you ask us.
Where: https://bit.ly/2Pemufi
6. Ho Chi Minh Museum
We find the fact that Ho Chi Minh himself spent some time in Udon Thani before the Vietnamese Liberation quite gripping. Back then, the area was already home to some 30 Vietnamese families. He stayed with some of the seniors while seeking to unite his kin in a quest to free their homeland from the French.

You can still peek in the very hut that the Vietnamese leader lived in almost 80 years ago – small, rustic and only has the basic necessities. Information and tidbits about Vietnamese history and their culture also do a great job at shedding light on one of Thailand's most culturally-rich neighbour.

Where: Chiang Phin district, around 20 kilometres from Udon Thani City.  See Google Map here. When: The museum opens daily from 8 a.m. – 6 p.m. and is free.
That's it for things to do in Udon Thani, Thailand, but that's not all you can do on your journey. Combine your visit to Udon Thani with trips to other charming cities in Northern Thailand.
Welcome to Amazing Thailand – Open to the New Shades. This is your ultimate Thailand travel guide, off-the-beaten-track edition. Go local and explore Thailand through new perspectives. Open your heart and mind… to the shades of Thailand that you never knew exist!