In Thailand where the Buddhism and Hinduism influences most part of the culture, it is no surprise to find people dodging and poking their faces looking for their precious amulet. There are several amulet market across the country, but the most famous one remains the Bangkok one. It's located by Tha Phra Chan Pier, near Thammasat University. This fascinating market also occupies the space on both sides of the pavement along Tha Maha Rat Pier and Tha Phra Chan Pier. The most densely area are by the Tha Phra Chan Pier and inside the small Maha That Lane (Trok in Thai).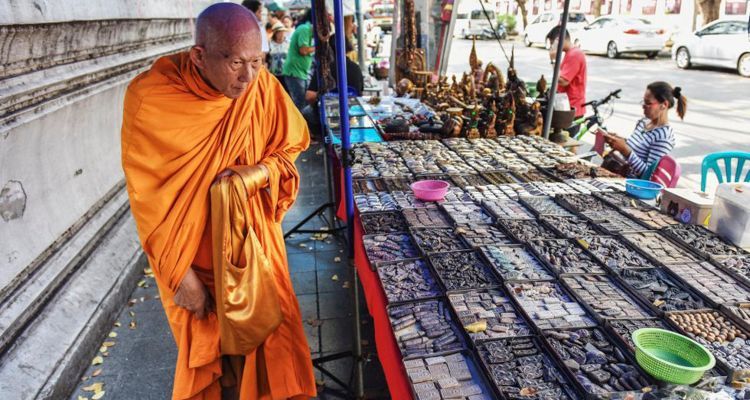 Who buy amulets?
Potential buyers includes collectors, monks, taxi drivers as well as people in more adventurous career. In Thai, the amulets are sacred that we can actually sell. We call it "rent" for the act of selling. Amulets are grouped according to style or sometimes just scattered in a bucket. Buyers will need each own's skill in selecting the authentic, if exist, style or material they specifically look for. There is no harm in bargaining. If you know how to look through those magnifying glasses, you can own one for a really bargaining price.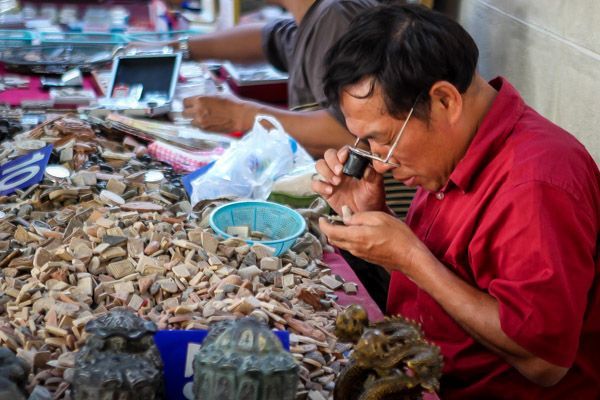 Some find it odd to see monks trading and purchasing stuff. It's worth noting that many of the genuine amulets have ancestry based upon monks and temples. People love to have some kind of security, if not physically, then emotionally should work. These amulets are big part of Thai culture. Many temples give amulets as a gift for those who donated while many parents want their kids to hang one around their neck to school. Despite strict rules against jewellery, most schools don't prohibit hanging amulets.
The amulet market in Tha Phra Chan Pier is open every day with hundreds of thousands of amulets available for collectors to hunt for one. It becomes such a serious business like any other kinds of things you collect like rare coins, stamps, or baseball cards. The experts who get the right amulets usually make a good fortune.
TakeMeTour's Review
One of the rarest markets you will ever experience in your lifetime. Besides amulets, there are other kinds of charms or superstitious stuff you can find here at the market including figures of different shapes and meanings. There is no admission fee. Although it attracts a really niche group of people, the market reflects an authentic way of living which is worth having a peak especially when you're already around the old town are for Grand Palace.