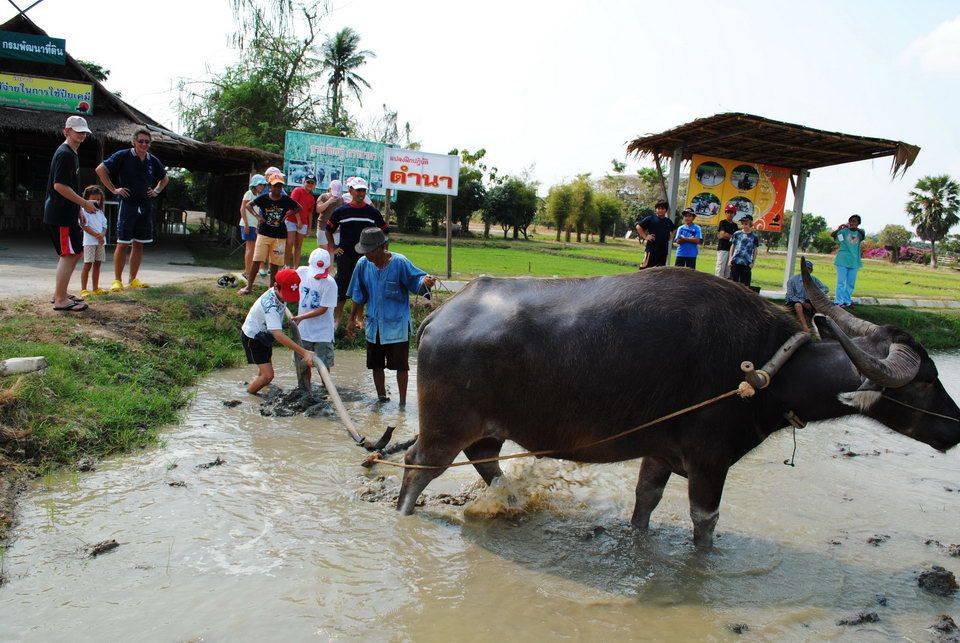 | Trip starts from Bangkok
Suphan Buri Day Trip at Buffalo Village and 100 Years Market!
---
Suphan Buri is an ancient town rich in culture and historical temples. It is located on the bank of the Tha Chin River, sometimes called the Suphan Buri River by the locals. Suphan Buri is some 169 kms. from Bangkok. Going there will take no time!
---
itinerary
07:00
Meet up at hotel lobby (in Bangkok area)
08:45
Let's start the trip by visiting the Dragon Descendants Museum!
11:00
After that, we'll go to the Sam Chuk 100 Year Market. It is one of the most preserved traditional markets in Thailand. It still has the original wooden shop houses that date back to the reign of King Rama V! A bit of the past in the present right here!
12:00
Have some Thai lunch in the Sam Chuk Market! Here, you can try any Thai delicacies of your choice!
13:00
Next, we'll visit the Buffalo Village. This is a way to experience the traditional lifestyle of Thai farmers and their trusty companion, the buffalo! We Thais consider them as the backbone of the country!
15:00
Head back to Bangkok.
17:00
Arrive at your hotel.
---
Price Conditions
Transportation fares are included.
Admission fees are included.
More details about price conditions
---
FAQs
Why this trip?
I'm happy to conduct a tour that will make people happy and enjoy and get the most valuable experiences wherever we go. All in one trip that will be your good memory. And we also provide drinking water, candy, wifi.
Things to prepare for the trip
open up your heart & open up your eyes.
---
Meeting Point
Hotel Pickup
- Hotel Pickup in Bangkok Area
---
All Countries
All Countries
Australia (8)
Austria (1)
Bulgaria (1)
Canada (2)
Germany (8)
India (2)
Israel (1)
Italy (1)
Jordan (1)
Korea (South) (1)
Malaysia (4)
Philippines (5)
Poland (2)
Singapore (7)
Spain (3)
Thailand (1)
United Kingdom (4)
United States (8)
Satisfying tour of Ayutthaya
We had a good time exploring the old city of Ayutthaya with our local guide Mr. Aritat. He was punctual very helpful and patient with us during the trip.
The vehicle was comfortable and food provided for lunch was good. Truly had a good time in Ayutthaya.
SUGATHA THISSA C.
Malaysia
|
September 8, 2018
Thank you so much and hopefully if you come back you will call my. I am ready to serve you again.

Excellent excellent excellent
Aritat is a very professional guide . He provided us with an excellent and personalised service . He is very friendly and patient. He also ensured that we are safe during the activities. Thank you Aritat.
Gawain L.
Singapore
|
August 27, 2018
Today's traffic was not very good and there was more rain, but I was happy to take you on a trip.I hope that if you come back again, you will run my service again .. I am ready to serve you again.

Good experience in khao yai
Aritat was a very helpful guide although he doesn't speak perfectly English. He is very cheerful and friendly and provided everything for our own comfort! Night Safari was quite disappointing cause we didn't see neither elephants or other animals but we had a good day!

Alessandra C.
Italy
|
August 22, 2018
Yes, everything is fine, but regret that you do not see the elephant. Thank you very much for choosing this trip.

+ 118 more travelers have enjoyed
the local experience with Aritat
More Reviews