Ubon Ratchathani, Thailand
Despite being one of the major cities in Isan (Northeastern Thailand), Ubon Ratchathani doesn't get enough credit for its raw beauty. Brimming with natural hidden gems, the city remains largely unexplored and is thus a dreamy spot if you're looking for a quirky off-the-beaten-path destination.

Located along the Mekong and sharing its border with Laos, Ubon Ratchathani possesses a very pleasant kind of eccentricity that's hard to put into words. Landlocked Isan's very own sandy beaches, prehistoric cave paintings, 3,000-something natural sandstone cliffs and burrows, and even glow-in-the-dark temple – it's hard to imagine ever running out of things to do in Ubon Ratchathani.
Check out these top things to do in Ubon Ratchathani, Thailand, and enjoy authentic local experiences before the rest of the world catches on.
---
1. See the tree of life at Phu Prao Temple and breathe in the mountain air while gazing over Laos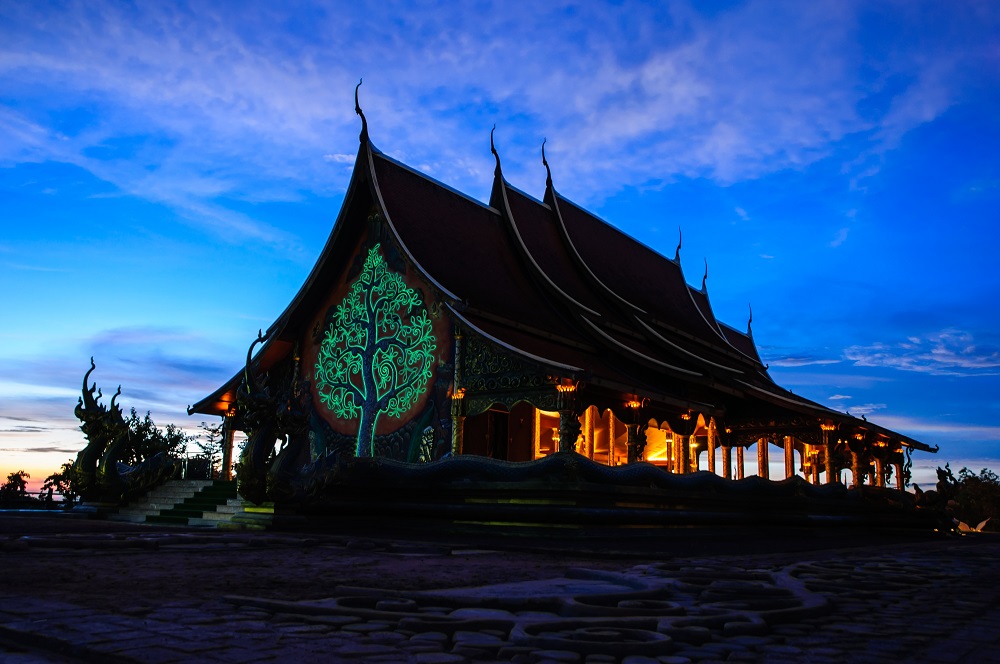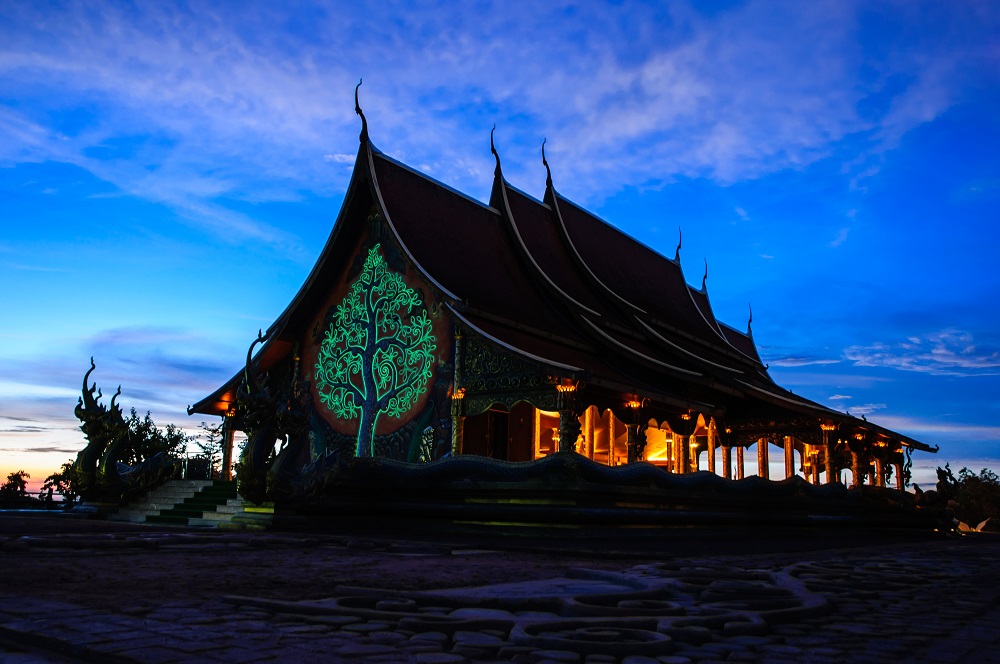 Dubbed 'The Glowing Temple', Wat Sirindhorn Wanaram Phu Prao or simply Wat Phu Prao stuns visitors with its luminous Tree of Life meticulously carved on the back gate of its chapel. The phosphor Pink Cassia absorbs daylight during the day and gives off the mesmerizing glow at night.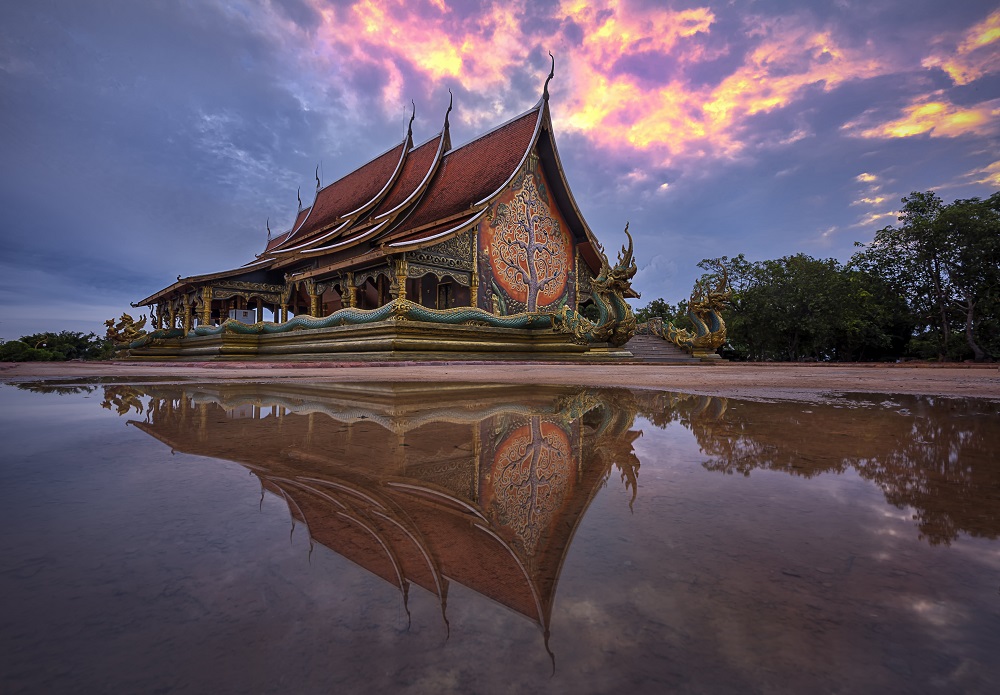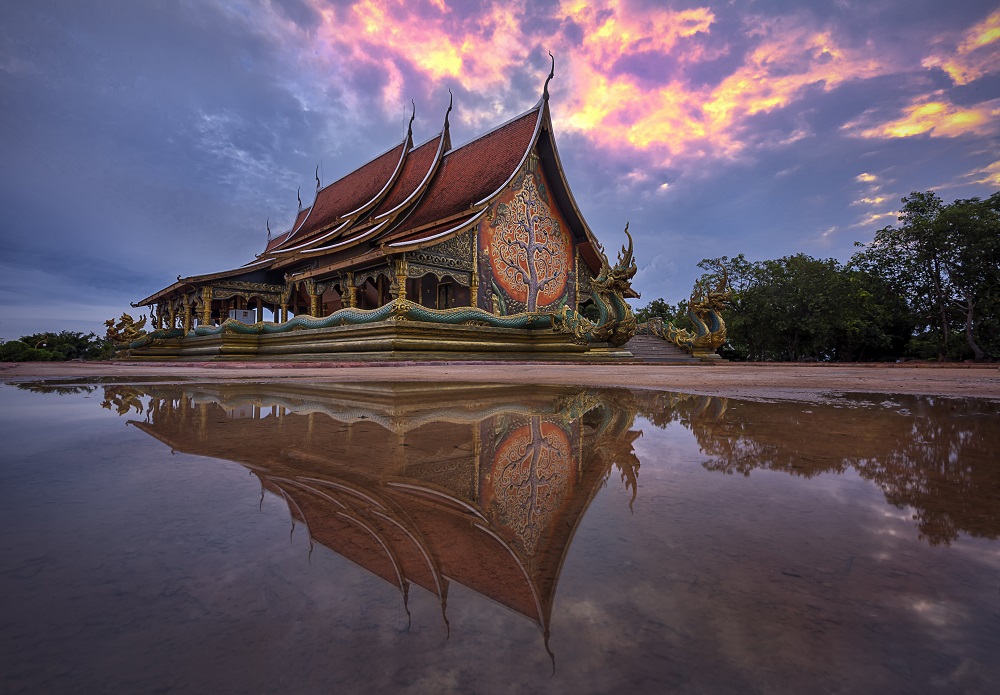 While the best time to see the illuminated tree is from 6 to 8 pm, the temple itself is an architectural gem and definitely worth a visit during daytime too. Located hilltop overlooking Laos, the golden Lanchang-style temple offers you not a feast for the eyes, but also a lungful of fresh mountain air.

2. Catch Thailand's first ray of sunlight and discover more than 300 prehistoric cave paintings at Pha Taem National Park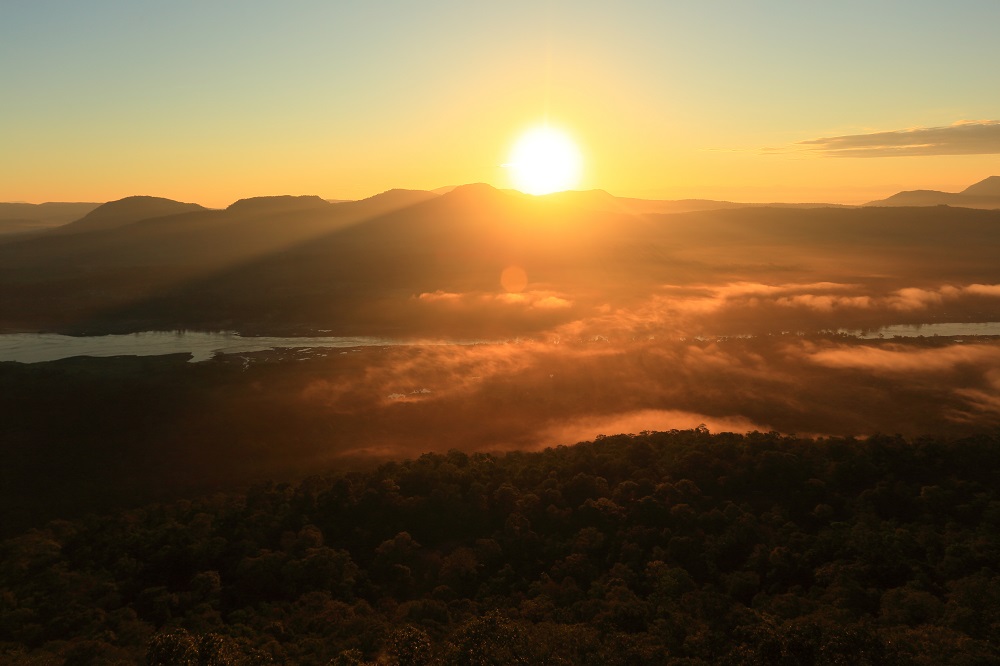 Located right along the Mekong River and the Thai-Laos border, Pha Tam National Park promises a peaceful experience far from the crowd. Its highest peak, Pha Chanadai (Chanadai Cliff), sees Thailand's first sunbeam.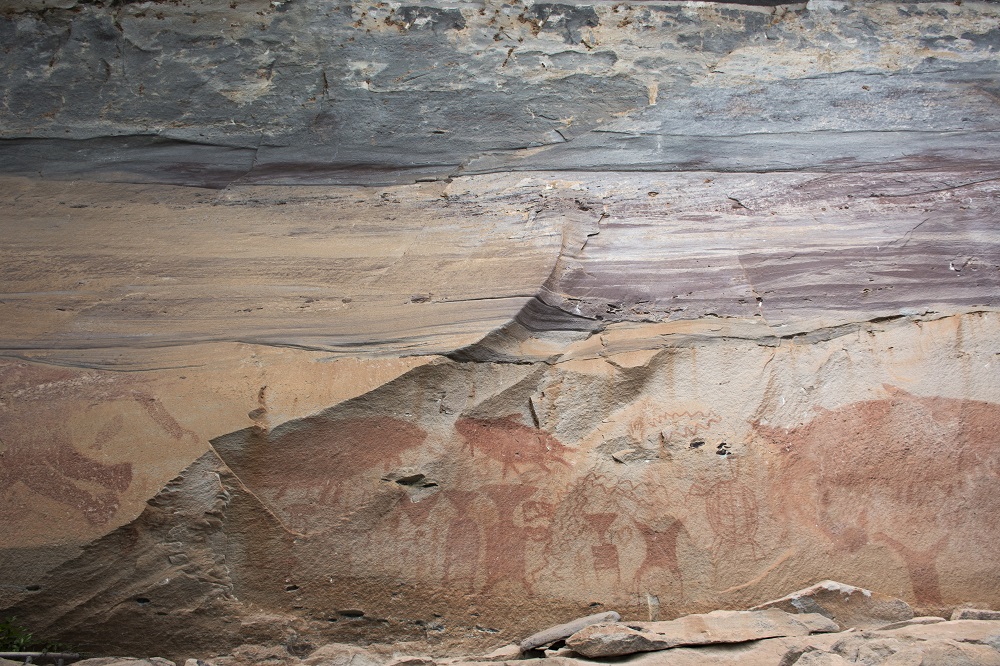 Apart from this swoon-worthy privilege, Pha Tam National Park is home to the renowned red ancient cave paintings made of quartz and hematite. They date back to more than 3 millennia and depict human hands and animals, including the aquatic ones like turtle and Mekong giant catfish – presumably ancient residents of the area. These paintings are among the most important in Thailand and will surely take you on a momentary tour back in time. 
Though best known for its sunrise peak and ancestral art pieces, Pha Taem National Park park also has other awe-inspiring natural hidden gems.

1) Soi Sawan Waterfall
Literally translated to Divine Necklace Waterfall, the 20-meter-tall falls are formed by two streams joining each other just above the cliff. They form a necklace-like fall and thus earning its name.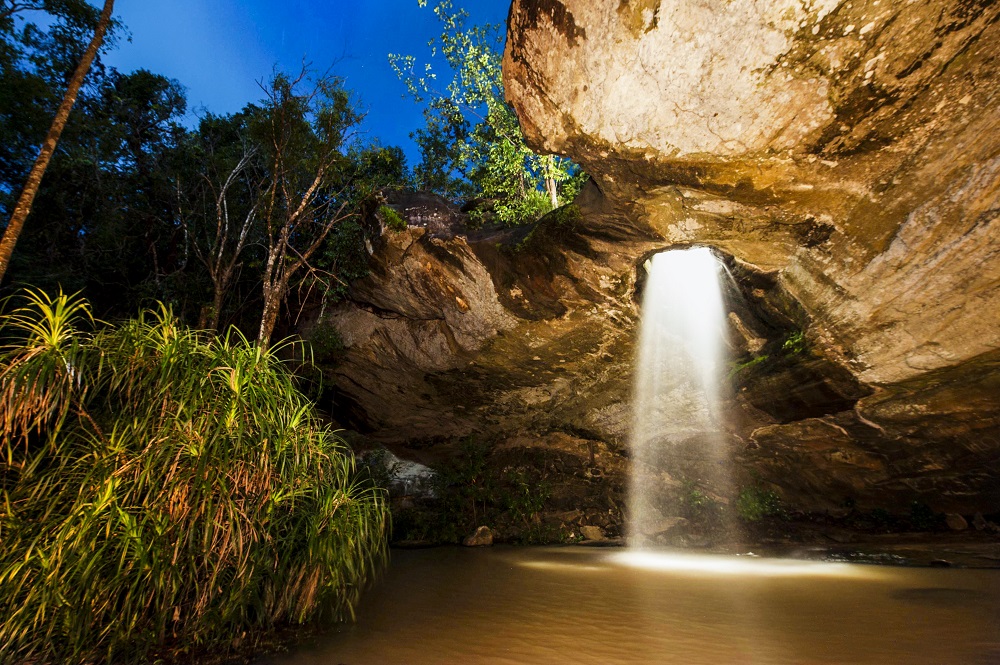 2) Long Roo or Sang Chan Waterfall
Meaning "Into the Hole Waterfall" or "Moonlight Waterfall", the names of the waterfall perfectly describe its ethereal features. The streams literally fall through a hole on the rock, hence the first dub. The hole also looks like a full moon, especially on a full moon night when the light shines right through the hole, casting a silver gleam on the water surface.
If you're in need of an extra large dose of nature, the park also has bungalows and tents for rent. Come stay the night and recharge.
3. Take in Mekong River's grandiose simplicity and cozy small town vibe in Khemarat
If you adore quietude, the Mekong River, and simple local Isan lifestyle, this tiny riverbank town is just for you. 
Khemarat might not be that fancy, but that's exactly its best-loved quirk.
Unwind from the big city buzz and stroll along the rustic wooden houses. Follow the locals to Khemarat's walking street and get all the cheap but scrumptious Isan nosh your belly wants.
4. A feast for your imagination – Heart- and Mickey Mouse-shaped holes at Sam Phan Bok rock reef
Literally translated to three thousand holes in Thai, this vast landscape is home to countless holes with the most interesting shapes. Star, heart, and what your imagination says (even Mickey Mouse) have all graced Sam Phan Bok's intriguing grounds.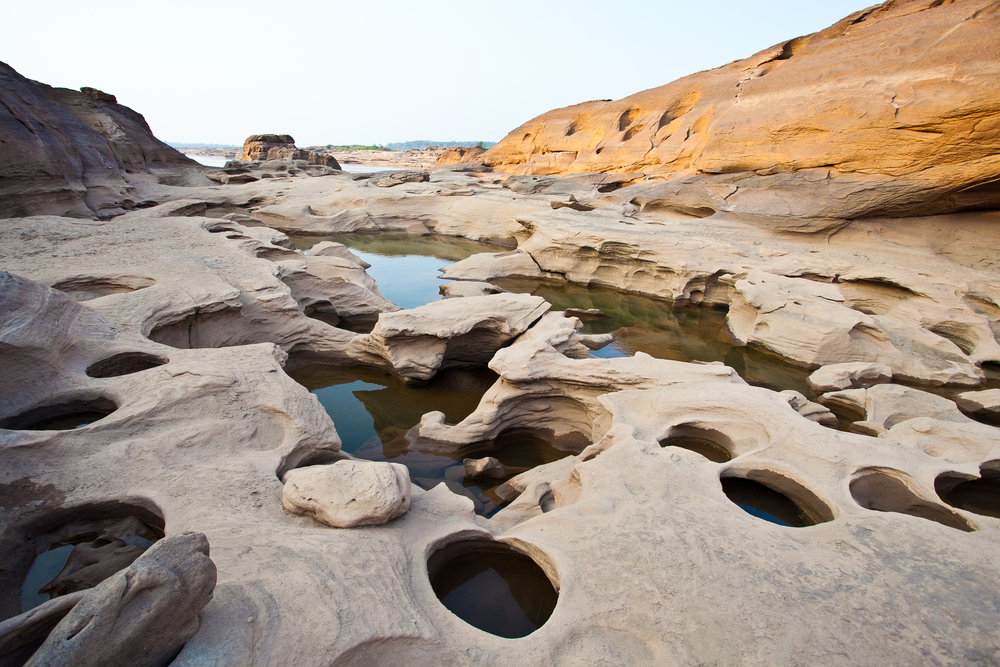 Eroded by water for millennia, the sandstone reef is filled with holes of all shapes and sizes from shallow pits to alien planet-like gaping hollows. These trenches scatter more than 5 kilometers along the Thai and Lao borders.
As Samphan Bok is right along the Mekong River banks, the best time to see its otherworldly beauty is during the dry season (October-May).

Although traveling with a private car would be the most convenient way to get there, local pickup-turned-mini bus (Song Thaew) or a boat will gift you with a bonus view of the Mekong and the rural life along its bank.
If you choose to go by a boat, also consider chasing the last light at our next destination, Had Hong Sand Dunes.
5. Catch the sunset at Had Hong Sand Dunes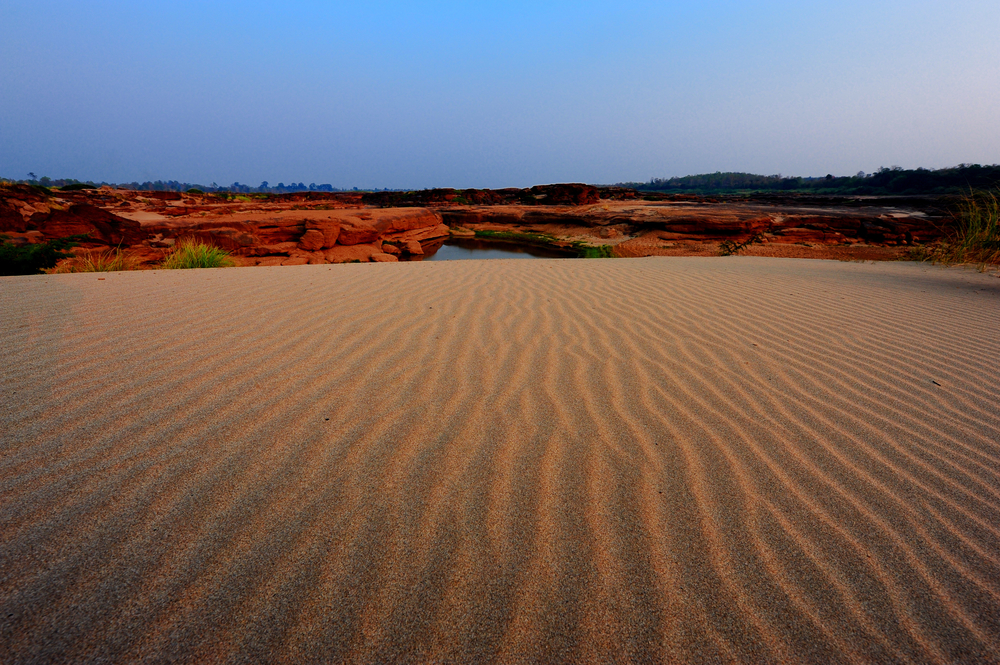 Don't miss the desert-like sand dunes on the Mekong. Make it the last stop on your boat trip and marvel at the sun slowly setting behind the golden sand dunes.
6. See the opulent Thai-style replica of Sri Mahabodhi Stupa at Wat Phra That Nong Bua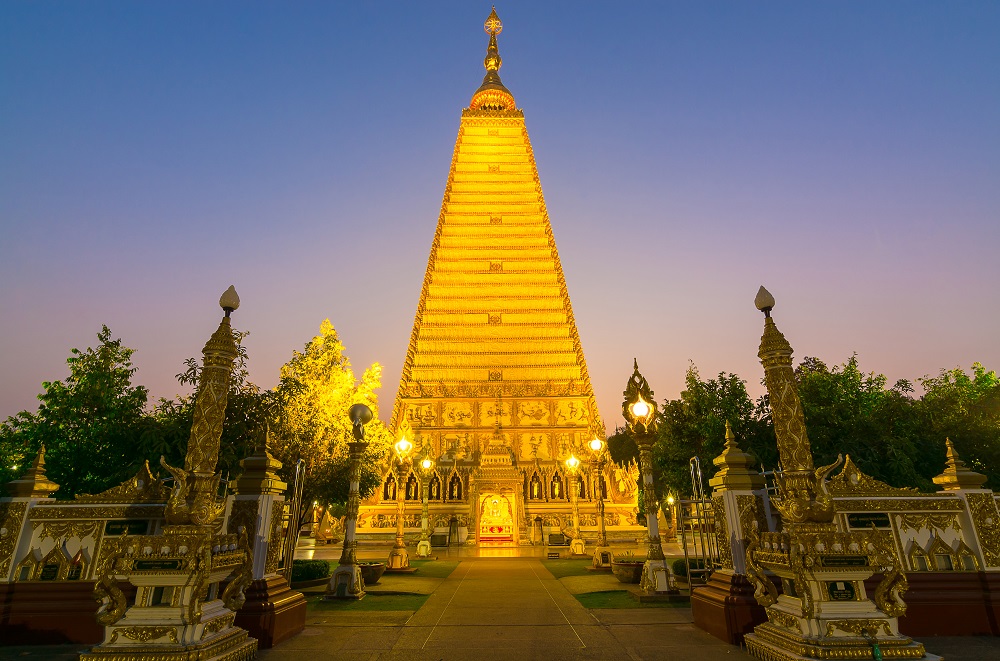 The name Sri Mahabodhi Temple might ring a bell as it's the Buddha's enlightenment place in Bodh Gaya, India. Here at Wat Phra That Nong Bua, you'll find a 56-meter high golden Thai-style replica of the sacred site.

Get there early to beat the crowd and enjoy a special moment of serenity. Take time to admire the stupa's pristine gold on white decoration, as it's the only one in Isan region.
7. Phu Chong–Na Yoi National Park – Waterfall, sandy beach and breathtaking shrimp march
Here comes many locals' and travelers' favorite national park in Ubon Ratchathani. Phu Chong–Na Yoi National Park offers a generous range of off-the-beaten-path adventures. Here are the highlights.  

1) Huai Luang Waterfall
This natural gem doesn't get enough praise for its beauty. But thanks to that, the place remains quite peaceful and unspoiled. The streams fall over a 45 meter-high cliff into an emerald green pool.
Here's the best part: right beside the dazzling green water is a white sandy beach, a rare sight in Isan. And during the wet season (June – October), the melodic rainfall echoes in the forest.  If that doesn't sound magical, then we don't know what is.

2) Pra Oan La Oar Waterfall
Although small in size, the cascade is big in aesthetic. Bathe in the massaging streams or do a waterfall hop, as Pra Oan La Oar Waterfall is just a convenient 100 meters away from Huai Luang Waterfall.

If you're looking for something mind-blowing, time your visit for the shrimp march. Hundreds of thousands of small shrimps march against the tide to lay eggs near the source of the river.
This natural phenomenon only occurs once in a year during August and September. The spectacular crustaceans will march overnight between 7 pm to around 5 am. But to be frank, you'll also need some luck bone as some nights the shrimps come in droves. Other nights, not so much.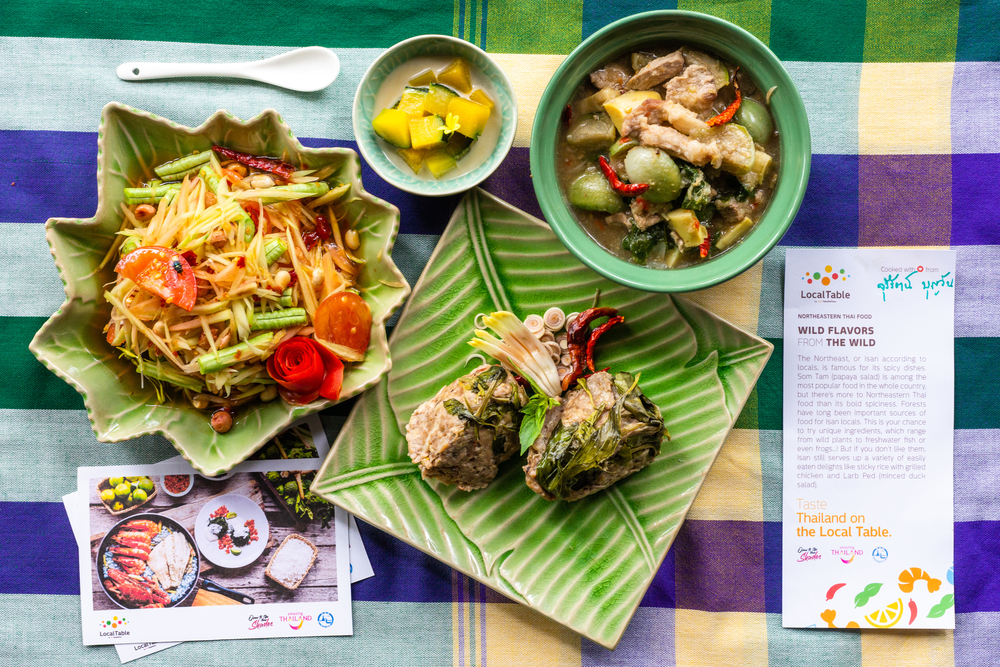 8. Learn to cook homemade Isan food
Of course, local food is unmissable. Ubon Ratchathani has many great restaurants and you can also enjoy a home-cooked Isan meal at local home. Visit our lovely Local Expert Khun Jureerat's home-style farm. You'll learn tidbits about Isan agriculture and handpick ingredients for your very own Isan dishes.
For more details of the trip, look here.
---
That's it for things to do in Ubon Ratchathani, Thailand, but that's not all you can do on your journey. Combine your visit to Ubon Ratchathani with trips to other charming cities in Northeastern Thailand.
Welcome to Amazing Thailand – Open to the New Shades. This is your ultimate Thailand travel guide, off-the-beaten-track edition. Go local and explore Thailand through new perspectives. Open your heart and mind… to the shades of Thailand that you never knew exist!