BTS Skytrain or what Thai people call Rod Fai Fa is a rapid sky train system in Bangkok, which is run by Bangkok Mass Transit System Public Company Limited (BTSC). It is the fastest way to travel around the city. Though, it is not yet cover every area in Bangkok. Currently, BTS Skytrain has two lines with 35 stations. The first line is called Sukhumvit line, running from the northern area to the eastern area, from Mochit station to Samrong Station. The other line is Silom line. It starts in Thonburi side at Bang Wa station running pass Sathorn and Silom area and ends at National Stadium. The interchange station for these two line is at Siam Station, the busiest station of BTS. The route length of the two lines together is 37.6 kilometres (23.4 miles).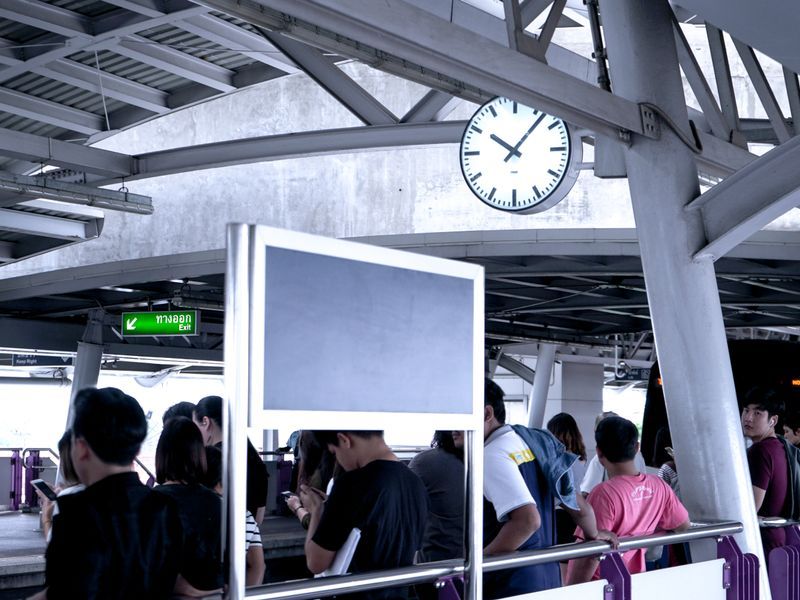 The BTS Skytrain System first started its service officially on December 5th, 1999. Its initial number of passengers was rather disappointing as it got only 200,000 passenger trips per day. The ticket revenue was only adequate to cover the trains' operation cost, but not enough for service construction loans. The figure of people travelling on BTS was continuously rising ever since then. There were more than 500,000 passengers on BTS Skytrain for the first time on December 9th, 2005. The numbers gradually increased year by year. At presents, the BTS has a fleet of 51 four-car trains.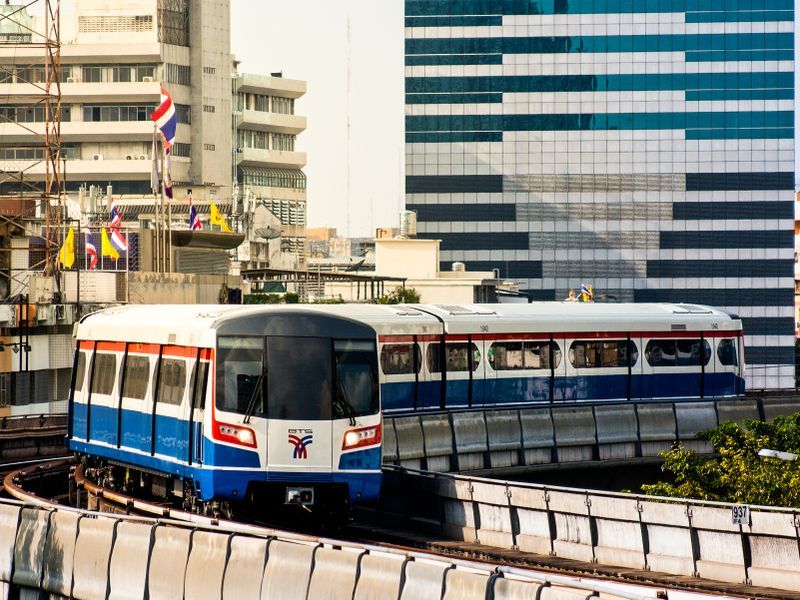 Fares are calculated and based on the distance. In 2007, the company developed a contactless ticketing system called "BTS Smartpass". It was initially planned to combine BTS and Airport Link smart cards as RFID smart cards that passengers can use one card for both systems. However, this is not yet start using.
In May 2012, BTS introduced a new top-up ticket system, Rabbit Card. Rabbit Card is a new technological, electronic payment card system for both BTS and BRT transportations and collect points for using it.. It can also be used at many restaurants and stores which are BTS's partners, such as Mc Donald's, Family Mart, Starbucks, and many more. A new Mangmoom card, a single ticketing system to be used on BTS, MRT and Airport Rail Link is still in developing process and expect to start using by 2017.
TakeMeTour's Review
BTS sky train is one of the most reliable and convenient modes of public transportation in Bangkok. The system covers most part of the highly congested areas. It is worth noting that during peak hours (7-9 AM and 5-7 PM), the train is expected to be highly crowded. Give yourself some extra time to give a few misses for the packed train you won't be able to enter!