Kwan Riam Floating Market has been operating since May 2012, which is one of the newest floating market in Bangkok. Its name "Kwan-Riam" is a name of characters in Thai romance-drama novel called "Plae Kao" (meaning - the scar). The story narrates the love of Kwan and Riam that was hindered by their parents. Visitors can come to Kwan Riam Floating Market on Saturday – Sunday and on public holidays, from 7a.m – 9 a.m.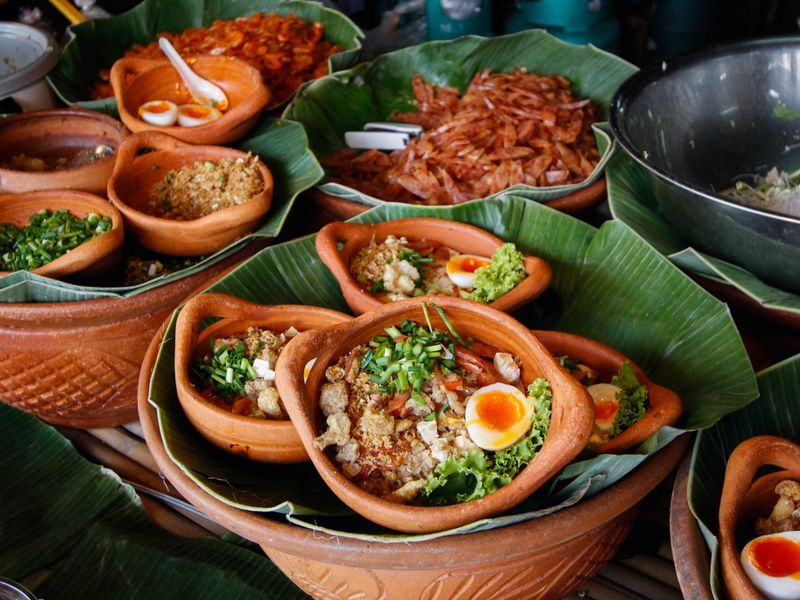 It is situated between two temple: Wat Bamphen Nuea and Wat Bamphen Tai, by the Saen Saeb canal. At the Kwan Riam market, there are vast selection of traditional Thai food and other stuff offering to visitors, e.g. Kuay Tiew Reua (Boat noodle), Thai desserts, Thai eastern food, clothes, souvenirs and more. Besides food and shopping, Kwan Riam Market also has many more interesting thing, such as Thai dance show, horse riding for children to walk around the market and tour boat service that take visitors to go sightseeing along the canal.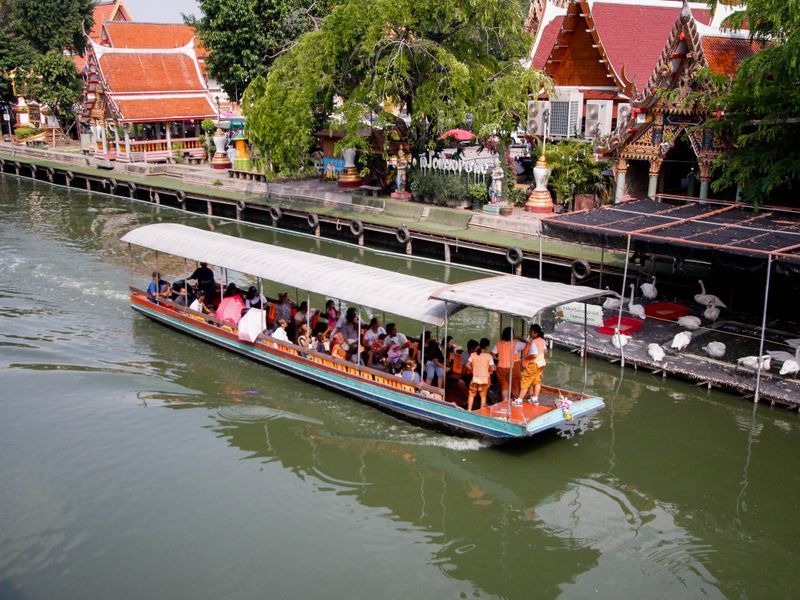 The canal was once very important for commerce and communications. However, after the construction of a network of sealed roads around Bangkok, the canal was restrained from using it. Thanks to a long-tail boat service run by "Family Transporation" firm for over 20 years, commuters can still travel from Phan Fah Bridge (off Ratchadamnoen Avenue) to Bang Kapi in no time (even faster than by car or bus!). Yet, the ferry service from Bang Kapi to Min Buri has not been regularly on the move. As a result, some part of Saen Saep is pretty still.
The modern style of this Kwan Riam Floating Market does not make it any less charming. With its location near the ancient temples, Thai people also come here to get blessed by the local monk with holy water. At the entrance near Wat Bamphen Tai, visitors can enjoy the sound from an old man's accordion as a music background while they stroll along series of shops.
TakeMeTour's Review
One of the newest floating markets to be established in Bangkok. Kwan Riam floating market hosts a lot of Thai coming from mostly around the area for a dine-out on their weekends. The location is very unique as located right between 2 temples, holding a long story about the fictional characters in one of the most famous Thai novels.