Trimurti is known to be the god of love. People come to worship Trimurti shring with offerings of red roses in the hope that they will meet their soulmate. The shrine is a landmark located on Rajaprasong Intersection, in front of Central World shopping complex. The shrine has been moved from the original position for recent renovations.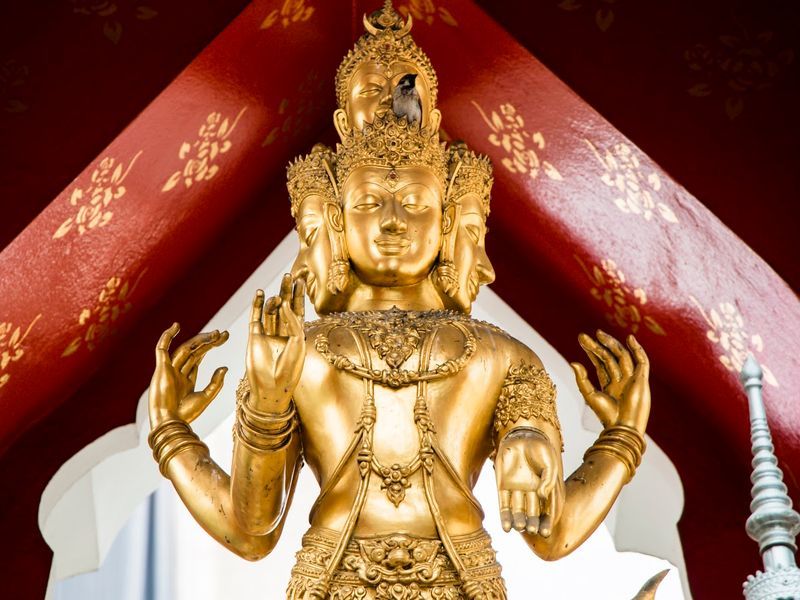 In Hinduism, Trimurti is the portrayal of the three Gods: Brahma, Vishnu and Shiva. The concept is very similar to the concept of Trinity in Christianity. Many Thais claim to here to whisper to be matched with a foreigner, and the other way around for many foreigners to be matched with a Thai partner. The shrine is so crowded on a Thursday night as believed to be the night of Trimurti.
Trimurti statue is made of gold with the shape of a human body with two heads and four arms. The heads are one on top of the other, and the lower head has four faces. The Trimurti Shrine is built in 1989, covered by a dome on four pillars with 4-sided delicatedly carved gables. Worshipper can sit at the seat ring around the shrine. The shrine is engraved with classical Indian sculpture with a hint of Thai touch.
The Trimurti Shrine is open 24 hours and can be accessible by BTS skytrain Chidlom or Siam station. The shrine is located in fron of Centrail World (address: 999/9 Rajdamri Road).
TakeMeTour's Review
Come have a peek onto local worshipper or if you have something to whisper. The shrine is located in one of the most modern shopping malls in Thailand. Make your way here, it will be quite interesting!