Wat Benchama Bophit Dusitvanaram or the Marble Temple is considered as one of the most gorgeous temples in Thailand. It is designed by Prince Naris, King Rama IV's son, who was a great architect at that time. The temple was created in traditional Thai symmetrical style and used fine marble from Italy as a construction material.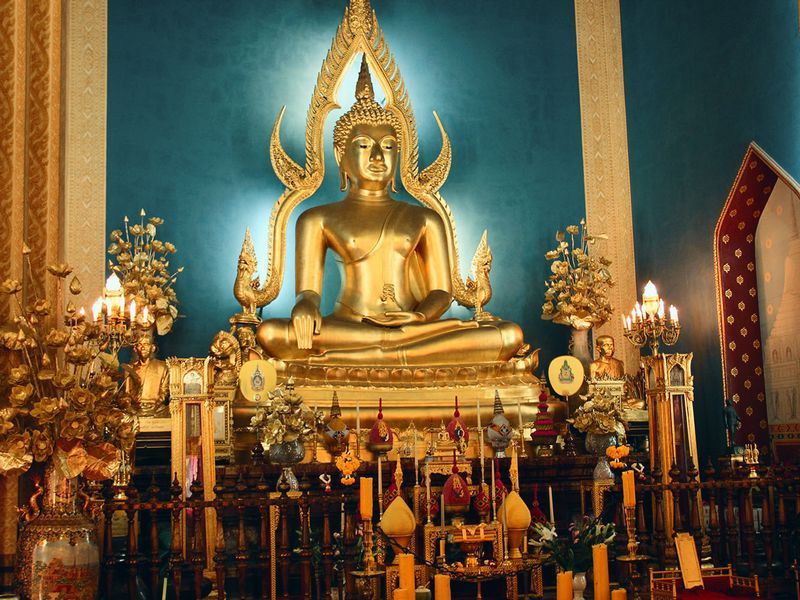 On the back of 5 baht coin, you may notice Wat Benchama Bophit imprint. In the late 19th century, Rama V commissioned the construction of the unique bòht (ordination hall) of Wat Ben, an informal name of the temple. The ashes of King Rama V are kept at the base of the central Buddha image, a copy of Phitsanulok's revered Phra Phuttha Chinnarat.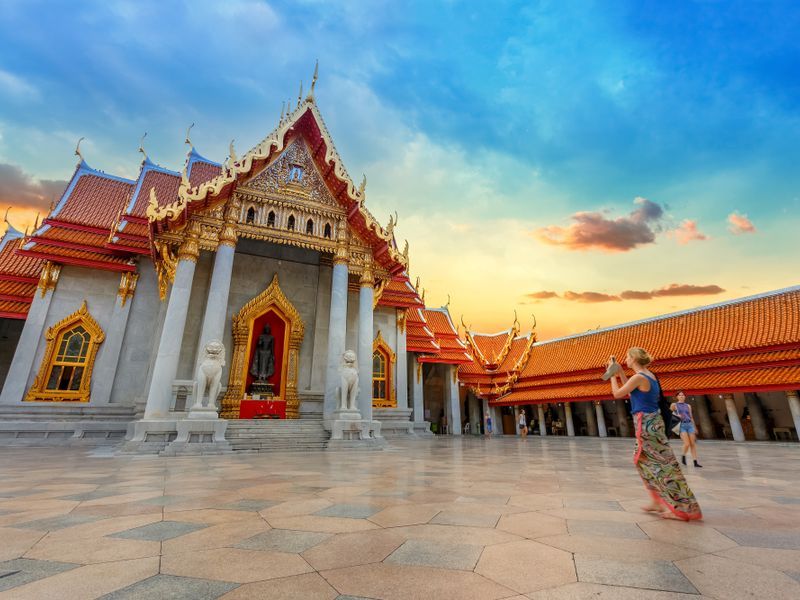 The temple interior was in mixed architecture of Thai and European influences and therefore represents as a model of modern Thai temple. Most of the decoration inside are extremely dominated by a European palace, such as red carpets, a painted stained-glass windows on the wall, the gold-on-white motifs painting and the royal blue wall behind the central Buddha image. All of these are from King Rama V who was truly charmed with Europe. This can also be seen at the Dusit Palace.
There are 53 Buddha images, of which 33 images are originals and 20 are copies, placed at the courtyard behind the both. These Buddha images illustrate every mundra (gesture) and style in Thai history that visitors can actually learn the Buddhist iconography here. Moreover, Wat Benchamabophit is also a great place to go for a walk and enjoy the atmosphere along the canal together with blooming lotus and Chinese-style footbridges.
TakeMeTour's Review
Wat Ben as commonly called by locals, is one of the most unique temples in Thailand. Although being surrounded by many temples, we personally think Wat Ben is truly worth a visit. It's standing out with the imported marble material. The admission fee is as low as 20 THB.