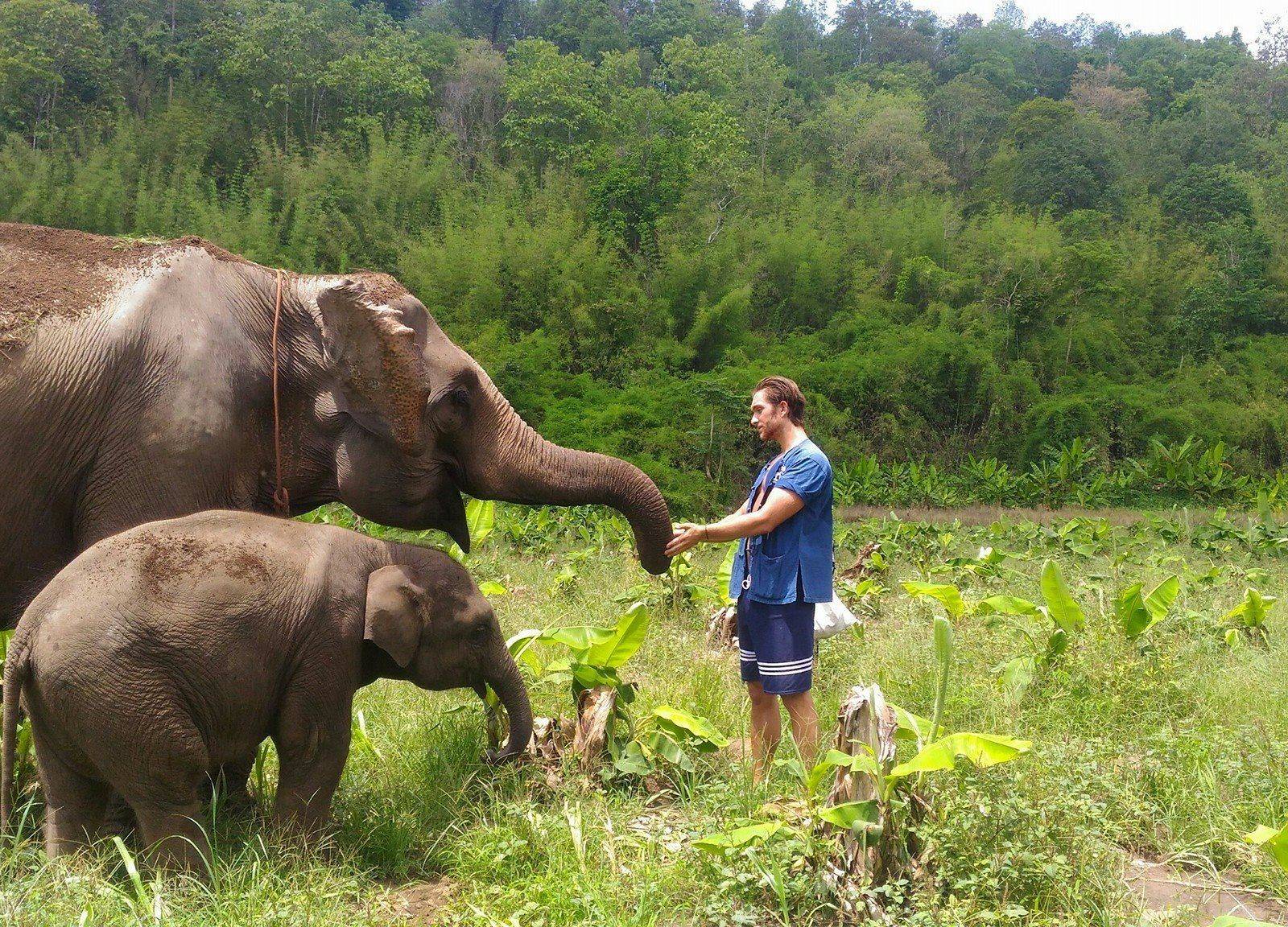 Eco-Friendly Elephant Sanctuary and Trekking with the Elephants on a Natural Trails
---
We are an eco-friendly and ethical - strictly no-riding / no use of hooks elephant sanctuary. Our sanctuary is located 40 minutes North of Chiang Mai in the beautiful Mountainous hillsides. Come join us!
---
itinerary
08:00
Meet up at hotel lobby (in Chiang Mai area)
09:45
Stop by at Poopooelephant Paper Park for around 20 mins, to see and to learn how did local people making paper from the elephants' poop.
11:00
Arrive at Chiang Mai Mountain Sanctuary and change into traditional Lanna clothing getting ready to care the elephants.
11:30
Learn how to make organic traditional herbal medicine. Also learn and help each other to cut the sucar canes and feed to the elephants.
12:00
Enjoy a traditional Thai lunch and fresh fruits.
13:30
Let's go on a 40 minutes trekking with the elephants on a natural trails.
14:30
It's time for mud bathing session for the elephants! Then give them a wash in the natural river
15:45
Clean up and get ready to go back.
17:00
Return to your hotel.
---
Trip Conditions
Vegetarian Food Available
---
Price Conditions
Transportation fares are included.
Admission fees are included.
More details about price conditions
---
FAQs
Why this trip?
We are located in a very non-touristic location and offer one of, if not the most, competitive rates for the quality experience you will have at Chiang Mai Mountain Sanctuary.
Things to prepare for the trip
Shoes
Sunscreen
Hat
Bathing Suit (optional but reccomended)
Insect Repellent
(FOOD, SNACKS & WATER PROVIDED)
---
Meeting Point
Hotel Pickup
- Hotel Pickup in Chiang Mai Area
---
All Countries
All Countries
Australia (3)
Belgium (2)
Canada (11)
Colombia (1)
Czech Republic (1)
France (5)
Germany (6)
Hong Kong (1)
Italy (1)
Mexico (2)
Netherlands (3)
New Zealand (1)
Poland (6)
Portugal (2)
Spain (1)
Switzerland (1)
United Kingdom (7)
United States (25)
Uruguay (1)
Matt D.
United States
|
October 21, 2018
Not as expected
Firstly, I will say that our guide/driver was very friendly and nice. He seemed genuinely interested in us having a good time and the welfare of the elephants.
On the other hand, the experience itself wasn't anything amazing. We fed the elephants bananas and sugar cane. We made a 'medicine' mix for them. All this dragged on like we were filling time. Then came the hour long lunch break which everyone was done with in a half and hour. After lunch, stand around and feed the elephants sugar cane before taking them on a 'trek'.
This was in no way scenic or natural until the midway point where you actually go under a couple of trees and then stand around again to feed them more sugar cane. It's really just a circular track around a nonpicturesque small plot of land, including the backside of a Karen shack village.
Following the 'treck' we had the opportunity to put mud on the elephants and give them a bath in the river. This was probably the high point of the tour (along with the stop at the poopoopaper factory which was actually quite interesting).
This all took from 8 am pick up to 4 pm drop off. Honestly it probably could have been over by about 1 and not missed much.
As I said, the guide was nice, but it seems that he doesn't have much to work with as the facilities are limited. Also, the woman who deals with the money and communicates with you ahead of time isn't very helpful. I called her specifically to try to find out more information and was told that "everything is on the website". I also sent a follow up message to mention that I am a bigger guy and ask whether they would have a shirt for me. She didn't respond and they didn't arrange it, despite us using that channel to communicate before then.
Matt D.
United States
|
October 21, 2018
Carmen S.
Mexico
|
October 20, 2018
Very Nice we enjoyed a lot
But they were late in the morning
Carmen S.
Mexico
|
October 20, 2018
Rebecca G.
United Kingdom
|
October 13, 2018
Be prepared
Pick up time was 8:30-9:15 was picked up at 10, took a stop off somewhere we wasn't really meant to as a sorry for being late. The tour was good but just a little scatty and unorganised considering you get set an itinerary which looks promising.
Rebecca G.
United Kingdom
|
October 13, 2018
Hey Rebecca! Glas you liked the tour and apologize for your bad experience.
On that day, we had a problem with the previous customers before picking you up from your hostel. We also didn't expect this to happen.
Hope you enjoyed the rest of your trip in Chiangmai
Thanks!

+ 372 more travelers have enjoyed
the local experience with Pim
More Reviews