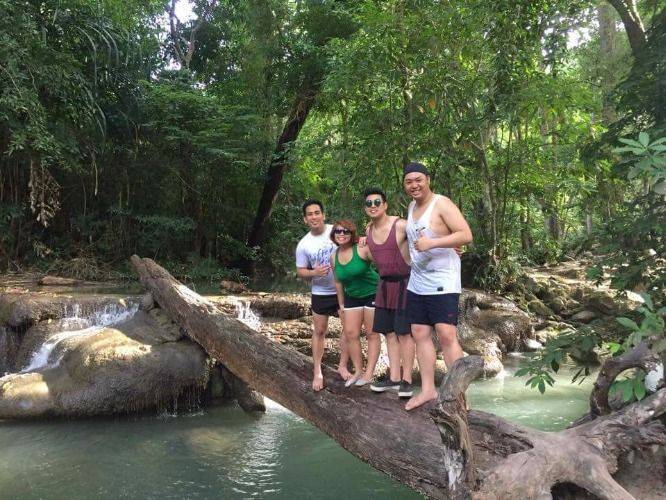 ---
Let's go trekking, chilling by the famous 7-level Erawan falls, and admiring the beautiful surrounding together. We will also visit a local restaurant afterward. You will be surprised of how delicious their foods are :9
---
Price Conditions
Transportation fares are included.
Admission fees are included.
More details about price conditions
---
FAQs
Why this trip?
Erawan waterfall is one of the most famous/ iconic falls in Kanchanaburi province. The waterfall is very clear since you can easily see all the fish. You will definitely love here!
How local is it?
It is easy to do some trekking there wearing only slippers and swimming suites. You will be able to observe and admire the local nature there.
What makes it unique?
The falls has 7 levels, and each one gives you different feeling. You will understand what I mean when you are here. ;)
---
Meeting Point
Hotel Pickup
- Hotel Pickup in Bangkok Area
---
All Countries
All Countries
Germany (1)
Korea (South) (2)
United Kingdom (1)

지영 고.
Korea (South)
|
July 16, 2018
Lateness, a long distance
She was more than one hour late. it was unplesent experince waiting the tour giude in the lobby more than 30 mins. She informed me that she would be late about 30 mins so I started to wait on time but she didn't come even on the delayed time. She should have told me straightforwardly when she would come
So that we didn't need to wait her at the lobby without doing nothing.
It took us 4hours to get to Erawan waterfall by car. So we could arrive there 1 pm.
On the way to the hotel, we also had to spend more than 4hours because of traffic jam.
Even though ,she was late she tried to be polite. I also appreciate her for long hour journey.

지영 고.
Korea (South)
|
July 16, 2018

용빈 김.
Korea (South)
|
March 26, 2018
So good! It's very far but worth it!
It's very far from bangkok, but it's worth it!!! Also Mod is so nice, u can get so much help from her! I and my friends had a great time thanks to Mod!

용빈 김.
Korea (South)
|
March 26, 2018

Stuart B.
United Kingdom
|
January 22, 2018
Amazing place
This is an amazing trip. The Erawan waterfalls are one of the most beautiful places I have been. It is a long journey but well worth it. Good value give money. Our guide Thammaporn was friendly and helpful throughout the day.

Stuart B.
United Kingdom
|
January 22, 2018
+ 2 more travelers have enjoyed
the local experience with Thammaporn
More Reviews