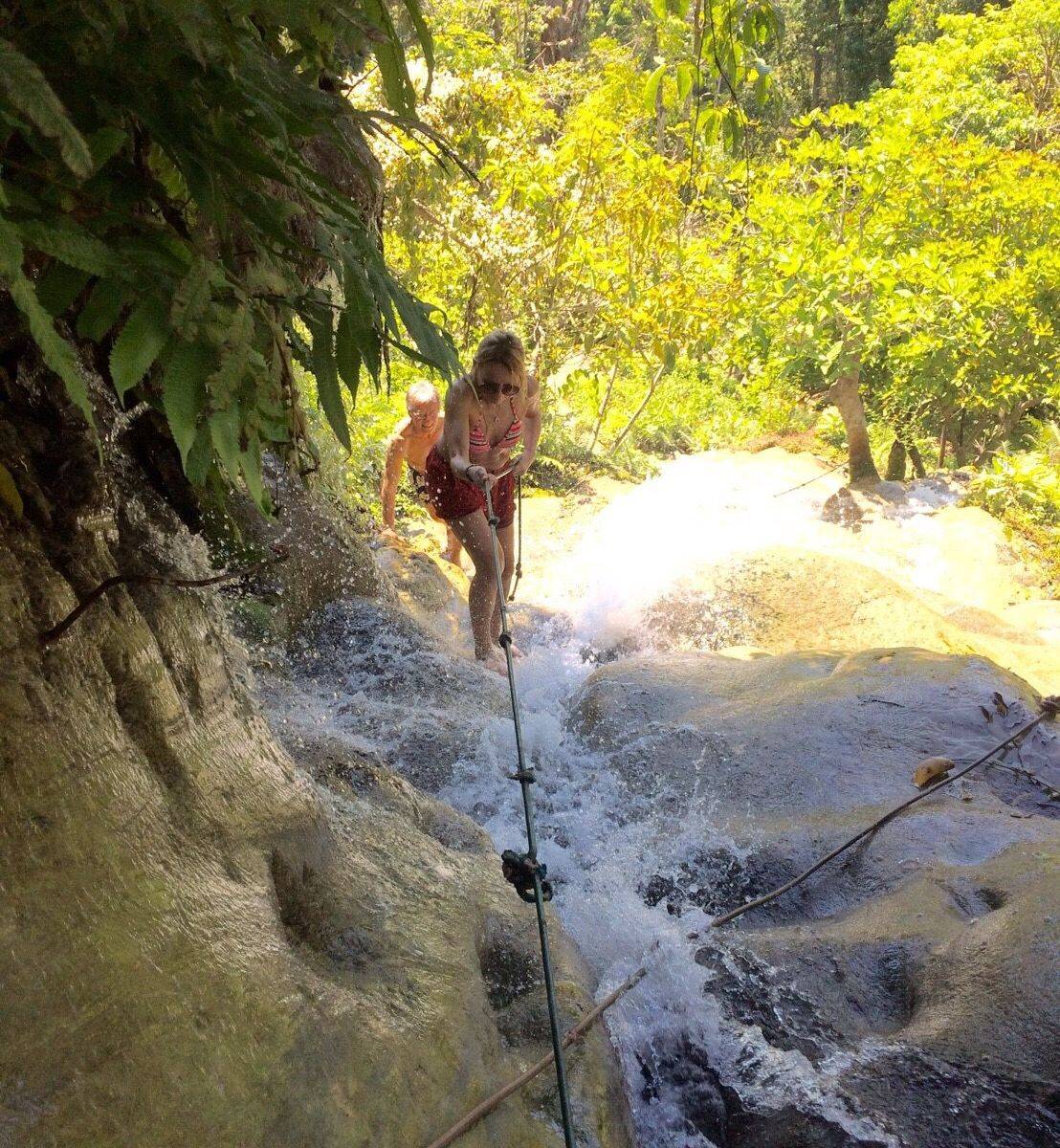 Explore the Bua Tong "Sticky" Waterfall with a Super Local Expert
---
Bua Tong Waterfall is most unusual because it is limestone waterfall and is not slippery. As a super Local Expert, I know the safest spots to climb and will go into the water with you and show where to step onto and grip!
---
itinerary
10:00
Meet up at hotel lobby (in Chiang Mai area)
11:00
Arrive at the waterfall and have leisure time for you to climb and swim or just relax in nature.
13:00
Lunch time. (We have Thai Northern food for you or you can bring your picnic).
14:00
Leave for Chiang Mai and go back to your place.
---
Trip Conditions
Vegetarian Food Available
---
Price Conditions
Transportation fares are included.
Admission fees are included.
More details about price conditions
---
FAQs
Why this trip?
While the Sticky Waterfall itself that draws travelers to this trip, Local Expert is also the trip's highlight! Who you travel with, what you have experienced together, these things make the journey all the more beautiful and unforgettable!
How local is it?
Sticky Waterfall is a hidden gem to both Chiang Mai native and travelers. You'll get soaked in the waterfall with all time 5 stars Local Expert who has been to there for over 20 years and knows exactly where's the safest spots.
Things to prepare for the trip
Swimwear
Spare Clothes
Sandals
Hat / Cap
Towel
---
Meeting Point
Hotel Pickup
- Hotel Pickup in Chiang Mai Area
---
All Countries
All Countries
Australia (9)
Austria (2)
Belgium (1)
Canada (26)
China (1)
Czech Republic (1)
Denmark (1)
France (2)
Germany (9)
Ghana (1)
Hong Kong (1)
Ireland (6)
Israel (2)
Italy (1)
Japan (1)
Latvia (1)
Mauritius (1)
Netherlands (1)
New Zealand (3)
Poland (3)
Singapore (8)
South Africa (2)
Spain (3)
Sweden (1)
Switzerland (1)
United Kingdom (30)
United States (114)
Jackie H.
United Kingdom
|
October 21, 2018
Great fun
Piangduan is the best guide. We had such a good time and sticky waterfall is a must see.
Jackie H.
United Kingdom
|
October 21, 2018

Marta C.
Spain
|
October 19, 2018
Relaxing and friendly
I booked a one-person-day trip on my arrival to Chiang Mai and it was one of the best decisions I made to disconnect from my busy working life. Piangduan is so lovely and friendly! Everything was super well organised and food was great as well. It was interesting climbing the waterfalls and was not slippery! Thank you so much for such a beautiful day, Piangduan! I definitely recommend this tour and, especially, the guide.

Marta C.
Spain
|
October 19, 2018
Jason N.
United States
|
October 18, 2018
Super fun experience!!
We had such a great day out with PD. She went above and beyond telling us about things as we passed. She helped with translating so we could buy some things at a local market, her English is great. PD is a very experienced guide, her love for the Bua Tong falls is evident and she showed us how to navigate them and then we explored them by ourselves. We did the short walk to the Rainbow Springs and PD even stopped for us to visit the cave at the top of the steps. Spending time having lunch and chatting was so nice, we learnt so much. PD took pictures along the way of our day and then sent them to us once we got back to our hotel. It was one of the best days we have had on our vacation and we have nothing but great things to say about PD. She comes highly recommended!!
Jason N.
United States
|
October 18, 2018
+ 271 more travelers have enjoyed
the local experience with Piangduan
More Reviews