Explore Teakwood Temple & Sticky Waterfall of Chiang Mai
Private Car
Chiang Mai
Know better about local people lifestyle. Discover the local organic rice field and fruit garden. Visit the unique and amazed teak wood temple. Taste the local thai food . Enjoy the sticky waterfall like you never do before with short trail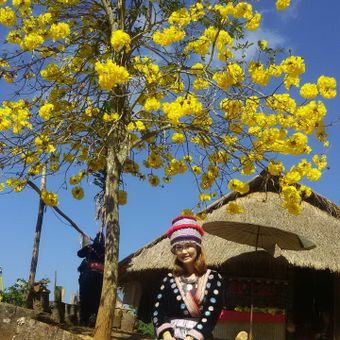 FAQ
Unique sticky clear waterfall at National Park, local farmer and amazed teak wood temple 50 kms. far away from Chiang Mai city will fascinated your holiday
Things to prepare for the trip
Swimming Suite, towel, hat, sunglass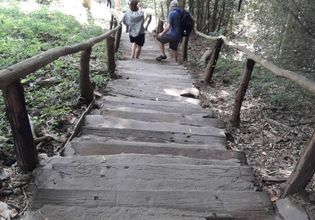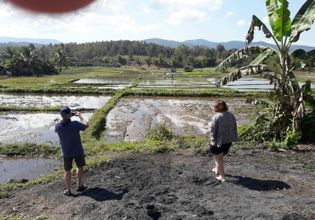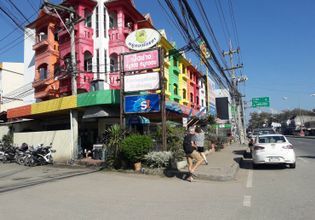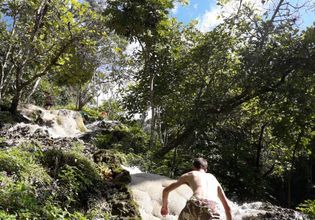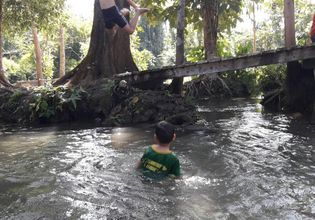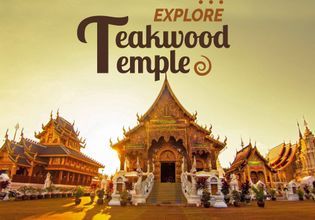 Itinerary
Sticky waterfall (Buatong Waterfall National Park) with short trekking. You can play clear waterfall here.
Enjoy taking photo with local farmer and visit their farm (can not fix the garden, up to the season)
Stop over The Mae Ngat Dam & Reservoir for lunch and enjoyed the scenery.
Visit the unique and amazed teak wood temple
Price condition
Meals are included. (Note that alcohol is excluded)
Transportation fares are included.
Admission fees are included.
Extra expense you should prepare
pocket money, alcohols drink
Meeting point
- Hotel Pickup in Chiang Mai Area Stephen
Fantastic day
Gip was a great guide. Very helpful with a good sense of humour. A surprise trip to a local market on the way with an explanation of foods. Left with a wide sampler selection of local delicacies. It was great to have a personal guide to take us to the Sticky Falls after reading that many other people get lost if they go alone. Gip was very accommodating to all of the family, taking great care of us all. We went to a local Thai buffet for lunch that we would never have found on our own. The trip was great value for money. Thanks Gip!

Carrie
Relax like a local
Shop, eat, rest, repeat! This is a great trip for people who want to see less touristy corners of Chiang Mai and experience how the locals chill out on the weekend. Gib is a charming, gracious, patient, and friendly host who is more than happy to accommodate special requests and modify the itinerary to guests' needs. She picked us up at our hotel at the appointed time. She brought an English- and German-speaking friend along for support, which I thought was smart. We chatted casually in the car and I felt super comfortable with both of them. By the end of the day, we felt like old friends! I told Gip I wanted to get a basic crash-course in Thai market shopping, so she took me to a couple of local markets and walking streets, explained all the mysterious foods to me, recommended her favourites, and taught me (over and over again) how to ask about products and prices in Thai. I admit the parasol village was not high on my Chiang Mai bucket list - it's just a big workshop where you can shop, watch parasols being made by hand, and shop some more. The painting process was interesting to watch, though, and for 100-300 baht, the artists will paint beautiful custom designs on almost any object, from cellphone cases to clothing and bags. I asked one artist to paint a bird and flower design on my plain black Decathlon backpack. If you appreciate local handicrafts but don't want to be weighed down with useless souvenirs, I recommend bringing something you already own to be painted for you at the village.
My favourite destination on the trip was the hot spring. There are several options, including a shared swimming pool, gender-segregated bathing rooms, and private bathing rooms which can be rented by the hour. We just went to the free outdoor foot-soak area, which was full of locals picnicking, soaking their feet, and kicking back with friends and family. The performer singing old Thai pop songs adds even more to the local ambiance. We soaked our feet in one of the cooler pools and ate some tasty eggs that we'd cooked in the boiling-hot pool filled directly from the source.
We ended up making some spontaneous changes to the itinerary when we ran into a big walking street and stopped for a detour at an art gallery, and we didn't go to any of the restaurants Gib recommended because we ate too much at the market! But that was fine with me, because I love markets. Thank you so much for a great trip, Gib! Maverick
Exciting, pretty, fun
Sticky Waterfall was amazing. It is our favourite place in Chiang Mai so far. On the way we got to sample some street food at the local market. The fried banana, sticky rice and Thai tea was yummy. Gib was really informative and enthusiastic. She is more like a friend rather than a tour guide. She climbed the waterfalls with us and help us along the way too. There was also a mini cliff jump into a pool of water at the bottom. On the return trip we had the best kaosoi noodle lunch. 10/10 would definitely go again! + 15 more travelers have enjoyed the local experience with Chompunuch
Load more