Food & Market Tour | See Bangkok Night Life by Tuk Tuk
Bangkok
Let's dinner along the street with local thai food. Feel the night life at the markets; not only 1 market but I will show you more! See temple at night I can guarantee you 1 thing. You won't get sweated from the heat ! Chill out on the Tuk Tuk around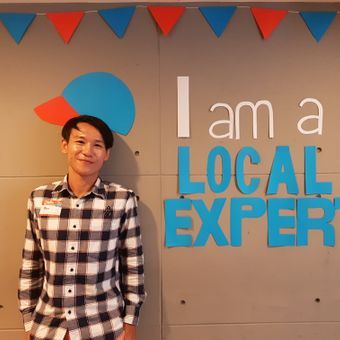 FAQ
In this trip you will get : - Feel life style Bangkok night life. - Full board with Dinner by local restaurant. - Get experience with Tuk Tuk for trsnsfer. - See Wat Pho by the light. - Take time fun with shopping at Saphan Phut Night Market.
This trip you will travel around the part that busy for the night time only at Wat Pho will be busy only on the day time. And flower market it the big in Bangkok.
I don't know how to tell you. It not only the place for shopping and dinner. But it is the life for the people at stay in that area. Come to find the answer you will know and be part of Bangkok.
Things to prepare for the trip
Maybe you can have small shopping so bring some money.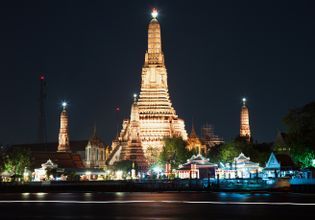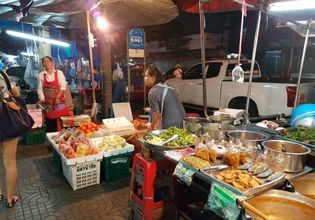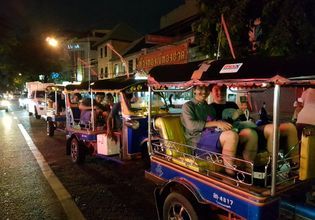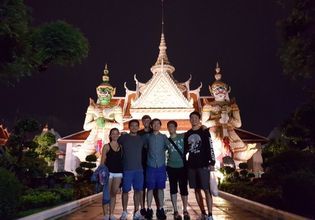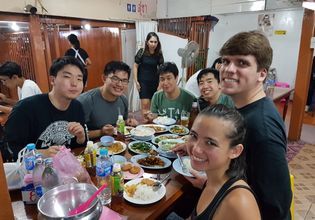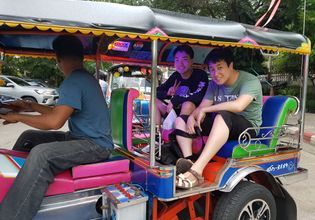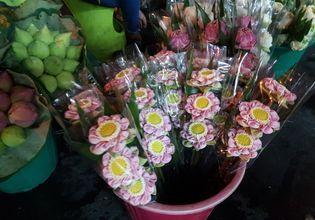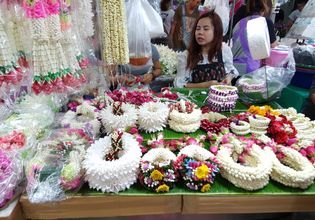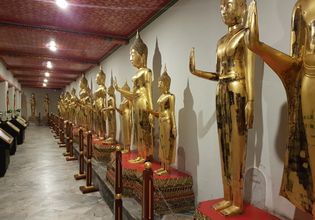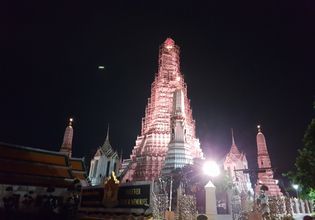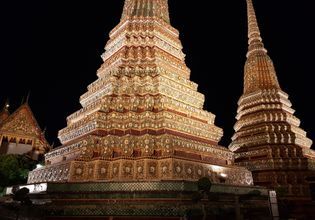 Itinerary
Meet up at BTS Station (Saphan Taksin)
Meeting at BTS Saphan Taksin exit 1. Then Cross the Chao Phraya River by the boat ferry.
Arrived Khlong San Market walk and watch around maybe you will find something special. Here they have to sale a lot of the cloths and accessory also food too.
Get ready to Tha Din Dan Market by Tuk Tuk. All of the side road you can see they sale alot of the food and have fresh market.
After this Tuk Tuk will take you to Wat Arun or Temple of dawn. You an see hindo architecture in this temple. And this temple they keep bond for King Rama II here too.
I think you will humgry now so let go to have some dinner around. But this restaurant very favourite for Thai people around some time you have wait for table 30 to 45 mins.
A reasonable time move to Wat Pho by Tuk Tuk. Wat Pho or Reclining Buddha the night time they will turn on the light. You can walk around and take the picture. it great to come after sunset.
Let's go to Pak Klong Talat or Flower Market by Tuk Tuk again. Here is a wholesale market for flower and some for vegetables. It is the primary flower market in Bangkok. Maybe you will buy flower here who know.
Get ready to get back. Take one more time with Tuk Tuk to send you back to Saphan Taksin BTS Station.
Price condition
Meals are included. (Note that alcohol is excluded).
Transportation fares are included.
Admission fees are included.
Extra expense you should prepare
All expenses included except tip and any alcoholic beverages.

Tiffany
Insightful and comprehensive
Ben is a very professional and highly experienced tour guide! The entire tour went very smoothly, from pickup at our hotel, to bike rental, to the cycling, lunch, and return. Ben provided very interesting commentary for each of the many unique stops we took - temple, incense house, lake, coconut farm, and many more; as well as the breaks to take pictures. His English is great, and he was also great at signaling while leading us on our bikes - we never felt unsafe or that it was difficult to keep up. We ended up with a wonderfully comprehensive feeling for history and attractions of the Green Area. Coffee break and lunch at the end were also amazing! Thanks Ben!

Gergely
Great guide
He is very polite, friendly. Everthing was good. He is the best guider what I ever sean. LUIS JAVIER
Ver y nice experience
Sinchai made us have a wonderfull tour. + 66 more travelers have enjoyed the local experience with Mr.Sinchai
Load more