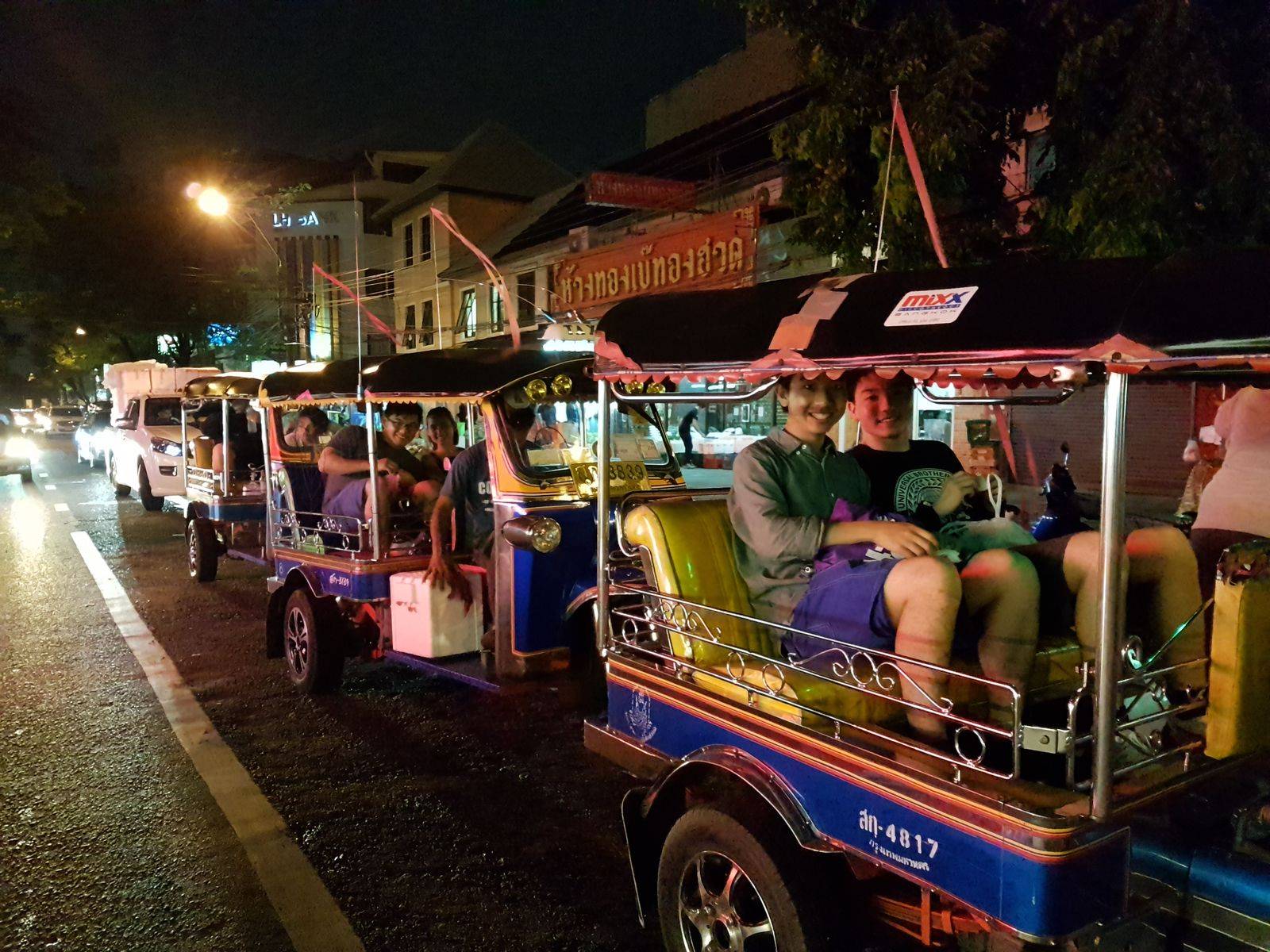 Food, Market and Temple Tour | See Bangkok Nightlife by Tuk Tuk
---
Let's chill out on a Tuk Tuk, and dine on local food along the streets. Experience Bangkok nightlife at various local markets. See the temples at night, and I can guarantee that you won't break a sweat from the heat!
---
itinerary
17:00
Meet up at BTS Station (Saphan Taksin)
17:15
Meet at Saphan Taksin BTS Station at Exit 1. Then cross the Chao Phraya River by the ferry.
17:30
Arrive at Khlong San Market. Walk and look around, you will find something special. Here they sell a lot of clothes, accessories, and last but not least, food.
18:15
Go to the Tha Din Daeng Market by Tuk Tuk. Along the road, you can see the fresh market with loads of food.
18:45
Next, the Tuk Tuk will take you to Wat Arun or the Temple of Dawn. You can see the Khmer influence on the architecture in this temple. Wat Arun is also of great importance to King Rama II.
19:15
You must be starving now, so let's have dinner. I will take you to a restaurant, which is a local's favorite. Sometimes you have wait for tables for around 30 to 45 mins!
19:45
This is a reasonable time to move to Wat Pho by Tuk Tuk. Wat Pho has many pagodas, which will be lit up at night! You can walk around and take pictures.
20:15
Let's go to Pak Khlong Talat or the Flower Market by Tuk Tuk. It is Bangkok's prime flower market and also has some vegetables.
20:45
TIme to go back. Take one more Tuk Tuk ride to go back to Saphan Taksin BTS Station.
---
Trip Conditions
Vegetarian Food Available
---
Price Conditions
Transportation fares are included.
Admission fees are included.
More details about price conditions
---
FAQs
Why this trip?
In this trip you will get to :
- Feel the Bangkok night life.
- Full board with Dinner by local restaurant.
- Experience the Tuk Tuk ride.
- See Wat Pho by the lights.
- Have fun shopping at Saphan Phut Night Market
How local is it?
In this trip, you will travel around the part that busy for the night time only at Wat Pho will be busy only on the day time. And flower market it the big in Bangkok.
What makes it unique?
I don't know how to tell you. It not only the place for shopping and dinner. But it is the life for the people at stay in that area. Come to find the answer you will know and be part of Bangkok.
Things to prepare for the trip
Maybe you can have small shopping so bring some money.
---
All Countries
All Countries
Argentina (1)
Australia (12)
Austria (2)
Brazil (6)
Canada (6)
China (2)
Czech Republic (1)
France (3)
Germany (3)
Hong Kong (1)
Hungary (3)
India (3)
Ireland (2)
Israel (1)
Italy (5)
Japan (4)
Latvia (1)
Malaysia (7)
Netherlands (3)
New Zealand (2)
Panama (1)
Philippines (2)
Poland (2)
Portugal (2)
Singapore (14)
South Africa (1)
Spain (3)
Switzerland (3)
Turkey (2)
United Kingdom (13)
United States (38)
Excellent day with Ben
A very enjoyable day with Ben. A very good guide who we recommend highly
Graham B.
Australia
|
July 15, 2018
Excellent guide
He is very knowledgeable, attentive and friendly. He ensured that we feel comfortable and enjoy ourselves. Very helpful and offered to take pictures for us without any prompting. We are very impressed and pleased with his service!
Annie P.
Singapore
|
July 13, 2018
Dear Annie
Thank you so much for you joining with my tour today. I am happy to show you around . And I hope you will have a good time today.
Regards
Ben

Very good tour!
He was very professional and courteous. He picked us on time at the hotel as agreed. He took pictures for us that he sent to us via What's app. He took us to the floating market and rail markets. He guided us on the best areas to shop. He provided breakfast and even asked what else we would like him to take us to.

Judith B.
United States
|
July 13, 2018
Dear Judith
Thank you so much for your feedback and booking my tour. I hooe you will enjoy with my tour and I am happy to show you show around. If you come back next time I wish we can do tour together again.
Regards
Ben
+ 126 more travelers have enjoyed
the local experience with Mr.Sinchai
More Reviews
---
Total
100% Satisfaction guaranteed