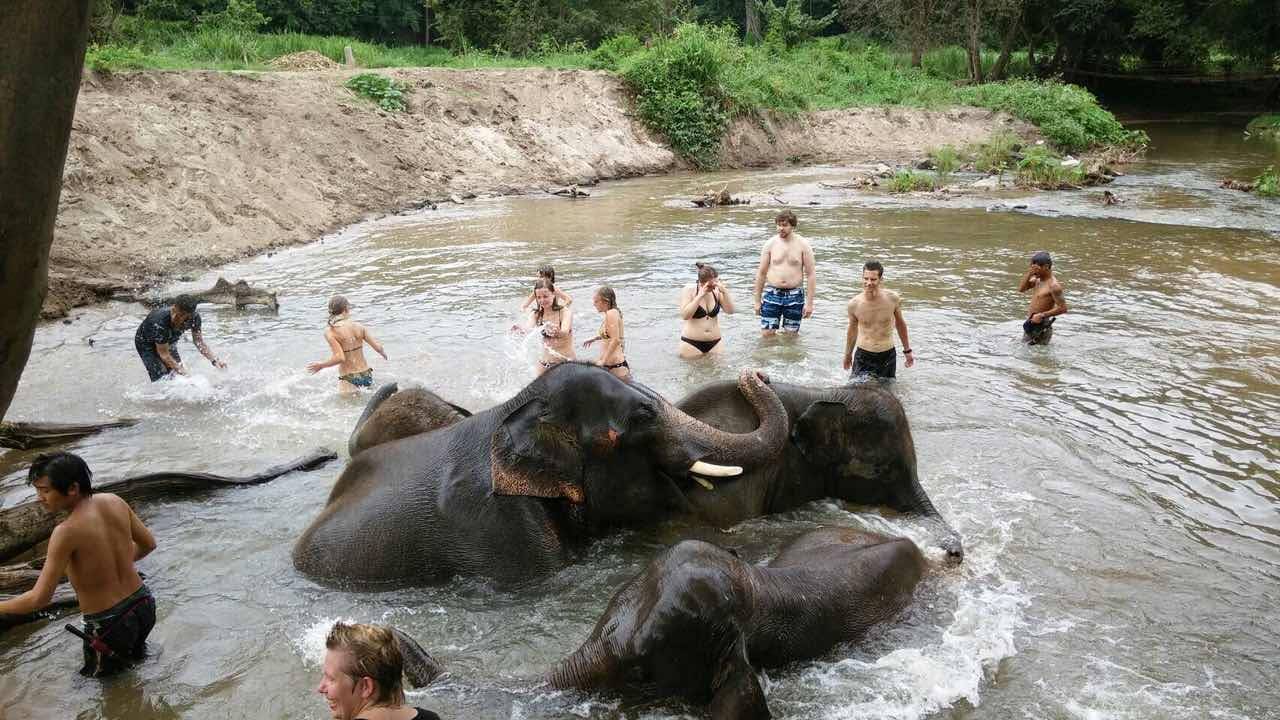 ---
Let's protect & care for the elephants,! No riding, No hooks! Let's go learn all about their lives! We'll also hike to the local rice field forest with the fresh mountain air! Then, we'll go rafting and jumping off the Grand Canyon, so let's join me!
---
itinerary
09:30
Meet up at our meeting point
- Airport (Chiang Mai International Airport)
- Hotel lobby (in Chiang Mai area)
10:45
Let's go hiking into the forest to see how the locals live around there!
11:30
Time to relax and enjoy the forest river! Immerse yourself in the natural beauty!
12:00
Next, we'll head to the elephant sanctuary where you'll get to participate by bathing the elephants with a mud and water bath!
13:15
Time to have lunch at the riverside!
14:30
Let's go bamboo rafting along the stream!
16:30
Let's go visit the Thai Grand Canyon, only in Chiang Mai! You'll get to jump off a 7.5 meter cliff into the water!
17:45
The trip ends here! Time to go back to hotel! Hope you enjoyed my trip!
---
Trip Conditions
Physical Strength Required
---
Price Conditions
Transportation fares are included.
Admission fees are included.
More details about price conditions
---
FAQs
Why this trip?
I will take you go to touching and learning the real local life and same time you will be supporter for local people on the mountain with this trip, This trip is the best value for your money
Things to prepare for the trip
Towel
Sandals
Comfortable shoes
Spare clothes
Sun protection
---
Meeting Points
Hotel Pickup
- Hotel Pickup in Chiang Mai Area
Airport
- Chiang Mai International Airport
---
All Countries
All Countries
Argentina (1)
Australia (1)
Austria (1)
Canada (1)
Germany (1)
Hong Kong (1)
India (1)
Luxembourg (1)
Mexico (1)
Netherlands (1)
Poland (1)
United Kingdom (1)
United States (5)
worthit, amazing, friendly
It was totally worth it! Prig's husband was spontanous and took us on tour even if we just asked for the tour one day before! It was an amazing experience and we hope these lovely couple get the chance to make some other tourists as happy as they made us!
Thank you!
Amy W.
Luxembourg
|
September 20, 2018
Best experience ever
It was one of the best things we did in Thailand, the local exper was very kind and did everything to make the day unforgettable! There was nothing we didn't like! It was awesome!

Andreas V.
Netherlands
|
August 15, 2018
Most memorable Experience!
My partner and I had the best day ever! Prig was unavailable, but right after booking she sent us clear instructions and let us know that her husband would be our guide for the day. Pops was an awesome guide and we were in very good hands. He was very informative, kind, and patient. We never felt rushed through any of the activities and had a blast touring the village, taking care of the elephants, rafting and swimming at the grand canyon. Probably our favourite experience in Thailand! DON'T MISS IT!!
Lily P.
Canada
|
July 23, 2018
+ 23 more travelers have enjoyed
the local experience with Pop
More Reviews