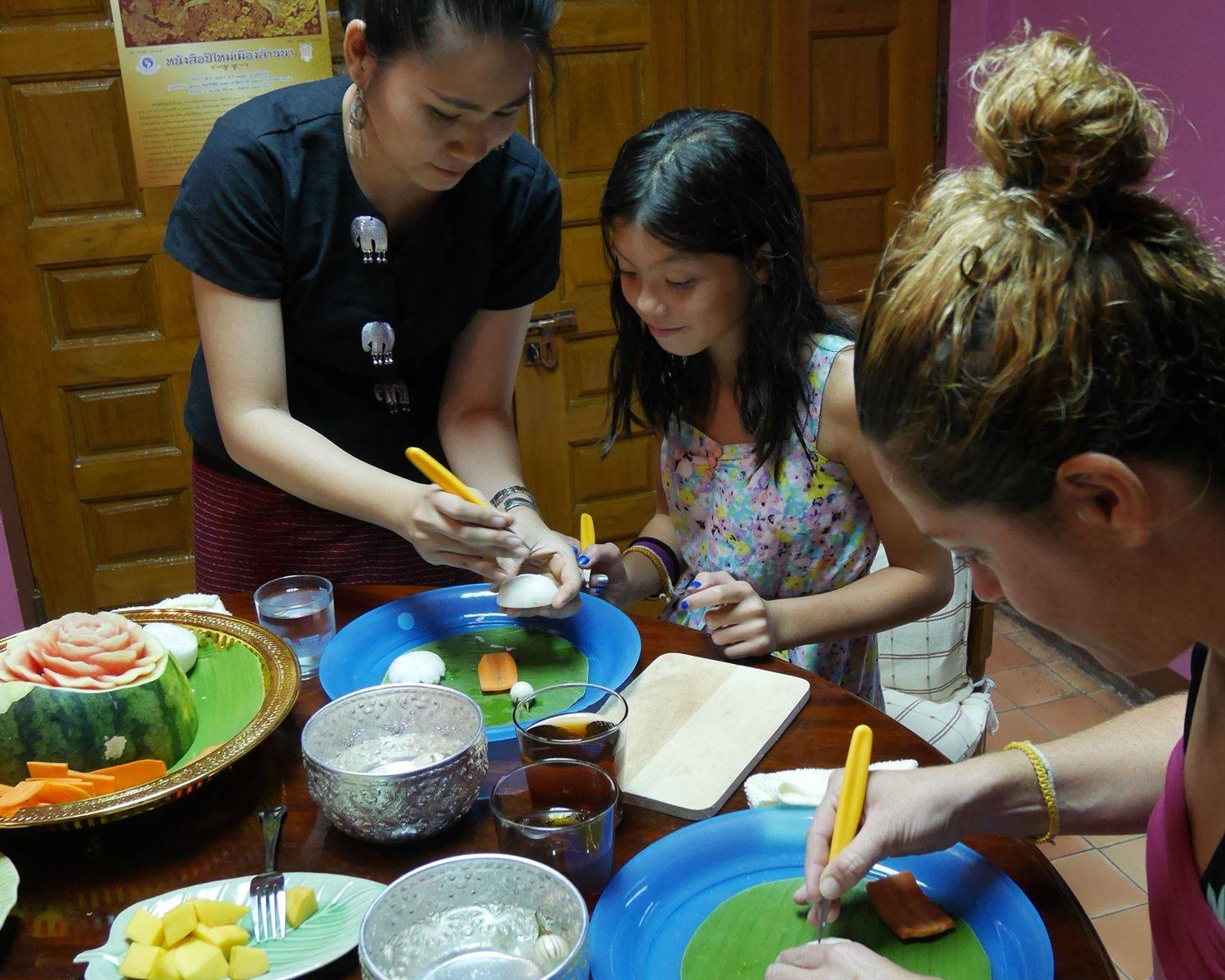 Private 3-Hour Vegetable and Fruit Carving Class in Chiang Mai! (Afternoon Class)
---
Come and experience Thai vegetable and fruit carving arts during this 3-hour private class in Chiang Mai! You'll learn about traditional Thai carving techniques and have fun transforming local fruits and vegetables into your own unique art pieces!
---
itinerary
12:45
Meet up at hotel lobby (in Chiang Mai area)
13:00
Let's start your session by learning some background knowledge of Thai carving, and the use of proper carving tools and techniques. Learn basic flowers and leaves pattern from local vegetables!
14:30
After the first session, we will have a short break where you can enjoy Thai local fruits or snacks! After that, you can continue to learn new carving patterns or try experimenting other kinds of fruits or vegetables!
16:00
Finish the carving class. You'll be dropped back at the hotel! You can take your carving pieces home with you, or donate them to our studio, which we'll offer the carving pieces to a local temple!
---
Price Conditions
Transportation fares are included.
Admission fees are included.
More details about price conditions
---
FAQs
Why this trip?
Learn how to carve fruits and vegetables in Thai traditional style, all necessary tools and materials are included, air-conditioned room with free drinks and snacks, free hotel pickup and drop-off from selected meeting points.
---
Meeting Point
Hotel Pickup
- Hotel Pickup in Chiang Mai Area
---
All Countries
All Countries
United States (1)
Isabel B.
United States
|
March 7, 2018
Amazing, delightful experience!
Toei & Son are very warm & friendly teachers! I learned how to carve all kinds of fruits & vegetables, & found Toei & Son to be patient, excellent teachers. They both went out of their way to teach me about Thai culture & language, & I had a lot of fun with them! I highly recommend this course!
Isabel B.
United States
|
March 7, 2018
Thank you Isabel for your lovely review. We had a lovely morning and also really enjoy teaching carvings and chatting with you. We hope you enjoy your stay in Chiang Mai and looking forward to see you again at our studio.

+ 1 more travelers have enjoyed
the local experience with Ampaphat