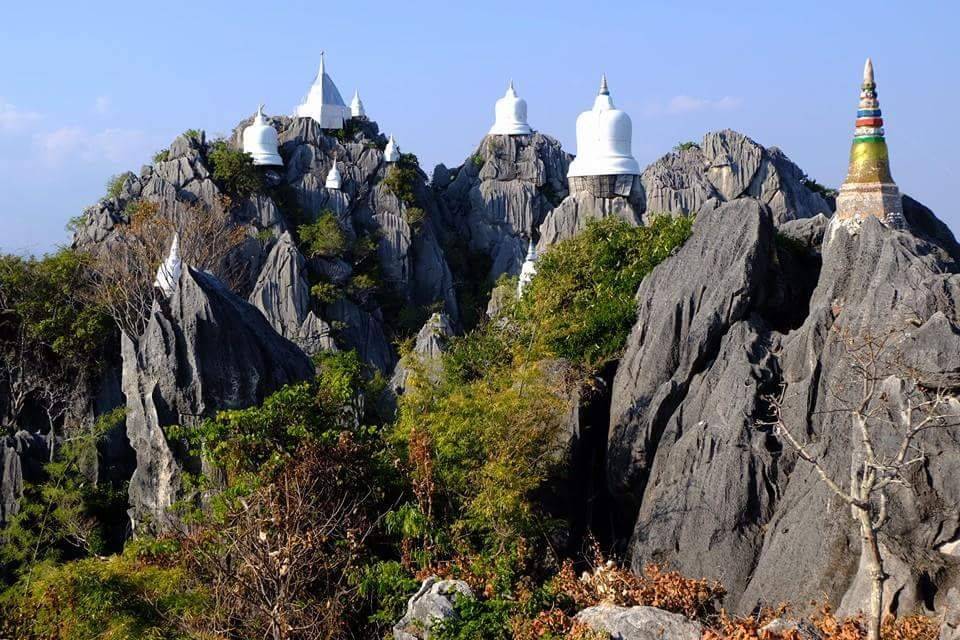 | Trip starts from Chiang Mai
Explore the Unseen Temple & Secret Village in Lampang!
---
Join me and you'll get to explore an unforgettably beautiful temple on the cliffs and the beautiful scenery at the border between Lampang and Chiangmai! You'll also get to relax at a waterfall and a hot spring!
---
itinerary
05:30
Meet up at hotel lobby (in Chiang Mai area)
07:30
Arrive at Wat Phrabat Suthavas Temple! We'll change to a 4WD truck to go to the temple entrance!
08:00
Let's start walking up to the top of mountain to see the beautiful scenery there!
11:30
It's time to have some local lunch! You can ask me for recommendations if you don't know what to eat!
12:30
Let's head to the hot spring and waterfall where you can relax even more!
13:00
Now, you have a free time for taking a bath or boiling the egg at the hot spring and sight seeing around the waterfall!
14:30
Now, we'll be heading to the Chiangmai-Lampang border on the mountain! We'll stop to marvel at beautiful scenery there!
16:00
Next, let's visit Mae Kampong Waterfall! We'll also go to visit a temple and the secret village in the mountains!
17:30
Now we'll be heading back to your hotel! Thank you for joining me, and I hope you had a great time!
---
Trip Conditions
Vegetarian Food Available
Physical Strength Required
---
Price Conditions
Transportation fares are included.
Admission fees are included.
More details about price conditions
---
FAQs
Why this trip?
Many unseen and secret spot around Lampang and Chiang Mai border.
Things to prepare for the trip
Swimming suit for playing waterfall and taking a bath at hotspring.
---
Meeting Point
Hotel Pickup
- Hotel Pickup in Chiang Mai Area
---
All Countries
All Countries
Australia (2)
Canada (3)
France (1)
Germany (3)
Hong Kong (1)
India (1)
Israel (1)
Japan (1)
Malaysia (1)
New Zealand (1)
Philippines (1)
Poland (1)
Singapore (1)
United Kingdom (2)
United States (14)
Holland B.
United States
|
October 21, 2018
So fun!! A must-do!!
Kamutnadda was so kind, patient, and informative! I'm so glad I got him as my tour guide!!
Holland B.
United States
|
October 21, 2018

Hako M.
Japan
|
October 15, 2018
Fantastic tour
Addie, the tour guide was not only a guide but a professional camera man. He took so many pictures for us and gave us all of them.
He took us many beautiful places and we enjoyed every single place.
Highly recommended this tour!!!!

Hako M.
Japan
|
October 15, 2018

Jacob S.
Canada
|
September 27, 2018
Fun Tour & Photoshoot!
(Français en dessous)
Kamutnadda gave us an amazing tour. Originally I was skeptical because the price was more than our guesthouse offered, however I now understand that his tour was worth a lot more than the average tour.
His tour is not a big tour, we were just ourselves (two people) plus him. He brought along his camera equipment, including a DRONE to take photos of us! I think he must have taken over 300 amazing professional quality photos of us, and he gave them all to us for FREE! This is not something I would have expected or have gotten on another tour.
There are no commission stops with Kamutnadda. If he takes you somewhere, it is because it is truly a good location. As such the food was good, and there were no time-waster stops at shops just to make extra money.
At the end of the day we mentioned that our flight was still in a few hours, so he took us to his home and we had a drink at the cat cafe he owns. Even more, he took us to dinner at a local street food area. He went above and beyond to make sure that not only our tour was good, but our entire day after the tour.
I would absolutely recommend this tour to other travellers, and have already told my friends about it. They're all going to be jealous of the unique photos we got!
-------
C'etait une journée incroyable avec Kamutnadda. Il est un expert de la région en plus d'être gentil et vraiment bon avec un appareil photo. La randonnée avec lui était vraiment intéressante, et il nous partageait juste assez d'infos. Il a pris 300+ photos avec ses caméra DLSR et avec un DRONE aussi!
Je recommande Kamutnadda pour tous. Je vais certainement retourner le voir un jour pour une autre randonnée.

Jacob S.
Canada
|
September 27, 2018
+ 44 more travelers have enjoyed
the local experience with Kamutnadda
More Reviews