Chanthaburi is a seaside hidden gem with so much potential. From quiet beaches and waterfalls surrounded by forests to quaint riverside and seaside communities and an otherworldly rock mountain for Buddhist pilgrims, the eastern city has got all kinds of traveler covered.

These are some of the underappreciated grandeurs of Chanthaburi, but the city is also famous for tropical fruits especially durians, gemstones and Chanthaboon mats. Make sure you go local and discover these treasures. For 11 years, the city was occupied by French colonial troops, so you can also find relics from those times, as well as the long-standing Chinese and Vietnamese heritage from the immigrants.

It promises to be an all-in-one travel experience, so spare more than a few days for this charming coastal city. Check out these top things to do in Chanthaburi, Thailand, and enjoy authentic local experiences before the rest of the world catches on.
---
Top 12 Things to Do in Chanthaburi, Thailand
1. Uncover a unique cultural blend at Chanthaboon Waterfront Community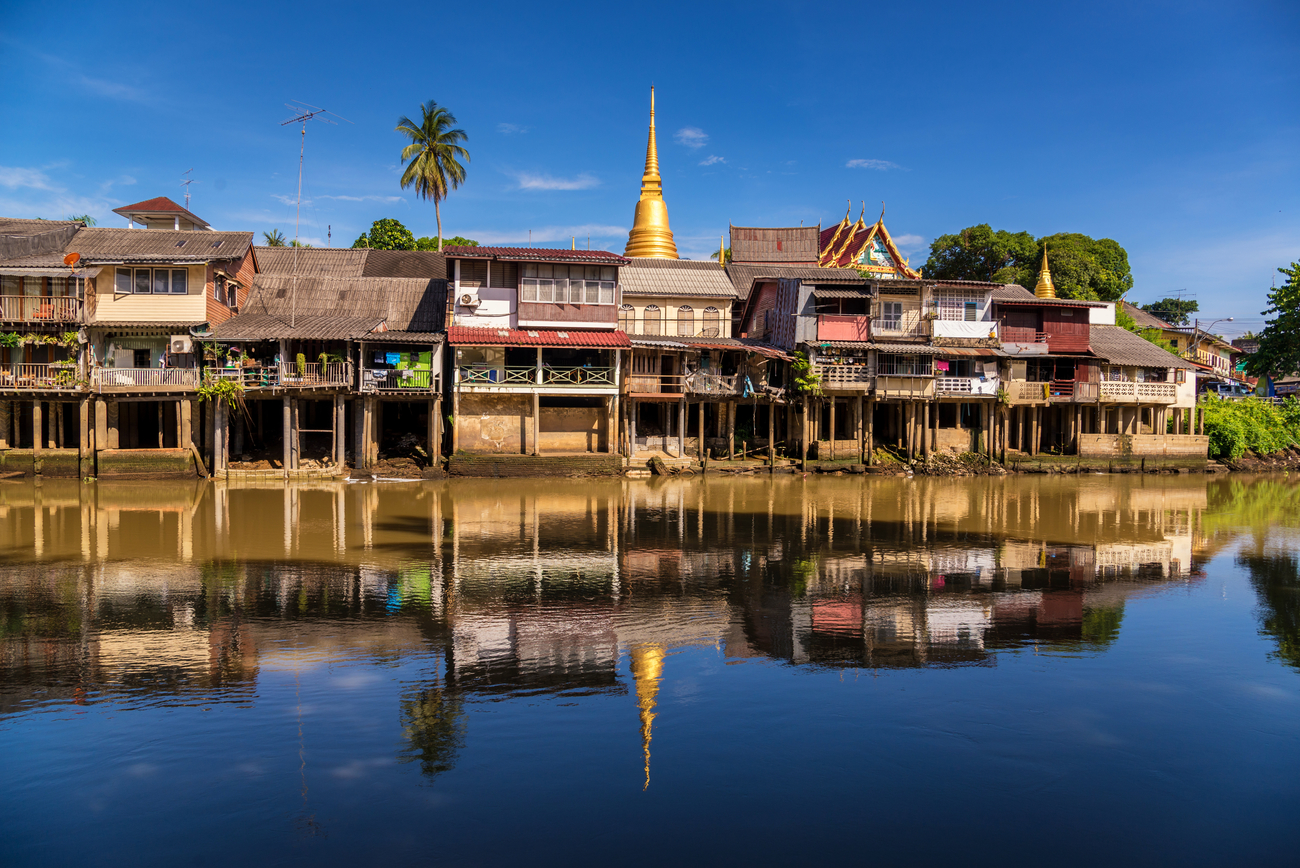 Stretching along the Chanthaburi River, the 300-year-old Chanthaboon Waterfront Community boasts not only a scenic location but also interesting history. Time-honored houses line the narrow alleys, which are also dotted with street arts. It's a beautiful architecture walk thanks to the mix of Thai, Chinese, French and Vietnamese styles. Some of these quaint houses have been transformed into local museums, hip cafés and even boutique accommodations. The community also won the Asia-Pacific Heritage Award from UNESCO.

Speaking of Vietnamese influences, Vietnamese Christians took refuge in the city and thus came in the Roman Catholic influences. Looming close to the riverside community is Thailand's biggest Catholic church, Cathedral of the Immaculate Conception. The Gothic edifice was built in 1909 and is a sight to behold.  

2. Go on a pilgrimage to paradise at Khao Khitchakut National Park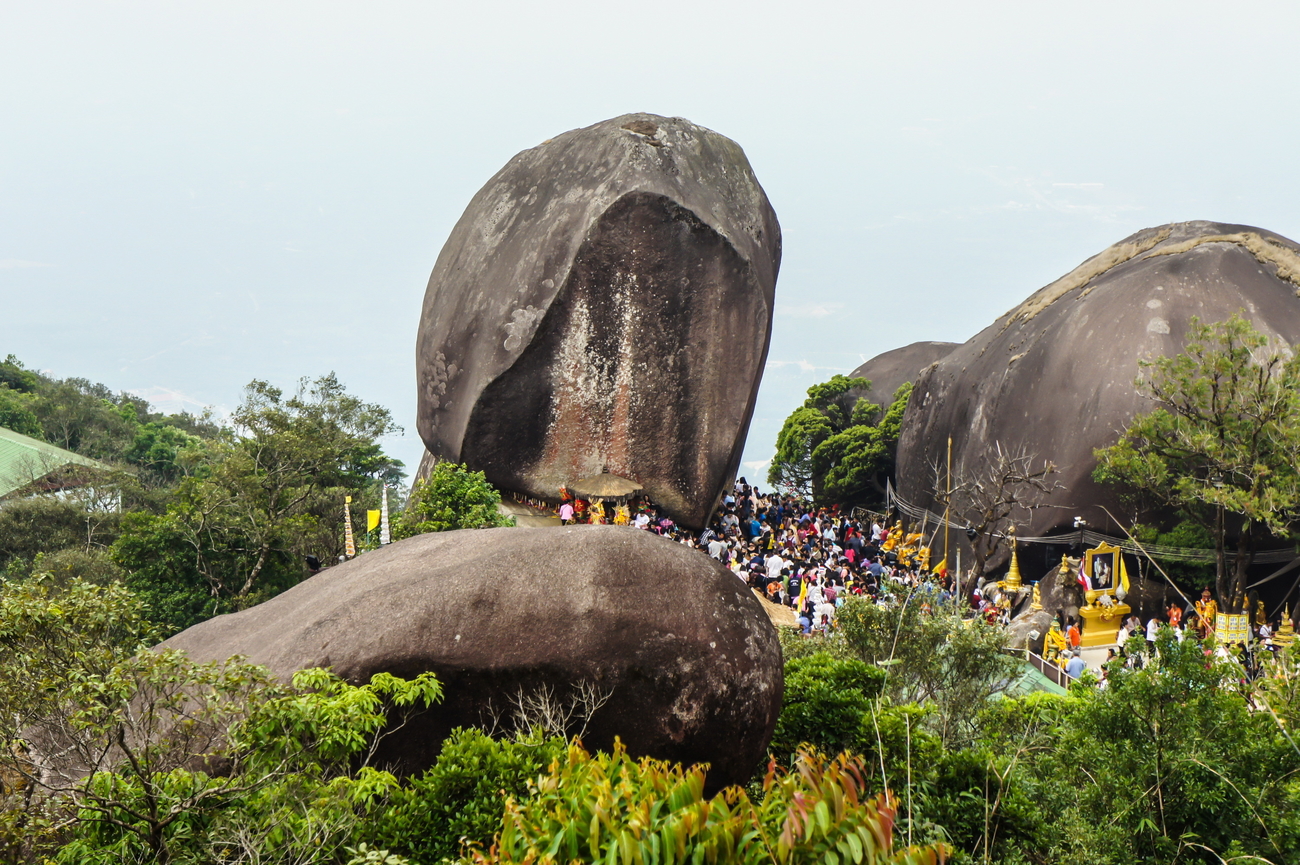 Only from January to March is the passage to paradise open to the public. While most Thai locals brave the arduous 4WD pickup truck ride and the long, tough walk to the top of the mountain to pay respect to Thailand's highest Buddha footprint and write their wishes on the red clothes, it's still a highly recommended destination for non-religious adventurers. The landscape is unlike anywhere else, especially the gigantic Floating Rock or Stone Pagoda. Buddhist motif-resembling rocks are also scattered along way.  

However, Khao Phra Bat (Footprint Mountain) or the pilgrimage location is just one part of the national park. Khao Khitchakut National Park also has more treats for nature lovers: waterfalls and wildlife.

3. Get back to nature and recharge at Phliu Waterfall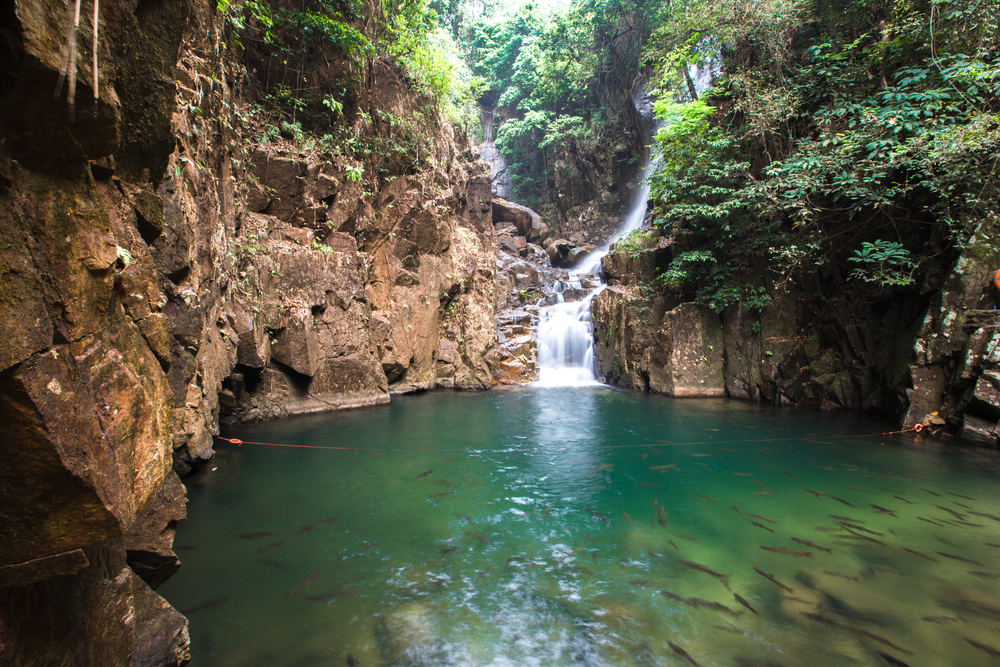 Part of Namtok Phliu National Park (Phliu Waterfall National Park), the 3-tiered waterfall is one of the most beautiful waterfalls in Eastern Thailand. Cave brook carps love the refreshing, crystal clear water as much as you and you'll find a whole lot of them at the waterfall.   

Namtok Phliu National Park is so green, so don't forget to walk the nature trail before or after swimming. Since Phliu Waterfall is King Rama V's favorite, the area has a couple of royal memorials, one of them a moss-covered pyramid for one of his queens called Phra Nang Ruar Lom Stupa.
Interested but staying in Bangkok? Our Local Expert will pick you up in Bangkok for a Chanthaburi city tour including Namtok Phliu National Park and an authentic local meal. For more details, click here.
4. Go treasure hunting at the weekend gem market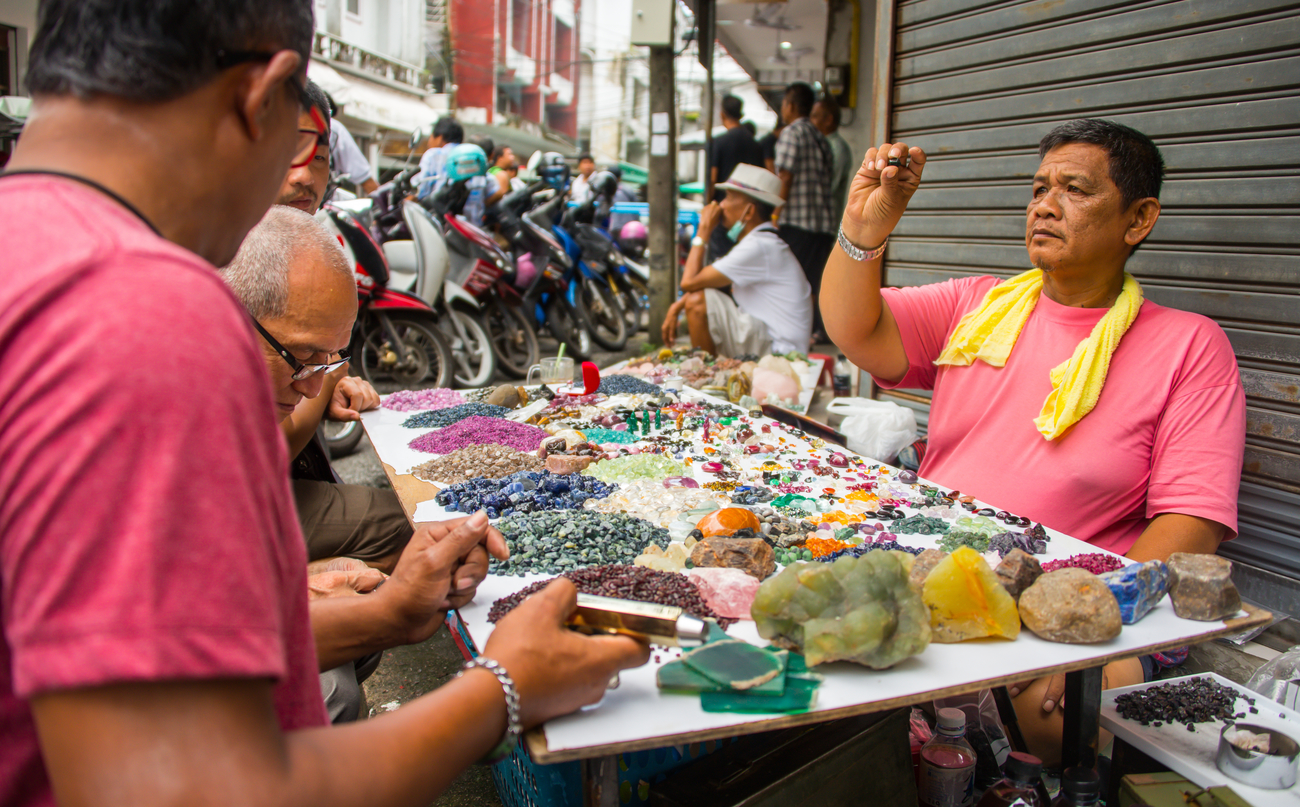 For over 10 years, Gem Road (Sri Chan Road) has been drawing merchants from all over the world to bargain for gemstones on Friday and during the weekends. Yes, not just Thai gem traders. The precious stones at the weekend gem market come from both Thailand and other countries. Even if you aren't going to buy them, it's fun to observe the bustling scene as gem dealers and experts move from table to table in search of the most valuable ones.

Also situated in the area is Chanthaburi Gem and Jewelry Center. It's the biggest one in Asia and you can learn more about the local gem industry through a 3D exhibition as well as watch the gem experts at work.

5. Pay respect to the helmet-shaped King Taksin Shrine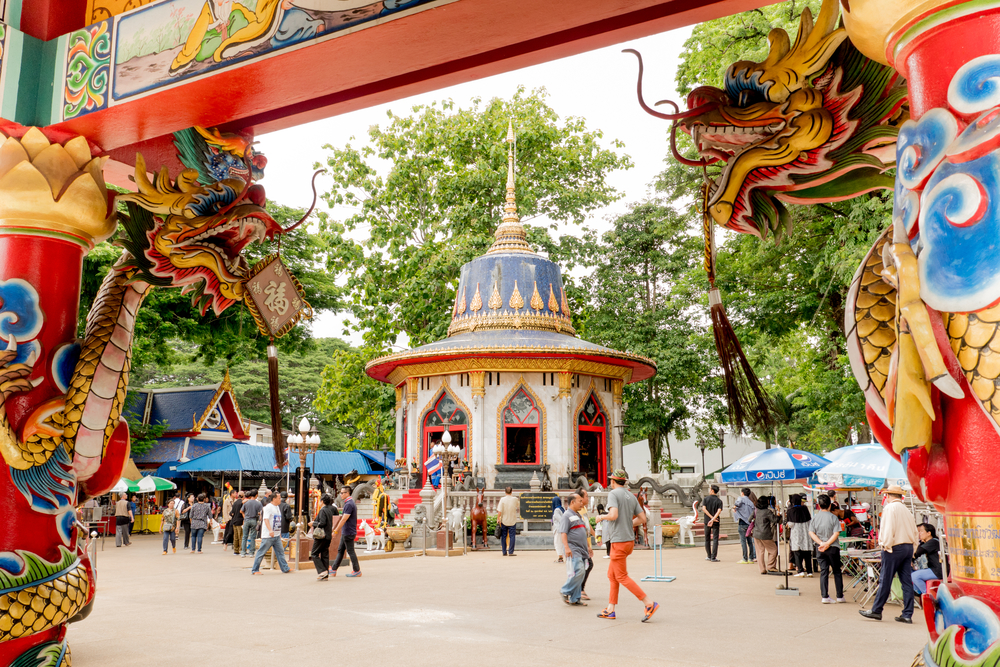 When ancient Ayutthaya was under Burma's siege in the 18th century, Phraya Wachiraprakarn (who would later became King Taksin) stayed in Chanthaburi to recruit soldiers and collect food and supplies for the battle to free the kingdom. As we know, the king succeeded and monuments were constructed to commemorate the city's historical importance. King Taksin Shrine shows the locals' respect and admiration for the king and the design is striking. In addition to the roof that resembles His Majesty's helmet, you can admire the Chinese-style architecture that celebrates the king's Thai-Chinese root. In fact, many soldiers recruited there were of Chinese descent.  

6. Laze around on the tranquil beaches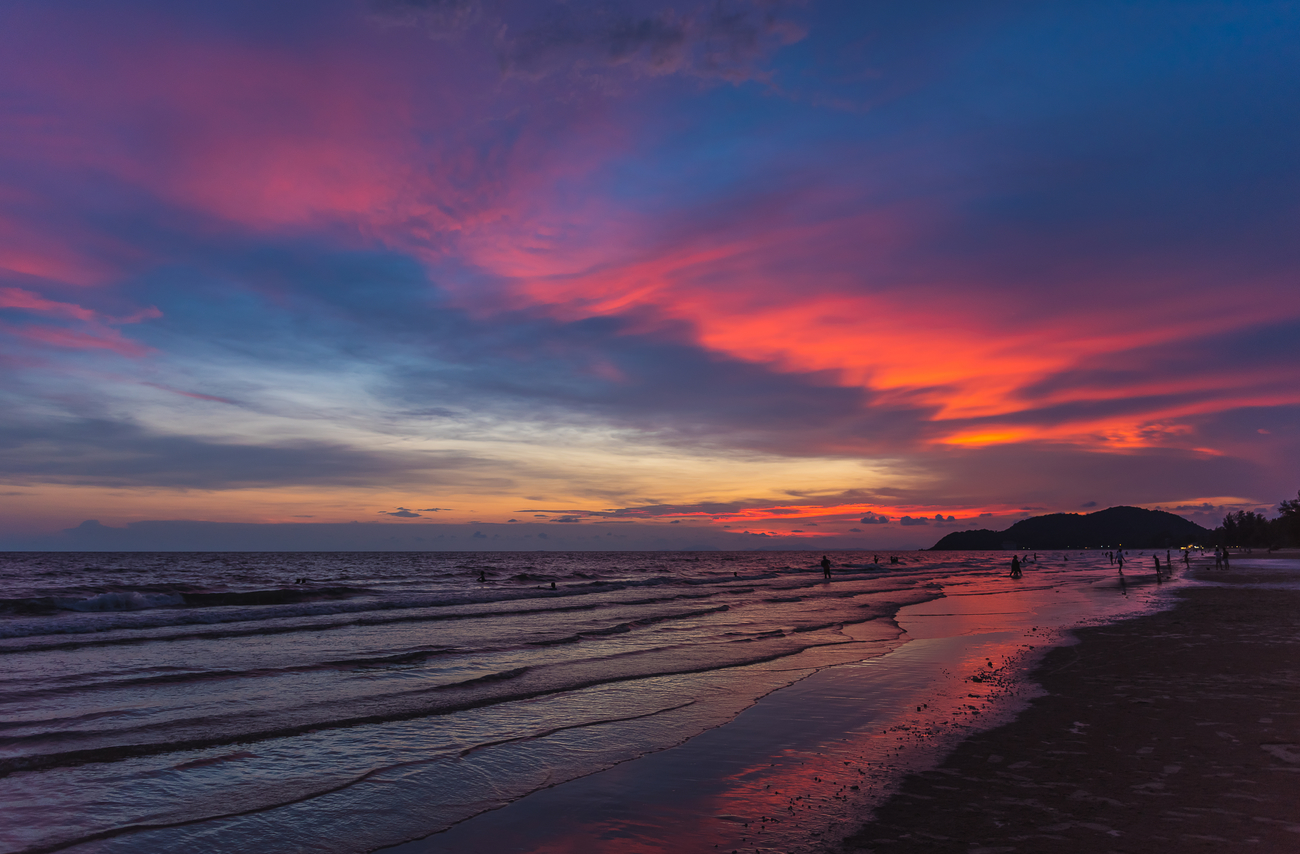 Of course, there have to be beaches. The most popular beaches in the city are Kung Wiman Beach, Laem Sing Beach, Chao Lao Beach and Laem Sadet Beach. These swimmable beaches might not be on the same level as Trat and Rayong islands, but they are still beautiful and also very laid-back. Try one of the seafood restaurants in these areas and relax to your heart's content on the sand.

7. Find out why destination isn't the only thing that matters on Chalerm Burapha Chonlathit Road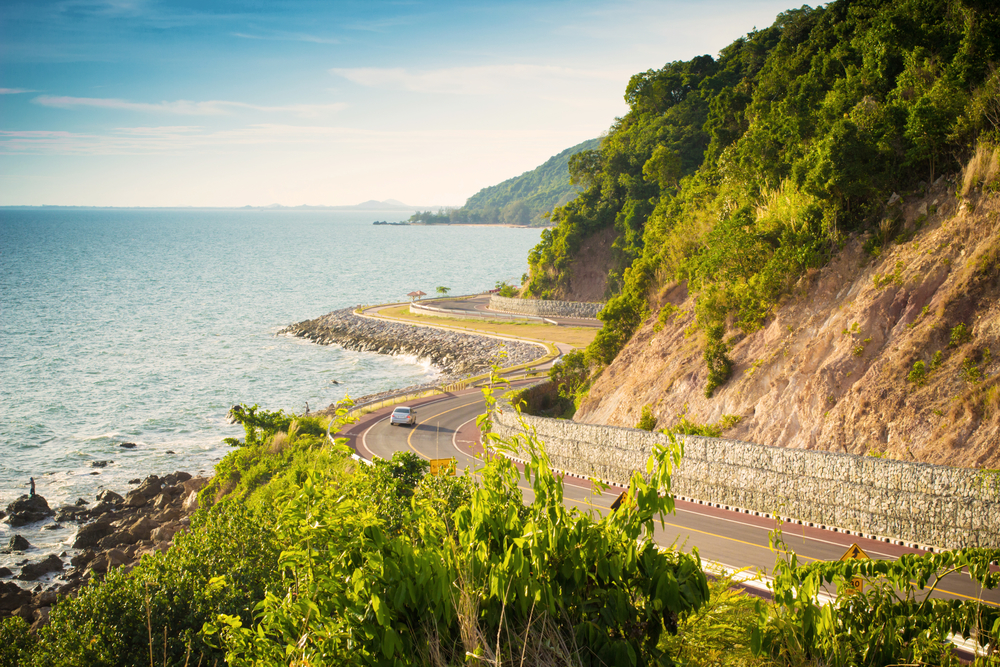 It's easy to see why Chalerm Burapha Chonlathit Road is considered one of the most scenic roads in Thailand. As you drive or bike along the road, stunning sea views will always be in your sights. Stop and stare and snap lots of photos.

The whole journey is beautiful, but if we have to pick the most beautiful stop, it's Noen Nangphaya Viewpoint. Feel the breeze and enjoy the view from the top of the hill.

8. Learn more about the coastal ecosystem at Khung Kraben Bay Royal Development Study Center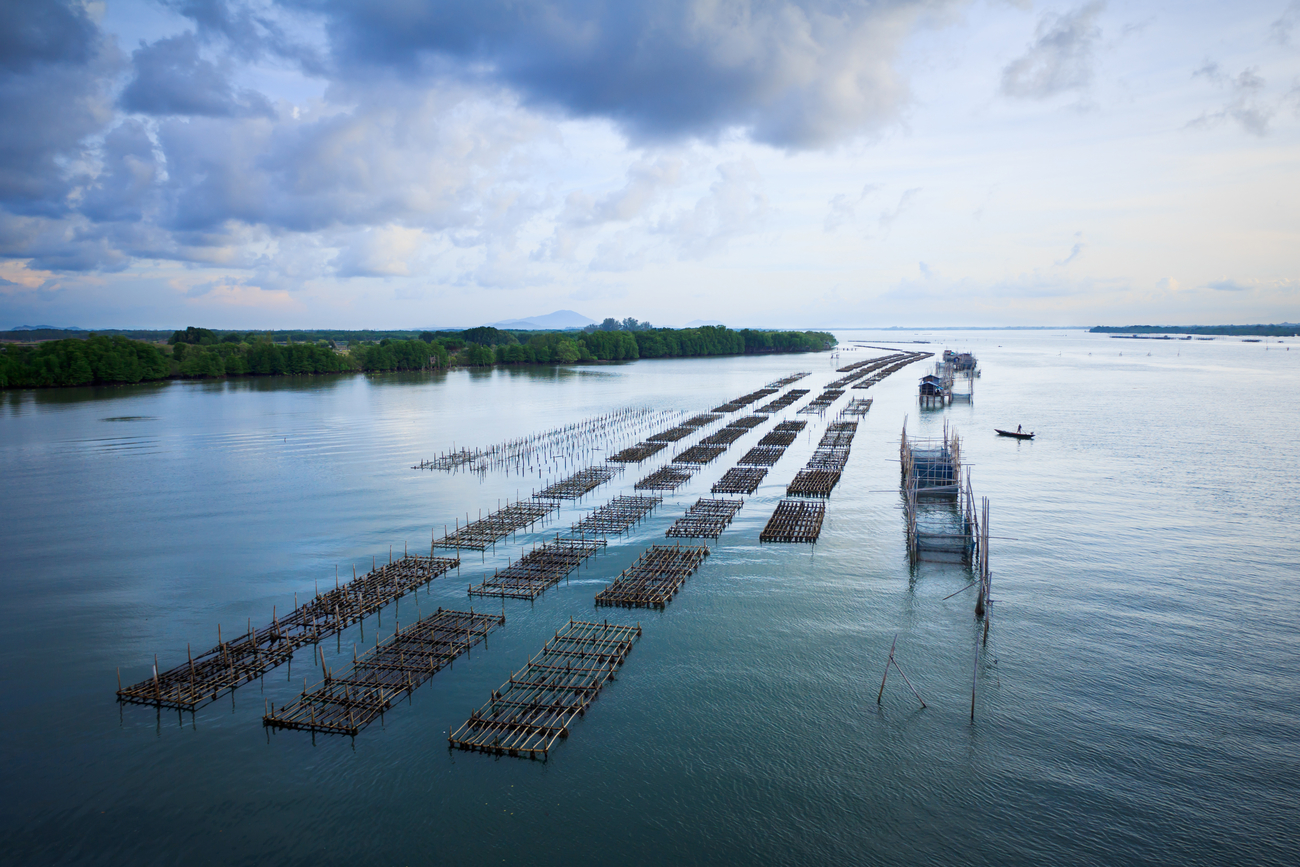 A project to preserve the marine ecosystem and develop the local community in the area, Khung Kraben Bay Royal Development Study Center blends in with its surrounding. Stroll on the mangrove forest nature trail, where you'll spot the residents like mudskippers and crabs. Once you reach the bay, you'll see the breathtaking view of the fisheries.    

Want to get even closer to nature? You're welcome to kayak through the mangrove. There are many kinds of birds and if you're lucky, you'll spot dugongs in the area. Also nearby is Khung Kraben Aquarium, complete with glass tunnel and a variety of marine life such as sharks and stingrays.
9. Delight with durians and other culinary creations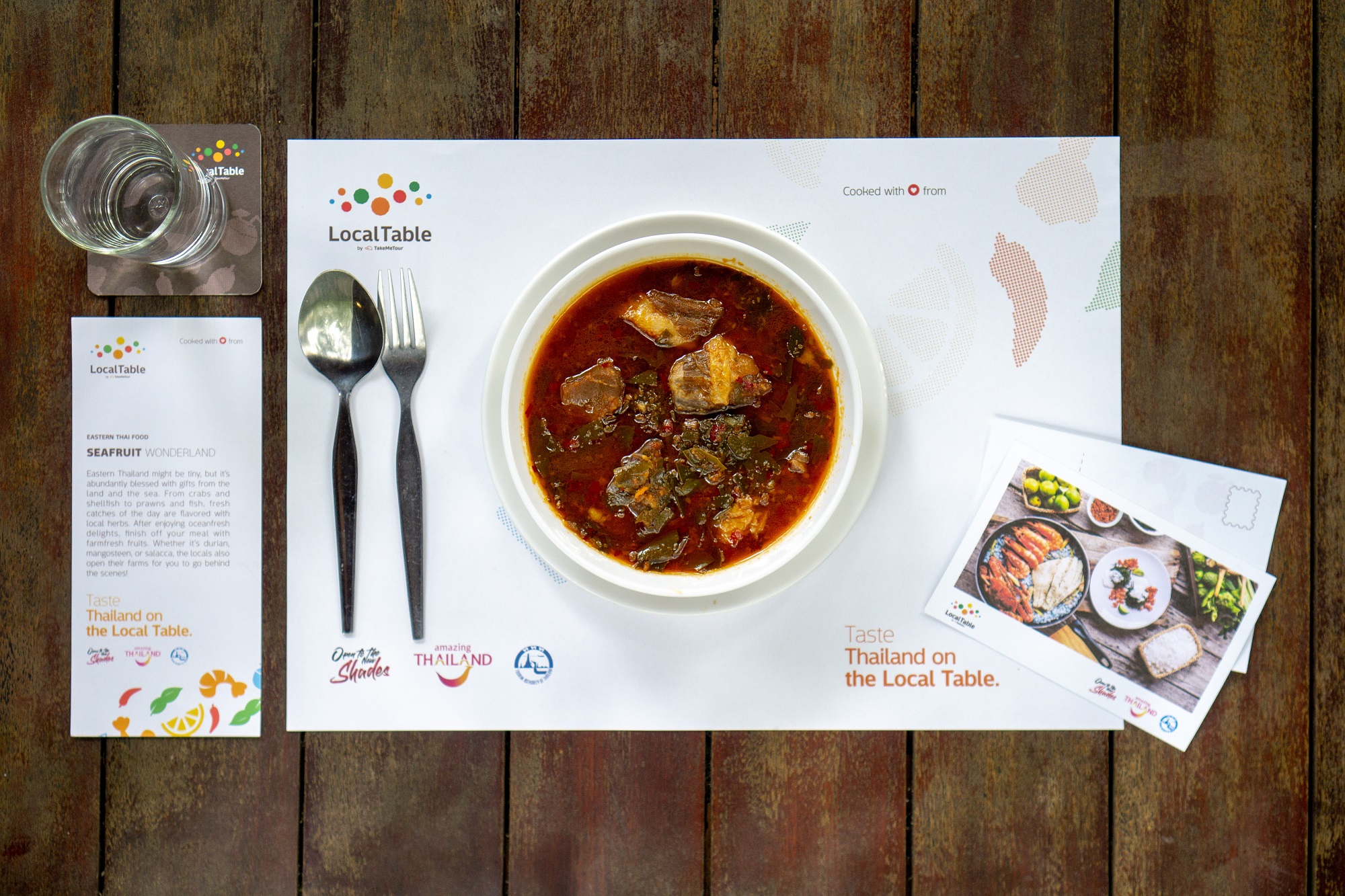 We know durians are the king of fruit, but where's the king of kings? Right here in this coastal city! It's home to the best durians in Thailand. If you're looking for challenges, come join the durian eating contest at Chanthaburi Durian Festival and enjoy many other kinds of fruits from May to July.

Fresh fruits aside, the small eastern city is packed with delicious local food. Among them is the one-of-a-kind pork menu, Moo Chamuang. Moo means pork and chamuang is a kind of herb. When pork belly meets chamuang leaves and other ingredients, you get a sweet and sour pork belly curry. Khun Pornthip, one of our selected Local Experts in Chanthaburi will not only show you around town, but will provide you an eastern Thai culinary experience you'll never forget. You can choose between the signature Chanthaburi meal, fish lovers meal, and crab lovers meal. 

10. Trace the darker era of the city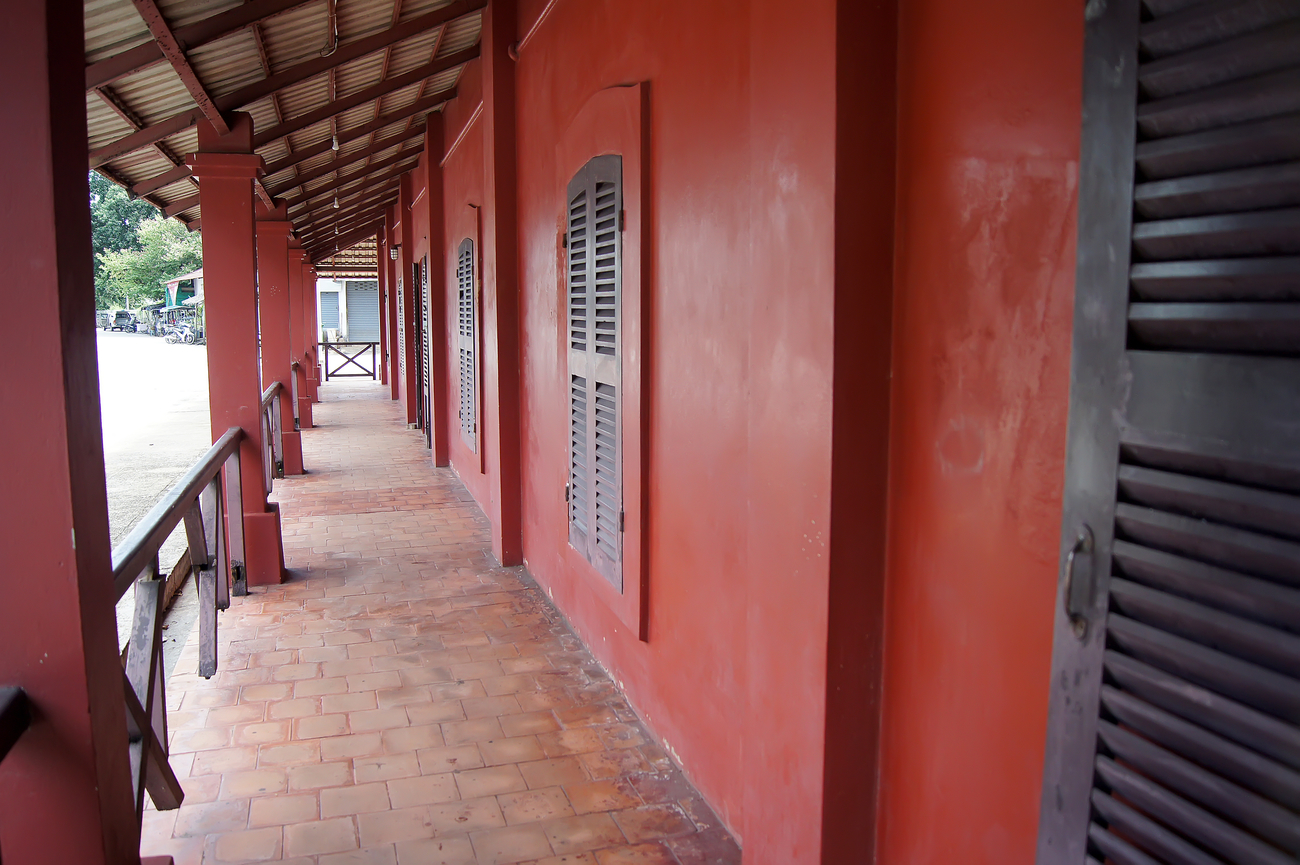 Since the city was colonized by France, you'll find a couple of historic buildings from those times that survive till today. The first one is Tuek Daeng (Red Building), a Thai fort turned living quarters and command post of the French military. You can now find a small history-related exhibition and a French cannon inside. The other building nearby is Khuk Khi Kai or Chicken Dung Cell. As the name suggests, the upper floor was a chicken coop and it's clear what's dropped onto the prisoners as punishment for revolting against the French.

11. Make life colorful with Chanthaboon mats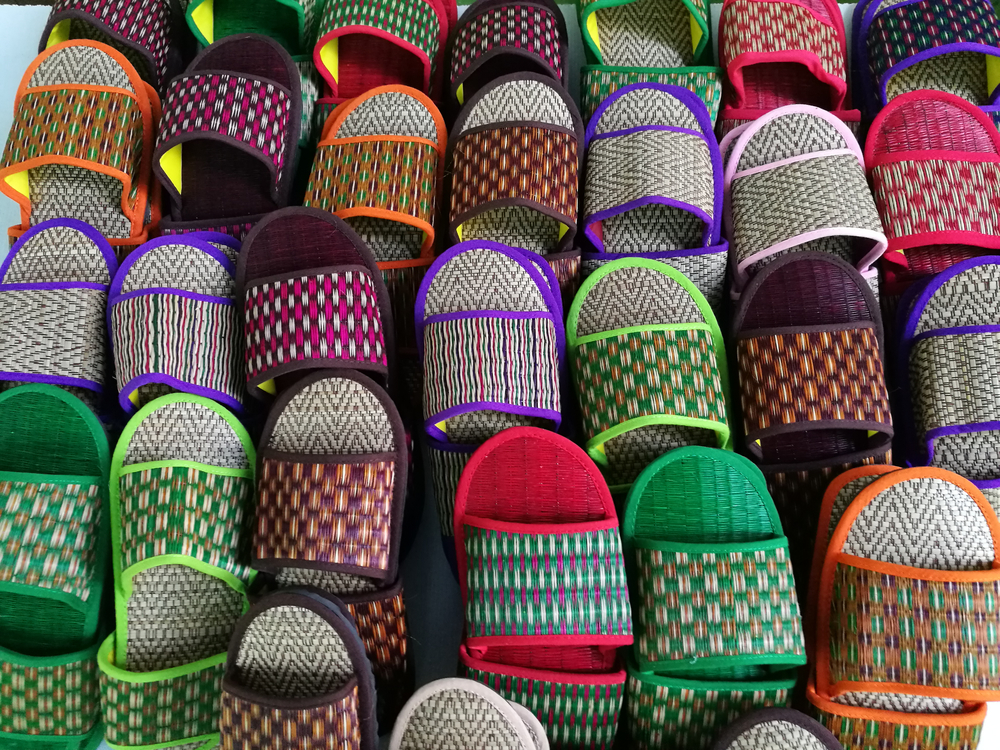 Chanthaboon mats are the most famous mats in Thailand. Handwoven from reeds, Chanthaboon mats come in all colors… and shapes! The locals' creative prowess have resulted in many other kinds of products like bags, slippers and tissue boxes.

12. Visit the home of red hawks at Bang Chan Fishing Village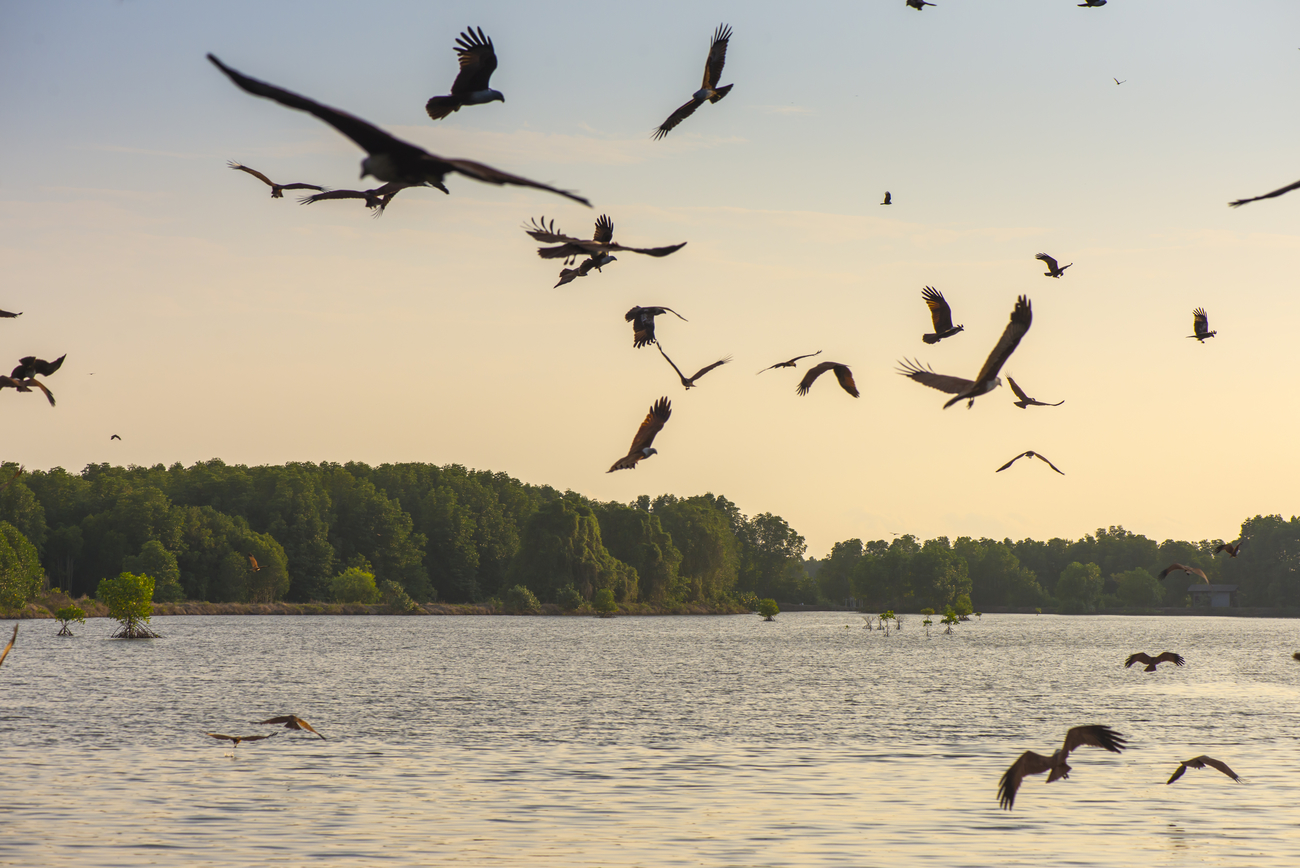 Bang Chan is home to not only friendly fishermen but also red hawks. Let the locals take you on a rafting experience and watch hundreds of red hawks flying above the mangrove.   

The locals also open their homes to visitors, so Bang Chan Fishing Village is another homestay experience you can't miss.

---
That's it for things to do in Chanthaburi, Thailand, but that's not all you can do on your journey. Pair your visit to Chanthaburi with a trip to its charming neighbor, Sa Kaeo. Find out things to do in Sa Kaeo, Thailand.
Welcome to Amazing Thailand – Open to the New Shades. This is your ultimate Thailand travel guide, off-the-beaten-track edition. Go local and explore Thailand through new perspectives. Open your heart and mind… to the shades of Thailand that you never knew exist!