Nan. The name that once evoked scenes of rural villages hidden among undulating mountains and rugged roads less trodden. With its wild landscape and remote location, the city became part of Thailand only about a hundred years ago and remained under the radar from even Thai locals until the late 20th century. Today this northern city still feels provincial like it did years ago. It's also characterized by Tai Lue culture and there's nowhere better to experience this ethnic heritage.
While its raw beauty remains, enough development has reached this northern city, including Nan Nakhon Airport with flights to and from Bangkok and Chiang Mai. Now it has become easier than ever to explore its laid-back old town, tiny but culturally rich villages, vast rice fields and majestic mountains.
All things considered, the northern city is a total package, minus the crowds you'll face at a more popular city. Check out these top things to do in Nan, Thailand, and enjoy authentic local experiences before the rest of the world catches on.
---
Top 14 Things to Do in Nan, Thailand
1. "See" the Whisper of Love at Wat Phumin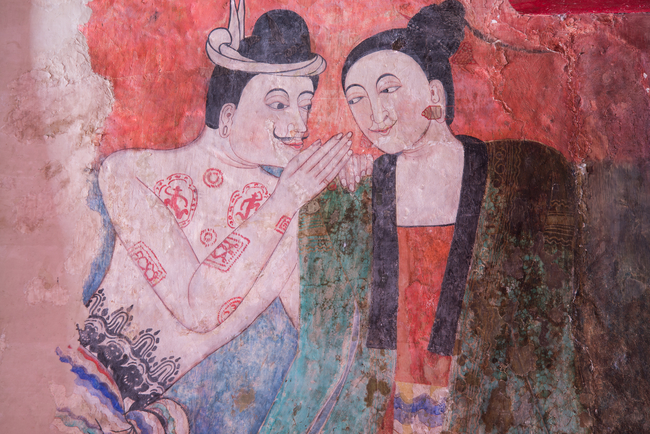 Wat Phumin in the old town has some of the most unique murals in Thailand. Among the well-preserved paintings that depict Buddhist legends and everyday life of Tai Lue people, the Whisper of Love shows a tattooed man whispering words of love into a woman's ear—Pu Marn Ya Marn. Local legend has it that if you and your lover wish for eternal love in front of Pu Marn Ya Marn, your love will be timeless just like the mural.
The Whisper of Love aside, the architecture of Wat Phu Min is intriguing. At first glance, the exterior of Wat Phu Min seems to pale in comparison to other Lanna-style temples in Chiang Mai and Chiang Rai. Upon closer look, however, the temple looks as if it was situated on the back of two Nagas. The temple building also combines the main hall of worship, the ordination hall and the pagoda into one. The interior is decorated in Tai Lue style and the pagoda is surrounded by four golden Buddha images. For an in-depth tour of Wat Phumin, Khun Thiradet, our Local Expert in Nan will take you on a tour of the temple, and you'll also get to visit a local fresh market and try local food. 
2. Chill and shop around Wat Phumin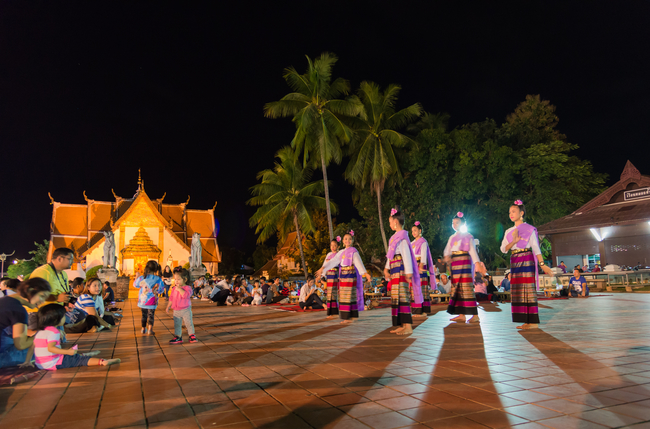 After enjoying the highlights of Wat Phumin, stroll around the temple grounds. Local artists gather at the temple to showcase and sell their works. Postcards, paintings, t-shirts, you name it. Many with creative twists on the Whisper of Love. It just goes to show that Pu Marn Ya Marn is one of the city's symbols.
Just outside Wat Phumin temple grounds is Khuang Muang or the town plaza. Used for ceremonial purposes in the old days, Khuang Muang has been transformed into a hangout spot. There you can sit down on a mat and nibble on your food (low tables provided) while watching the world go by. Khuang Muang is a nice place to watch the sunset, so come in the evening. Every Friday and weekend, the evening walking street Kad Khuang Muang Nan happens with Northern-style street food and souvenirs. If you want to savor local street food at the most local of atmospheres, click here for more information. 
3. Stroll through the Frangipani Tunnel and slip through time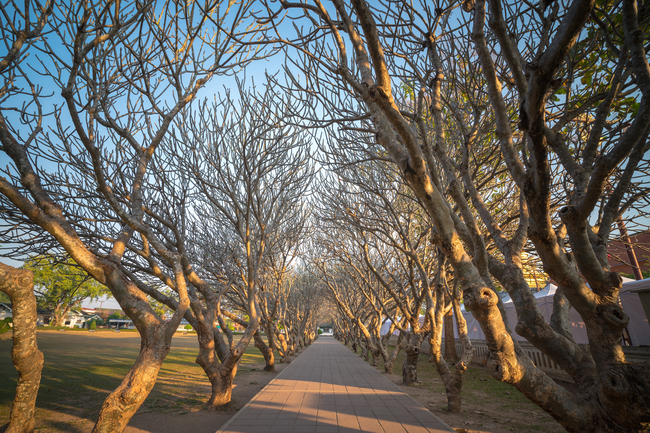 This has to be one of the most beautiful time travel experiences ever. The Frangipani Tunnel that leads to Nan National Museum will enchant you with twisty branches. The museum itself houses artifacts and antiques that belong to the city's previous rulers as well as exhibitions of ethnic cultures.
Also on the Nan National Museum compound is Wat Noi, Thailand's smallest temple. It's only about 3.5 meter tall!
4. Get a taste of nobleman's life at Nan Noble House
The century-old Nan Noble House or Hong Chao Fong Kham (the house of Chao Fong Kham) was constructed of teakwood without using screws and nails. In addition to furniture and items used by the noble family members, you can see art and craft demonstrations.
5. Slow down in the old town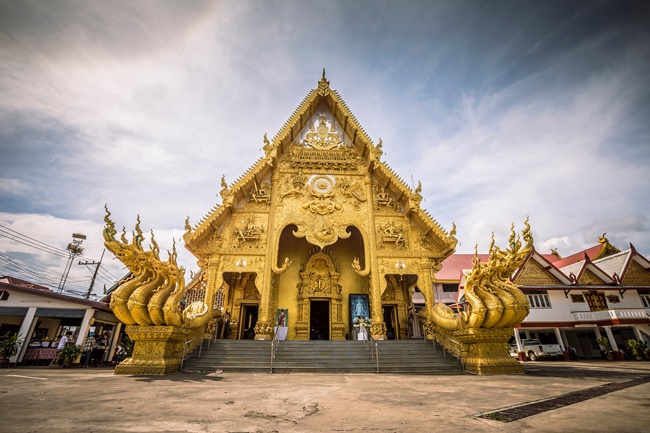 Dating back to the 13th century, Nan has absorbed influences from northern kingdoms, including Lanna Kingdom. Their traces still remain in the old town and with its relaxing vibe, there's no need to rush. Exploring on foot or cycling is the best way to go. When you run out of energy, refuel with tasty bites and brews at one of the traditional Lanna restaurants or lovely cafés around the town.
Apart from quaint houses and parts of ancient city wall, you can take in more old-world charms at these temples.
1) Wat Ming Muang
Since Wat Ming Muang enshrines the city pillar, don't forget to come pay respect. The exterior of the temple is decorated with white stucco reliefs and carvings. Almost entirely. Those details will blow you away.
2) Wat Phra That Chang Kham
Built in the 15th century for royal ceremonies, Wat Phra That Chang Kham is home to a Sukhothai-style pagoda on a platform surrounded by elephant statues. It's believed that the pagoda contains Buddha relics.
3) Wat Sri Panton
Gold, gold, gold, Wat Sri Panton and its golden main hall is truly eye-catching.. It's adorned with sculptures and the double seven-headed Nagas at the staircase are the highlight.
6. Watch the sunset at Wat Phra That Khao Noi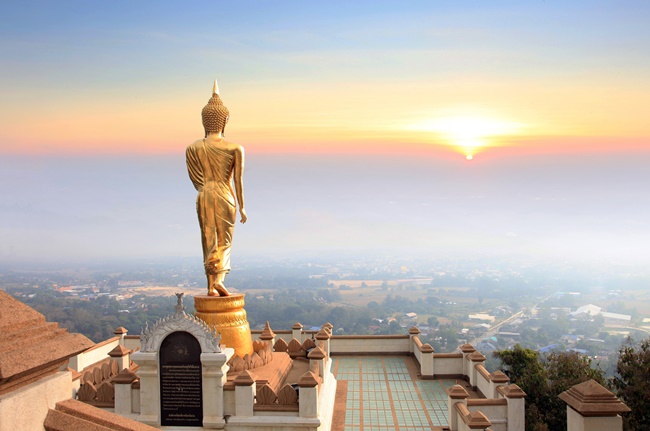 With its hilltop location, Wat Phra That Khao Noi is the obvious choice for sunset watching in the city. The location isn't the only wonderful thing about Wat Phra That Khao Noi, though. Facing the sun and the city is the temple's iconic 9-meter tall walking Buddha statue or the Blessing Buddha. You'll have to drive up there or climb over 300 staircases, but the journey is worth it. The view of the sun dipping below the horizon and casting orange glow around the golden Buddha is really something else.
7. Visit the city's most sacred temple, Wat Phra That Chae Haeng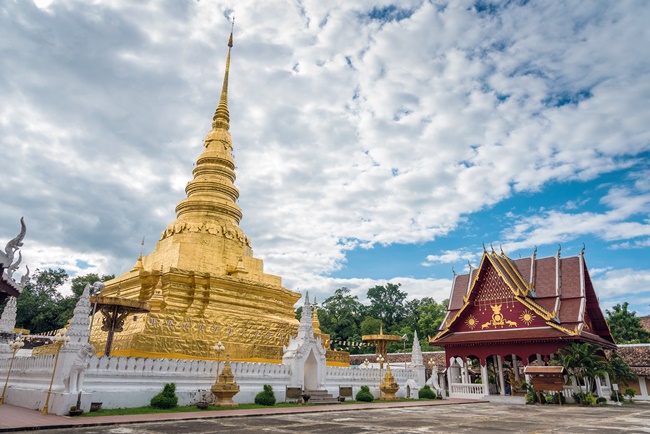 Built in 1353, Wat Phra That Chae Haeng is one of the oldest temples in the city. With its gleaming pagoda (gilded with Thong Changko, a blend between brass and copper) and Buddha relics, the hilltop temple draws countless Buddhists, especially those who were born in the Year of the Rabbit.
8. Get salty at Bo Kluea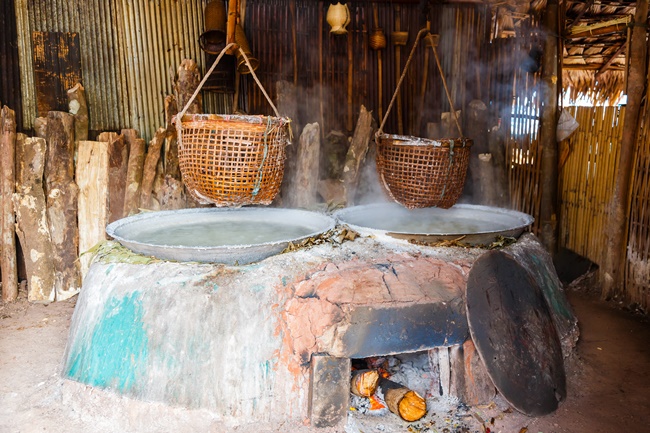 No, it's not what you think… Bo Kluea means salt wells and it's exactly as its name suggests. You can find the world's only mountain salt wells in this little village. Watch the villagers extract rock salt from the wells and boil it. In a traditional and sustainable fashion, as they have been doing almost a millennium ago. The whole village still lives in a time warp and is a joy to walk around.
9. See pink at Doi Phu Kha National Park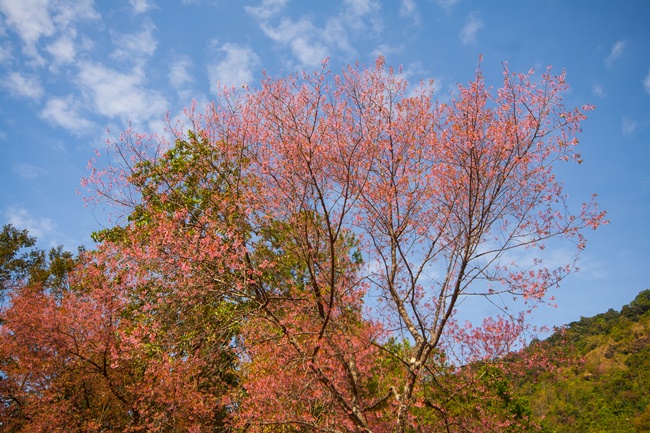 The city's biggest and most beautiful national park, Doi Phu Kha National Park is a beautiful nature retreat with its dramatic limestone mountains, clear streams and waterfalls and sunrise above the mist. Doi Phu Kha National Park is also home to near-extinct plants, including the February blossoms, Chomphu Phu Kha. It's the only place in the world where you can see these pink flower trees.
10. Feed your creativity at Nan Riverside Arts Space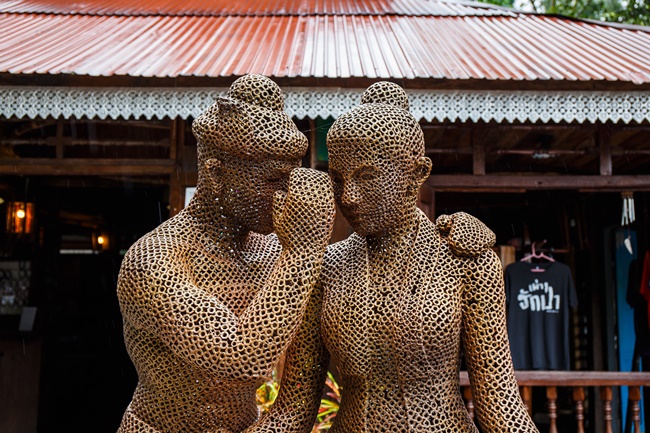 Formerly called Nan Riverside Art Gallery or Rim Nan Art Gallery, this is one of Thailand's best local art collections. Founded by a nationally famous artist from Nan, Winai Prabripoo, the gallery building houses paintings and mixed media by local artists while the relaxing garden on the banks of the Nan River displays sculptures. Nan Riverside Arts Space proves that Nan is a place to be for not only traditional art lovers but also contemporary art enthusiasts.
11. Live the Tai Lue life in Pua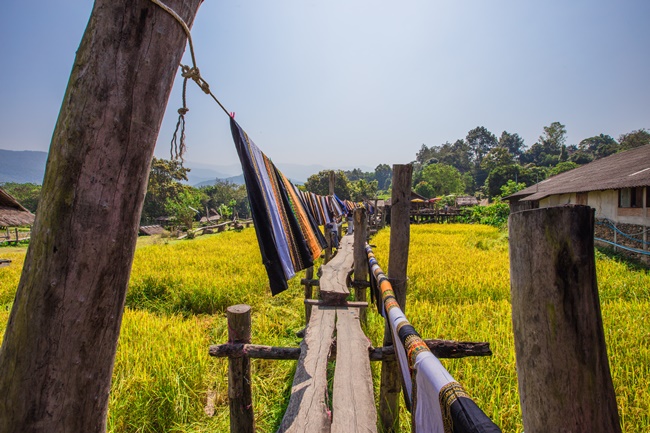 While the old town is already charmingly rural, let's take it to the next level in Pua District. Pua is the most dearly beloved countryside in the city thanks to its endless view of paddy fields and mountains. In addition to rice, Tai Lue culture thrives there as it's where they first settled in the city. Sip coffee at Ban Tai Lue Café, a complex of thatched-roof huts in the middle of rice fields. Learn about the art of Tai Lue weaving and buy traditional yet hip fabric and textile products at Lamduan Textile. Visit Wat Phuket, a local temple that overlooks the traditional village and rice fields, and tickle the strange Sensitive Tree or Ton Dik Diam.
12. Dive deeper into Tai Lue culture at Wat Nong Bua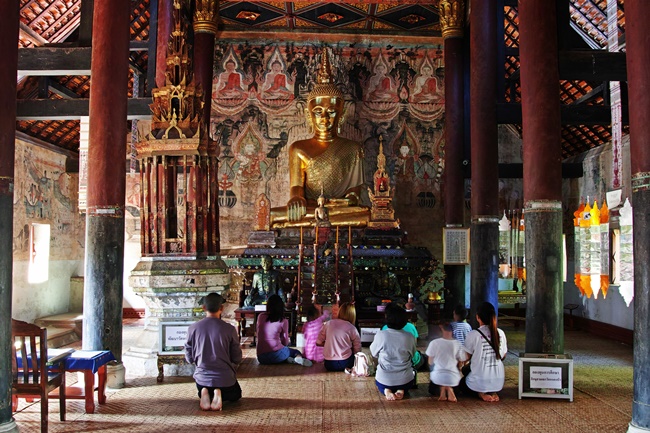 Wat Nong Bua in Tha Wang Pha District is another place where Tai Lue culture is still alive. More than the spiritual center, the temple is where you can enjoy the murals that tell the local stories of Tai Lue people.
Next to Wat Nong Bua is a traditional Tai Lue house that serves as the Tai Lue Museum. In addition to exploring each room and learn how Tai Lue people live, you can watch the demonstration of Nam Lai textile weaving by Tai Lue people.
13. Explore the wilderness at Sao Din Na Noi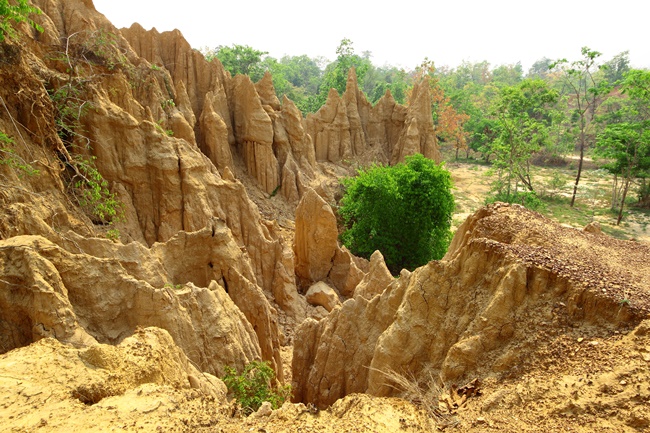 The forces of nature are great artists. When wind and rain met sandstones, Sao Din Na Noi or Hom Chom was created. This wilderness of eroded sandstone pillars and cliffs is also dotted with forests, but for the most part, you'll feel as if you were in the Wild West. Khun Niramon, our Local Expert in Nan will show you an authentic local experience which includes Sao Din Na Noi, and Doi Samer Dao, the next place on our list. Hurry before the rest of the world catches on!
14. Sleep under the stars at Doi Samer Dao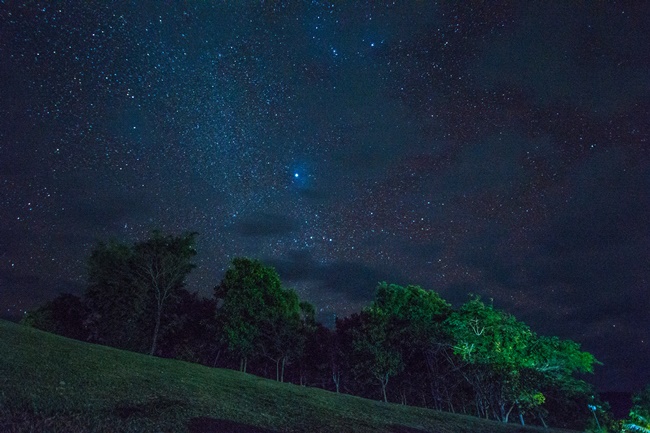 Gaze at the stars before you fall asleep and wake up to the sea of mist at Doi Samer Dao in Sri Nan National Park. After the sunrise, walk along the nature trail to Pha Hua Singh or Lion's Head Cliff and enjoy the panoramic view of forests and river below.
---
That's it for things to do in Nan, Thailand, but that's not all you can do on your journey. Pair your visit to Nan with a trip to its charming neighbor, Phrae. Find out things to do in Phrae, Thailand.
Welcome to Amazing Thailand – Open to the New Shades. This is your ultimate Thailand travel guide, off-the-beaten-track edition. Go local and explore Thailand through new perspectives. Open your heart and mind… to the shades of Thailand that you never knew exist!