A sleepy northern province in the embrace of mountains, Phrae is literally and figuratively a hidden gem. A small town with really big charm. While you probably have never heard of this city before, you might have seen photos of Thai farmers wearing indigo shirts. These traditional shirts are the city's pride and joy and there are many more treasures to discover.
With flights from Bangkok to Phrae Airport, this northern city is actually easily accessible. With its peaceful old town, one-of-a-kind handicraft and intriguing natural landscapes, there's no reason to skip this northern city.
Check out these top things to do in Phrae, Thailand, and enjoy authentic local experiences before the rest of the world catches on.
---
Top 8 Things to Do in Phrae, Thailand
1. Take a peek into local lords' lives inside their teak mansions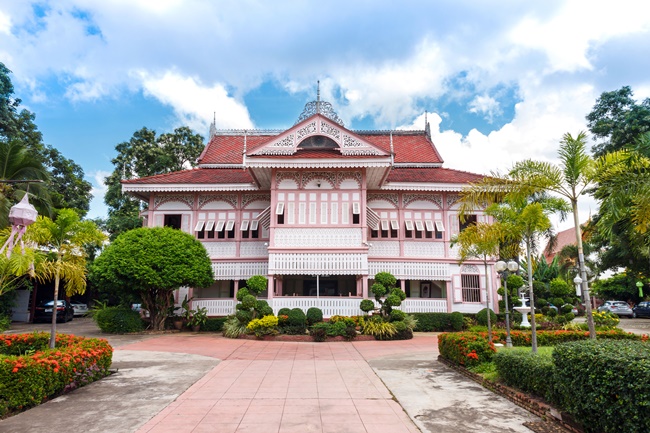 With its wealth of teak forests, including private forests planted by the local noblemen, the old town has a good collection of elegant teak houses. They were the residences of the city's local lords and today they are open to the public. Visit the well-preserved teak mansions and get a rare glimpse into bygone days, especially these three:
1) Vongburi House
Vongburi House, or alternatively spelled Wongburi, is a fine example of the Thai take on gingerbread houses. Fusing Lanna architecture with European style and painted in pink, the mansion was repurposed into a museum and the interior is as attractive as the exterior. Vongburi House displays each room, furniture and antique as when the house was still inhabited a hundred years ago.
2) Khum Chao Luang
The mansion of the city's last prince, Chao Piriyathapawong. Like Vongburi House, Khum Chao Luang is a beautiful gingerbread house but painted in cream and green. In addition to the family's artifacts, you can find the portraits of the lord, his wife and other family members inside.
3) Pratubjai House
While Pratubjai House (Impressive House) isn't a property of the city's ruler, it's still very fascinating. The owner designed and decorated the house himself and he isn't an architecture! Using 130 teak pillars, Pratubjai House is the world's largest teak house. The whole process is entirely legal and in fact, Pratubjai House was built to preserve teakwood. Truly an impressive project.
2. Stroll around and temple hop in the old town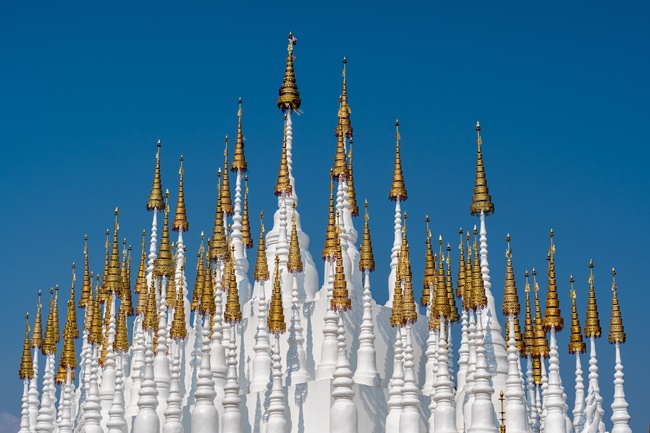 Apart from its collection of teak mansions, the old town is full of beautiful temples and quaint shops and cafés. Walking or biking around the old town area is the best way to enjoy its relaxing vibe.
So many options to choose from, right? To give you some ideas, here are the locals' favorite temples.
1) Wat Phra Bat Ming Muang
It actually comprises two temples: Wat Phra Bat and Wat Ming Muang. Pay respect to the city's most important Buddha statue, Phra Buddha Kosai Sirichai Maha Shakyamuni. The ancient pagoda Phra Chedi Ming Muang with the replica of Buddha footprint is also in the temple complex.
2) Wat Phong Sunan
At Wat Phong Sunan, you'll find a lot of distinctive features, such as the enormous red-lipped Reclining Buddha, the pagoda with numerous golden and white spires and walls decorated with glass balls. The definition of a feast for the eyes.
3. Eat your way through Kad Kong Kao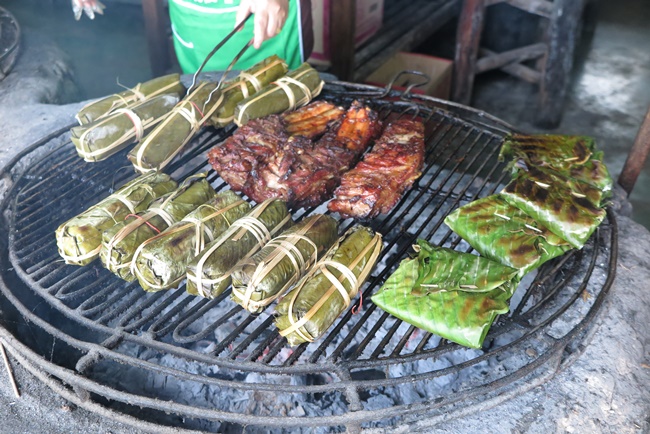 This evening walking street is a Saturday-only affair. While it's small compared to night markets in other northern cities, Kad Kong Kao is packed with yummy treats. Shop from local uncles and aunties, listen to Lanna-style music by local buskers and admire old wooden houses along Khum Lue Road. It's going to be a heart-warming evening.
4. Admire the Burmese-style teak temple, Wat Chom Sawan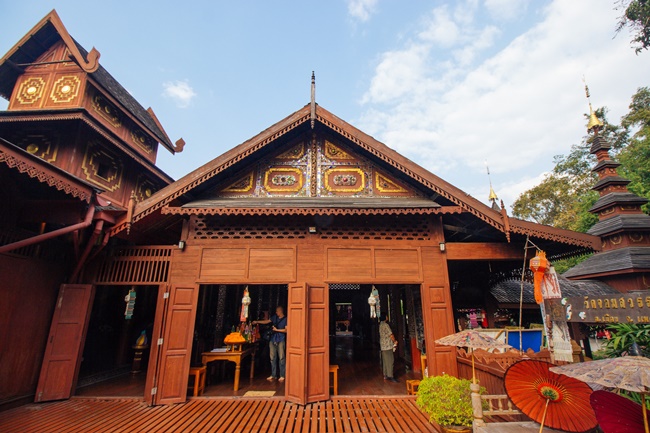 This northern city isn't just about teak mansions. Located a short distance from the old town, Wat Chom Sawan is a teak sanctuary by Shan people. The temple is one of the best preserved temples of its kind. Apart from its impressive exterior, Wat Chom Sawan houses a unique gilded Buddha image woven from bamboo called Luang Pho San.
5. Go indie with indigo at Ban Thung Hong Village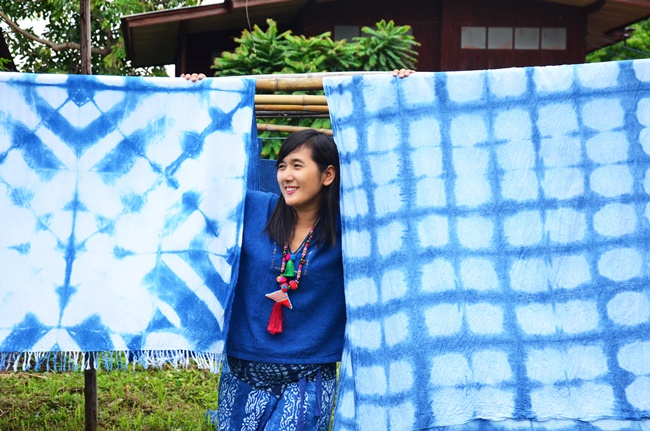 At Ban Thung Hong, traditional is pretty indie. Mo Hom, Thailand's classic indigo farmer shirts and pants, are born here. Hom is the name of the indigo plant used for dyeing. From weaving to dyeing, you can learn the whole process of Mo Hom production or even design and make your own costume! Mo Hom outfits are made from cotton, so they're perfect for summer or hot days and also durable. The locals at Ban Thung Hong Village are creative and have branched out into other products like Mo Hom bags, umbrellas and etc.
If you want to take a break, there's Indigo House Café with their famous Indigo Coffee.
6. Be mystified by the city of sandstone, Phae Muang Phi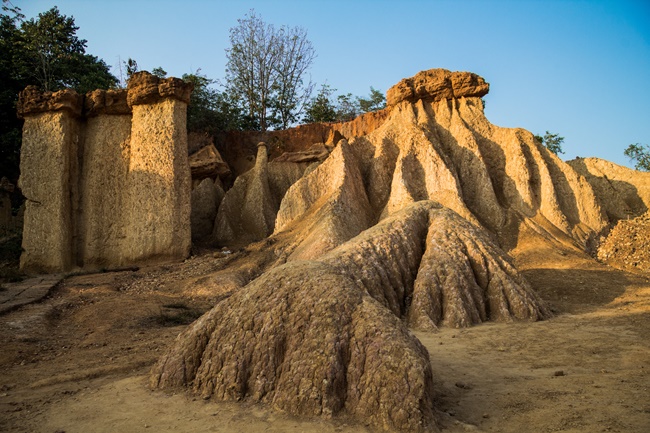 Phae Muang Phi, which translates to Spirit Grove, is a forest park that looks more like a wilderness carved out of sandstone. Although surrounded by spooky legends, Phae Muang Phi is completely safe to navigate. Let your imagination run wild as you contemplate the strange landscape, including Mushroom Rocks.
7. Pay respect to the city's signature temple, Wat Phra That Cho Hae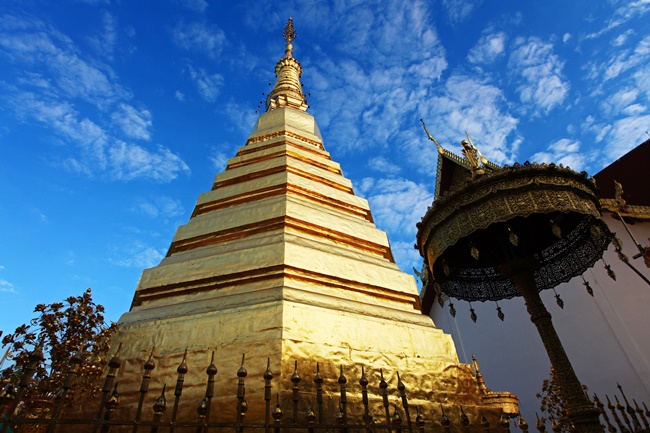 Don't miss Wat Phra That Cho Hae. Known as the city's most revered temple, Wat Phra That Cho Hae has a stunning Chiang Saen-style octagonal pagoda that enshrines Buddha relics. Cho Hae is the name of a high-grade satin and as the story goes, the locals tied Cho Hae satin around the pagoda as a sign of reverence. The temple is especially sacred for people born in the Year of the Tiger.
8. Gaze at the Coral Mountain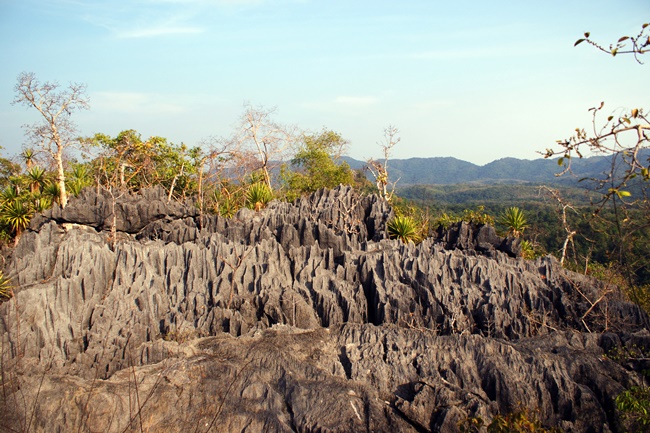 Venture further along the mountain trail of Doi Pha Klong National Park and you'll be rewarded by one of Thailand's most unique sights. Rising high into the sky is Phu Khao Hin Pakarang, a jagged mountain that resembles coral reefs.
Doi Pha Klong National Park has many other highlights, such as strange rocks at Maharaj Rock Garden, the giant Buddha statue and weird rock formations at Erawan Cave and an abundance of rare animals and plants.
---
That's it for things to do in Phrae, Thailand, but that's not all you can do on your journey. Pair your visit to Phrae with a trip to its charming neighbor, Nan. Find out things to do in Nan, Thailand.
Welcome to Amazing Thailand – Open to the New Shades. This is your ultimate Thailand travel guide, off-the-beaten-track edition. Go local and explore Thailand through new perspectives. Open your heart and mind… to the shades of Thailand that you never knew exist!