Let's face the need for a tourist SIM in Thailand. It's true that most accommodations and cafés in Thailand offer free Wi-Fi, but being able to connect anywhere, anytime makes traveling even more fun and fuss-free. We believe dtac Happy Tourist SIM Card is the best tourist SIM in Thailand for many practical reasons.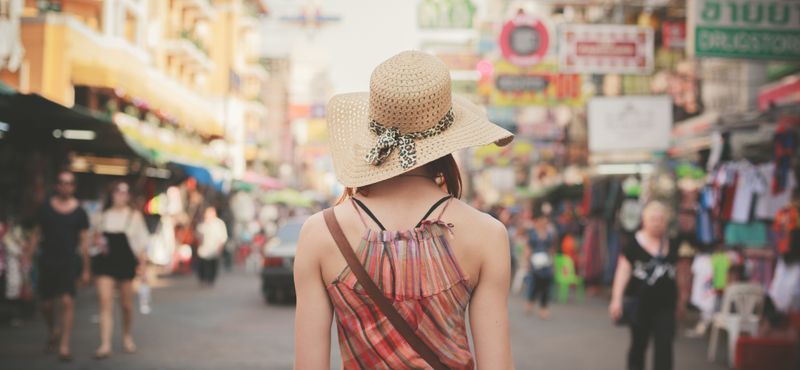 1. dtac Happy Tourist SIM Card makes everything easy from the get-go
Just landed and feeling lost already? No worries. You can get your Happy Tourist SIM Card at your airport of choice. Currently, the Happy Tourist SIM cards are available at Suvarnabhumi International Airport, Don Mueang International Airport, Phuket International Airport, Samui International Airport, Krabi International Airport and U-Tapao International Airport.
If you'll be arriving at Suvarnabhumi Airport, it's even easier. Buy the Happy Tourist SIM online and pick it up right away at the airport.
With that, you can skip public transportation queues and avoid scams. Uber, Grab and other door-to-door airport transfers are at your fingertips.
2. The best tourist SIM in Thailand should let you stay connected even in some remote places
The Happy Tourist SIM Card provides incredible coverage all over Thailand. Travelers' reviews reveal that it works even on islands. Now you can chat your loved ones anytime and start a live or story on how you're chilling on one of the pristine islands around Koh Samui.
3. dtac Happy Tourist SIM Card will make you a happy traveler 24/7
It's frustrating when you can't find the way to the extraordinary street food restaurant in Michelin Guide Thailand or have to negotiate with Tuk Tuk and taxi drivers, right? With a reliable tourist SIM card, you can always use Google Maps, Google Translate and all the useful apps.
Thanks to unlimited internet with the maximum speed of up to 2.5 GB, you can surf the net and enjoy your favorite videos and songs even when you're stuck in Bangkok's notorious traffic.
Most importantly, you can always look up travel information on the internet and contact your TakeMeTour Local Expert, Airbnb Host or anyone for the smoothest travel experience.
4. dtac speaks English with you
Need help? Besides the English instruction that comes with dtac Happy Tourist SIM Card, their English-speaking customer service will be happy to assist you. You can call them via +662-202-8000.
5. Pay less for much more, including exclusive privileges
When a tourist SIM gives you 8 days of free unlimited 4G internet, 100-baht call credit and discounts on various transportations, restaurants and experiences, you know it's special.
And when you can get it for only 235 baht instead of the usual 299 baht, you can't miss it!
The best-selling 8-Day Happy Tourist SIM Card is available for a special rate of 235 baht at TakeMeTour only. Pick it up at Suvarnabhumi Airport or any hotel in Bangkok. Plus, you get exclusive 300 baht off on any of our local tours with dtac Tourist SIM.
dtac 8-Day Happy Tourist SIM Card in a nutshell
- 3-in-1 SIM (Standard, Micro, Nano)
- Free 8-day unlimited internet (Maximum speed of up to 2.5 GB)
- Free 100-baht call credit
- Special international call rate via 00400
- Price: 299 baht (Special price: 235 baht if picked up at Suvarnabhumi Airport and 250 baht if picked up at hotels in Bangkok)
* Call dtac numbers at 0.99 baht/min
Call non-dtac numbers at 0.99 baht/min
SMS at 3 baht/SMS/number
MMS at 5 baht/MMS/number
International call rates starting at 1 baht/min (More details here.)
Now the best Tourist SIM in Thailand and exclusive travel deal are only few clicks away from you. Enjoy!