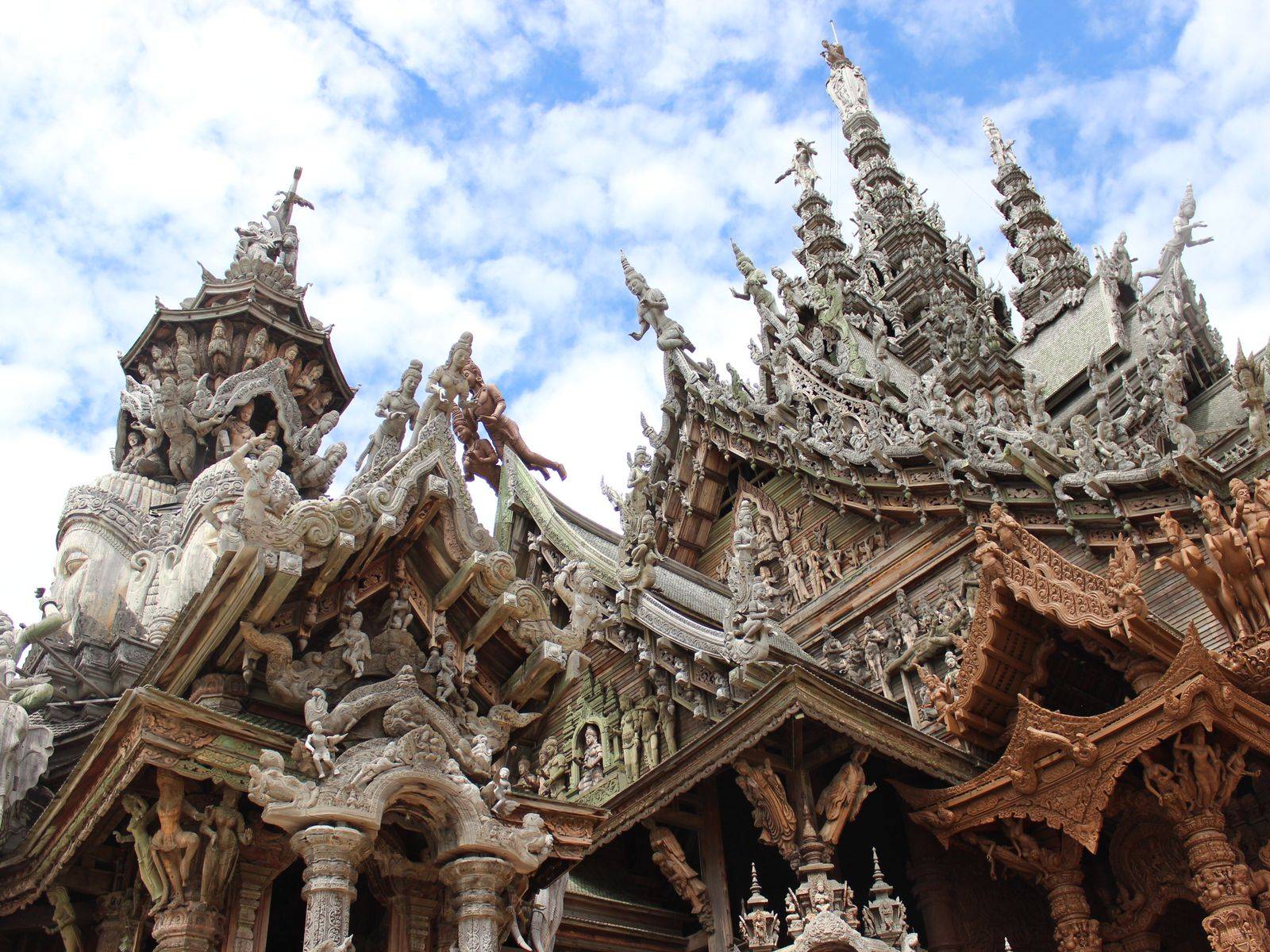 | Trip starts from Bangkok
The Aesthetic of the Universe: The Truth of Life
---
[Sat-Sun Only] Visit Thailand's most beautiful architectures; Erawan Museum and Sancturay of Truth. Be charmed by their beauty, admire the craftsmanship, and appreciate the art and its mythological stories with us.
---
itinerary
09:00
Meet up at our meeting point
- BTS Station (Asok , Udom Suk)
- MRT Station (Sukhumvit)
09:45
Arrive at Erawan Museum. Explore and admire the interior of the museum, reveal the hidden message of the late creator, take some cool photos, and catch local Pokemons perhaps :P
11:30
Grab our lunch at the museum. Take a short break, check out some nice souvenirs, and be ready to head out of town.

12:30
Travel to Pattaya. Feel free to take a nap during the ride or enjoy singing along with us. lol (A fan of DJ Snake of Major Lazer, anyone?)
14:30
Arrive at the Sanctuary of Truth. Get the entrance ticket and choose our side activity.

Note that only the entrance ticket is already included in our package (500 baht/ person). Each side activity will cost an additional of 250 - 400 baht/ person.
14:45
Meet our guide from the sanctuary. Let's follow her/him to learn more about the place first, then we will go on our own later.
15:45
Enjoy our side activity from the sanctuary. Our time during this period is flexible depending on our side activity. Either check out the rest of the area first and join the additional activity later or vice versa.
17:30
Get going and head back to Bangkok
19:30
Grab our late dinner
21:00
Take you back to the meeting point
---
Price Conditions
Transportation fares are included.
Admission fees are included.
More details about price conditions
---
FAQs
Why this trip?
If you are someone who appreciate arts and the background stories this trip is the one. Enjoy your day tour out of Bangkok and explore the beauty of the architecture and the admirable craftsmanship.
How local is it?
Despite their beauties, these two attractions are less touristy as the entrance fees are quite expensive from many visitors' opinions. (400 baht/person for Erawan Museum and 500 baht/person for the Sanctuary of Truth).
What makes it unique?
All the photos here are taken by me. And, if you already think my photos are beautiful the real things are breathtakingly stunning. I will capture all your favorite moments from the trip and send them all to you on the following days.
---
All Countries
All Countries
Malaysia (1)
United States (3)
best night out with local thai people!
check it out if you don't want to go to the EXPAT areas which are really touristy...aka garbage.
GIFT is awesome ;)

Michael D.
United States
|
December 31, 2016
Its eye opening
The trip is is good. Gift was dedicated to make my day. I really like the train market trip though. The bar or
club hopping were pretty descent. Probably because its on weekdays. It really depends on what you are
looking for. I recommend you explain to Gift at introduction because she really knows her way around
town. I'm more of a laid back guy so i say it was Good. I bet it will be much fun on weekend. Thank you GIFT

Aizat S.
Malaysia
|
December 24, 2016
It was great! She was a great expert.

Shaf A.
United States
|
October 25, 2016
+ 4 more travelers have enjoyed
the local experience with Gift
More Reviews