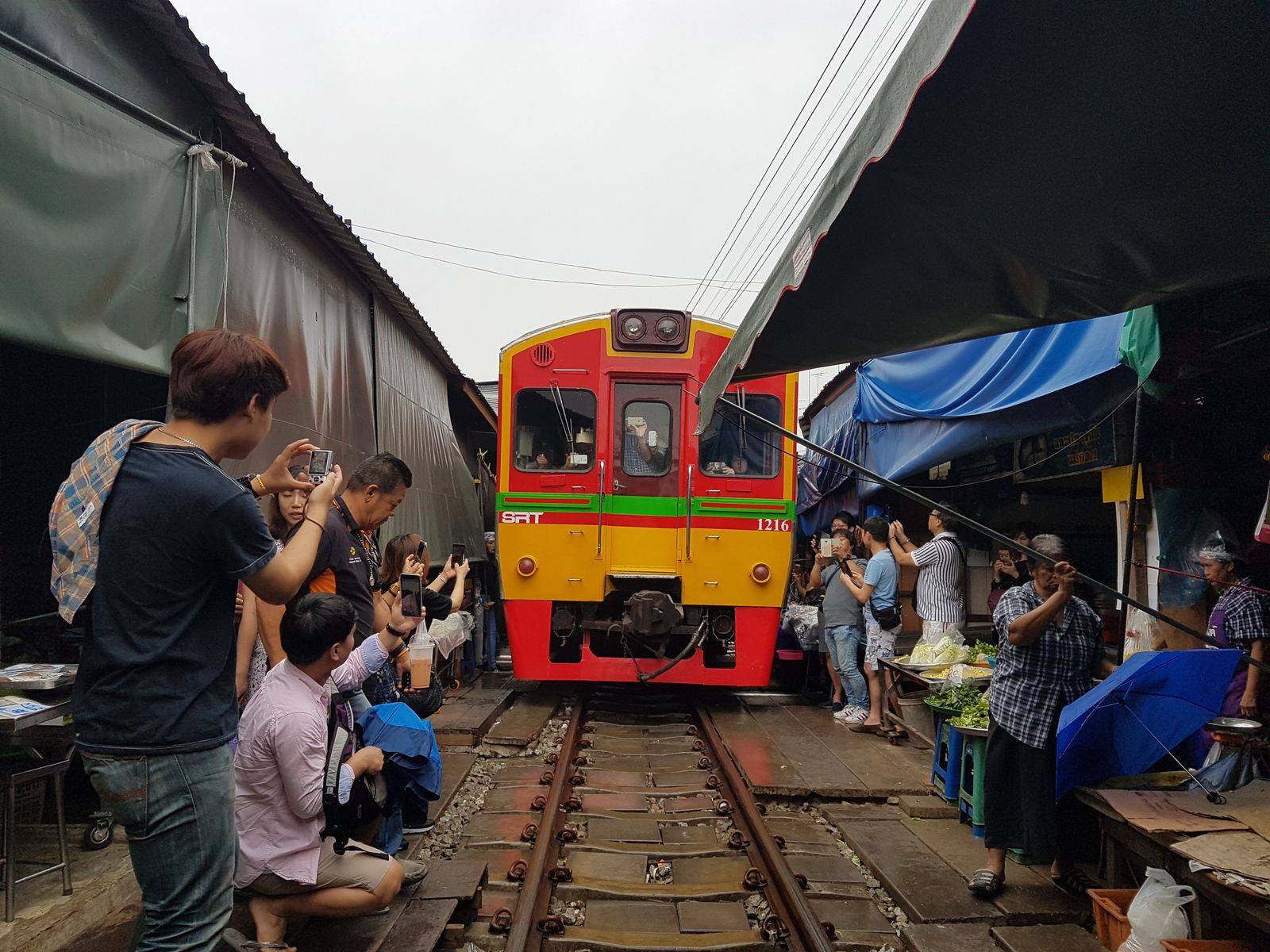 | Trip starts from Bangkok
Half Day Trip to Damnoen Saduak Floating Market & Maeklong Railway Market (Everyday)
---
Let's enjoy local foods and desserts and have fun with a boat trip. We will be exploring ones of the most iconic markets of Samut Songkram province Damnoen Saduak Floating and Umbrella market .
---
itinerary
06:30
Meet up at our meeting point
- Hotel lobby (in Bangkok area)
- BTS Station (Surasak)
08:00
Arrived at Damnoen Saduak Floating Market. Let's see the Thai people live by the river and get the boat to deep more the people house. You will see the real live Thai style. Try breakfast in Thai style next to the river.
10:30
Let's go to Maeklong Railway Market. Are you hungry? If the answer is yes, let's do it here! You will see the market on the railway. You can feel the life style of the people. You want to take the picture? Let's do it! But watch out, the train is coming!
12:00
Have some lunch with local restaurant by rice or noodle. You can choose.
12:30
Head back to Bangkok.
---
Trip Conditions
Vegetarian Food Available
---
Price Conditions
Transportation fares are included.
Admission fees are included.
More details about price conditions
---
FAQs
Why this trip?
In this trip you will get :
-Try Thai food and some sweet by local
-To test good seafood in the floating market.
- 1 boat trip; take local boat in the canal.
How local is it?
Never judge a book from its cover. You must come and see how it actually is!
What makes it unique?
This floating market it open everyday but only in the morning. You must have to see it!!!
Things to prepare for the trip
If who have sun screen or hat should bring on the trip. And some money for shopping.
---
Meeting Points
Hotel Pickup
- Hotel Pickup in Bangkok Area
---
All Countries
All Countries
Argentina (1)
Australia (14)
Austria (2)
Brazil (6)
Canada (7)
China (2)
Croatia (1)
Czech Republic (1)
France (3)
Germany (3)
Hong Kong (5)
Hungary (3)
India (3)
Ireland (2)
Israel (1)
Italy (7)
Japan (4)
Latvia (1)
Malaysia (8)
Netherlands (3)
New Zealand (4)
Panama (1)
Philippines (3)
Poland (2)
Portugal (5)
Singapore (18)
South Africa (1)
Spain (4)
Sweden (1)
Switzerland (3)
Turkey (2)
United Kingdom (19)
United States (39)
Best Guide Ever
From the moment we booked communication was great! The pick up was smooth and the knowledge he has about the places we visited is amazing! We lean so much from him! Tried food and saw places we wouldn't have experienced if we went by ourselves! Kind, funny and just amazing!

Viviana C.
Canada
|
September 22, 2018
Dear Vivian
It was a pleasure to introduce you to some amazing places in my hometown bangkok. I am happy that you enjoyed our tour and I wiish you a very happy stay in "my" country.
With my best regards.
Sinchai

Must see attraction
Very well organised trip with lots to see including railway market, floating market, boat ride to five temples and finish off with firefly boat ride.
Definitely worth going with a tour guide like Mr. Sinchai as he can find a good spot to wait for train to come at the railway market, offer explanation and information about each temple (each stop at temple only allows 15 minutes, some spots can be quite hidden if you don't know what you are looking for) and also take you to authentic thai restaurants.
Really enjoyed our trip!
Ka Wing L.
Hong Kong
|
September 16, 2018
Dear Ka Wing
Thank you for your kind review of our tour. It makes me happy if my customers are happy and if I could give you a memorable experience of our thai culture and lifestyle. thank you for chosing me as your guide. I send you sunny greetings from bangkok.
Regards,
Sinchai
Fun and well planned
I loved how well planned the day was. When we arrived at the floating markets we were almost alone on the river. By the time we were finished there were hundreds of tourists in boats to in a traffic jam on the river!! I felt like I got a private tour of the floating markets! Thankyou mr Sinchai!
Erin B.
Australia
|
September 14, 2018
Dear Erin
Thank you so much for your feedback. I hope you a good time on my tour.
Best regrade.
Ben
+ 142 more travelers have enjoyed
the local experience with Mr.Sinchai
More Reviews