Good care elephants and climbing at sticky waterfall.
Private Car
Chiang Mai
Morning, Visit and take care the Elephants on the mountain, learn their life. Learn how to cut grass and sugarcan for feed the elephants. Walk and take bath with elephant. (No riding, No chain, No hook!) Afternoon, We enjoy at sticky waterfall.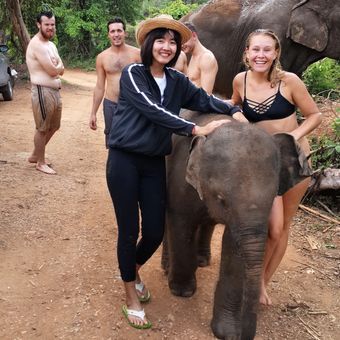 FAQ
Perfect for elephants lovers! Our sanctuary on the mountain include area 20acre(about50rai) for 6 elephants where you can meet happy elephants with people who love elephants and enjoy at sticky waterfall in one day. This trip include photo cd.
Things to prepare for the trip
Insect repellant spray, Towel, Swimming suit, Sun screen, Comfortable shoe can get wet, Video camera, Cloth for change.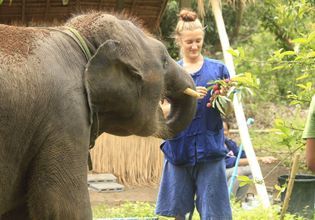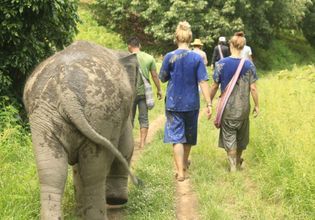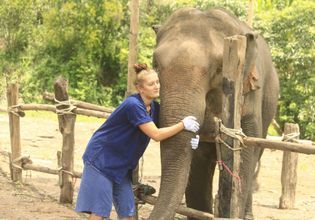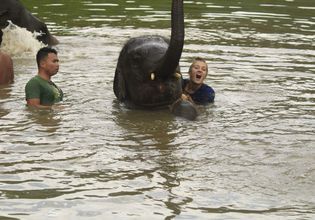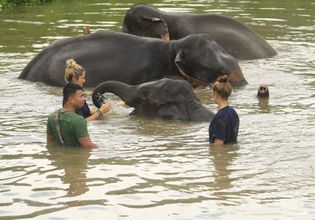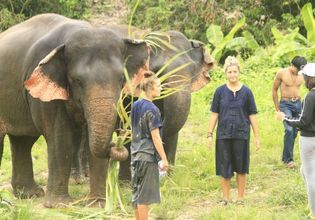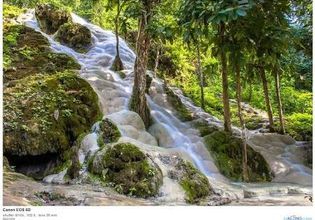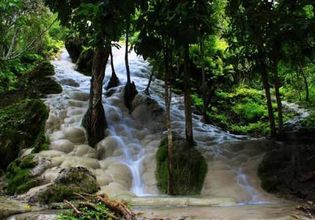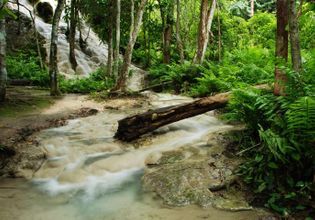 Itinerary
Meet up at our meeting point
- Hotel Pickup (Hotel Pickup in Chiang Mai Area)
- Airport or Bus terminal or Railway station Pickup
Arrive at the Elephant Eco Stay. Change your cloth to local and learn about elephants life and food. We'll prepare their meal together starting from cutting grass or sugarcan and make herb balls then feed to the elephants.
We will walk with elephants to jungle learn how elephants living in the jungle and take bath with elephants.
Say good bye elephants and drive to local market for have lunch. If you are vegeterain we will have luanch at sanctuary.
Arrive at Sticky waterfall. Relax and Climbing! enjoy the waterfall.
Change your cloth. Time to come back the city.
Return to your hotel in Chiangmai.
Price condition
Meals are included. (Note that alcohol is excluded)
Transportation fares are included.
Admission fees are included.
Extra expense you should prepare
Pick up outside Chiang Mai extra charge 300bath / trip.
Meeting point
- Hotel Pickup in Chiang Mai Area

- Chiang Mai International Airport

- Chiang Mai Provincial Arcade Transport Station

- Chiang Mai Railway Station Yulia
I recommend!
Lin did an excellent tour for us! She picked us up from the hotel, and we went to the elefant camp, where we fed the elefants and took care of them. After that she brought us to the restaurant with a very beautiful sight. After enjoying the meal we went to the sticky waterfall and had much fun climbing it. I liked very much that Lin answered all our questions about animals and the country and their culture (and we had many of them!). One more point that I liked is that Lin thought about snacks for us - it was a really good idea :) Lisa
Lovely elephant day
I had a great Day!! I got picked up from Lin and we drove the the Elephant sanctuary. On the way we had very lovely conversations. After a quite long drive we arrived and I got changed and I had the first contact with Elephants. I feed, cuddled and bathed them. Then I had lunch which was a bit spicy but very yummy. Then we drove to the sticky waterfall after we stopped at a café in pure nature.
It was such a amazing day and I would recommend it everyone.
Thank you for that experience!

Paul & Patti
A great trip
My wife and I had a great trip with Kanda. She explained a lot about Thai culture and provided all kinds of other great information. + 3 more travelers have enjoyed the local experience with KANDA