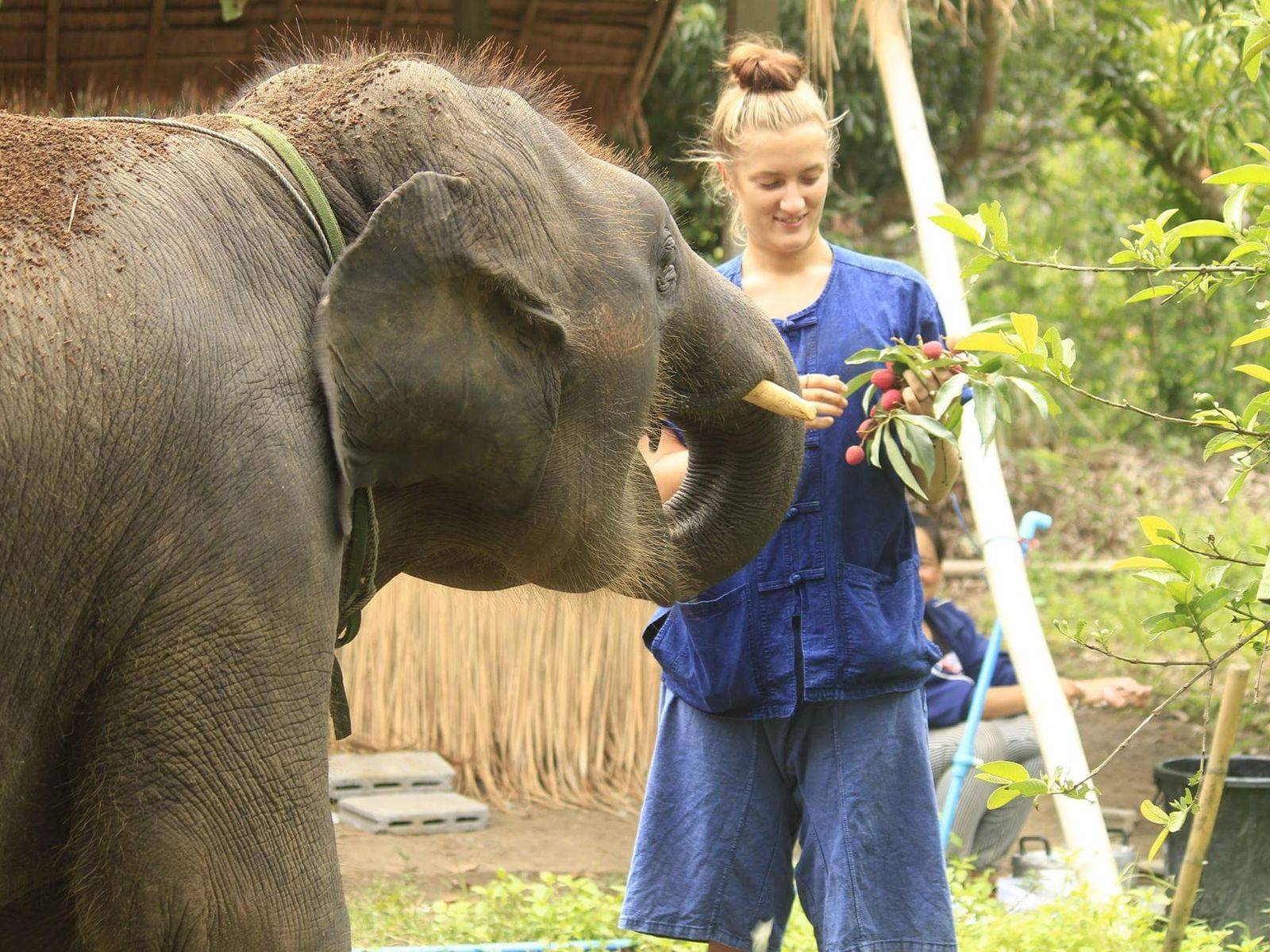 ---
In the morning, we'll take care of the elephants in the mountains! Learn how to cut grass and sugar canes to feed the elephants, and we'll walk and bathe with them! (No riding, no chain, no hook!) In the afternoon, we'll go to the Sticky Waterfall!
---
itinerary
07:30
Meet up at our meeting point
- Hotel lobby (in Chiang Mai area)
- Airport (Chiang Mai International Airport)
- Bus Terminal (Chiang Mai Provincial Arcade Transport Station)
- Railway Station (Chiang Mai Railway Station)
09:00
We arrive at the Elephant Eco Stay! Change your clothes to the local style, and learn about the elephants' life and food! We'll prepare their meal together starting from cutting grass or sugarcane and make herbal balls! Then, we'll feed the elephants!
10:00
We will walk with the elephants to the jungle to learn how the elephants live in the jungle! We'll also take a bath with the elephants!
12:00
Say goodbye to the elephants and drive to a local market to have lunch! If you are a vegetarian, we'll have lunch at the sanctuary!
14:30
Next, we'll arrive at the Sticky Waterfall! We'll go relax and climb the waterfall!
17:00
Let's change into dry clothes! Time to go back to the city!
18:30
Return to your hotel in Chiang Mai, and this is where the trip ends! Thank you for joining me!
---
Price Conditions
Transportation fares are included.
Admission fees are included.
More details about price conditions
---
FAQs
Why this trip?
Perfect for elephants lovers! Our sanctuary on the mountain include area 20acre(about50rai) for 6 elephants where you can meet happy elephants with people who love elephants and enjoy at sticky waterfall in one day. This trip include photo cd.
Things to prepare for the trip
Bug Spray
Towel
Swimwear
Sun Protection
Comfortable Shoes
Spare Clothes
---
Meeting Points
Hotel Pickup
- Hotel Pickup in Chiang Mai Area
Airport
- Chiang Mai International Airport
Bus Terminal
- Chiang Mai Provincial Arcade Transport Station
Railway Station
- Chiang Mai Railway Station
---
All Countries
All Countries
Belgium (1)
Canada (9)
Denmark (2)
Finland (2)
Germany (3)
India (2)
Ireland (1)
Italy (2)
Korea (South) (1)
Malaysia (1)
Netherlands (4)
Philippines (2)
Russian Federation (1)
Singapore (4)
Thailand (2)
United Kingdom (2)
United States (23)
Viet Nam (1)
Unforgettable an experience amazing
With Kanda it was a very fun trip.. the hold us lots about the cultures and the elephants.. she was much fun to hang around with and the meal was very nice to. An wonderfull experience
Soraya H.
Belgium
|
September 20, 2018
An unforgettable day
We had such a amazing day! Everything was planned so wel and we totally forgot time. Lin her English was very good so we could ASK her anything we wanted. The Elephant part was super nice and the sticky waterfall even as much. We recommend this tour to everyone!!

Lois N.
Netherlands
|
September 10, 2018
Absolutely fantastic experience!
Lihn from the get go was a fantastic host with such a wonderful and insightful personality. We enjoyed our time with her and felt like we had made a new friend in Thailand.
The sanctuary was gorgeously located at the foot of the mountainside in the deep, lush vegetation of sugarcane, bananas, grasses and rice fields.
The caretakers you can tell love the mammalian brethren of ours as much as we did. The elephants are well taken care of, spoiled even as the enjoy daily, and voluminous meals, go for walks and splash around in the bathing pool. Truly magnificent creatures.
We were fed a delicious homemade vegetarian lunch before saying goodbye to our elephant friends and were then taken to the "Sticky Waterfall". A naturally occurring calcification that made whatever the water touch turn I to a rough surface that could literally be walked upon. You can walk up and down a waterfall!
Lihn even told us earlier in the day of the Sunday Night Market (the largest in Chiang Mai) and dropped us off at the West Gate do we could make our way to the East Gate. It's that huge!
Would highly recommend this experience and Lihn again and we hope to see her in the future when we return to Thailand and Chiang Mai!

Stephanie A.
United States
|
August 29, 2018
+ 59 more travelers have enjoyed
the local experience with KANDA
More Reviews