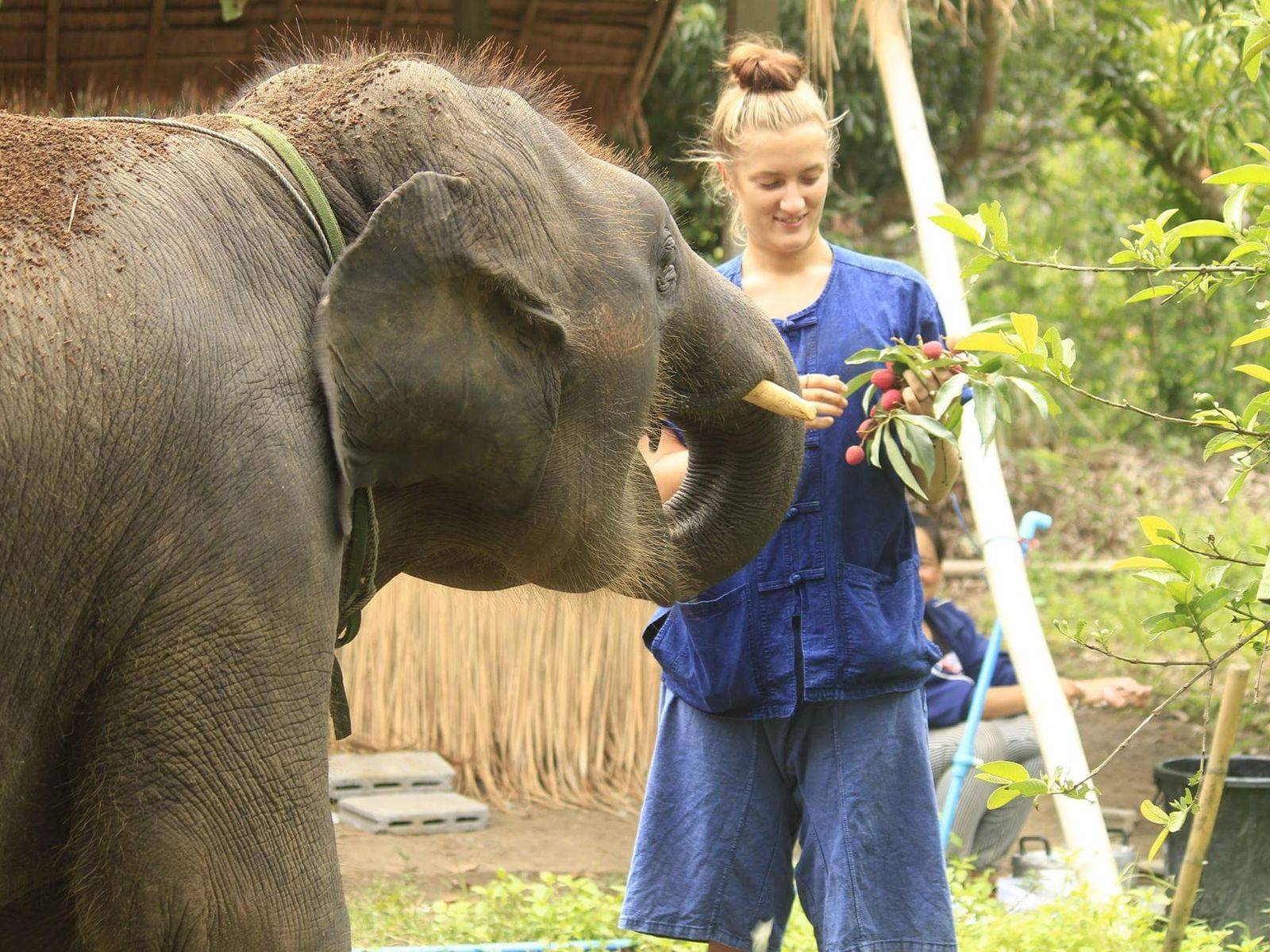 ---
In the morning, we'll take care of the elephants in the mountains! Learn how to cut grass and sugar canes to feed the elephants, and we'll walk and bathe with them! (No riding, no chain, no hook!) In the afternoon, we'll go to the Sticky Waterfall!
---
itinerary
07:30
Meet up at our meeting point
- Hotel lobby (in Chiang Mai area)
- Airport (Chiang Mai International Airport)
- Bus Terminal (Chiang Mai Provincial Arcade Transport Station)
- Railway Station (Chiang Mai Railway Station)
09:00
We arrive at the Elephant Eco Stay! Change your clothes to the local style, and learn about the elephants' life and food! We'll prepare their meal together starting from cutting grass or sugarcane and make herbal balls! Then, we'll feed the elephants!
10:00
We will walk with the elephants to the jungle to learn how the elephants live in the jungle! We'll also take a bath with the elephants!
12:00
Say goodbye to the elephants and drive to a local market to have lunch! If you are a vegetarian, we'll have lunch at the sanctuary!
14:30
Next, we'll arrive at the Sticky Waterfall! We'll go relax and climb the waterfall!
17:00
Let's change into dry clothes! Time to go back to the city!
18:30
Return to your hotel in Chiang Mai, and this is where the trip ends! Thank you for joining me!
---
Price Conditions
Transportation fares are included.
Admission fees are included.
More details about price conditions
---
FAQs
Why this trip?
Perfect for elephants lovers! Our sanctuary on the mountain include area 20acre(about50rai) for 6 elephants where you can meet happy elephants with people who love elephants and enjoy at sticky waterfall in one day. This trip include photo cd.
Things to prepare for the trip
Bug Spray
Towel
Swimwear
Sun Protection
Comfortable Shoes
Spare Clothes
---
Meeting Points
Hotel Pickup
- Hotel Pickup in Chiang Mai Area
Airport
- Chiang Mai International Airport
Bus Terminal
- Chiang Mai Provincial Arcade Transport Station
Railway Station
- Chiang Mai Railway Station
---
All Countries
All Countries
Canada (9)
Denmark (2)
Finland (2)
Germany (2)
India (2)
Ireland (1)
Italy (2)
Korea (South) (1)
Malaysia (1)
Netherlands (2)
Philippines (2)
Russian Federation (1)
Singapore (4)
Thailand (2)
United Kingdom (2)
United States (21)
Viet Nam (1)
Several beautiful locations
The weather was terribly rainy and foggy in the morning hours thus we had no visibility for sunrise or the twin pagodas. This was unavoidable however the locations would have been beautiful! Our tour guide was polite and made an effort to adjust the itinerary for the day to make up for the closure of all treks due to the rain. We felt safe throughout our trip and we got to visit a few waterfalls, the highest peak, and a shrine. This was our second TakeMeTour. Our first guide had plenty of energy and engaged with us to create a fun inviting atmosphere. This tour guide lacked energy and did not engage with us. The information she provided was found on signs at each location. Unfortunately we also felt that we were an inconvenience as the tour guide and her boyfriend were on and off their phones throughout the day with what appeared to be attempting to purchase plane tickets.
Dennis B.
United States
|
July 1, 2018
Thank you for your great feedback and review our trip together. I have to apologize for everything on that day we met emergency and I hope you have a great trip with us. 😊

Great day!
Kanda was great! She took us to all the main spots in the park as well as a less touristy waterfall to swim in which was he highlight!
qdesibia D.
United States
|
June 11, 2018
Great experience
I highly recommend this. - it was amazing!
Anna K.
Canada
|
May 15, 2018
+ 51 more travelers have enjoyed
the local experience with KANDA
More Reviews