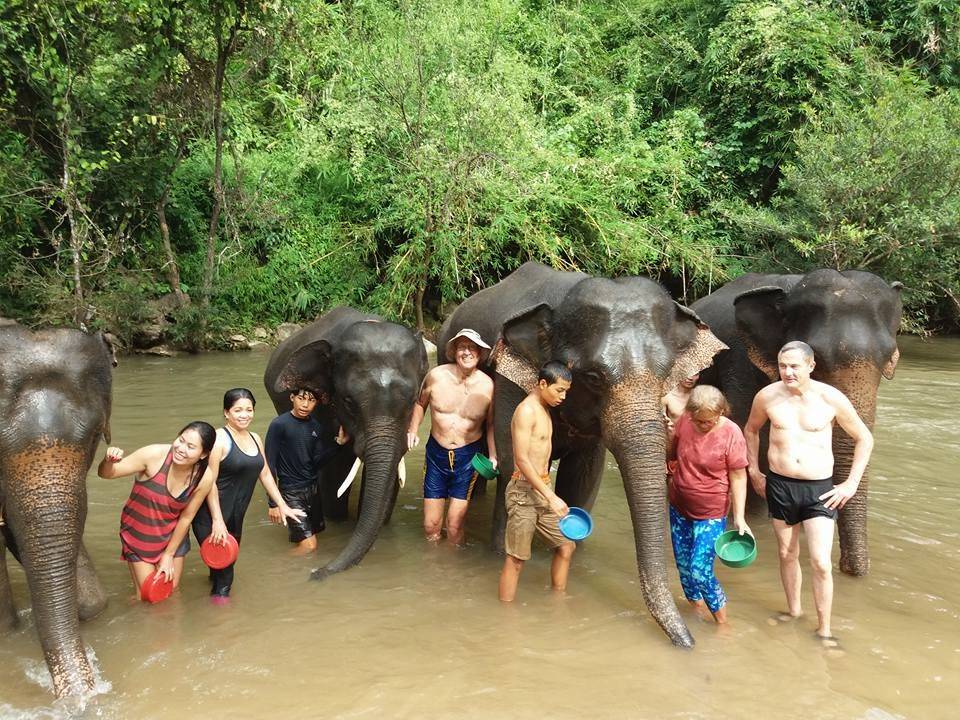 Hug and care for the Elephants + Enjoy a magnificent waterfall
---
Learn to respect these magnificent intelligent animals. Learn to relate to them and see how they relate to you. Bath and play with them in their natural environment. There's NO RIDING OR TAKING ADVANTAGE of them. Then go and refresh under a waterfall
---
itinerary
08:30
Meet up at hotel lobby (in Chiang Mai area)
10:30
Arrive in camp and be briefed on trekking (10 mins,)
11:00
Play with, bathe elephants and take photos. then take them into the jungle and give them food
12:00
Enjoy lunch and relax
13:00
Take elephants to the river mud spa. Bathe, play and enjoy being with them.
14:30
Walk to a waterfall and enjoy a swim
16:00
Visit souvenir shop and teturn to hotel
---
Price Conditions
Transportation fares are included.
Admission fees are included.
More details about price conditions
---
FAQs
Why this trip?
Learn more about elephants, experience their intelligence, grow your respect for them, have fun with them! Enjoy a tropical waterfall.
Things to prepare for the trip
Swimming costume, towel, change of clothes, good shoes, sunscreen lotion, insect repellent.
---
Meeting Point
Hotel Pickup
- Hotel Pickup in Chiang Mai Area
---
By Country
Canada
United Kingdom
United States
Nice expereince with a great guide!
We really enjoyed our day with Sunshine. Even though we were not luck with the weather which was kind of important for our tour to be awesome, Sunshine came up with great solutins to make the tour day as enjoyable as possible. We learned a lot today and would be happy to go on other tours like this in the future when we come back to Chiang Mai.

Anete I.
Latvia
|
June 12, 2018
Thank you beautiful girls 😘 and i feel sad about our trip cuz the weather although we don't have a great that time cuz heavy rain but we have good memory together 😉 we are all get a lot of fun together in the rain *many people crazy in love But we are crazy to play in the rain. 😂😄* and im glad i can make our trip happy.
I hope i will have opportunity to take you in my tour again in the future 😀 Thank again from Sunshine heart ❤😘

Relaxing water day!
Sunshine took so many pictures of us all around the waterfall, gave us a traditional Thai lunch (desert included), then let us play around! At the end of the trip, she also took us around to a few other local attractions.
Brooke D.
United States
|
June 6, 2018
Thank you so much beautiful girl 😘 you are both very lovely I'm glad to met you and can make you happy in my tour too.
I hope one day in the future i will have opportunity to take you on my tour again i want to say again. Thank you so much from sunshine heart ❤😘

Such a good day!
I was so happy to go to a sanctuary where they allowed the elephants to roam around and be happy. We got to spend a lot of time with the elephants and bond with them and the owners treated them very well. The only commands they used were with their voices which I thought was great! I think the best part was getting to go in the water with them. Sunshine was super enthusiastic about taking photos and she got many amazing pictures of me with the elephants. It's like having a personal photographer with you! Thanks sunshine!

Julianna R.
United States
|
May 23, 2018
Thank you so much beautiful girl 😊 you lovely and so cool 😎 I'm glad I can make you enjoy my tour and I'm so glad you like the pictures I took for you.
I hope in the future I will have another chance to take you on my tour. 😀
Thank you from Sunshine heart again ♥️😘🍀

+ 2 more travelers have enjoyed
the local experience with Naphat
More Reviews
---
Total
100% Satisfaction guaranteed