Viewing the sea of mist is one of Thai locals' most favorite things to do in the cool season. The hike to the top of a mountain is usually tough, but a great reward awaits. That moment when the sun slowly rises and drenches the sky and the sea of mist and clouds in gold and orange hues has taken countless breaths away.
Doi Inthanon, Thailand's highest peak located in Chiang Mai is hands down the most popular destination for international mist hunters and sunrise chasers. However, there are actually many other cities to enjoy the sea of mist in Thailand. These top spots also offer other unique experiences.
There's no more enchanting way to start your morning than this, so you can't miss it. Here are the best places to view the sea of mist in Thailand.
---
16 Best Places to View the Sea of Mist in Thailand (Other than Chiang Mai)
1. Khao Krajom in Ratchaburi, Central Thailand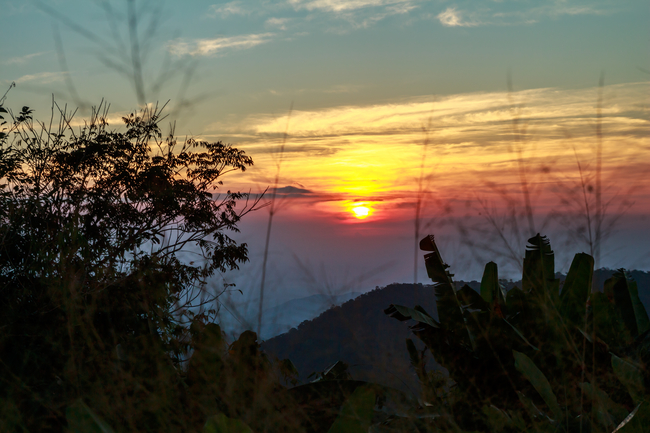 It's hard to believe there's a sea of mist that's only about 3 hours away from Bangkok, but this is the reality. Marking the end of Thailand, Khao Krajom is the tallest mountain in Suan Phueng, a locals' favorite nature retreat in Ratchaburi. It's a proof that viewing the sea of mist above verdant forests is possible during your weekend getaway.
Discover other things to do in Ratchaburi, Thailand.
2. Thung Salaeng Luang National Park in Phetchabun, Northern Thailand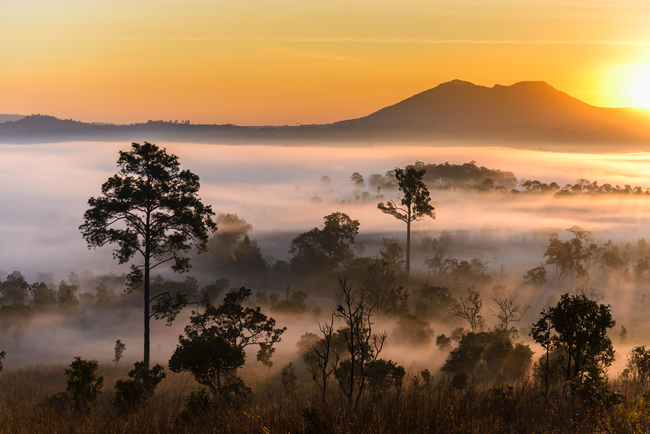 Savannah landscape right in Thailand! Dotted with pine trees and flowers that bloom from October to December, Thung Salaeng Luang National Park is in and of itself a stunning savannah, complete with wildlife. Simply drive to Sala Dusita viewpoint for the scene of mist shrouding the forest below. This is the best option for the elderly and people with mobility impairment.
And when the sun is completely above the horizon, stroll in the pine forest and marvel at the golden sunlight shining through.
3. Phu Tub Berk in Phetchabun, Northern Thailand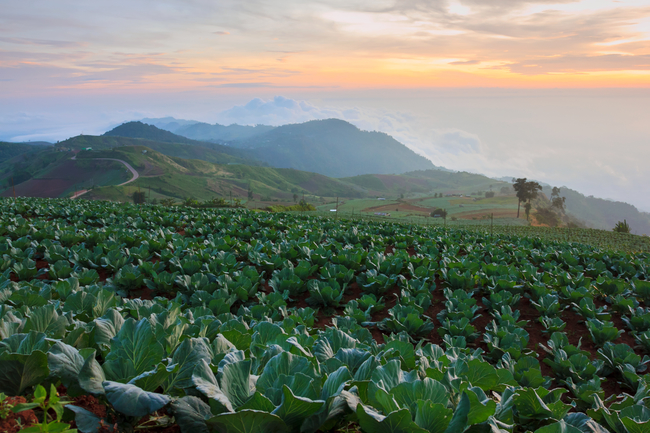 At Phu Tub Berk, the sea of mist is served with cabbages. The largest field of cabbages in Thailand, might we add. Traveling in the rainy season is normally not very ideal, but it's another story in Phu Tub Berk. It's the best time to enjoy the greenery there.
4. Khao Kho in Phetchabun, Northern Thailand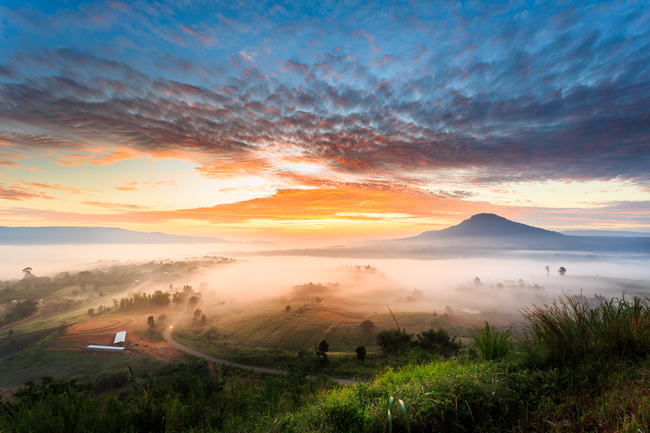 You can't visit Phu Tub Berk without including Khao Kho in your itinerary. Of course, you get to view one of the most beautiful seas of mist and clouds in Thailand, but there are a lot of more highlights.
Wat Pha Sorn Kaew, one of the most unique temples in Thailand, is there with Buddha images that will make you wonder if you're hallucinating, as well as colorful mosaic that will show you how Antoni Gaudí can mix with Buddhist arts. In the colder months, Khao Kho is also abloom with colorful flowers.
5. Nam Nao National Park in Phetchabun, Northern Thailand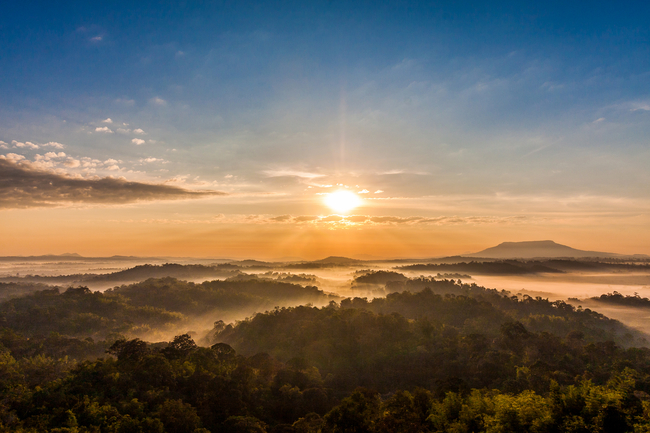 We're still in Phetchabun because it's such a wonderful hidden gem. If you haven't had enough views of picturesque seas of mist, go to Nam Nao National Park. It's a huge national park of unspoiled forests, waterfalls, caves and wildlife. If you love bat- and birdwatching, you've come to the right place.
6. Phu Hin Rong Kla National Park in Phitsanulok, Northern Thailand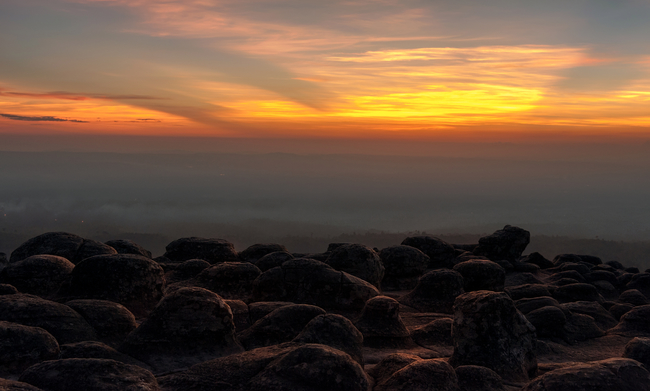 Phu Hin Rong Kla National Park is packed with unique landscapes, but Lan Hin Pum has to be the most unique among them all. Situated on a mountain, Lan Hin Pum is a rock plain dotted with lumpy stones formed by erosion. Add in the view of morning mist that you can see from Lan Hin Pum and it's going to be even more unforgettable.
In addition to mountains, forests and waterfalls, Phu Hin Rong Kla National Park is steeped in history as it was the headquarters of the Communist Party of Thailand (CPT) in the 20th century. You can find the buildings from the era as well as the museum in the national park area.
7. Doi Hua Mhod in Tak, Northern Thailand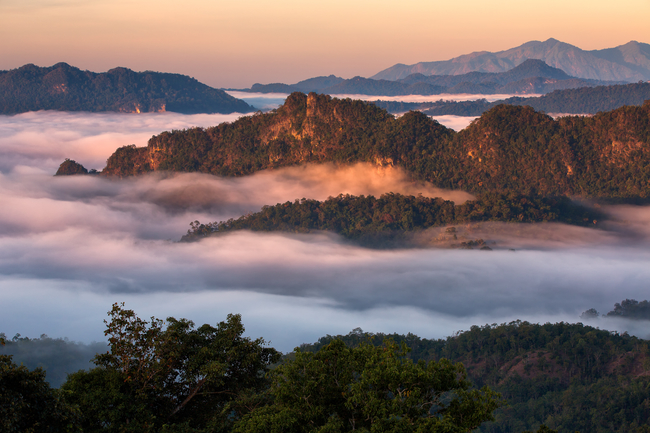 Tak, the westernmost city in Thailand, has always been known for its dense forests, towering mountains and grand waterfalls. Its remote location discourages many travelers from visiting, but it isn't a too difficult destination and this is your chance to witness one of the rawest national parks in Thailand. Take on Doi Hua Mhod in Umphang and you'll be rewarded with the seemingly endless sea of mist and the unique landscape of limestone mountains dotted with only shrubs and flowers.
Need more reasons to venture out to Doi Hua Mhod? You can pair it with a trip to Thi Lo Su Waterfall, the largest and most beautiful waterfall in Thailand.
8. Phu Chi Fa in Chiang Rai, Northern Thailand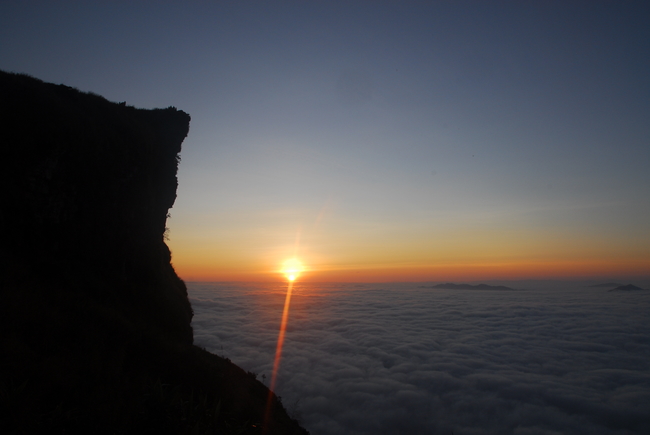 Two hours away from Chiang Rai city center is Phu Chi Fa, one of the most popular spot to view the sea of mist and sunrise among Thai travelers that remains under the radar among foreign visitors. Pointing to the sky as its name says, the silhouette of Phu Chi Fa peak against the sunrise is a stunningly unique sight.
Once you catch the sunrise at over 1,600 meters above sea level, don't leave right after. Phu Chi Fa straddles the border of Thailand and Laos, so you can see the Mekong River, forests and mountains in the other side after the mist is gone. While you can enjoy the sea of mist at Phu Chi Fa all year round, visit in December or January for wild Himalayan cherry blossoms.
9. Doi Pha Tang in Chiang Rai, Northern Thailand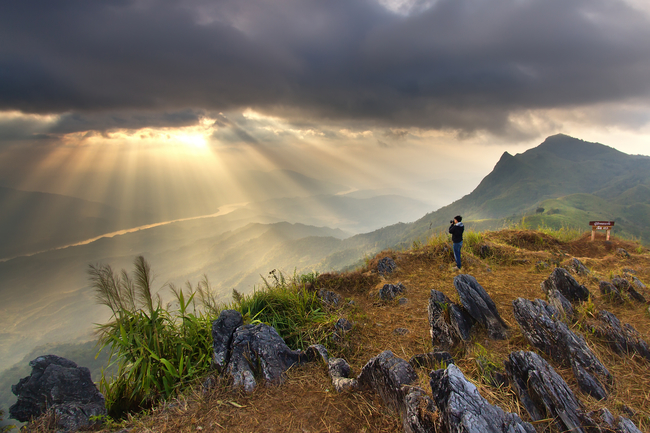 Few people have been there, even Thai locals. This makes Doi Pha Tang a great destination for explorers. Apart from panoramic views of mist and clouds from Hill 101, Hill 102 and Hill 103 (the peak that rises 1,653 meters into the sky), Doi Pha Tang is unique with rock cliffs that look as if they were torn apart or Chong Pha Kad. Look through the cliff gate and when the waves of mist dissipate, you can see the Mekong River and Laotian valleys down below.
Like Phu Chi Fa, Doi Pha Tang is painted in pink from December to January with wild Himalayan cherry blossoms.
10. Yun Lai Viewpoint in Mae Hong Son, Northern Thailand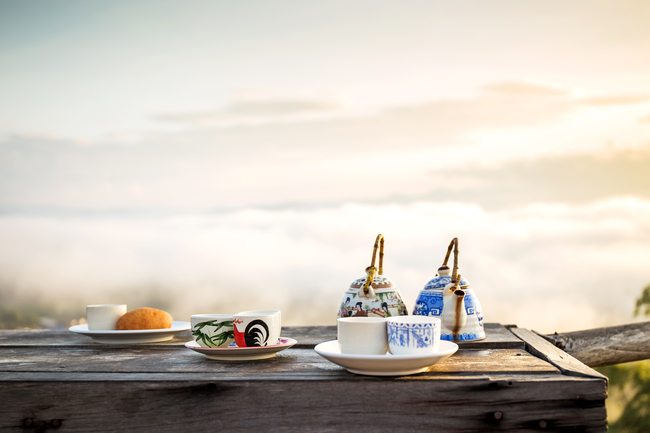 You might not know the name Mae Hong Son, but it's actually where Pai is. Anyway, there are good reasons why Mae Hong Son is nicknamed the City of Three Mists. Among its numerous viewpoints for the sea of mist, Yun Lai Viewpoint in Pai is one of the most beloved. Treat yourself to hot Chinese tea while watching the mist roll by above the local village and fields.
11. Pang Oung in Mae Hong Son, Northern Thailand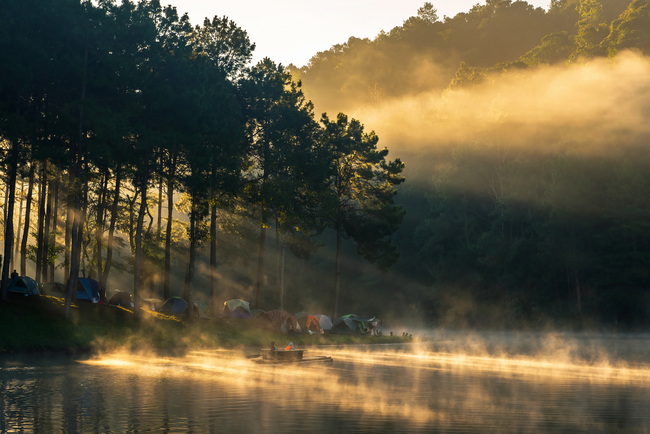 Mist floating so close to the crystal clear lake surrounded by verdant pine trees. Black and white swans quietly swimming by. The golden light glistening off the lake surface at the break of dawn. Tranquility in the air. Everything about Pang Oung is dreamy.
12. Ban Jabo Village in Mae Hong Son, Northern Thailand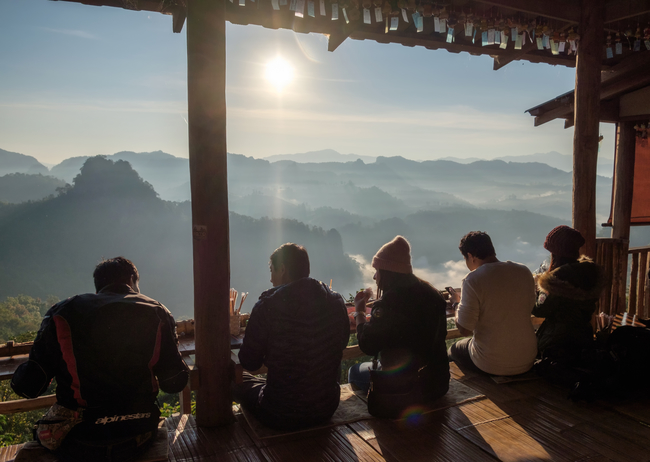 Ban Jabo, a Black Lahu hill tribe village, is a journey of nature and culture (authentic!) rolled into one. Stay overnight in one of the local homes and you won't regret it.
But the biggest highlight of all is probably having noodles in the sky. The simple noodle shop is situated on a mountain and you can sit down on the terrace, dangling your feet. For a very cheap price, you get to enjoy a very tasty bowl of noodles and million dollar views of mist and mountains.
13. Doi Samer Dao in Nan, Northern Thailand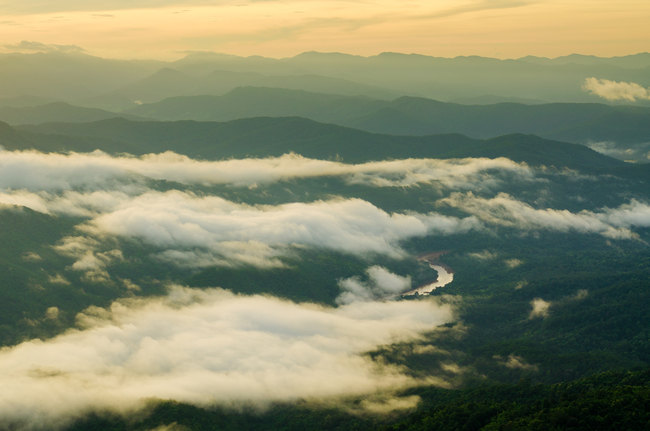 Camp close to the stars and then wake up to the sea of mist. At Doi Samer Dao (translating to where you can reach the stars) in Sri Nan National Park, the last thing you see before falling asleep and the first thing you see in the morning are just so beautiful.
After the sunrise, walk along the nature trail to Pha Hua Singh or Lion's Head Cliff and enjoy the panoramic view of forests and river below.
Discover other things to do in Nan, Thailand.
14. Phu Lang Ka in Phayao, Northern Thailand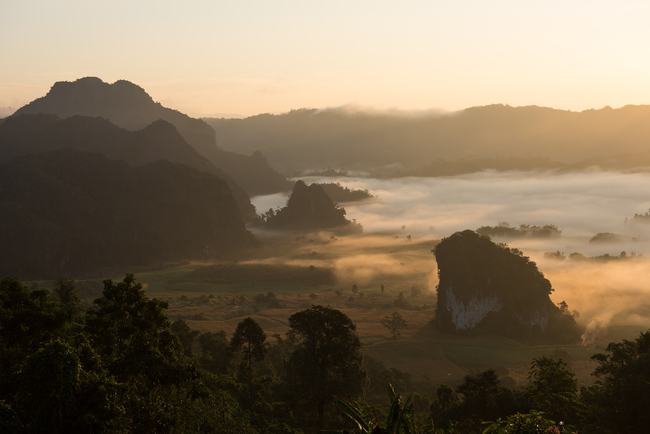 Peeking above the white fluff are giant limestone mountains. Just like islands in the sea of mist and clouds. Combining with the trees that sprinkle the vast meadow below, Phu Lang Ka looks as if it came straight out of a painting.
15. Phu Kradueng National Park in Loei, Northeastern Thailand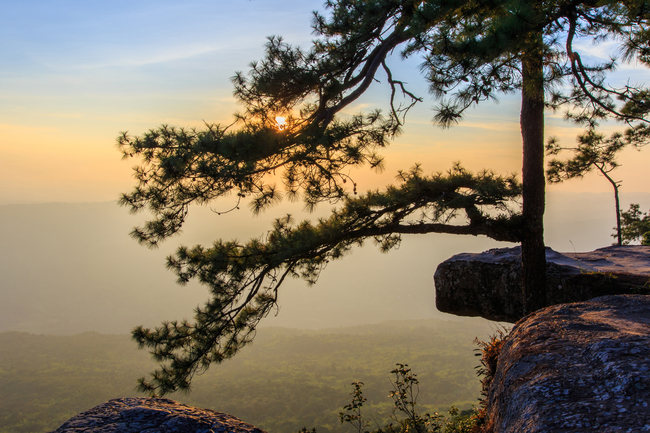 This is one of the most classic mountain adventures in Thailand. Thai lovers dream of conquering Phu Kradueng together, testing their patience and love as they make their way from the base to the summit. The hike takes about 4-5 hours one way. It's also a popular place to pop the question.
Apart from the sunrise over the sea of mist and clouds at Pha Nok Aen (Swallow Cliff), Phu Kradueng has lots of other wonderful viewpoints, flora and fauna. Visit in December or January to view fiery red maple leaves, which contrast beautifully with the waterfalls and lush surrounding. Yes, we're still in Thailand.
15. Phu Thok in Loei, Northeastern Thailand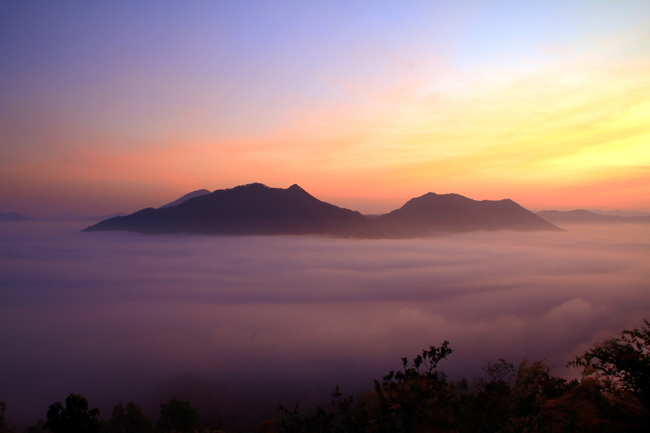 This small mountain is only a few minutes away from Chiang Khan, a quaint village near the Mekong River where time seems to slow down. Make sure you go up there to enjoy the morning mist and the panoramic view of Chiang Khan and the Mekong River.
16. Pha Chanadai in Ubon Ratchathani, Northeastern Thailand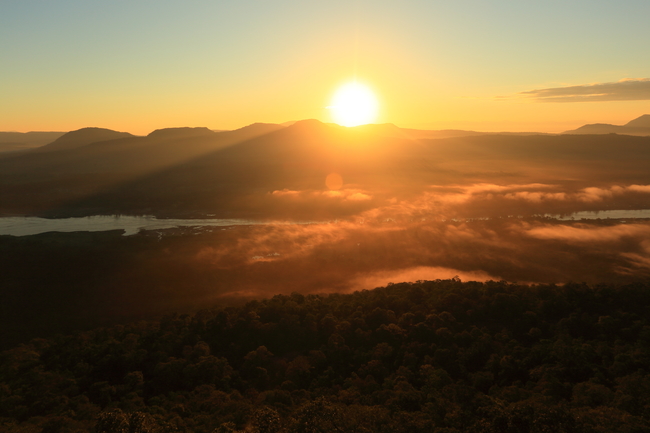 Be the first to see the sunrise in Thailand! People in this area welcome the new dawn before anyone else in the country. The cliff Pha Chanadai is a dramatic location that overlooks the vast sea of mist and after the mist clears up, you can see the forests and the Mekong River in the Laos.
Since Pha Chanadai is part of Pha Taem National Park, there are lots of other things to do. History buffs will love the cave paintings that date back to 3,000 years ago while nature lovers get to enjoy waterfalls, rare wildflowers and giant, weird rocks called Sao Chaliang all in one place.
---
Welcome to Amazing Thailand – Open to the New Shades. This is your ultimate Thailand travel guide, off-the-beaten-track edition. Go local and explore Thailand through new perspectives. Open your heart and mind… to the shades of Thailand that you never knew exist!