Ratchaburi, Central Thailand
"Ratchaburi… Where?" That's probably going to be many travelers' immediate response once they hear the name. The quaint western city is actually home to one of the world's most famous floating markets, Damnoen Saduak Floating Market.
The charmingly heavy canal traffic at Damnoen Saduak Floating Market has graced countless tourism ads, postcards and Instagram feeds and unfortunately, the tourist traffic seems to only concentrate there. More than the floating market, the city has everything from nature to culture, especially arts and crafts. Also dubbed "Art Chaburi", the art scene in Ratchaburi is rising and whether you're a fan of the traditional or the pop, you'll find what you love there.
So don't just visit Damnoen Saduak Floating Market and get back to Bangkok right after. Make time to explore the other areas in the city and you won't regret it. Check out these things to do in Ratchaburi, Thailand and enjoy authentic Thai experiences before the rest of the world catches on.
---
Top 14 Things to Do in Ratchaburi, Thailand
1. Stroll around the ceramic jungle at Tao Hong Tai Ceramics Factory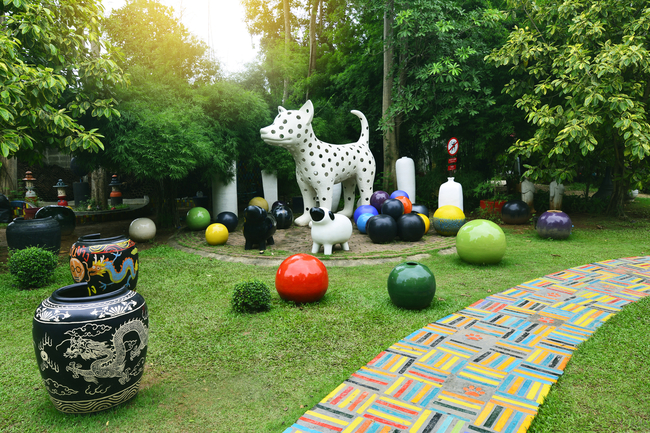 Visiting a factory may not sound like a fun idea for everyone, but Tao Hong Tai Ceramics Factory is far from boring. Tao Hong Tai has grown from a family water jar business into one of Thailand's most prominent ceramics manufacturers and now it has been over 60 years. The area around the factory is turned into a green space dotted with colorful installation art pieces. All made from Tao Hong Tai ceramics, of course. You can also tour the factory and watch the workers handcraft each piece with your own eyes.
2. Enjoy history with a side of arts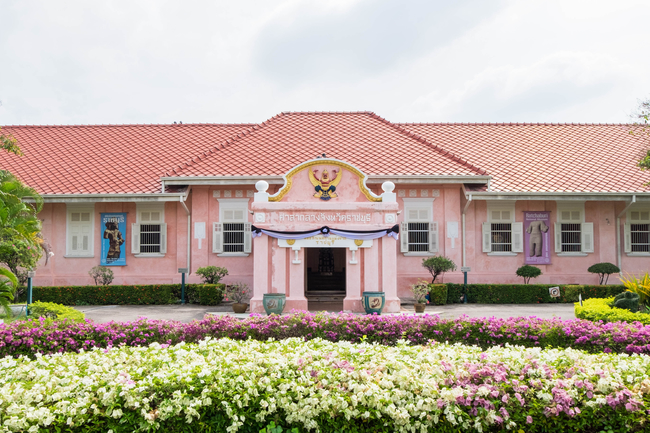 As one of Thailand's ancient cities, Ratchaburi has a long history and you can learn it all inside Ratchaburi National Museum (English available). The museum building was formerly the town hall building, now beautifully painted in pink.
Right next to Ratchaburi National Museum is Tao Hong Tai : d Kunst, the city's first-ever contemporary art gallery. Housed inside a century-old wooden Thai house, the gallery features not only contemporary art exhibitions but also an art library and a hip café. Love street arts or cats or both? CAT Town, the art alley next to Tao Hong Tai : d Kunst, is calling you.
3. Adventure and unwind at Khao Ngu Stone Park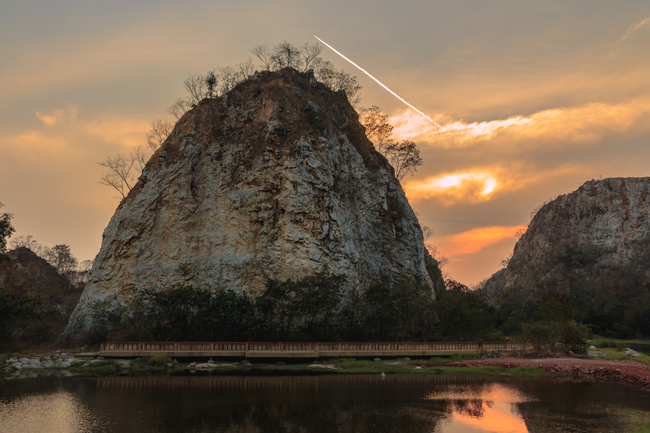 Reborn from an abandoned limestone quarry, Khao Ngu Stone Park is a beautiful recreational area with towering limestone mountains, caves filled with historic Buddhist artworks and a large lake. Enjoy adrenaline-pumping activities like rock climbing and flying fox or you can simply walk around the park and meet the monkeys.
You can visit Khao Ngu Stone Park anytime, but it's a great spot to watch the sunset.
4. Explore the worlds of stalactites and stalagmites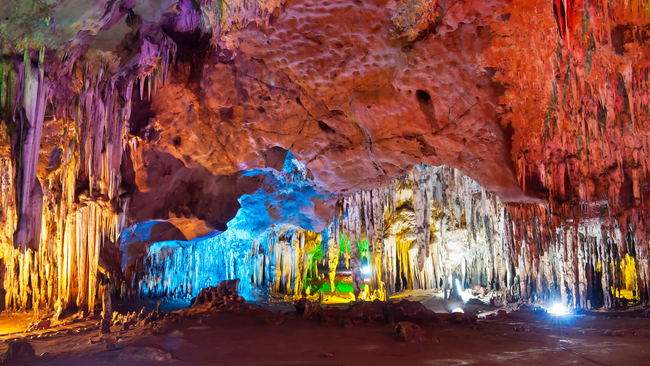 We've already seen handmade arts. Now is the time for arts by Mother Nature. The best caves in the city are Khao Bin Cave and Chompol Cave.
1) Khao Bin Cave
The city's most beautiful cave. Boasting gorgeous collections of stalactites and stalagmites, Khao Bin Cave is also colorfully illuminated. The cave is divided into 8 rooms and each room is believed to offer visitors different blessings.
2) Chompol Cave
The charms of Chompol Cave lie in not only its stalactites and stalagmites but also the beam of light that shines down on the Buddha image inside. Visit at around 1pm-2.30pm for this enchanting phenomenon.
5. Watch the shadows come alive in Wat Khanon Nang Yai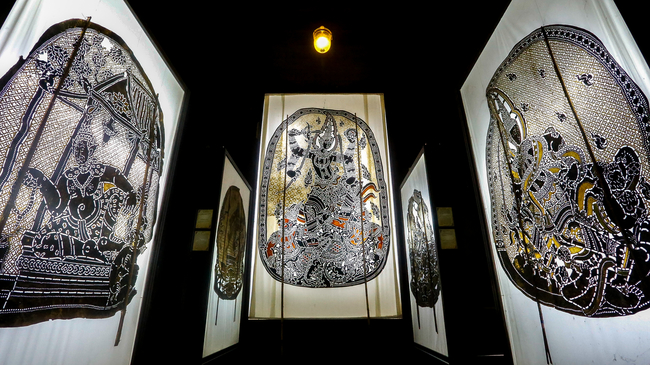 Nang Yai or large shadow play fuses many branches of arts and UNESCO-honored Wat Khanon Nang Yai is a must-see. Artisans meticulously carve buffalo hide into life-size puppets and the story unfolds through traditional Thai music and entertaining chants.
Wat Khanon has over 300 well-preserved Nang Yai puppets and the Nang Yai Museum is right on the temple grounds. Every Saturday from 10am-11am, the puppets come to life in Nang Yai shadow play performed by Wat Khanon School students.
6. Step back into time in Photharam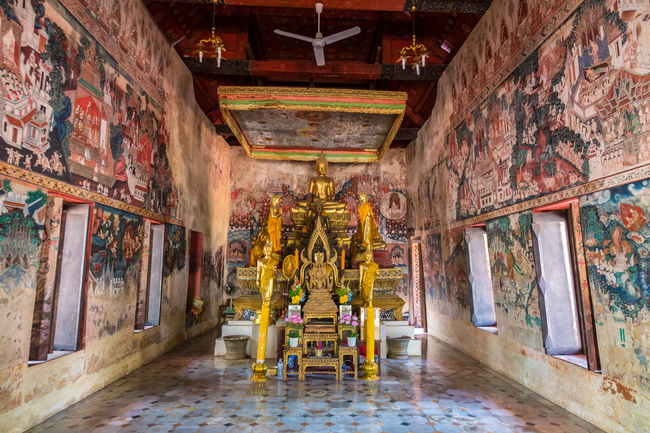 If you're a fan of old-world charms, Photharam is for you. The community has rows of photogenic wooden houses and the 100-year-old Jed Samian Market has parades of traditional Thai food and drink and retro stuff. Photharam also has some beautiful temples:
1) Wat Kongkaram
This Mon-style temple has elaborate 200-year-old murals by Mon artists as well as a local museum (weekends and holidays only) that displays ancient artifacts found in the area.
2) Wat Phra Sri Arn
The golden ordination hall is very impressive and so is its interior. The temple is also famous for traditional Thai kites.
7. Unleash your inner child at Suntree Land of Dolls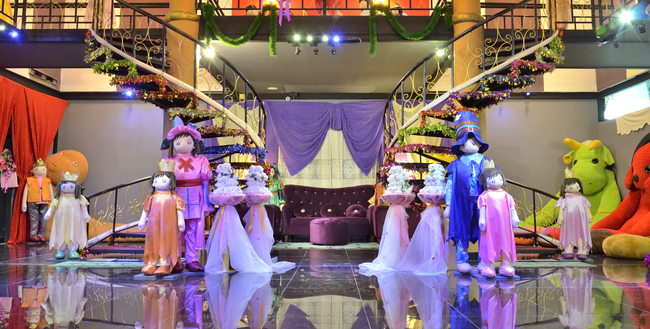 Thailand's only doll-centric theme park, Suntree Land of Dolls is a grand project of a doll factory owner. Take pictures with giant dolls, especially teddy bears, in various themed zones. Cuddling is more than welcome. You can buy Suntree dolls or even make your own.
8. Batwatch at Wat Khao Chong Pran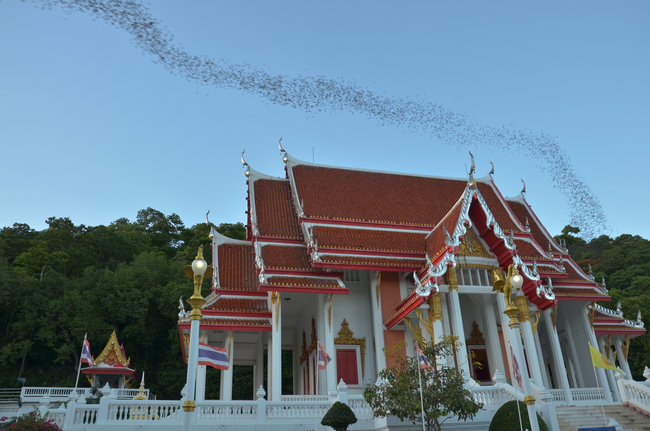 Thanks to the temple location near limestone mountains and caves, the temple is one of the best places in Thailand for batwatching. The flights of million bats start at around 6pm.
9. Chase the sheep at The Scenery Vintage Farm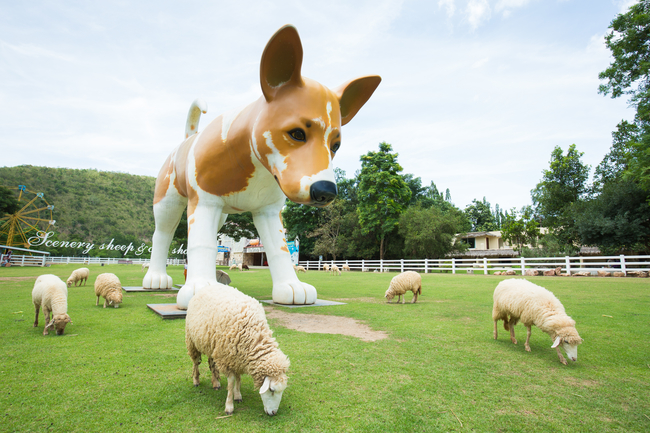 The Scenery Vintage Farm in Suan Phueng is one of the best escape plans in Thailand. Situated in the lush valleys, the farm is full of countryside-style attractions, especially sheep. You can feed these fluffy cuties and taste the delicious sheep dairy products like ice cream and cookies.
10. Relax at Bo Khlueng Hot Spring and Kao Chan Waterfall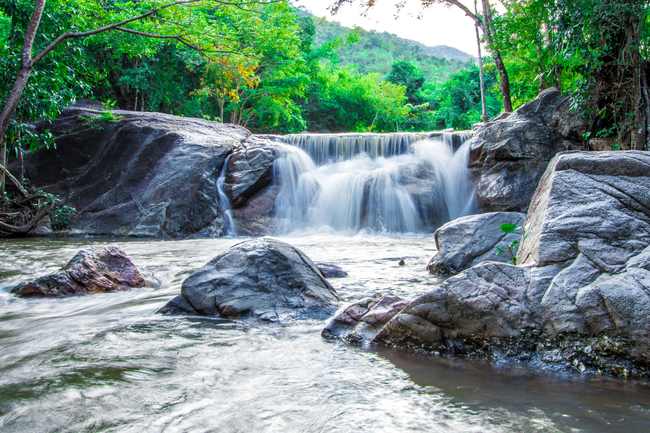 Treat your skin to the mineral water from Tanao Sri Mountain Range. Nearby Bo Khlueng Hot Spring is the beautiful 9-tiered Kao Chan Waterfall (also called Kao Chon Waterfall).
11. Light up the romance at Baan Hom Tian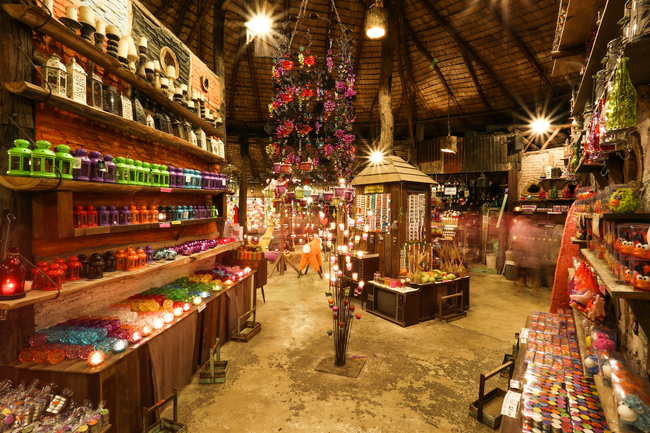 Enjoy the sights and scents of colorful fragrant candles. Apart from handcrafted candles, Baan Hom Tian is decorated with vintage furniture and antique lamps, complete with lovely restaurant and café. All these aesthetics are so romantic.
12. See the sea of mist on Khao Krajom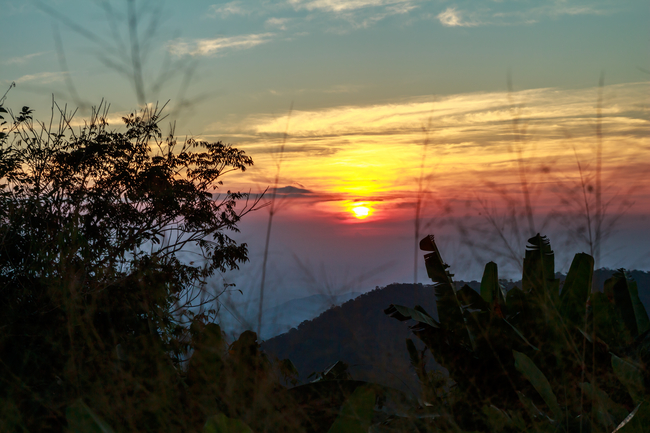 It's hard to believe there's a sea of mist that's only about 3 hours away from Bangkok, but this is the reality. Marking the end of Thailand territory, Khao Krajom is the tallest mountain in Suan Phueng. It's a proof that viewing the sea of mist above verdant forests is possible during your weekend getaway.
13. Take a Thai-style dragon jar home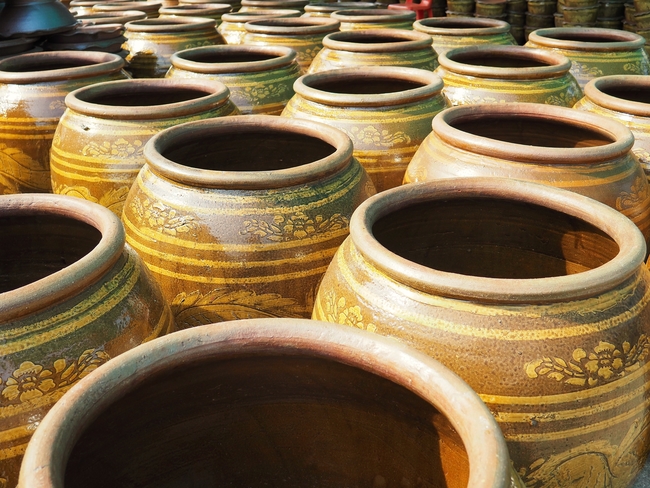 Remember those big brown water jars painted with dragon that you see around Thailand? The birthplace of dragon jars is none other than Ratchaburi. They come in many sizes, so you can buy a tiny one if you still have a long way to go on your Thailand trip.
14. Explore the hidden sides of Damnoen Saduak Floating Market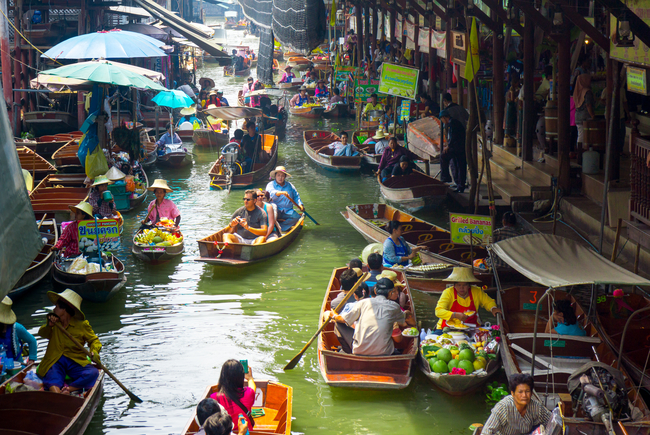 Damnoen Saduak Floating Market needs no introduction, but there are still a lot of things few people know about this market. Eating, shopping and snapping photos of the paddle boats aside, hop on one of the boats to learn how locals make coconut sugar.
At the end of Damnoen Saduak Floating Market is Lau Tak Lak Floating Market (weekends only). Just cross the bridge and you'll be in a completely different world. All the buzz disappears and there's only peace in this century-old Thai-Chinese market.
---
That's it for things to do in Ratchaburi, Thailand, but that's not all you can do on your journey. Pair your visit to Ratchaburi with a trip to its charming neighbor, Suphan Buri. Find out things to do in Suphan Buri, Thailand.
Welcome to Amazing Thailand – Open to the New Shades. This is your ultimate Thailand travel guide, off-the-beaten-track edition. Go local and explore Thailand through new perspectives. Open your heart and mind… to the shades of Thailand that you never knew exist!