Traditional Thai textiles are beyond fashionable. They are the kind of beauty that transcends time. There are various kinds of textiles in different regions of Thailand.  

Thai textiles began as a way of life and over time, they have become arts. Handwoven and hand-dyed, these textiles require high level of skills and painstaking attention to detail. They also empower women as they play a key role in handcrafting Thai textiles.

Each kind of textile differs, from pattern designs to weaving and dyeing techniques. To learn more about them, it's best to go straight to the sources: the weaving villages and groups. This way, you can support the locals and keep these art forms alive. 
---
9 Weaving Groups and Villages for Thai Textile Lovers
1. Ban Nong Ngueak in Lamphun, Northern Thailand
For over 200 years, the heritage of cotton weaving in Ban Nong Ngueak has been preserved. This is where Yong people (an ethnic group from Myanmar) settled and they have been passing down their weaving techniques for generations.

Apart from high-quality products, which range from modern dresses to pillowcases and curtains, Ban Nong Ngueak has unique looms that can be used by two people at once. These lover looms were used by the husband and the wife in order to produce larger pieces. With lover looms, the husband got to work and stay in the village with his wife. You can still try weaving with lover looms at the village.
2. Pua in Nan, Northern Thailand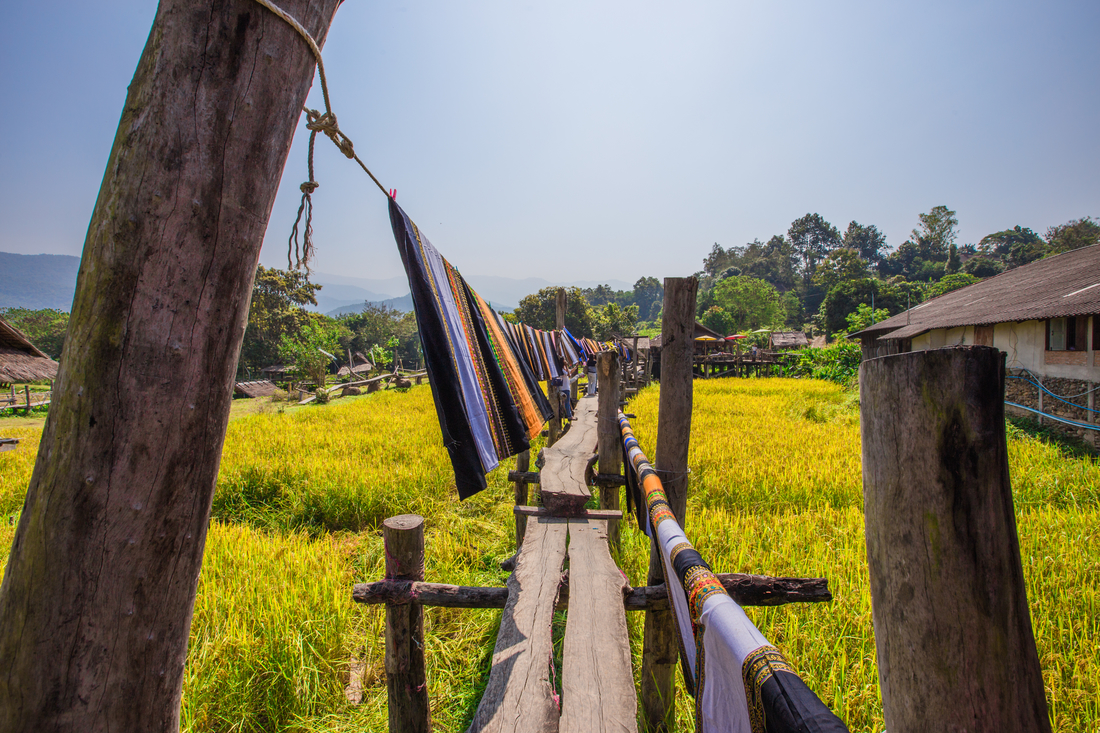 In addition to rice, Tai Lue culture thrives in Pua as it's where they first settled in Nan. One of the most interesting characteristics of Tai Lue culture is that women must learn to weave.

Tai Lue women in Thailand use a special technique called Tapestry Weaving (Lai Nam Lai), using their fingers to interlace the colorful cotton threads and create highly intricate patterns. The results look like water flowing, hence the name Lai Nam Lai, which means literally that. Today you can still admire the art of traditional Tai Lue-style weaving and also buy the handmade products in Pua, especially at Lamduan Textile.
Discover other things to do in Nan, Thailand.
3. Ban Thung Hong in Phrae, Northern Thailand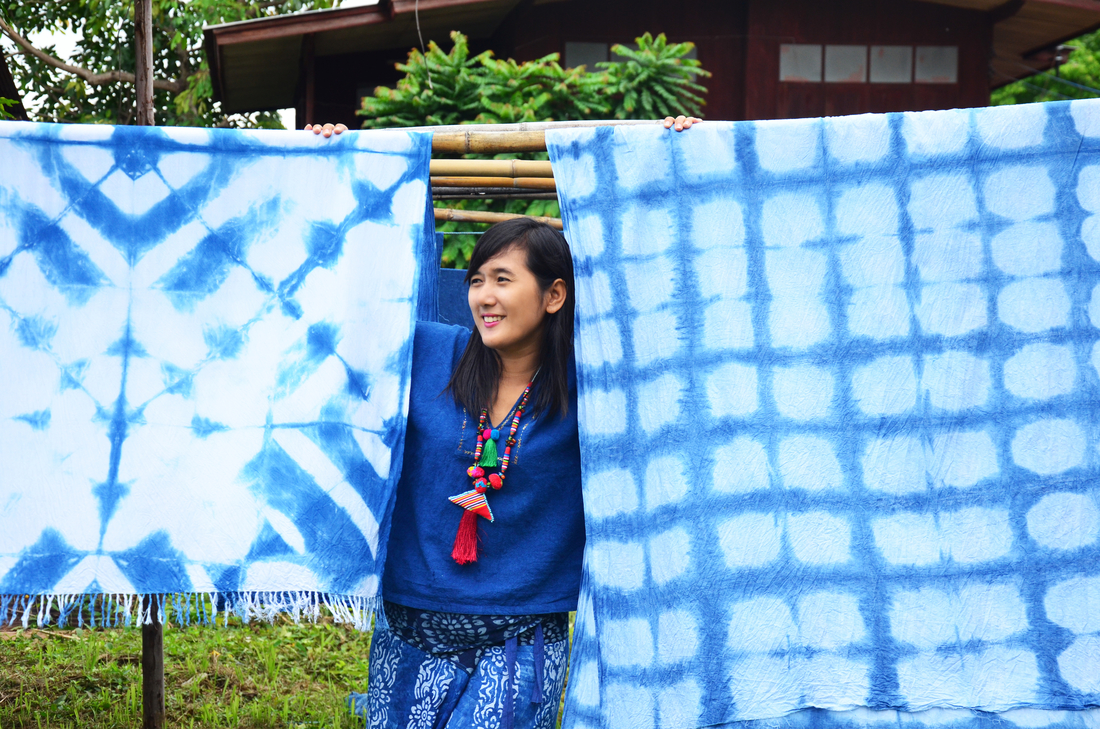 You might remember Thailand's classic indigo farmer shirts and pants, but did you know that these traditional clothes or Mo Hom are from Ban Thung Hong? Hom is the name of the plant for Mo Hom indigo dye. From weaving to dyeing, you can learn the whole process of Mo Hom production or even design and make your own costume at this village. The locals at Ban Thung Hong Village are creative and have branched out into other products like Mo Hom bags, umbrellas and etc.
Discover other things to do in Phrae, Thailand.
4. Ban Hat Siew in Sukhothai, Northern Thailand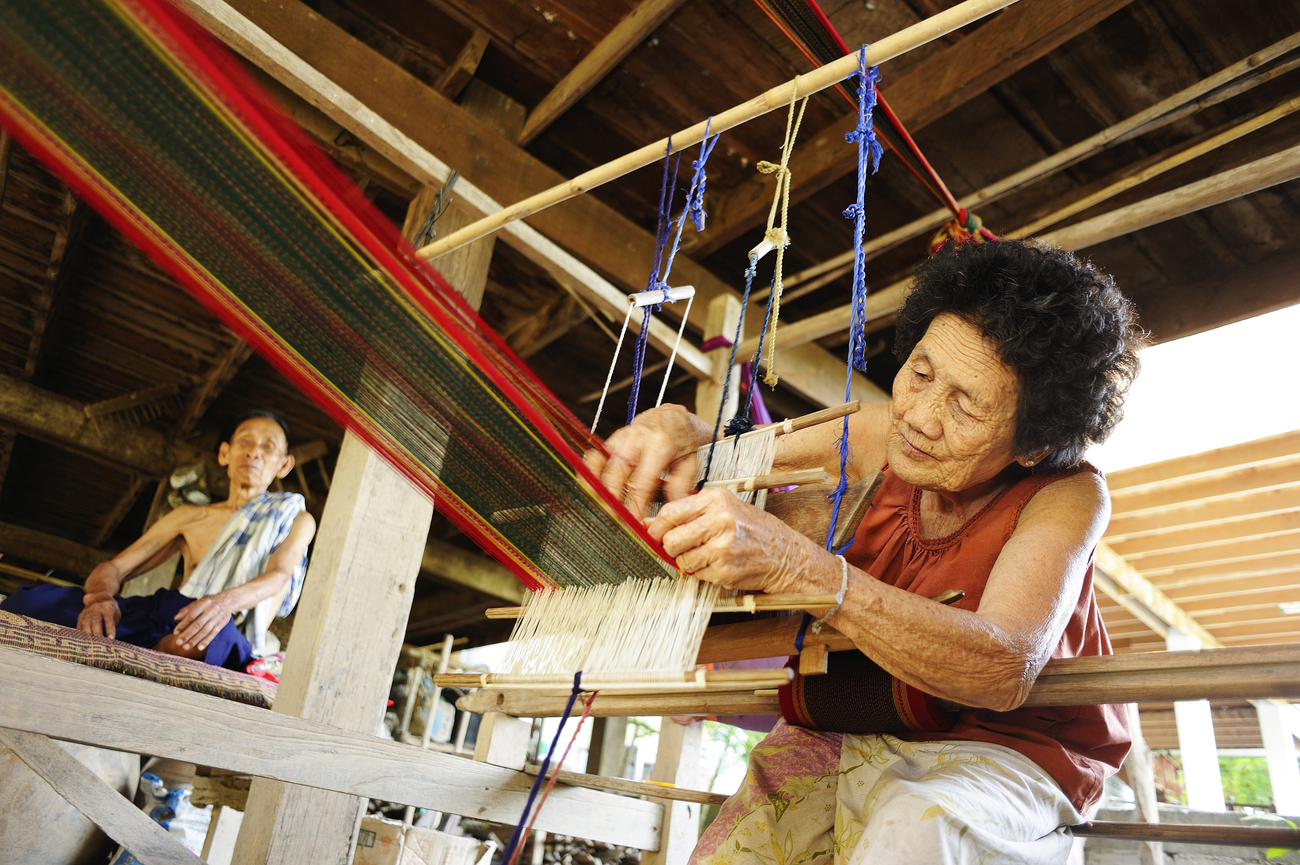 Known for colorful patterns, Ban Hat Siew textiles are Tai Phuan local wisdom, ethnic people who migrated from Laos. All Tai Phuan women learn to weave before they turn 16, so they create their own patterned sinh (a kind of sarong) for ceremonial use. Ceremonial sinh is called Pha Sinh Teen Chok in Thai.

The difference from other kinds of sinh is that, each Pha Sinh Teen Chok is divided into not three but four parts: the head, the body, the foot and the special part that's connected to the foot part. This extra part is the most beautiful part of Pha Sinh Teen Chok and the villagers of Ban Hat Siew use porcupine quill in the patterning process.
5. Ban Phon in Kalasin, Northeastern Thailand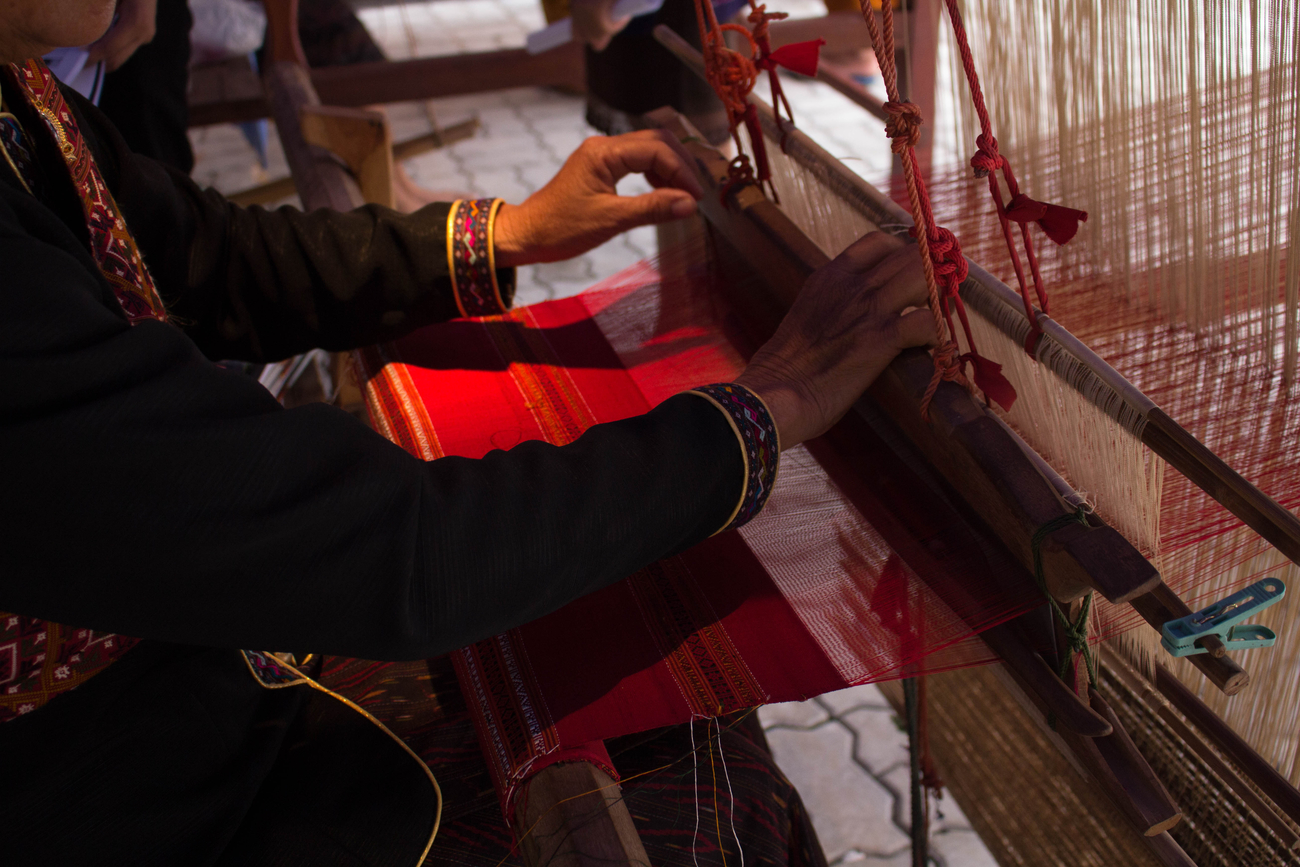 Among a variety of silk fabrics in Thailand, Phrae Wa silk of Ban Phon is the Queen of Silk and probably the most famous. A handicraft by Phu Tai women, it's the same fabrics used for draping Northeastern Thai women's shoulders. Fusing the khit technique for embossed patterns and the chok technique for colorful patterns, Phrae Wa silk is exceptionally beautiful.
Red was the most common dye for Phrae Wa silk, but now the locals use other colors for more variety. From pink and purple to blue and green, Phrae Wa silk has become more colorful than ever.
6. Wat That Prasit Handicraft Center in Nakhon Phanom, Northeastern Thailand
When the late King Rama IX and the Queen visited the community, they received the local Mudmee ikat silk as a gift and saw its potential. Therefore, Wat That Prasit Handicraft Center was established as a royal initiative to help the locals earn more income outside the agricultural seasons and better their quality of life.
Since then the locals have been developing their Mudmee silk weaving and natural dyeing techniques.  
7. Ban Non Rua in Sakon Nakhon, Northeastern Thailand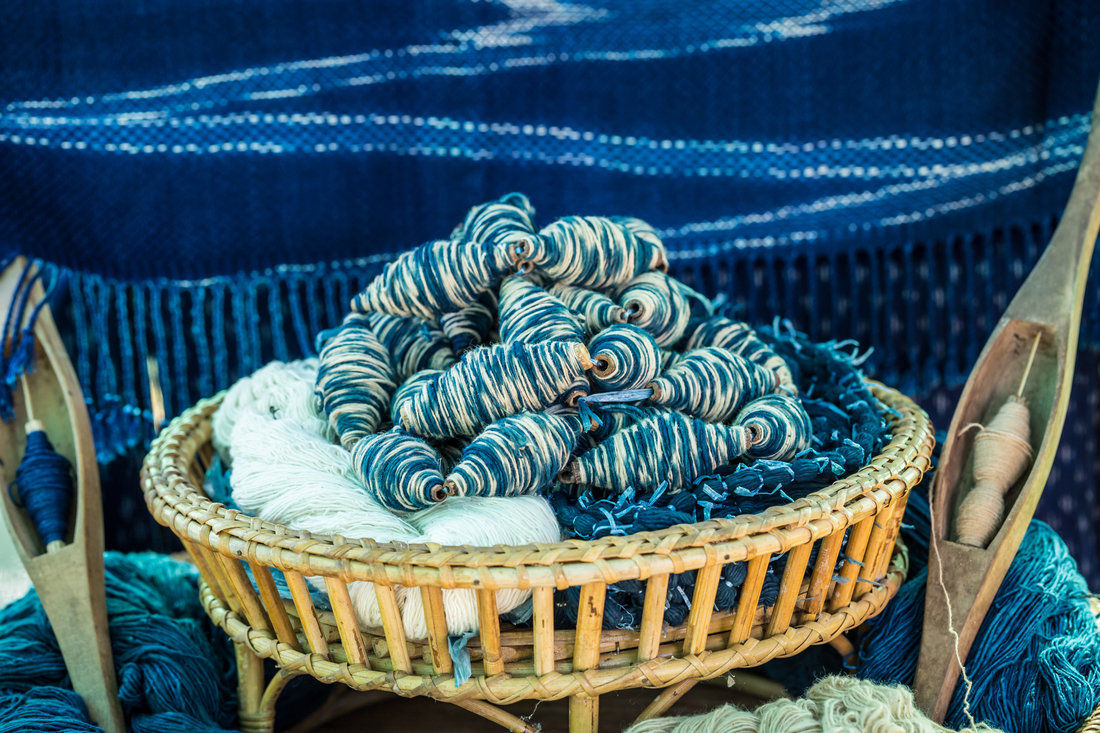 Thai textiles have many shades. Even the shades of indigo-dyed fabrics vary. Unlike Mo Hom of Ban Thung Hong in Phrae, indigo of the clothes in Sakon Nakhon comes from the plant kram instead of hom. The village Ban Non Rua is especially famous for their indigo-dyed fabrics, but there are many Sakon Nakhon villages where the kram heritage is alive. Take for example Mae Thita (The movie Troy featured their indigo-dyed clothes) and Ban Tham Tao (The locals plant and produce more kram dye than anywhere in Sakon Nakhon). Each village has its own style and the locals are still developing their techniques even today.
Experience hands-on indigo dyeing with the local gurus. You'll learn the regional art step by step and go home with your very own indigo-dyed piece, a real heart-made and handmade souvenir from Thailand. Read more here.
Sakon Nakhon and its dyeing tradition also has a lot to do with buffaloes, Isaan's signature animal. Our Local Expert also lets you befriend the adorable cattle and discover how they help the locals craft up their tie-dyed products. You will get to make your own tie-dyed t-shirt and taste authentic Isaan food too. Read more here.
Discover other things to do in Sakon Nakhon, Thailand.
8. Ban Tha Sawang in Surin, Northeastern Thailand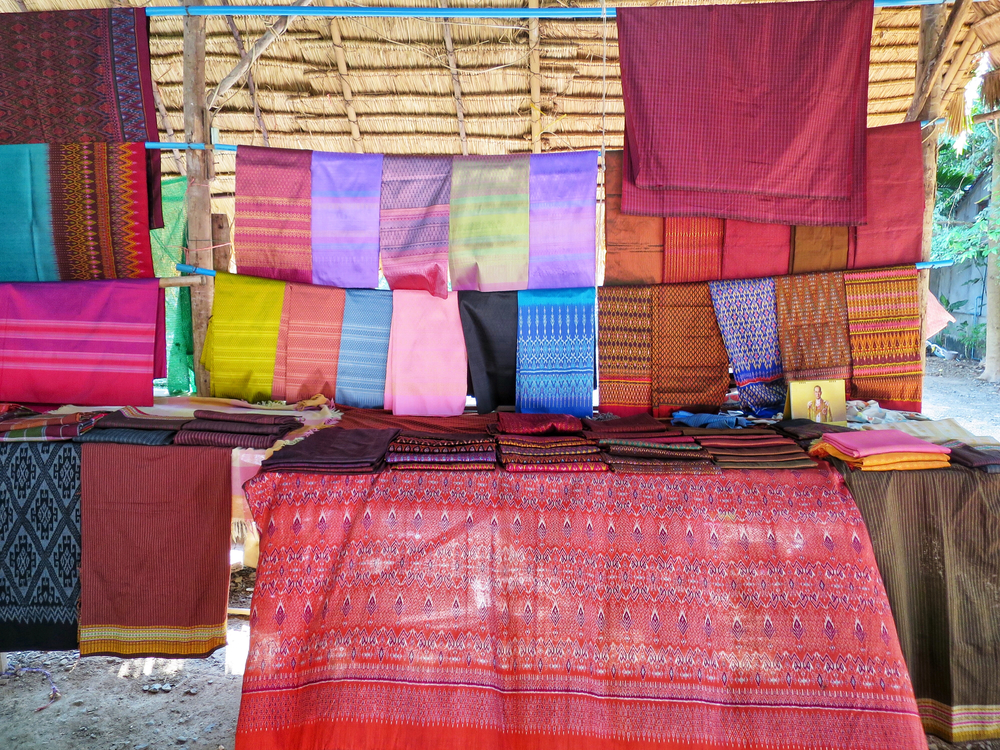 Pha Yok Thong is a very special kind of silk. It was chosen as the shirt and shawl material for global leaders who participated in the 2003 APEC in Thailand. This top-notch silk originated at Ban Tha Sawang in Surin.
The beautiful village features not only traditional wooden houses but also a museum that exhibits silk fabrics with ancient Thai patterns. Naga holding Garuda, Thepphanom (temple guardian angels with their hands at the wai position) and so on. 
9. Ban Na Meun Sri in Trang, Southern Thailand
Ban Na Meun Sri women weave their own fabrics for important occasions in their lives: their wedding, their son's ordination and their funeral. The 200-year-old craftsmanship almost died out due to the lack of material during the World War II and industrialization of weaving.
Fortunately, the elder in the village initiated the preservation of their traditional weaving and their successors have established Ban Na Meun Sri weaving group. Red fabrics with yellow patterns are the most common, but many unique patterns are available. From doll pattern to Constitution Monument pattern. Over 100 beautiful handwoven fabrics are on display at the museum.
Discover other things to do in Trang, Thailand.
---
Welcome to Amazing Thailand – Open to the New Shades. This is your ultimate Thailand travel guide, off-the-beaten-track edition. Go local and explore Thailand through new perspectives. Open your heart and mind… to the shades of Thailand that you never knew exist!