Chiang Rai, Northern Thailand
With the Thai cave rescue making headlines everywhere from June to July 2018, the low-key Northern city of Chiang Rai has gone down in history. While most people will probably associate Chiang Rai with the flooded Tham Luang Cave, the 13 trapped members of the Wild Boar Academy football team, and last but not least, thousands of admirable Thai and international rescuers, Chiang Rai has a lot more pleasant surprises for you. Yes, we're talking about its natural beauty and history that will surely captivate travelers from all over the world.

While most tourists flock to Chiang Mai, Chiang Rai serves up its own versions of nature and culture that you shouldn't miss. Many of you might already know the White Temple or Wat Rong Khun, but did you know that other fairytale-like temples and architectural works await? When it comes to nature, Chiang Rai will take your breath away with its unique mountainous landscape, vast tea plantations, and colorful flower fields. You'll definitely find something different in Chiang Rai while avoiding tourist crowds.   

Chiang Rai is also incredibly easy to access. You can catch one of the many direct flights from various cities in Thailand (including Bangkok and Phuket) as well as China and Hong Kong. If you're already in Chiang Mai, take a three-hour bus ride straight to Chiang Rai. Check out these top things to do in Chiang Rai, Thailand, and enjoy authentic local experiences before the rest of the world catches on.
---
Top 11 Things to Do in Chiang Rai, Thailand

1. Journey into fantasy
When in Chiang Rai, you might have to pinch yourself to see if you're dreaming… or ask yourself if you're in heaven… Thai-style heaven, that is. Chiang Rai is the hometown of some of Thailand's most famous artists and many temples and other Buddhist architectural works in the city are some of their masterpieces. Interestingly, these fantasylike works of art actually reflect some truths about life.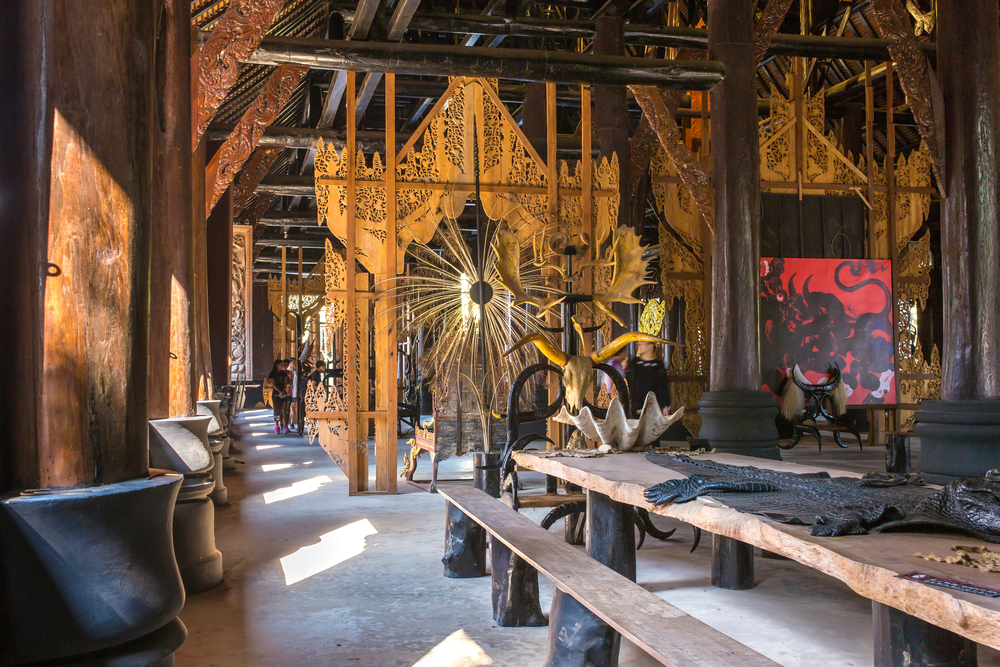 1) Black House (Baan Dam Museum)   

Born in Chiang Rai, late national artist Thawan Duchanee left many marks in Thai art scene. One of his most impressive (and eeriest) works is Black House, which was also his home and studio. The complex consists of 40 Northern Thai temple-like buildings, each one adorned with animal remains that the modern Buddhist artist collected. Black House isn't just about its dark color scheme but also the dark yet true concepts. Skins, skulls, horns, bones and other animal parts represent the inevitable end that everyone must face and can be interpreted in many more ways.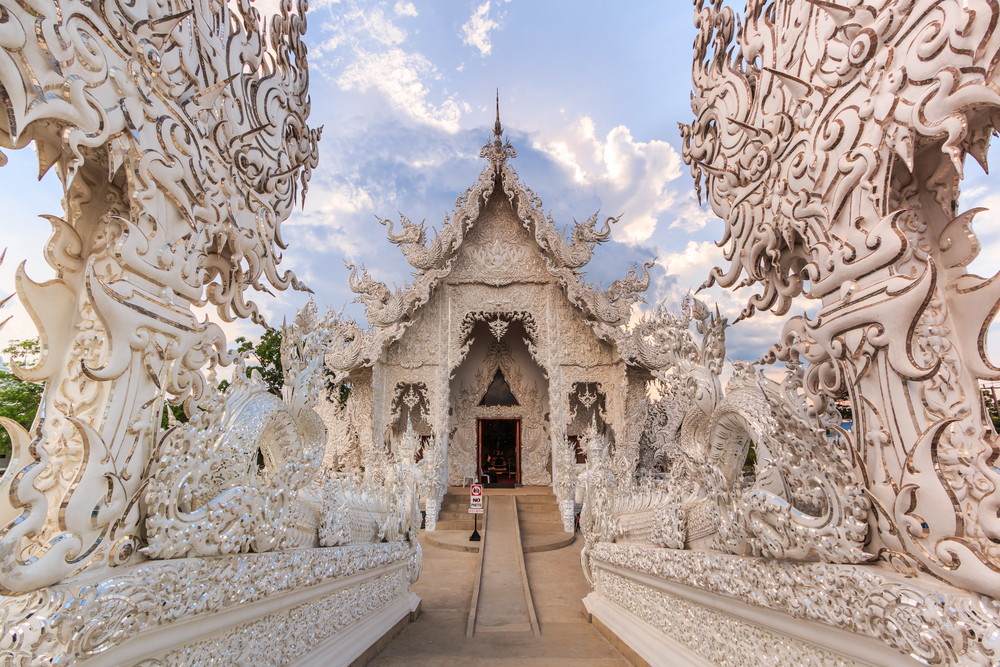 2) White Temple (Wat Rong Khun)

Like Yin and Yang, White Temple is the opposite of Black House, but the temple has its own amazing history. Wat Rong Khun was once an old, deteriorated temple until national artist and Chiang Rai native Chalermchai Kositpipat renovated it in an entirely new style. Apart from its heavenlike all-white exterior and intricate carvings, the artist mixes in pop culture in the White Temple design. Also, don't forget to visit Chalermchai Kositpipat's art gallery in the temple complex. The gallery houses a large collection of the national artist's paintings.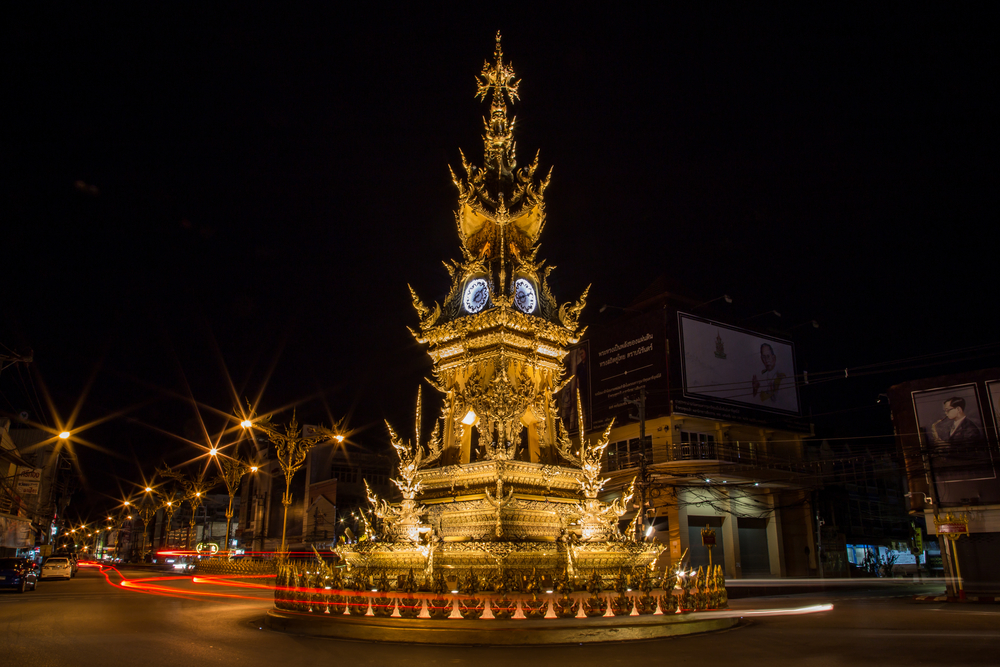 3) Chiang Rai Clock Tower
Completed only in 2008 by Chalermchai Kositpipat, Chiang Rai Clock Tower is a proof that new can also be gold. While strolling around the town, there's no way you can miss the clock tower's golden structure and details. At night, Chiang Rai Clock Tower will glitter gold and there's a light and sound show every day at 7, 8, and 9 pm.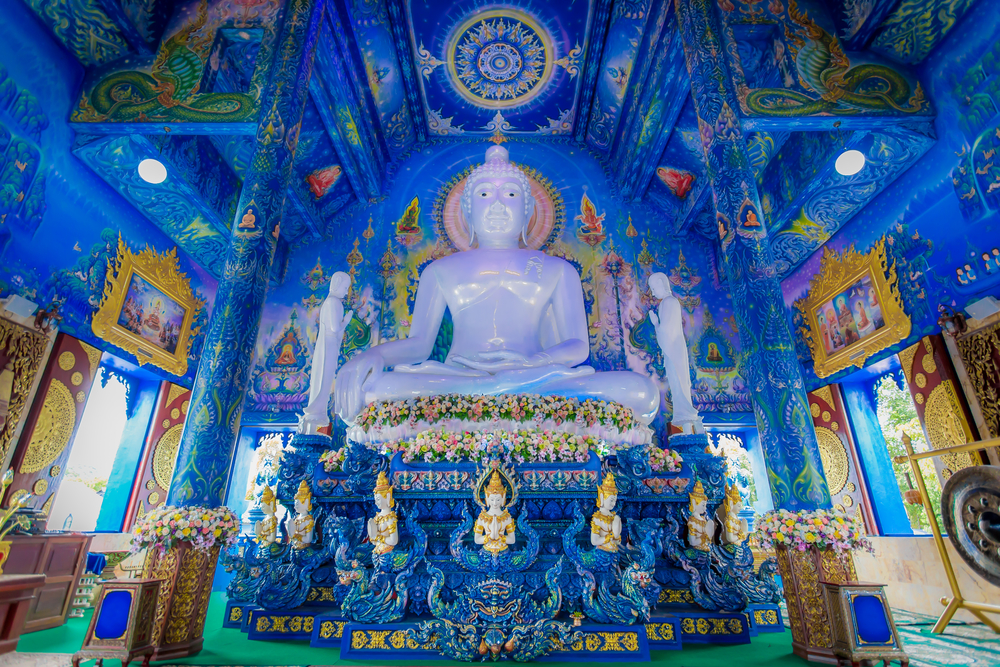 4) Blue Temple (Wat Rong Suea Ten)

Mystical, right? Designed by Chalermchai Kositpipat's student, Salanok, the Blue Temple is the latest addition to Chiang Rai's color-coded architecture. Painted sapphire blue inside and out, Wat Rong Suea Ten isn't as big as the Black House and the White Temple, but your journey into fantasy won't be complete without visting it.
As Chiang Rai is quite big, getting a private car is the easiest way to explore the city. Temple-hop and top your day with the best Khao Soi in town with our Local Expert and learn about the history behind each iconic temple. 
2. Take an art walk in Chiang Rai Old City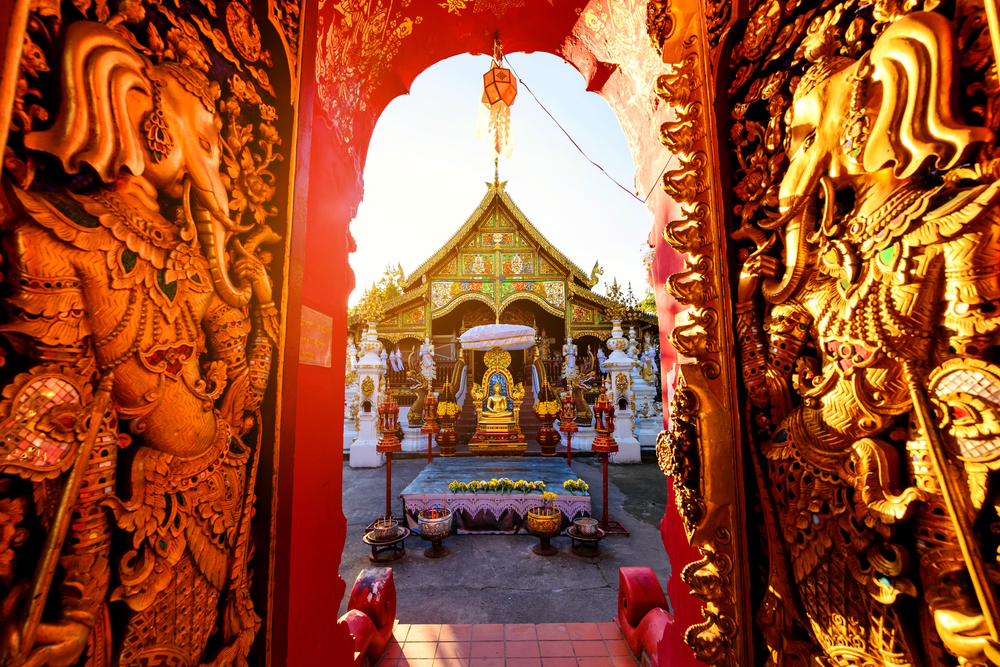 While Chiang Rai's most beautiful temples are located outside Chiang Rai old town, we still highly recommend you explore the old town area for more Buddhist arts. Apart from the golden Chiang Rai Clock Tower, there are a lot of small but unique temples that never seem to get crowded. If you're tired, there are always chic cafés and local eateries for you.    

1) Wat Ming Muang

Almost as old as Chiang Rai itself (about 800 years old), Wat Ming Muang beautifully fuses Tai Yai and Lanna styles together.

2) Wat Phra Kaew

Does the name ring a bell? Chiang Rai's Wat Phra Kaew is where the Emerald Buddha (Phra Kaew Morakot) was discovered before it was eventually moved to the Grand Palace and the Temple of the Emerald Buddha (Wat Phra Kaew) in Bangkok. Today Chiang Rai's Wat Phra Kaew enshrines its own Emerald Buddha that's actually carved from jade.  

3) Wat Phra Singh

One of Chiang Rai's oldest temples, the temple boasts a Lanna-style viharn (assembly hall) with wooden doors crafted by National Artist Thawan Duchanee. Like Wat Phra Kaew, Wat Phra Singh was once home to one of Thailand's most revered Buddha images, Phra Singh. While the Buddha image is now enshrined at Wat Phra Singh in Chiang Mai, you can still find well-crafted replicas at Chiang Rai's Wat Phra Singh.

3. Shop and dance the night away, the Thai style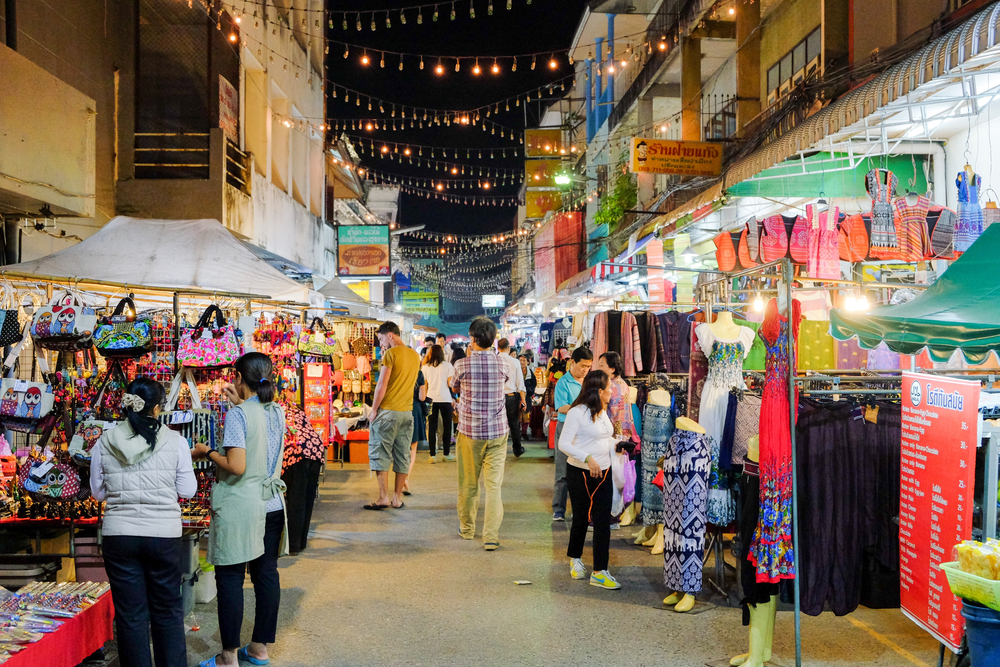 In Chiang Rai, you can shop without worrying about midday heat! Chiang Rai Night in the old city area opens daily, so you can always buy local handicrafts for souvenirs. The night bazaar is also a cultural experience with local food and traditional shows.

If you prefer walking street, Chiang Rai Walking Street opens every Saturday from 4pm to midnight. Of course, traditional arts and crafts and Northern-style street food are to be expected, but where else can you join traditional Thai dance with locals? Foreigners are more than welcome to try Thai dancing with Chiang Rai locals on Chiang Rai Walking Street.
4. Gaze upon Thailand, Myanmar, and Laos at once at the Golden Triangle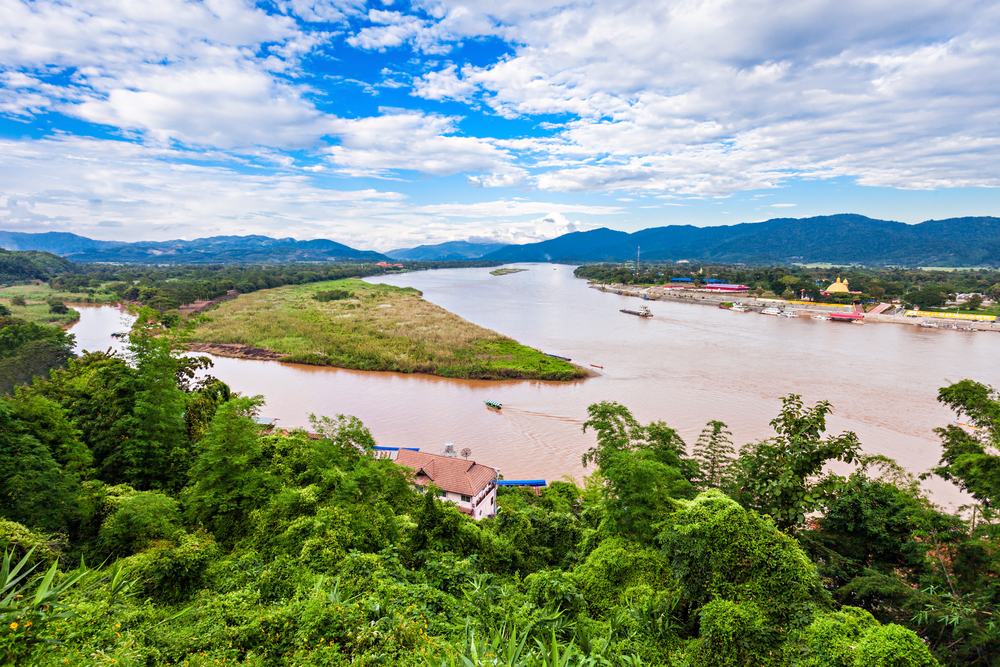 While the Golden Triangle has a dark history of drug trafficking, the area is now safe and has become one of the most popular destinations in Chiang Rai. The Golden Triangle is where the borders of Thailand, Myanmar, and Laos (the Mekong River and the Ruak River) meet, so don't miss the viewpoint. There is also the golden Big Buddha enshrined on a boat. If you plan a longer stay, you can even take a cruise to Laos or Xishuangbanna in China.
Let your feet touch the soil of three lands in one day – explore the golden triangle, Laos Market and Myanmar border with our friendly Local Expert.  
5. Bike through an ancient civilization in Chiang Saen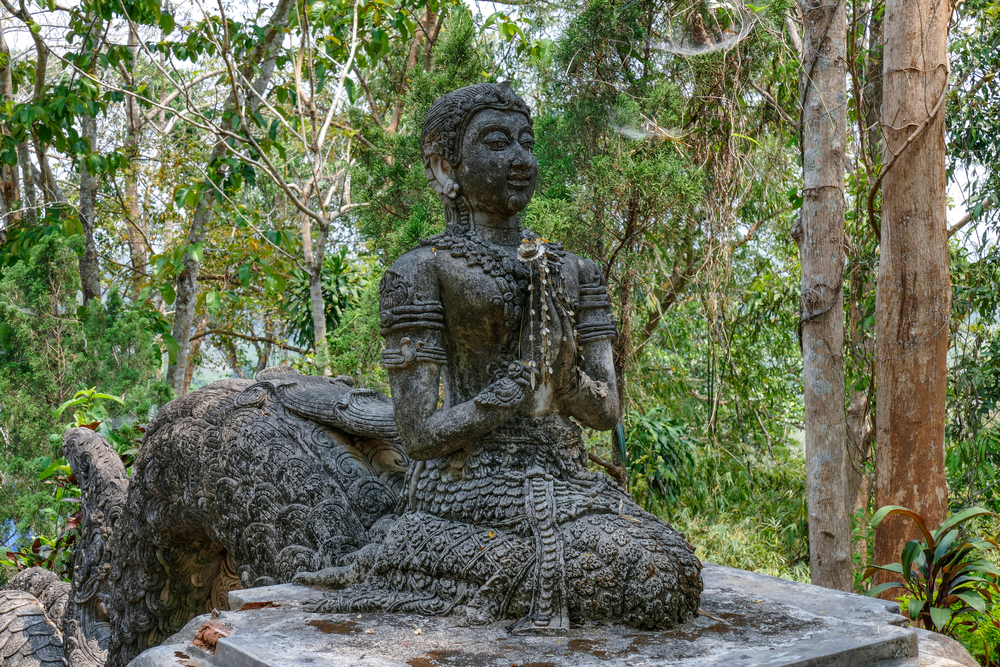 Dating back to the seventh century, Chiang Saen was one of Northern Thailand's most important ancient kingdoms. Rent a bike and cycle along the old city wall to the ruins of temples around Chiang Saen. The area is still a hidden gem and also green, so you can escape not only the crowds but also the heat. Drop by Chiang Saen National Museum for more history and antiquities.  

6. Reach for the sky at Phu Chi Fa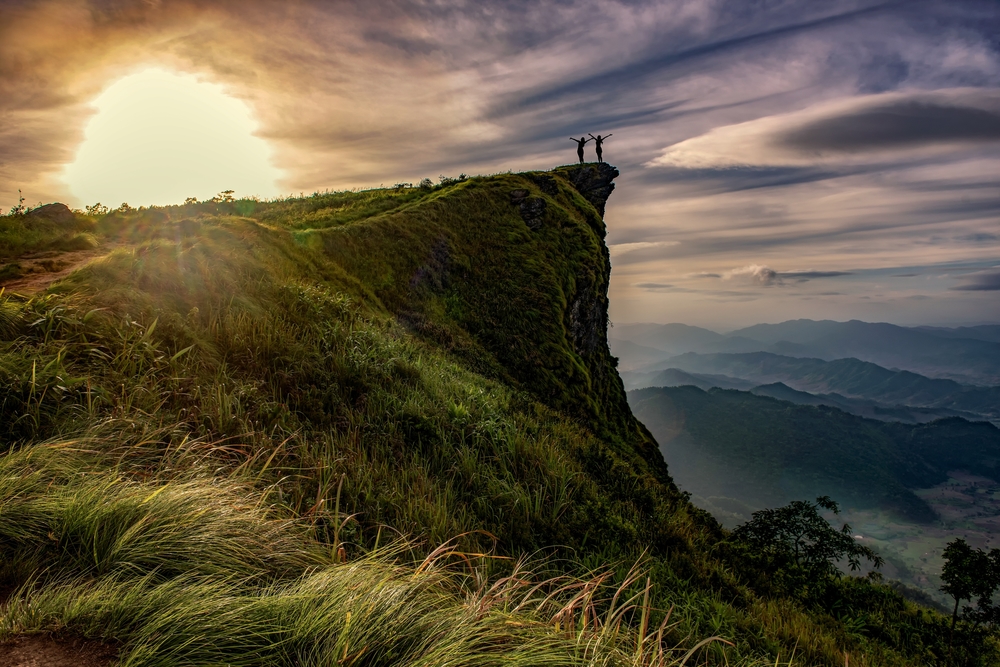 Two hours away from Chiang Rai city center is Phu Chi Fa, one of the most popular spot to view the sea of mist and sunrise among Thai travelers that remains somewhat under the radar among foreign visitors. Pointing to the sky as its name says, the silhouette of Phu Chi Fa peak against the sunrise is a stunningly unique sight.

Once you catch the sunrise at over 1,600 meters above sea level, don't leave right after. Phu Chi Fa straddles the border of Thailand and Laos, so you can see the Mekong River, forests and mountains in the other side after the mist is gone. While you can enjoy the sea of mist at Phu Chi Fa all year round, visit in December or January for wild Himalayan cherry blossoms.

7. Enjoy a unique mountain adventure at Doi Pha Tang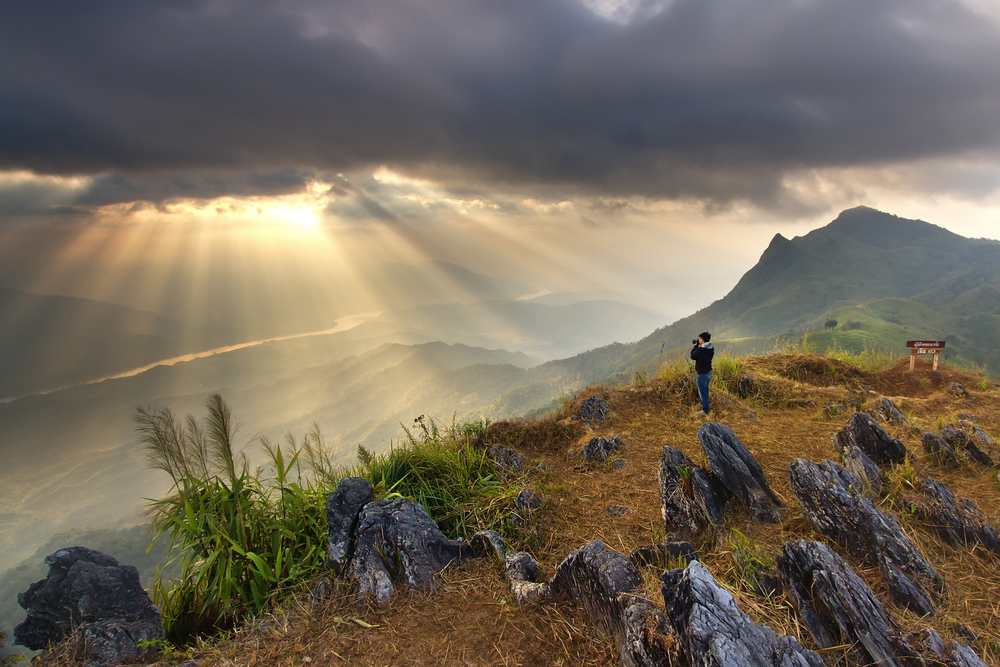 Few people have been there, even Thai locals. This makes Doi Pha Tang a great destination for explorers. Apart from panoramic views of mist and clouds from Hill 101, Hill 102 and Hill 103 (the peak that rises 1,653 meters into the sky), Doi Pha Tang is unique with rock cliffs that look as if they were torn apart or Chong Pha Kad. Look through the cliff gate and when the waves of mist dissipate, you can see the Mekong River and Laotian valleys down below.

Like Phu Chi Fa, Doi Pha Tang is painted in pink from December to January with wild Himalayan cherry blossoms.

8. Admire the blooms and balloons at Singha Park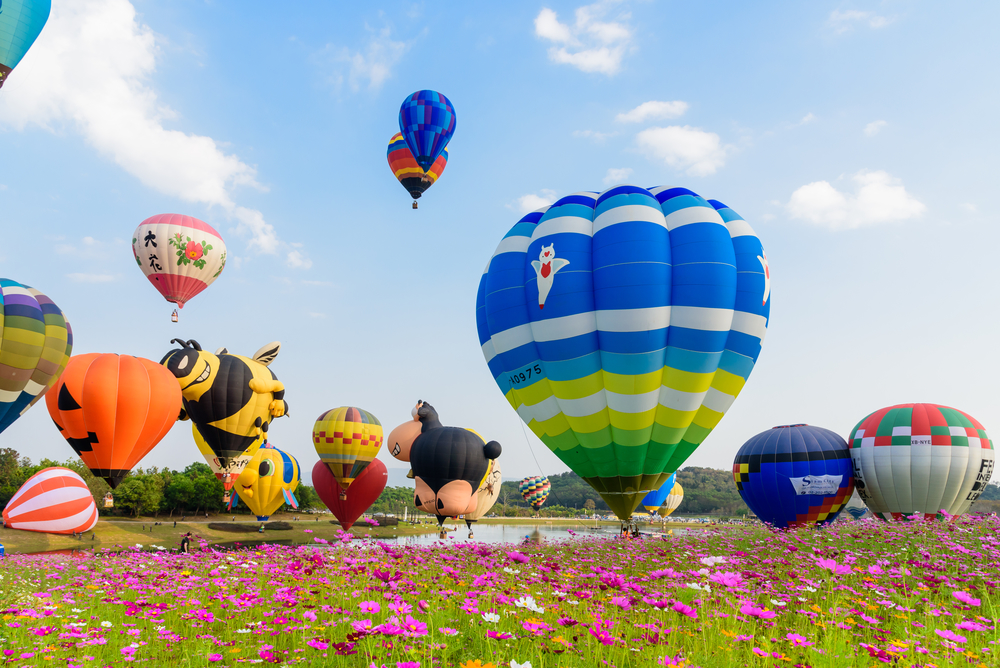 Singha Park is a property of Boon Rawd Brewery. Yes, the manufacturer of the famed Singha Beer. But the park is all about agro-tourism and you'll find fruit orchards, vegetable farms, flower fields, tea plantations and family attractions. It also hosts many events ranging from music festivals to cycling events as well as Singha Park International Balloon Fiesta (every February).       

Don't visit Singha Park without tasting their farmfresh produce and good food and drinks. Oolong tea no. 12 is one of their best products. If you prefer it cool and sweet, try bubble oolong tea. Visit White Temple, Golden Triangle and Singha Park and feast at an authentic Northern restaurant that once served legendary Mark Wiens.

9. Discover the royal and the local on Doi Tung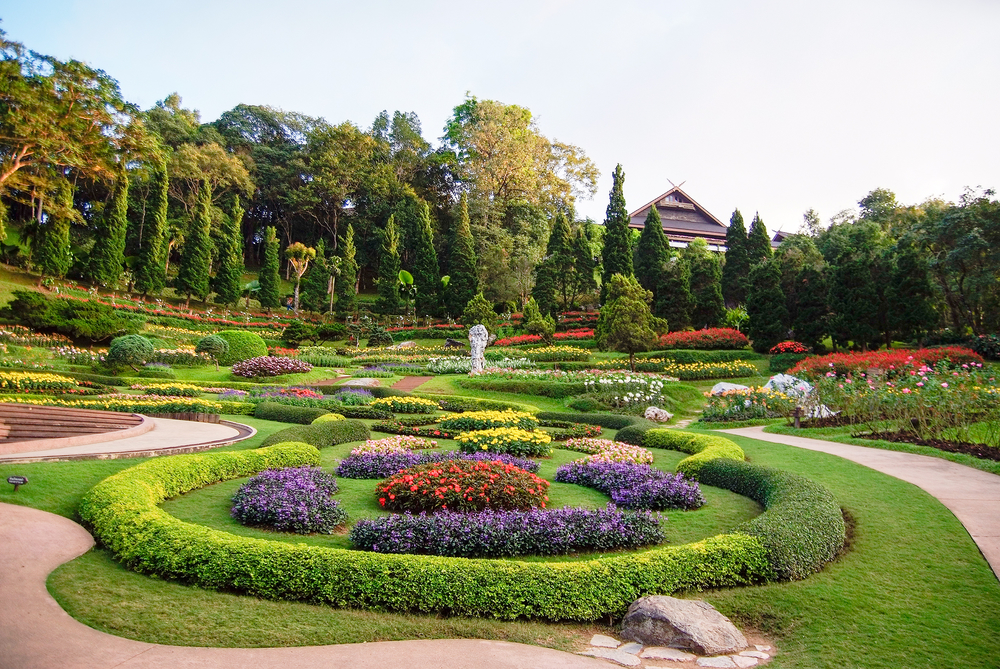 At over 1,500 meters above sea level, Doi Tung is a great place to enjoy a breath of fresh air. Stroll among lush greenery and colorful flower beds of Mae Fah Luang Garden, complete with the new Doi Tung Tree Top Walk.

However, Doi Tung has more than nature. As the center of the Doi Tung Development Project by Mae Fah Luang Foundation Under Royal Patronage, you can learn how the poppy fields and opium trade were transformed into sustainable agricultural projects. Support the local hill tribes by purchasing their fresh vegetables, fruits, and other products including silk clothing. As the Doi Tung Development Project was initiated by Princess Mother, you can also visit her Lanna- and Swiss-style Royal Doi Tung Villa. Visit both White Temple and the Royal Doi Tung Villa, then have a delicious Northern Thai lunch set at a locals' go-to restaurant.

10. Take delicious sips and delightful shots at tea plantations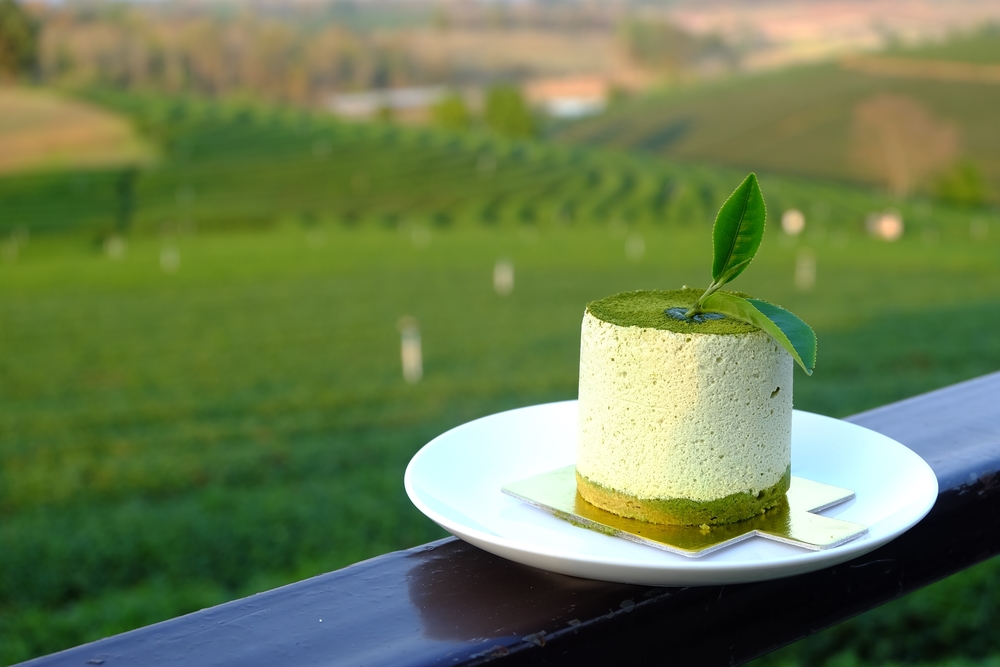 Chiang Rai has some of Thailand's most beautiful tea plantations and highest-quality tea. Each one has its own charms and offers different kinds of tea, so take your time:

1) Choui Fong Tea Plantation

When you look for something to quench your thirst at 7-Eleven or supermarkets in Thailand, you'll find a vast array of tea brands such as Oishi, Ichitan, Lipton, Unif and Malee. The tea leaves behind all these famous brands come from Choui Fong Tea Plantation. 

Going strong for over 40 years, Choui Fong Tea Plantation is the biggest and arguably the most beautiful tea plantation in Chiang Rai. There are two branches, one in Mae Fah Luang and the other in Mae Chan, the latter being over 1 square meters large. The tea plants are grown on descending hills and if you visit the Mae Chan branch, don't miss its on-site restaurant. Sit on the terrace overlooking the tea lots, slurp green tea smoothie and savor other tea-based desserts like green tea tiramisu. Visit White temple, Blue temple, Black House and cool it down with a visit to Choui Fong tea plantation here.

2) 101 Tea Plantation

Doi Mae Salong is home to some tea plantations and all of them offer top-notch tea. However, the tea that hit the world's stage and also won the first place came from 101 Tea Plantation. Having placed first at the World Tea Festival in 2004 for their oolong tea no. 12 and no. 17, 101 Tea Plantation is rightfully famous. Fortunately, the mountain remains blissfully calm. Sipping hot tea in such a dreamy location… Heavenly. Their Four Season tea and herbal tea are also well-known.

101 Tea Plantation has an interesting history. The family of the founder is Taiwanese and they have been harvesting tea for generations. The company also involves in the royal initiative to help the hill tribes. Previously growing and trading opiums, the hill tribes in the area are now working in the tea plantation and have a better quality of life.

3) Wawee Tea Plantation

Over 30 years ago, Wawee Tea Plantation was the first Thai tea plantation to grow oolong tea. Located on picturesque Doi Wawee, the plantation produces Taiwanese tea like Ching Ching no. 12 and no. 13 and also Assam tea and local tea. Apart from tracing the origin of Thai oolong tea, you can see the local life of Chin Haw people (Chinese who migrated from Yunnan to Thailand via Myanmar and Laos). Their village is on Doi Wawee and tea planting is their way of life.

11. Visit Wat Huay Pla Kung at night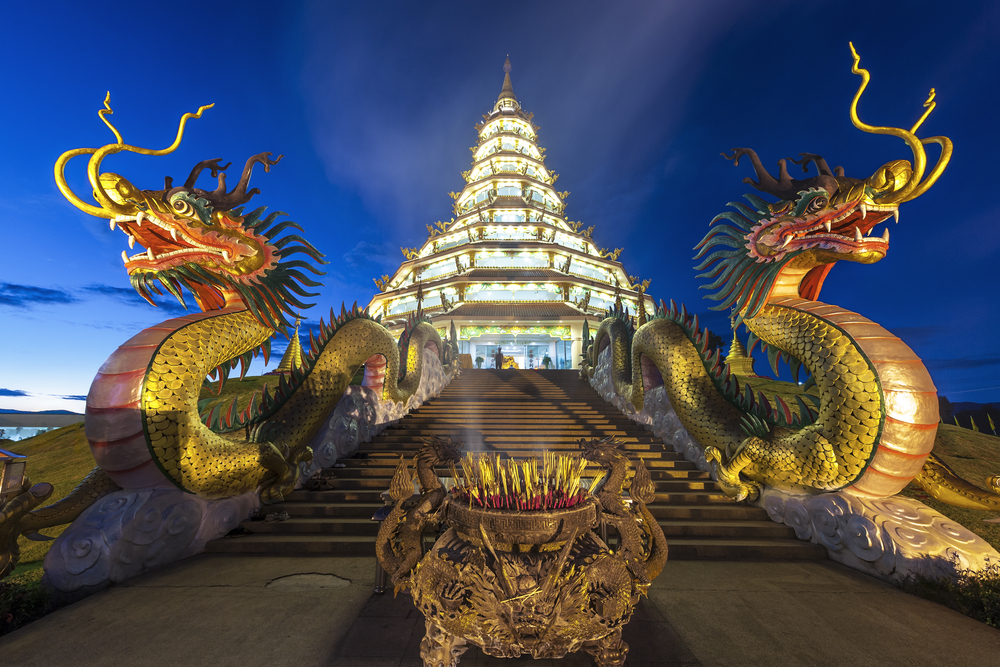 Another temple but it's no ordinary. Everything about Wat Huay Pla Kung is grand. You can spot the nine-storey pagoda and the gigantic white Guan Yin statue from afar and inside the temple hall stands another large wooden Guan Yin image.

While you can go to Wat Huay Pla Kung at day, you can enjoy the illuminations at night.
---
That's it for things to do in Chiang Rai, Thailand, but that's not all you can do on your journey. Combine your visit to Chiang Rai with trips to other charming cities in Northern Thailand.
Welcome to Amazing Thailand – Open to the New Shades. This is your ultimate Thailand travel guide, off-the-beaten-track edition. Go local and explore Thailand through new perspectives. Open your heart and mind… to the shades of Thailand that you never knew exist!