Amphawa District was well known for a small agricultural and trading town along the river Mae Klong, dated back to more than 500 years when canals were like highway of now. The community gained significance in Thai royal history which makes the market so bustling until today.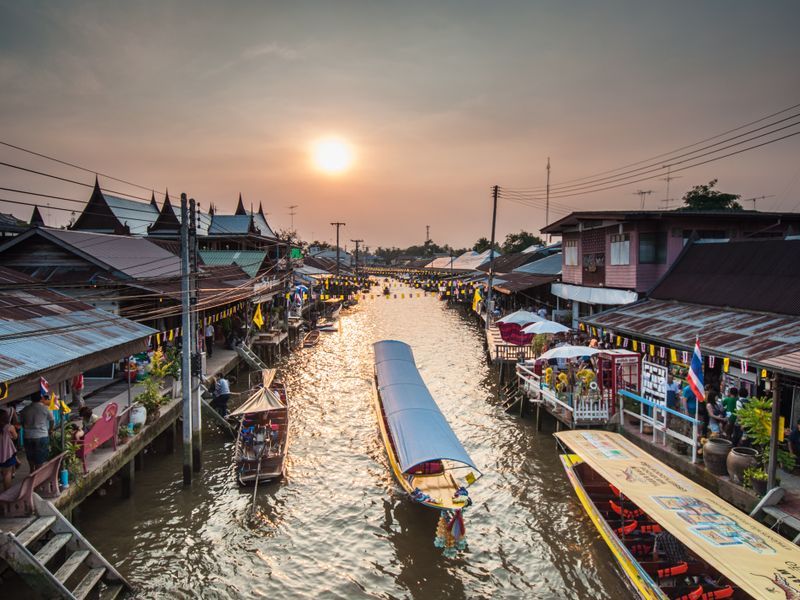 When the King Rama I was still a commoner, he married a local of the Amphawa or previously called Bang Chang. After the couple got married, they stayed within the area and later established a close tie between the Royal family and the Queen's relatives and neighbours. Amphawa was then also referred as Suan Nok (or Outside Garden), as opposed to Suan Nai (or Inside Garden) – a term for the Bangkok-based royal palace. She had 10 children, which 5 originated some of the most famous surnames in Thailand (i.e. Chooto, Saeng-Chooto, Savaddhi-Chooto, Bunnak, and Na Bang Chang).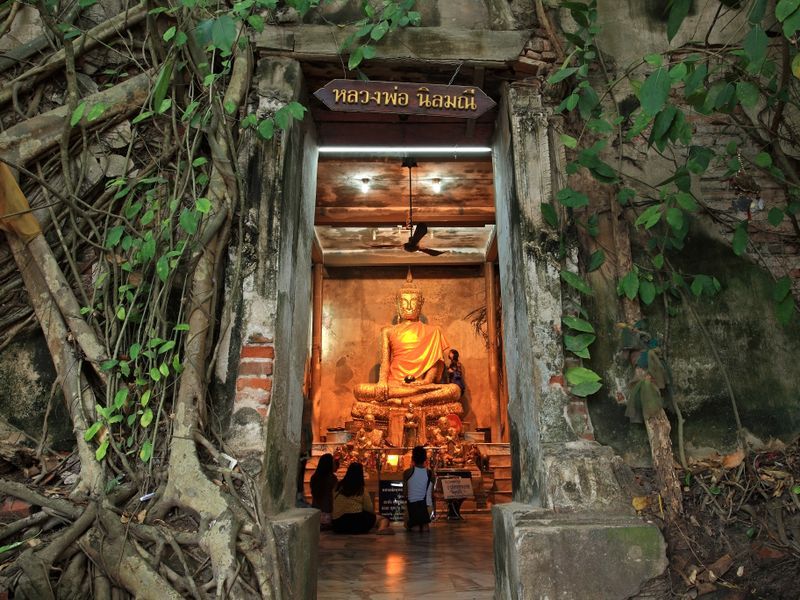 In 2008, the Khlong Amphawa community was granted an Honorable Mention Award from the UNESCO Asia–Pacific Heritage Awards for Culture Heritage Conservation as a result of its efforts to preserve the local culture and architecture. Many development projects have been initiated for the past 10 years as a result of mass tourism while also sparked controversy for the lack of cultural sensitivity.
Amphawa floating market is open every Friday to Sunday while the vibrancy remains mainly in the afternoon-evening. It is located near a temple, Wat Amphawan Chetiyaram, which represents the city centre in the past where parking is provided. When it fully operates, visitors can expect floating vendors in boats loaded with drinks like O-Liang (Thai iced black coffee) and famous Thai a-la-carte dishes/snacks such as fried sea mussels, noodles, and sweets. On the riverbanks, you will find old houses turned into shops offering both foods and souvenirs. Whoever comes to Amphawa floating market shouldn't miss tasting the local food, a nice boat ride to Bang Kung Temple, as well as a night boat to watch home of fireflies!
---
TakeMeTour's Review
Most Thais go there on weekends or public holiday with friends and family. It gives a cool vibe for Thais to sit down having a bowl of noodle by the canal. We don't do as much boat ride as foreign travelers do but it is definitely nice to do! Oh but we do love to go on a boat at night to see fireflies!
---