TakeMeTour's Tip:
The first-ever Michelin Guide Thailand is finally out! Check out the list of Michelin Guide Bangkok 2018 restaurants (Michelin-starred and Bib Gourmand-awarded) and our local tips here for the best experience.
With Michelin Guide announcing Thailand to be the latest country to have restaurants rated with their Michelin Star system, Thailand's food scene has never ever been this exciting! Some have already speculated the list of candidates for the Michelin Star-worth.
It's no doubts that these speculated restaurants have made it to Asia's Best 50 Restaurants this year in 2017. But how many are often visited by locals?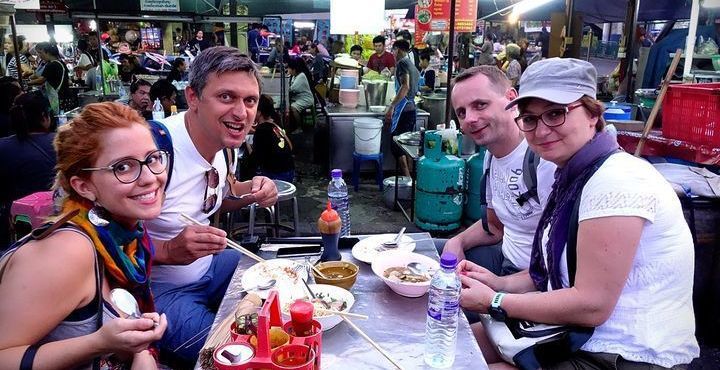 Bangkok is home to 8 millions and is often perceived notable for not only its traffic congestion, but also food paradise. While fancy dining places might draw a lot of international public attention, but what are the real choices local Bangkok residents make for their daily meals?
Undeniably, low price plays a large role in navigating the Thailand's food scene. You might've heard of Singapore's cheapest Michelin Star place, Hawker Chan. We think it simply represents Southeast Asian food culture where a hawker is proven to be Michelin Star-worthy!
So what Bangkok has to offer at a price locals would afford?
1. Bangkok's Chinatown (Yaowarat Street)
This street of Yaowarat is simply full of surprises! Especially at night, hawkers and restaurants are all bustling, offering different kinds of food. Though most foods are influenced by Chinese cuisine, they are made into a version which suits Thai tongue.
A tip for those of you who will go there for the first time: follow where local people queue!
It's always a good idea to have a local expert bring you to try best hawkers and restaurants in Chinatown. This way you won't have to worry about tourist-trap or wonder which way to go, where best to eat.
Many of you might have heard a lot about Thailand's fascinating floating markets. Despite the renowned image of vendors sitting in boats selling vegetables and fruits, at Khlong Lat Mayom Floating Market, the majority of vendors are set on the canal banks offering a hundred kinds of food ranging from fresh vegetables/fruits, finger food, main course, to dessert and snack. Some of these are traditional and rare to find elsewhere in Thailand. So let's hope Michelin Star Judges will come to do the tasting here!
Most importantly, nothing too bizarre about the food that you cannot eat. Many of the previous travellers who have been to the market with TakeMeTour's local experts agree on this. Check out the reviews on these local tours below:
3. Rod Fai Night Market (Train Market)
Besides vintage stuff, lots of hawkers can be found here at Rod Fai Night Market. A famous flavourful pork spine soup (in Thai called Leng) shop has recently been viral on the internet that we assume that Michelin Guide Team must have seen this on their news feed. A lot of other dishes are also offered here including the famous Pad Thai, Honey Pork Rice, Fried Oyster, Whole Grilled Fish and more. Rod Fai Night Market won't disappoint you!
Rod Fai Night Markets are ones of the most crowded when it comes to foods and drinks. You can expect to see a lot of local teen and youngsters. Be prepared to hang around and enjoy a few drinks and live music after good foods!
4. Options for Vegetarian/Vegan?
Chinese influence over Bangkok's food scene also created many options for those who practice Vegetarianism. Although a very small number in Thailand are vegan, non-meat restaurants are scattered in many corners of Thailand's capital. This niche group of customers are the expert for vegetarian food. Only them who know best where to eat vegetarian!
If Michelin Judges ever give a star for vegetarian restaurants, we're pretty sure one of these will make a strong candidate!
5. Home-Cooked Meals by Locals
What we all agree on is that no Michelin Star restaurants can ever beat your Mama's home-cooked meals! Am I right?!
But how to find a home-cooked meal when one is abroad with no local friends? Luckily, TakeMeTour.com gives you the possibility to connect with verified locals who can take you to their houses and have this exclusive experience dining with them and their families.
These local experiences will give you a glimpse of what a true Thai culinary culture is. For this kind of food experience, we will let you be the judge! You can find out who offer home-cooked food experience in Bangkok on TakeMeTour here:
Doubtlessly, we think the launching of Michelin Guide in Thailand will be extremely helpful for Thailand's food & restuarant industry. While the fine-dining are likely to be awarded a star of two, we hope to see local shops and down-to-earth hawkers (like Hawker Chan) receive some of the Michelin Star too! The Michelin Guide wouldn't be as accurate without being able to show travelers the real gems of Thailand where many of its population still rely heavily on street food.