Songkran Festival, Songkran Day, Thai Water Festival or Songkran, Thailand's signature festival has many names. Celebrated from April 13 to 15, Songkran Festival is a special time when Thai summer turns cool and fighting becomes a friendly act... All thanks to the world's biggest water fight that's covered in every single Songkran guide.
While many travelers know that Songkran Day is also the traditional Thai New Year, water fight has become synonymous with the festival. Many travelers have enjoyed the Thai Water Festival aspect, but few have experienced the traditional beauty of Thai New Year. Crazy or calm, your Songkran Day can go either way depending on where you go.
This ultimate guide to Songkran Festival is split into two editions to cover both sides of the festival, including some local tips.
Songkran 2018 Dates: Friday, April 13 to Sunday, April 15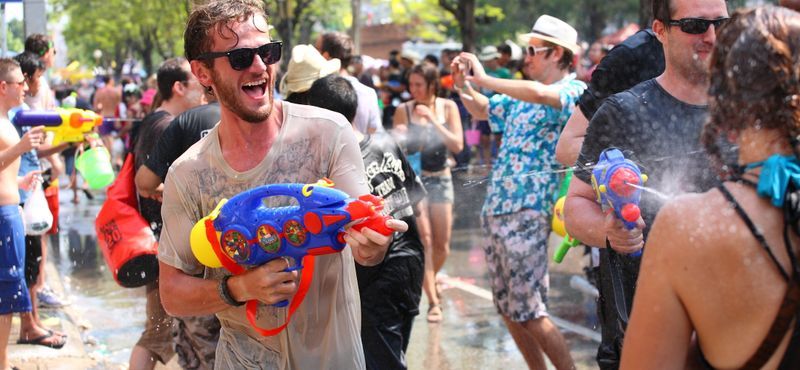 Things to Do during Songkran Festival 2018: The Crazy Edition
1. Get wet and wild at Thai Water Festival, respectfully
With the temperature rising as high as 40 °C, April is the hottest month of the year in Thailand. Since Songkran Day is celebrated in April, water has become the staple of the festival. Over the years, it has evolved from gentle water splashing at family and friends to a full-blown water fight, especially on the main streets of Bangkok, Chiang Mai and Phuket. Bowls, buckets, hoses and water guns are all fine in this playful water war. Pickup trucks are armed with huge water barrels and loaded with enthusiastic water fighters.
If you're also a water fighter, you'll love these streets (Please note that they are subject to change):
1) Bangkok: Khao San Road, Silom, Siam, RCA
2) Chiang Mai: Tha Phae Gate
3) Phuket: Soi Bangla
4) Chonburi: Pattaya Walking Street
5) Khon Kaen: Khao Niao Road
Did you know that water splashing is more than a fun way to cool down? It symbolizes washing off other people's bad luck and sins. After all, it's Thai New Year. Time for fresh beginnings and well wishes.
With that in mind, please be considerate before you pull the trigger or dump water on someone. Don't splash water in their eyes. Never use dirty water, ice cubes or anything that's harmful.
Also, don't drench anything that moves. Monks, elderly people and babies are no-nos and please spare unsuspecting passersby and people who are working, too. After all, not everyone wants to join the water fight. To prevent accidents, don't target motorcycles and cars either.
It's better to be safe than sorry, so don't forget to take preventive measure. Protect your eyes with goggles and your valuables with waterproof bags. Don't wear white, so you don't have to worry when it's soaked up.
TakeMeTour's Tip: Want to feel the Songkran spirit even more? Wear colorful floral shirts. While there are no specific outfits for Songkran Day, many locals associate the floral shirts with this festival.


2. Step up and dance at Songkran music festivals
During Songkran Festival, some of the famous streets not only become water battlegrounds but also party venues. Stages and sound systems are set up along with water cannons and foam machines. Besides dancing and having a blast, you can even meet popular Thai singers and DJs at these parties.
However, the party atmosphere also leads to the dark side of Thai Water Festival. There are gropers. There are pickpockets. Some people drink and drive. Definitely not a time to let your guard down.
Please keep in mind that since 2017, it's forbidden to play music and dance on pickup trucks.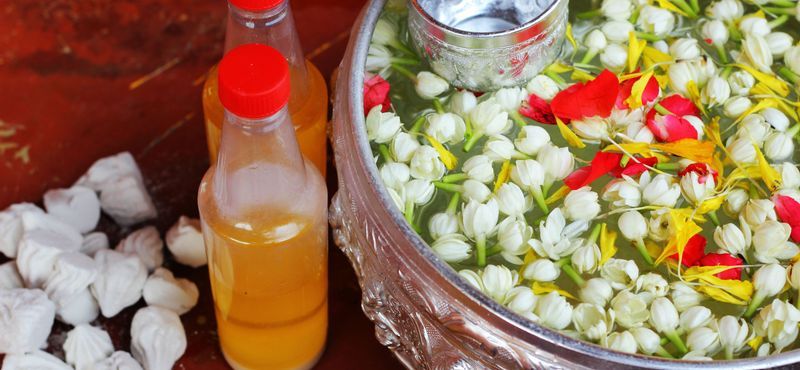 Things to Do during Songkran Festival 2018: The Calm Edition
1. Be blessed by Buddhist monks
Songkran Festival is first and foremost a Buddhist festival. Therefore, it's only natural you can experience its traditional version at temples. On the morning of Songkran Day, Buddhists give alms to monks at temples. Some temples also organize a ceremony in which you can pour water on monks' hands and receive blessings from them. Don't worry if you aren't a Buddhist. Feel free to talk to the locals and they'll help you.
TakeMeTour's Tip: Thais pour water onto elders' hands to show their respect. Since April 13 is also Thailand's Family Day and April 14 the Elderly Day, the younger traditionally sprinkle water onto their parents' and grandparents' hands. The ceremony is called rod nam dam hua in Thai.


2. Build the most beautiful sand pagodas
As strange as that sounds, bringing sand into temple grounds is one of the most unique ways to make merit during Songkran Festival. Every time you walk into and out of temple grounds, your feet also take some sand out of them. Therefore, taking sand into temple grounds symbolizes returning it to the temples. The sand is later used for construction at temples.
At famous temples, especially in Bangkok Old Town and Chiang Mai Old City, locals build sand pagodas and decorate them with colorful flags and flowers. There are even sand pagoda building competitions.
TakeMeTour's Tip: Held as part of Songkran Festival in Chonburi, Wan Lai Festival from April 16-17 in Bang Saen Beach area showcases elaborate sand sculptures. If you want a beach vacay, but aren't a fan of rowdy party scenes in Pattaya and Phuket, choose Bang Saen.


3. Bathe Buddha images
We normally show reverence to Buddha by praying with lotus blossoms, incense sticks and candles, prostrating and placing gold leaf on Buddha images. However, you can also do it with water on Songkran Day. As the Thai New Year arrives, Thai Buddhists "bathe" Buddha images (song nam phra in Thai) by sprinkling water onto them with Thai-style silver bowls. The water is scented with flowers.
Major Buddha images such as Phra Buddha Sihing at Bangkok National Museum and Buddha statue at Wat Phra Singh in Chiang Mai are paraded along the streets, so people can pour water on them.
In addition to bathing Buddha images at temples, you can do it at various shopping malls and markets.


4. Join the vibrant, traditional Thai fun
While the festivities aren't exactly calm, it's still a far cry from the frenzied water fight. Definitely a welcome change for those who want to join the festival without getting soaked from head to toe. Local food stalls line the streets and once you refuel, you can enjoy some midway-style games and watch cultural performances as well as Miss Songkran Beauty Pageants.
Now you know all that Songkran Festival has to offer. If you aren't into the wild Thai Water Festival, you can always go traditional and experience blissful calm of Thai New Year at temples. Sawasdee Pi Mai (Happy New Year) and Happy Songkran 2018!
P.S. Many more local experiences await during Thai festivals and holidays. Check out our guide to public holidays and festivals in Thailand.