Knowing festivals and public holidays in Thailand is more than knowing when to have fun. Thailand holidays and festivals will surely make your trip unforgettable and we're happy to have you joining us! However, there are local cultures to consider as well as non-fixed dates (in some cases) to look out for.
Our one-stop guide to public holidays and festivals in Thailand includes not only the dates, but also explanations and local tips for each Thai festival and holiday. Since we'll update the guide regularly, we hope it helps you plan your Thailand travel more easily and effectively.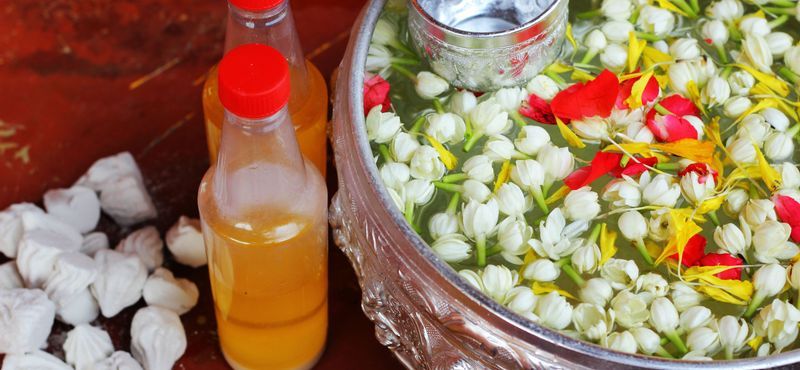 Public Holidays in Thailand (2018)
Thailand Holidays in January
January 1-2 - New Year's Day and Substitute Holiday for New Year's Eve
The international New Year's Day is one of Thailand holidays. New Year holidays in Thailand start from New Year's Eve, but many Thais take days off earlier for family reunion or vacation. Brace yourself for the crowds at most tourist attractions.
Thailand Holiday in March
March 1 - Makha Bucha Day
Makha Bucha Day commemorates the gathering of 1,250 enlightened disciples of Buddha, all of which were ordained by Buddha himself. All the monks came together on a full moon day without being summoned and listened to Buddha's teaching. On this Thailand holiday, devout Buddhists go to temples to make merit and join the candlelight processions or wian tian. Since this is one of the Buddhist holidays in Thailand, alcohol isn't on sale.
* This Thailand holiday is observed on the third full moon, usually in February or March
Thailand Holidays in April
April 6 - Chakri Day
One of the unique public holidays in Thailand. April 6, 1782, was the day that King Rama I founded the Chakri Dynasty. The dynasty is Thailand's current ruling dynasty.
April 13-16 - Songkran Day and Substitute Holiday
The traditional version of New Year holidays in Thailand. Songkran is celebrated for three days and it's more than the time for water fight. Like New Year holidays in Thailand, Songkran is time for family reunion and vacation. Popular tourist destinations like Bangkok, Chiang Mai, Phuket and Pattaya are well-known for wild water fights on the streets. If you're looking for more traditional Buddhist festivities, visit the temples and join the locals in their merit making during these Thailand holidays. Discover both the crazy and the calm sides of Songkran in our Songkran Festival guide.
Thailand Holidays in May
May 1 - Labor Day
Labor Day is a holiday for people working in the private sectors and banks. Malls and shops are still open, though.
May 29 - Visakha Bucha Day
Visakha Bucha Day marks the birth, the enlightenment and the passing into Nirvana of Buddha. Like other Buddhist holidays in Thailand, there are Buddhist rituals at temples and alcohol selling is banned.
* This Thailand holiday is observed on the sixth full moon, usually in May or June
Thailand Holidays in July
July 27 - Asahna Bucha Day
Asahna Bucha Day marks Buddha's first preaching to his first five disciples. Like other Buddhist holidays in Thailand, Buddhist rituals are held at temples and no alcohol is sold.
* This Thailand holiday is observed on the eighth full moon, usually in July
July 28 and 30 - Birthday of King Rama X and Substitute Holiday
The birthday of Thailand's present king.
Thailand Holidays in August
August 12-13 - Mother's Day and Substitute Holiday
Thailand's national Mother's Day is also the birthday of Queen Sirikit. Look out for discounts for moms, especially in restaurants, stores and public transportations.
Thailand Holidays in October
October 13 and 15 - Commemoration of the Passing of King Rama IX and Substitute Holiday
In remembrance of Thailand's previous king.
October 23 - Chulalongkorn Day
Commemoration of the passing of King Rama V.
Thailand Holidays in December
December 5 - Father's Day
The late King Rama IX's birthday is also Thailand's national Father's Day. Like Mother's Day, some restaurants, shops and public transportations give dad discounts.
December 10 - Constitution Day
Thailand's first constitution was pronounced effective on December 10, 1932, so the day celebrates democracy in Thailand.
December 31 - New Year's Eve
Part of the long New Year holidays in Thailand. If you're in for live music and fireworks, Bangkok countdown parties are the places to be. Central World and Asiatique The Riverfront are the most popular venues. However, many Thais start the New Year more calmly by praying at temples.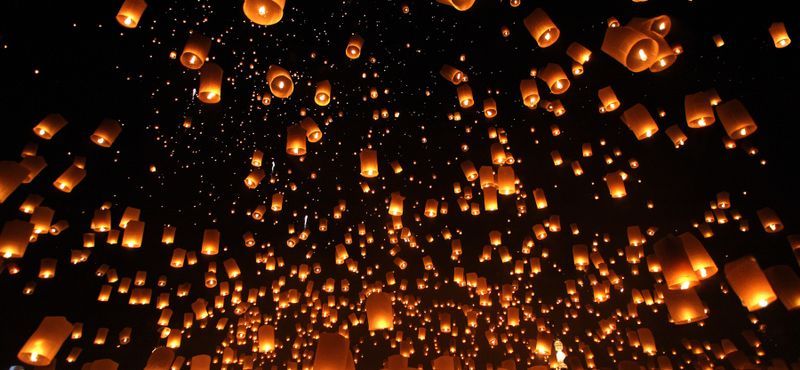 Festivals in Thailand (2018)
Thai Festivals in January
January 13 - Children's Day
Where: Nationwide
Thailand with kids, especially in Bangkok? Your little ones will love all the exclusive activities for kids on this special Saturday. Children's Day events at major shopping malls like Siam Paragon change themes every year and they have always been exciting, like the Pokémon event with plenty of photo opportunities. Family attractions like amusement parks also offer discounts for children. If you're ready to face the crowds, happiness is guaranteed for your kids.
* This Thai festival is held on the second Saturday of January
January 17-March 17 - Worship of Buddha Footprint at Khao Khitchakut National Park
Where: Khao Khitchakut National Park, Chanthaburi
Adventurers unite! Opening for only about two months every year, Khao Khitchakut National Park in Chanthaburi is one of the greatest and most sacred adventures in Thailand. Most hikers are Thai pilgrims who aim to get to the top of Khao Phra Bat to worship Buddha footprint. It's one of the most local festivals in Thailand. See for more details.
* This Thai festival is usually held from January to March
January 19-21 - Bo Sang Umbrella Festival
Where: Bo Sang Umbrella Village, Chiang Mai
Home to world-renowned Thai-style paper umbrellas, Bo Sang Umbrella Village welcomes art lovers and culture enthusiasts every day. However, the lovely village becomes even more alive during the festival with traditional Thai shows, umbrella contest and the Beauty Pageant Bike Parade. Discover more in .
* This Thai festival is held on the third weekend of January
Thai Festival in February
February 16 - Chinese New Year
Where: Nationwide, especially in Bangkok, Chiang Mai, Nakhon Sawan, Phang Nga, Phuket and Suphan Buri
Many Thais, especially in the cities mentioned above, are descendants of Chinese, so Chinese New Year is one of the most important festivals in Thailand. Don red and head to Chinatown or major Chinese shrines and you'll find beautiful spectacles like red lanterns, lion dances, dragon dances and more. According to local beliefs, there are certain things you shouldn't do on Chinese New Year's Day. Find more details .
* This Thai festival is held on the first day of the year in the Chinese calendar, usually in January or February
Thai Festivals in May
May 11-13 - Bun Bang Fai Festival (Rocket Festival)
Where: Phaya Thaen Park, Yasothorn
Celebrated in many Northeastern cities before the planting season, Bun Bang Fai or Rocket Festival is a call for rain. Locals create rockets and launch them into the sky in hopes that the god of rain will hear their wishes. Yasothorn is where the biggest Bun Bang Fai Festival in Thailand is.
* This Thai festival is held on the second weekend of May
May 14 - Royal Ploughing Ceremony (Farmer's Day)
Where: Sanam Luang, Bangkok
Rooted in Hinduism and Buddhism, Royal Ploughing Ceremony is held to honor and bless rice farmers in Thailand. The king presides over this ancient ritual, so this is one of the most sacred festivals in Thailand. You're allowed to watch the ceremony, but please dress respectfully. This is also a holiday for the government sector.
* This Thai festival is usually held in May, date depends on Hora determination
Thai Festival in June
June 16-18 - Phi Ta Khon Festival (Ghost Festival)
Where: Dan Sai Village, Loei
In spite of its grim name, Phi Ta Khon or Ghost Festival is one of the most colorful and fun festivals in Thailand. Villagers of Dan Sai put on large ghost masks made from sticky rice steaming baskets and banana or coconut tree trunks. Since the festival also features fertility rites, don't be surprised to see the masked villagers holding enormous phalluses in the parade.
* This Thai festival is usually held in June or July, date depends on Dan Sai's medium determination
Thai Festivals in October
October 8-17 - Vegetarian Festival
Where: Nationwide, especially in Bangkok and Phuket
Like Chinese New Year, major Thai-Chinese communities are where the festivities are at. During , many locals abstain from eating meat, seafood and dairy products. You'll find many on sale during this time. Ritualized mutilations are also performed at Chinese shrines.
* This Thai festival is held from the first to the ninth days in the ninth Chinese lunar month, usually in September or October
October 24 - Bang Fai Phaya Naak (Naga Fireballs)
Where: Bueng Kan and Nong Khai
Every year, people gather to watch balls of red light rising above Mekong River. The phenomenon still remains a mystery and local legend has it that the ghostly lights are fireballs of Phaya Naak (Thai name of the mythical serpent Naga).
* This phenomenon can be witnessed on the eleventh full moon
October 31 - Halloween
Where: Bangkok
Though you can't expect jack-o'-lanterns and autumn vibes in Thailand, plenty of clubs and bars throw crazy costume parties with live music and DJs.
Thai Festivals in November
Mid November-early January - Christmas Illuminations
Where: Bangkok
Although Thailand doesn't really celebrate Christmas, many shopping malls and private companies in Bangkok go all out with Christmas illuminations and decorations. Themes change every year and Christmas light hunting in Bangkok is a great thing to do. See last year's .
November 22 - Loy Krathong Festival
Where: Nationwide, especially Bangkok, Chiang Mai and Sukhothai
Krathong, a float traditionally made of banana leaves, banana trunks and flowers, is floated on the water to pay respect to the river spirit. Krathong also contains incense sticks and candles, so the sight of many lit krathong in the river is breathtaking. Believed to originate in Sukhothai, Loy Krathong Festival at Sukhothai Historical Park is one of the most beautiful festivals in Thailand. Chiang Mai is also known for Yi Peng or Lantern Festival, which is part of the city's Loy Krathong Festival. Check out our posts for more about and .
* This Thai festival is held on the twelfth full moon, usually in November
November 25 - Monkey Banquet Festival
Where: Lopburi
Lopburi Historical Park is home to not only ancient temples, but also monkeys. Every year Lopburi locals treat them to all-they-can-eat food and fruits. Definitely one of the most unique festivals in Thailand, if not the world!
* This Thai festival is held on the last Sunday of November
Thai Festivals in December
Date TBA - The Glorious of Ayutthaya Fair
Where: Ayutthaya Historical Park, Ayutthaya
The ten-day festival celebrates the history and heritage of Thailand's glorious ancient capital. Watch light and sound show and illuminations at temples, join fun traditional activities with the locals, sample Ayutthaya's signature river prawns and so on. Find out more about .
December 25 - Christmas Star Procession
Where: Ban Ta Rae, Sakhon Nakhon
Ban Ta Rae is Thailand's biggest Roman-Catholic community and Christmas celebrations there are the most beautiful Christmas festival in Thailand. While the glittering Christmas star parade (complete with Santa Claus and other Christmas symbols) takes place on Christmas Day, visitors can see the quaint village decorated with star-shaped lanterns since mid-December.