Explore Traditional Thai Architecture with A Local Architecture Student
Bangkok
We go for a walk tour (+public transport) in the historical heart of Bangkok where lies traditional Thai temples date back to the very beginning of Rattanakosin period. Enjoy the art and history behind the concept of Thai architecture! :)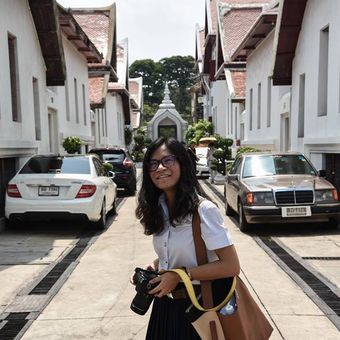 FAQ
Hi! I study Thai architecture and would love to take you for the tour in the historic part of the city! Its rather small area and full of old temples, so which temple to visit is up to your interest. I also enjoy taking photos, so free photo service!
Things to prepare for the trip
You will need to cover your shoulders or wear shirt with sleeves. Shorts are not recommended. Best to wear something that cover your knees. (this apply to both male and female) And it's going to be hot, so prepare for the heat!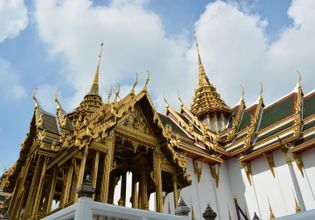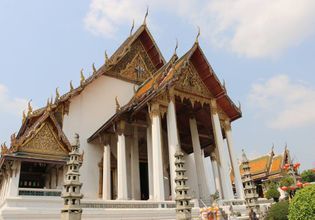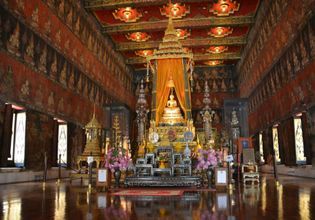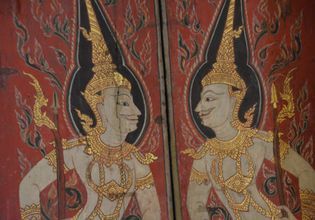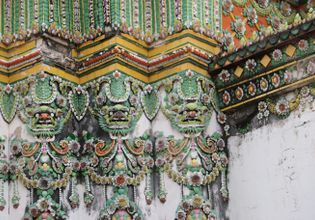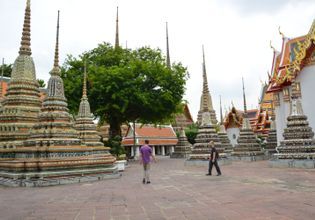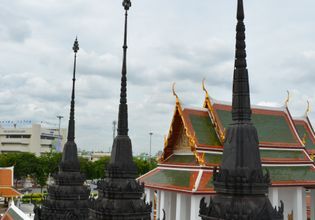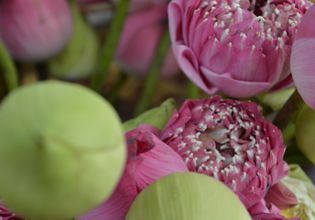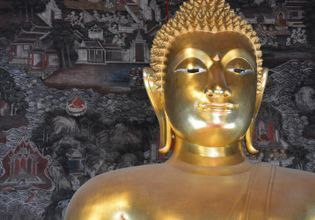 Itinerary
Meet up at our meeting point
- BTS Station (Sala Daeng, Ratchathewi, Siam, Phaya Thai, Chit Lom, National Stadium)
- Airport Rail Link Station (Phaya Thai)
- MRT Station (Hua Lamphong, Sam Yan)
We start our walking tour in the historical area of Bangkok. Where to go is up to your suggestions! There are those of the must-visit places and where there are less tourists and the mostly locals go to visit. (and I suggest we go on foot, mostly!)
We end the trip in the afternoon (when it started to get hot) and if you want we can go for lunch!
Price condition
Food, Transportation, Admission fee excluded
Transportation fares are excluded.
Admission fees are excluded.
Extra expense you should prepare
entrance fees, food, drink, transportation, souvenir, etc.
Meeting point
- Sala Daeng

- Ratchathewi

- Siam

- Phaya Thai

- Chit Lom

- National Stadium

Airport Rail Link Station

Tiffany
Engaging, informative, not-to-be-missed!
Pim is such a welcoming and intelligent guide! We learned so much on this tour about Thai temple architecture and history - Pim is so knowledgeable! Pim's English is wonderful, and we had zero trouble at all communicating. She answered our many questions patiently and informatively. I loved that we walked from each temple to the next, and that Pim was super flexible on both the route we took as well as scheduling the tour itself. We did this tour in the afternoon and finished up at Wat Arun just in time for the sunset. She also made sure we were able to head home from there on the express boat, walking us to the stop and confirming with the operator. Thanks for being such a fun and helpful guide!

Ernie
Sweet, flexible and friendly with a great attitude.
Pim is a true hallmark of a great tour guide. She has the best attitude, sweet and a great company to take around with to explore Bangkok. She responds to your inquiry prompltly and keep an open communication to make sure the tour will go smoothly. She is also flexible to your schedule and open to your suggestions and will give you an excellent recomdations before and even after the tour. I wish she has more availability to do more tours. So, if you are still thinking of doing a tour with her, you better do it fast and sign her up.

Susana
The best way to know the city
Pim was a wonderful guide. I visit the Grand Palace, Wat Pho, Bangkok museum and Wat Arun. It was a nice insight of the city center. I would recomended to anyone. + 6 more travelers have enjoyed the local experience with Pidsinee
Load more