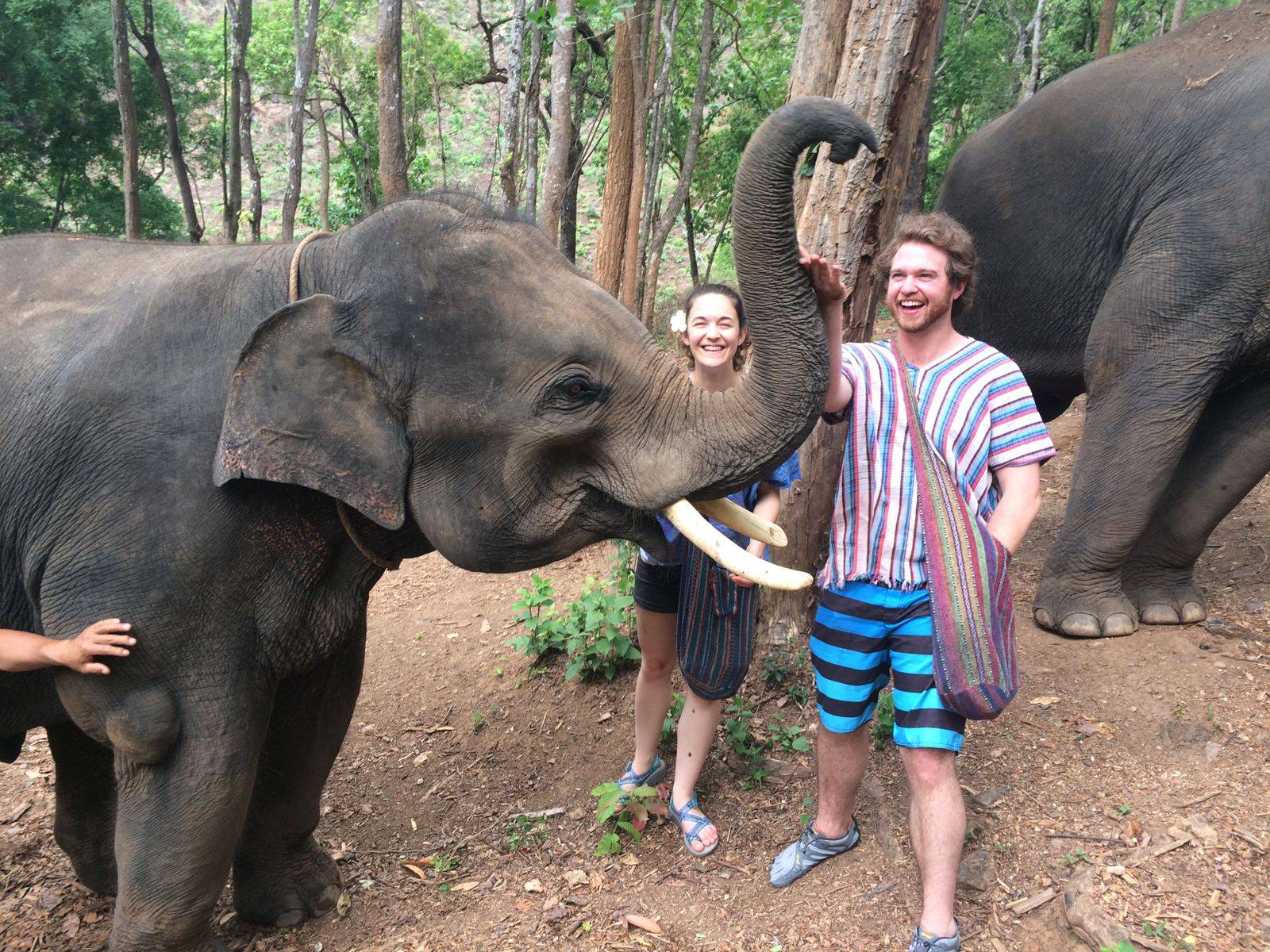 Elephants Caring, Bathing, Swim at Big Waterfall Plus Bamboo Rafting Adventure in Chiang Mai
---
Have you ever desired to witness a magical trip with Thailand's most revered animals in their home deep in the jungle? Well then, this is a trip for you! After caring for elephants, go on an adventure with waterfall and bamboo raft.
---
itinerary
08:30
Meet up at hotel lobby (in Chiang Mai area)
10:00
Drive to elephant pride sanctuary. We will feed elephants by hands and play with them.
10:30
Walk with them and go to the river to enjoy taking a bath in river with the elephants.
12:15
Have Thai food lunch.
13:30
We move to waterfall adventure. Time to swim!
14:30
Enjoy the bamboo rafting at Mae Wang river.
17:30
Drop of at the hotel.
---
Trip Conditions
Physical Strength Required
Vegetarian Food Available
---
Price Conditions
Transportation fares are included.
Admission fees are included.
More details about price conditions
---
FAQs
Why this trip?
This is a once-in-a-lifetime experience with lovely elephants! Unforgettable time! Feeding them, bathing them in a mud spa and swimming with them in the river. Have fun swimming at the waterfall and bamboo rafting adventure.
Things to prepare for the trip
swimming suit, flip-flops, sun screen, insects spray and towel.
---
Meeting Point
Hotel Pickup
- Hotel Pickup in Chiang Mai Area
---
All Countries
All Countries
Austria (2)
Canada (1)
Ireland (1)
Netherlands (2)
Pakistan (1)
Philippines (1)
Slovakia (1)
Spain (1)
United Kingdom (2)
United States (3)
Highly recommended activity in Chiang Mai!
We had an amazing tour around Chiang Mai and Lamphun with our local expert Chanchai. We visited several temples, met the monks, visit a cotton museum, learned the traditional way of weaving, got to try our hand at weaving, and had a sumptuous LocalTable lunch of some Northern Thai dishes. Our local guide is also so nice and shared to us so many things about their culture, tradition, religion, and food. It was indeed very enriching and awesome gastronomic experience. Highly recommended activity in Chiang Mai!

Mervin M.
Philippines
|
September 22, 2018
Lovely, wonderful, peaceful
Chanchai put all his heart and soul to the Elephant Pride Sanctuary. On the way to the sanctury by a comfortable car, he explained me the story of the sanctuary and the story of every elephant there. Chanchai and his friend are doing everything for the happiness of the elephants. That's why we were just a small group of visitors. The elephants have their own freedom in the sanctuary - they can go to the jungle, have a bath in a river, they have enought personal space :) The sancuary is away from the main route, so elephants are not disturbed by cars and they have a very nice and peacefull home.
A wonderful local women cooked a delicious lunch for us :)
After that I went rafting on a bamboo raft. There were a lot of insects, but I have enjoyed it anyway :)
I do recommend to visit this sanctuary for eneryone who would like to invest thier time in sanctuary which is doing everything for the animals :)
Sona F.
Slovakia
|
September 18, 2018
Ein wundervoller Tag
Chanchai ist ein sehr freundlicher und zuvorkommender Guide mit ausgezeichnetem Englisch . Ich hatte davor noch nie mit Elefanten zu tun und war dementsprechend aufgeregt. Wichtig war mir auch, dass die Elefanten artgerecht gehalten werden und auf deren Bedürfnisse Rücksicht genommen wird. Als wir ankamen war ich trotzdem überrascht, wie sauber die Anlage ist und wie viel Chanchai am Glück der Elefanten liegt. Die Dickhäuter habe ich deswegen auch als sehr gutmütige, zutrauliche und rücksichtsvolle Tiere erlebt. Es war ein wunderbarer Tag, der mir auf jeden Fall in Erinnerung bleibt!
Ulrike R.
Austria
|
August 28, 2018
+ 7 more travelers have enjoyed
the local experience with Chanchai
More Reviews