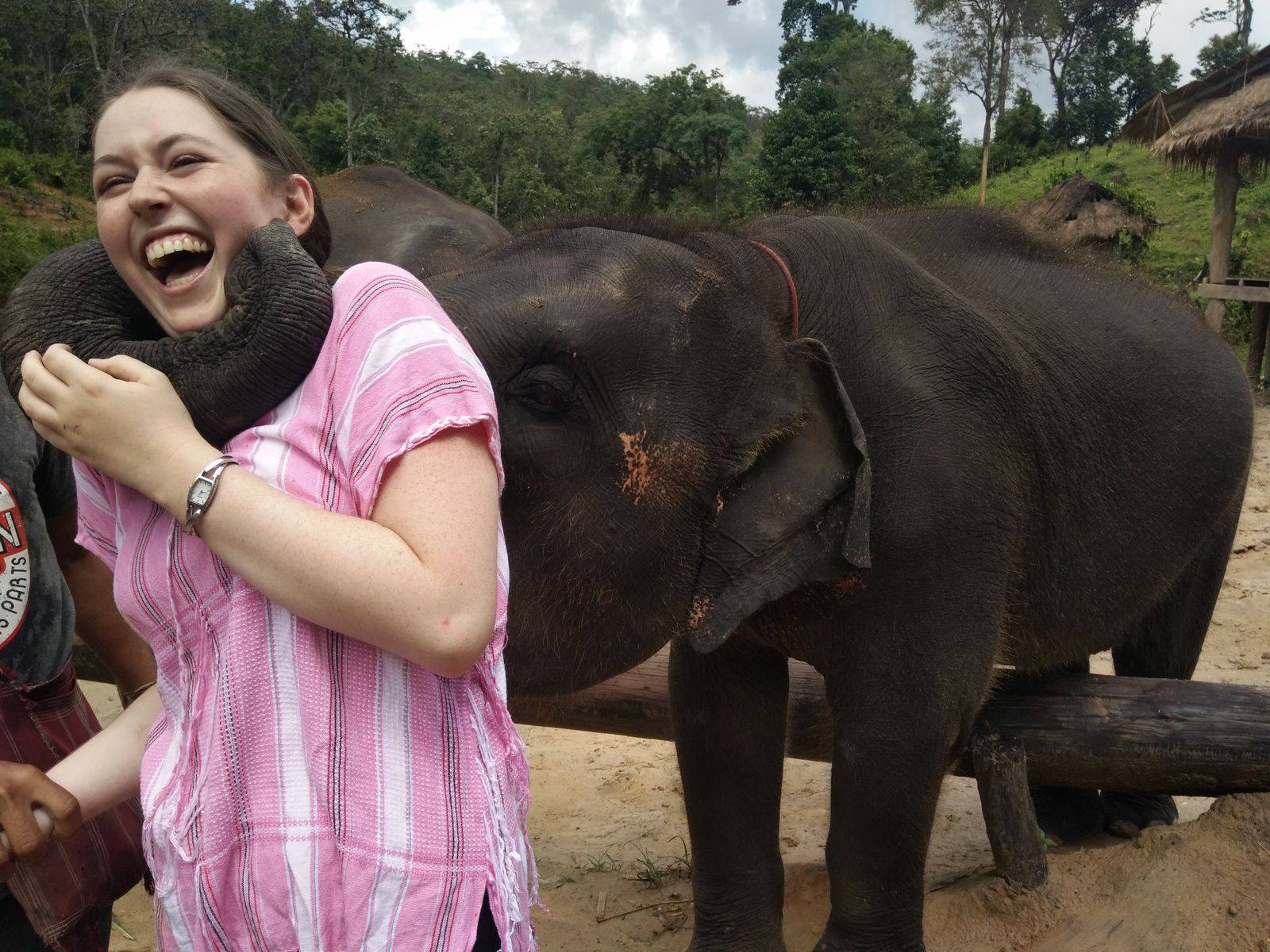 ---
Hello, from us Elephant Keeper family, we would like to make your Elephant trip will be Wonderful. We are different from the others because it isn't just have fun but you still learn and understand Life of Elephants!
---
itinerary
07:00
Meet up at hotel lobby (in Chiang Mai area)
08:15
Arrive in Local Market at Ban Kad area
Small. Explain and show you about some local ingredients.
09:00
Arrive in our Elephant Camp!
Let's make new friends with our lovely elephants by feed them with banana and sugar cane.
09:15
Change your clothes to Karean clothing to make elephants think you are elephant keeper
and summarize information about the elephant life.
09:45
Play and enjoy good time with our elephants like you are an elephant keeper.
Learn and let them free in the nature.
10:15
Walk with them and Dirty time is coming!
Enjoy mud spa together with our elephants.
10:30
Walk though the Waterfall and take a bath for them. Enjoy elephant spring water from their trunk.
11:00
Say goodbye to Elephant get ready to go Garden house
11:30
Time to prepare and enjoy your lunch with local food by yourself in the garden house
Let's talking with each other and answer questions
and visit Farm from us such as Orchid , Passion fruits , Chicken , Pig and Cow
12:45
get ready check everything fine and going to visit Karen village , Local village and people
13:15
going to Hidden Temple !!! special just for lovely guest who come to visit our program this temple it will not show in any program of tourism
you could see the view of village in forest and 1000 years of Lord Buddha image
13:45
time to go back to Chiang Mai by Car
15:45
Arrive to your Hotel. We hope to see you again next time
---
Trip Conditions
Vegetarian Food Available
Physical Strength Required
---
Price Conditions
Transportation fares are included.
Admission fees are included.
More details about price conditions
---
FAQs
Why this trip?
Honestly in recently Chiang Mai there is a lot of Elephant camp but why us? because here we love, and respect to our Elephants like we are family not just animals. We would give your surprise experiences including true information of elephant.
Things to prepare for the trip
1. Towel
2. mosquito spay
3.Please let's us know what food you are allergic to.
3. Love and Kind heart of human to our Elephants
---
Meeting Point
Hotel Pickup
- Hotel Pickup in Chiang Mai Area
---
By Country
Australia
United Kingdom
United States
Personal Authentic Experience
Our trip was a wonderful day out with all three of us fully involved in the whole experience. Phom and Pham were the most excellent hosts and extremely generous with their time and knowledge. Although the time spent with the elephants was truly amazing, the whole day was fabulous including the visit to the Karen Village, the cooking experience and the relaxing massage after the lunch we helped prepare.
Paul M.
United Kingdom
|
April 7, 2018
Best Day Ever
We had the most amazing experience while on this tour and is one of the highlights of our travels. The day started out with our wonderful guides Palm and Bomb picking us up from our hotel with their adorable daughter Jenny. It was there we learned we were the ONLY people touring that day...how exciting!! They drove us up the mountain to the elephant camp where we met May Lumyai, May Boonyun and Bujun, two adult elephants and an adorable six month old baby elephant. Palm and Bomb outfitted us in the traditional shirts and we were given plenty of sugar cane to share with the elephants and get to know them. After that we went for a walk around the farm area while the elephants roamed and Palm shared with us several details about the history of elephants in Thailand, information regarding the royal family and answered our questions on how to properly pronounce certain Thai words. It helped to get all the historical information from her considering she is the Thai History teacher for the local village. After our little wander with the elephants we got changed to go bathe with them! Definitely the most fun part of the day! Once the elephants were done bathing, we floated down the little river to the other side, got changed and said goodbye to our new elephant friends. From there, Palm, Bomb & Jenny took us back to their village, a local Karen town. Palm taught us about the history of the Karen people while we got to tour a local home and meet some of the villagers. She then took us around to some of the local farm areas which were created by the King as the Royal Project to help create jobs for the small villages rather than have them growing poppies or selling drugs. From there they took us back to their beautiful farmhouse where Palm taught us how to make traditional Pad Kra Pow which was delicious! We enjoyed the afternoon relaxing on their beautiful porch while Palm offered us a traditional Thai Massage. As if the day could not get any better, when it was time to leave the farmhouse they offered to take us to the local strawberry patch and ate some of the most delicious strawberries I've ever tasted and Palm even gave us a bag to take back to the city with us. Palm, Bomb & Jenny were one of the sweetest families and we felt so privileged to spend the day with them and learn about various aspects of Thai culture. If you are looking for a local aspect to your visit to Thailand plus elephants, you truly cannot do any better than this tour. HIGHLY RECOMMEND! Thank you Palm, Bomb & Jenny for your love of elephants and the wonderful hospitality you showed us!

Lindsay F.
United States
|
April 7, 2018

Angela L.
United States
|
March 14, 2018
+ 32 more travelers have enjoyed
the local experience with Jakkaphan
More Reviews
---
Total
100% Satisfaction guaranteed