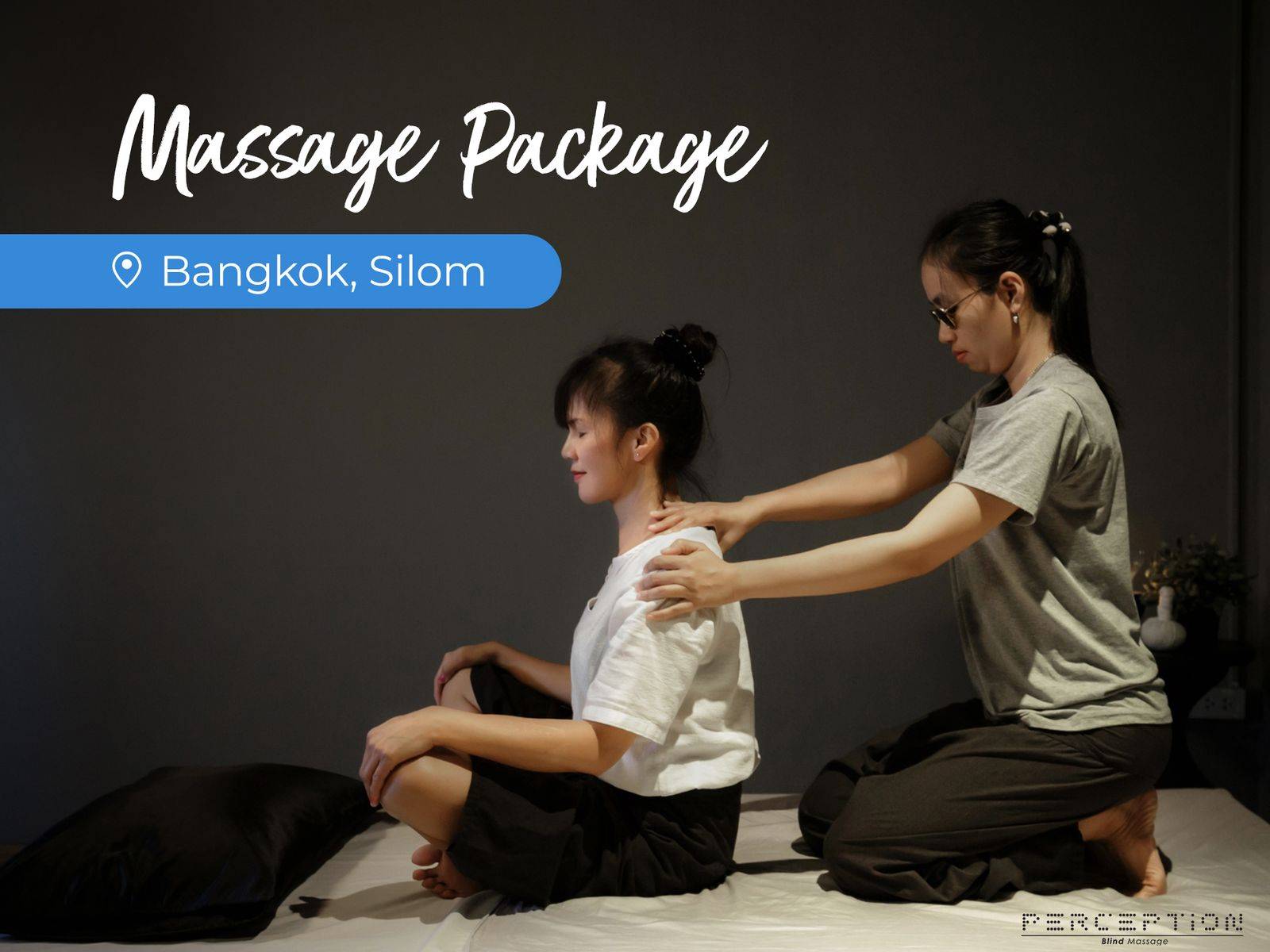 Detail
Need to relax after an action-packed day in Bangkok? Then do it with a twist and for an exclusive price with two hours of massage provided by visually impaired experts right at the heart of Bangkok. Say goodbye to fatigue and body tension and get ready for another day of fun.
---
FAQs
What makes it unique?
Experience the new massage concept provided visually impaired therapists. With their unique talent
for massage therapy, they fully focus their sense of touch to make you feel comfortable and sink into
the deeper state of relaxation.
Easy Access
- 4 minutes' walk from Sala Daeng BTS Station (exit 1)
- 7 minutes' walk from Chong Nonsi BTS Station (exit 4)
- 8 minutes' walk from Silom MRT Station (exit 2)
Additional Information
- The confirmation email will be sent to you after your booking is completed.
- Present the confirmation email to the staff at the massage boutique "Perception Blind Massage"
(Open from 12pm to 12am, Mon-Sun)
Terms and Conditions
- The booking can not be canceled or refunded under any circumstances.
- Available for both Thais and foreigners
-----------------------------------------------------------------------------------------------------------------------------
Thai Massage
Pressure will be applied to specific spots to relieve pain, stretch, and loosen tightened muscles.
Choices of light, medium, and hard pressure are available to meet different personal preferences.
Foot Massage
Foot massage is the best after a long day of walking. It helps relieve fatigue and stretch your foot
muscles, leaving you more relaxed. What's more, foot massage also helps improve the blood circulation.
Head-Back-Shoulder Massage
This special type of Thai massage specifically focuses on the head, back and shoulders. Firm pressure
combined with special kneading methods will be applied with the aim of relieving fatigue and
tension built up in those specific areas.
Thai Herbal Ball Body Massage
High-quality herbs (Plai root, tamarind leaf, turmeric, bergamot peel, camphor, and lemongrass)
wrapped into Thai-style ball-shaped cotton will be applied all over your body. It helps reduce muscle
contraction and ligament muscle inflammation.
Aromatherapy Massage
Aroma oil will be gently massaged into your body. A variety of aroma oil scents (Lavender, nerori,
white tea and eucalyptus) is available for your selection. They help moisturize your skin and send
you into deep relaxation.
Foot Massage 60 Mins + Thai Massage 60 Mins
Foot Massage 60 Mins + Head-Back-Shoulder Massage 60 Mins
Thai Massage 60 Mins + Head-Back-Shoulder Massage 60 Mins
Thai, Foot or Herbal Ball Body Massage 60 Mins + Aroma Therapy Massage 60 Mins