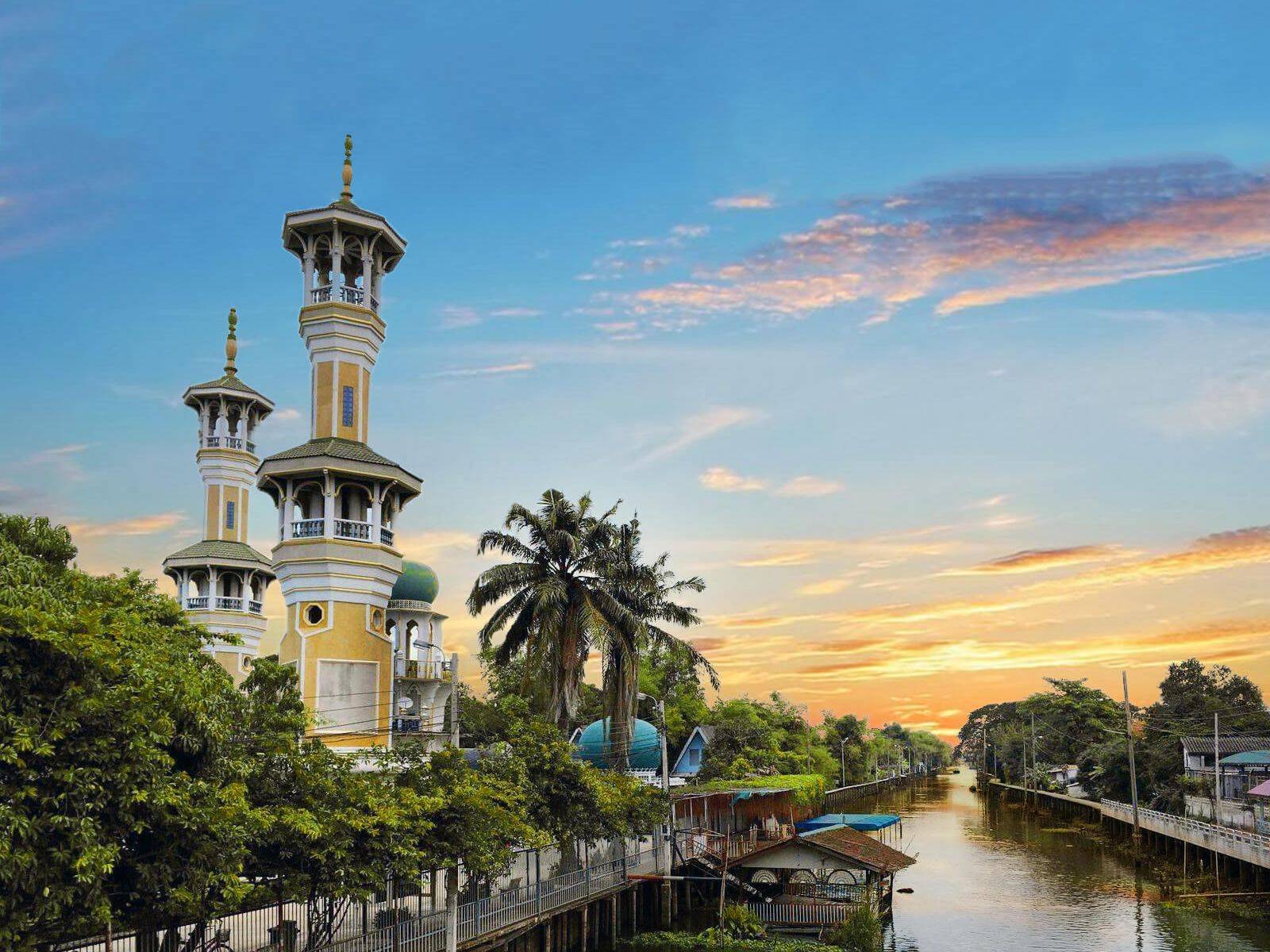 ---
Boating through a peaceful Saen Sab canal in Nong Chok district where people slow living and friendly, Visit local masjid , temple and vintage market plus biggest Muslim food street shopping before
---
itinerary
08:30
Meet up at our meeting point
- Airport Rail Link Station (Hua Mak Station)
- BTS Station (Phra Khanong)
10:15
Arrived Baan Koh mosque's pier then boating along the peaceful Saen Sab canal and see locals muslim life
10:45
stop over at Kamalul islam mosque .This is one of Bangkok oldest mosque and yet so beautiful .Try and shop locals famous food and products here
11:30
Stop at local restaurant for lunch
13:00
visit National Mosque of Thailand
14:00
Bangkok dates farm
15:30
Arrived Minburi market the largest evening Halal food street in Bangkok .There are 1000 of menus waiting for you Enjoy !
16:15
Back to the drop points and goodbye
---
Price Conditions
Transportation fares are included.
Admission fees are included.
More details about price conditions
---
FAQs
Why this trip?
As you know .Thailand is Buddhism country with Muslim population around 10 % .Most of them living in a far side of Bangkok which is only few travelers been there .Let's go and see this hidden gems of Bangkok
Things to prepare for the trip
Long dress or trouser (If you want to see inside masjid or temple)
---
Meeting Points
Airport Rail Link Station
---
By Country
Malaysia
United Kingdom
United States
Enlightening and fun!
It was a very enjoyable and educational trip! Our young children were comfortable and had lots of fun especially the boat ride along the canal. The guide was very friendly and sincere with his service. The experience was more than expected! If you are looking for something off the beaten road without the tourist crowd then this is definitely for you!

Melati T.
Singapore
|
March 16, 2018
Child and elderly friendly
I was traveling with my 8 yr old daughter and 70 yr old mother. The trip was accomodating to both which made it more enjoyable for us. And the halal food was exceptionally good and cheap.

dalina D.
Malaysia
|
February 18, 2018
Highlight of Trip
This gentlemen, Mr. Raewat, has been the highlight of our trip thus far! We canceled an excursion for which we were hearing bad reviews. It was only about 5-6 hours left in the day to make plans for the following day, so I hit the googles to find a group tour for Wat Pho. I came across many sites, but they were either too expensive or didn't have any availability. I finally got to @takemetour_thailand which is almost like an Uber/Lyft service for private tours. It matches you with a guide who is available to show you around. This service included Mr. Raewat as our private tour guide, entry to 2 locations (we paid for the 3rd), transportation, ferry ride, snacks, water, and a full meal!! Mr. Raewat was so kind! He was knowledgable, patient, and very attentive! His daughter's 15th birthday was yesterday, but he was with us clowns sweating it out at the #grandpalace #watarun and #watpho Once we found out it was his daughter's birthday, whom he had actually planned to take out to dinner, I said we have to hurry up and get back so he can be on his way... but with the #Bangkok gridlock, took us 2 hours to drive back to our hotel and he had another 2 hour drive home! I felt really bad about that, but the overall experience was unparalleled.

Jameelah S.
United States
|
September 6, 2017
+ 21 more travelers have enjoyed
the local experience with Pitipong
More Reviews
---
Total
100% Satisfaction guaranteed